If you've ever wondered what to serve with bean salad, this post is for you.
This versatile dish can be served on its own as a snack or as part of a combination of dishes to make up a complete meal. It goes beautifully with a buffet of salads or a hot meal with sweet potatoes, rice or quinoa.
The advantage of a delicious bean salad is that it can be made so easily, is oil-free, gluten-free, and is a rich source of plant protein. In other words, it's a protein-packed vegan wfpb meal.
Perfect for keeping on hand in the fridge for when you fancy a snack!
You can't really go wrong with this actually.
Suggestions of What to Serve with Bean Salad
Buddha Bowl with Bean Salad
Buddha Bowls or Vegan bowls are so delicious, nutritious and versatile.
I can eat one for every meal of the day almost!
Take a good deep bowl and place a layer of green leaves of your choice on the bottom. Lettuce, spinach, mixed leaves, rocket or lambs leaves all go well; it's a matter of preference.
Next, choose some wholemeal rice, black rice, wild rice or quinoa to put in half the bowl.
Place the bean salad on the other side, taking up the other half of the bowl.
Top with chopped avocado, cherry tomatoes and sliced cucumber.
Add a few nuts, toasted pine kernels, pumpkin seeds or sesame seeds.
Sprinkle with ground flax and a large dollop of homemade hummus and cashew nut sauce.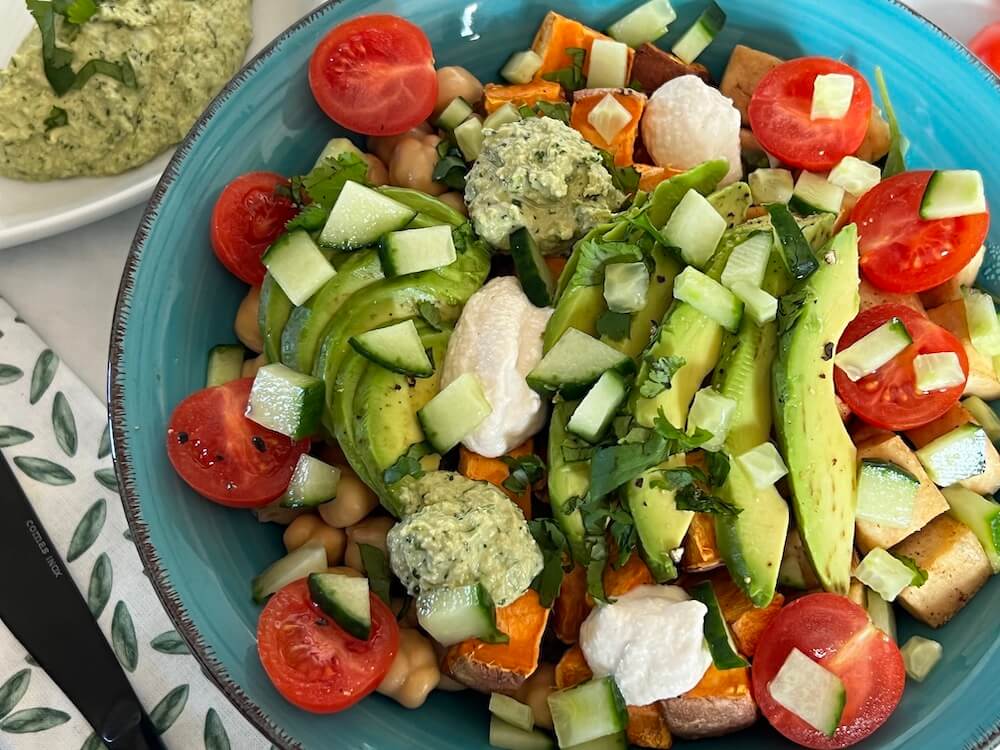 Absolutely delicious.
You can switch around the ingredients as you like. Think oven roasted vegetables, air fried sweet potato, yesterday's leftovers etc.
Bean Salad with Cauliflower Rice
If you've never made cauliflower rice, you might be in for a surprise. The only hassle about making cauliflower rice is the blending part. If you have a large food processor it will be a piece of cake.
But if you rely on a small sized food processor, you might have to chop several batches.
Pulse the cauliflower a few times until it is the size you want. Be careful not to over-pulse it and turn it into a mush.
Next, cook the cauliflower rice in a dry frying pan, adding a dash of lemon juice or gluten free ketcap manis when it's almost ready. It only takes a couple of minutes to soften up and be ready to eat or to make a salad with.
Mix in some chopped cherry tomatoes, chopped cucumber and any other salad ingredients of your choice and serve with the bean salad.
Add some homemade cilantro sauce on the side, or sub with cashew nut sauce.
Bean Salad with a Simple Mixed Salad
Use the bean salad as a complete meal and serve with a fresh mixed salad on the side for a simple yet delicious lunch.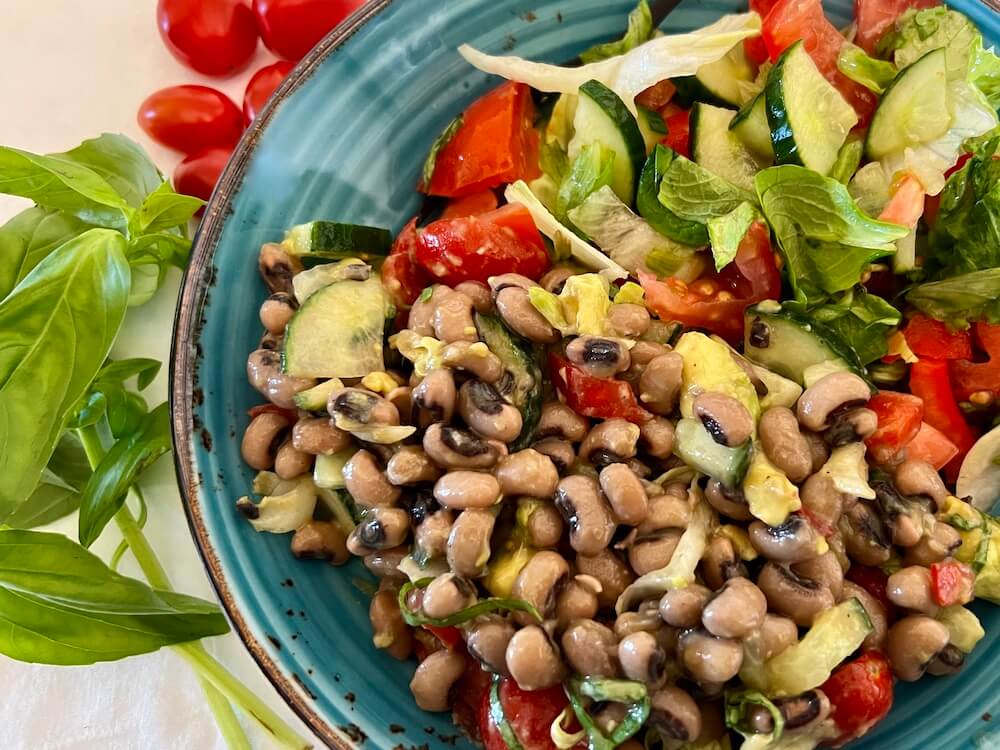 Roasted Vegetables with Bean Salad
Take a large roasting tray, chop the vegetables and arrange in the tray in a single layer.
Red cabbage: chop into large rounds of 2 cm thickness and sprinkle with salt.
Zucchini: cut in half lengthwise, then cut across to make boats of about 5cm length. Sprinkle with salt before placing in the roasting tray.
Sweet potato: cut into chunks of your preference and add directly to the tray. There is no need to salt sweet potato.
Other vegetables you might like to roast include carrots, eggplant (pre-salted and sweated and rinsed) and red peppers (but these shrink a lot and are sometimes better done in their own separate pan).
Check out how to roast vegetables without oil if you're new to cooking without oil.
What to Serve with Bean Salad: Bean Salad Wrap
For this suggestion you'll need to source some gluten free vegan wraps or use some of our instant lentil flatbreads instead.
Spread the wrap or flatbread with some homemade hummus, next add a row of crunchy lettuce, followed by a layer of bean salad and topped with some chopped cherry tomatoes, chopped cucumber and some fresh basil leaves.
Roll the flatbread or wrap and eat as a delicious lunch time option.
Vegetable Rice with Bean Salad on the Side
I like to make vegetable rice because it's one of my husband's favourite dishes and it's so tasty, convenient and easy to make.
I used to make it more nasi-style with garlic, ginger, cumin and chilli but these days I also make it much more plain and it's still a favourite.
To make the vegetable rice prepare a stir-fry and add the rice to it, or use the air fryer to prepare the vegetables before mixing with the rice.
The important thing is to serve with some spicy peanut sauce and some beans or other source of plant protein to complete the nutritional profile of the meal.
Bean salad offers a perfect solution and complements the vegetable rice perfectly.
Bean Salad as Part of a WFPB Vegan Buffet
When you've got people coming round to eat, a buffet is a perfect way to prepare a delicious meal, can be made in advance and allows for different tastes as everyone can help themselves to the dishes they like.
For a vegan whole foods plant based gluten free buffet I would make . . .
Bean salad
mixed green salad (lettuce, rocket, lambs leaves, tomato, cucumber, seeds)
potato salad (boiled new potatoes in skins, finely chopped spring onion, halved cherry tomatoes, homemade pesto dressing.
Homemade hummus with some carrot dipping sticks
Quinoa salad (cooked quinoa with edamame beans and a balsamic dressing)
How to Make a Delicious Bean Salad
There's no right or wrong way to make a bean salad.
Once you've made it a few times you'll find yourself swapping out the ingredients according to your mood or to what you have available.
Fresh herbs give it a lovely additional tang.
For an oil-free dressing I used mashed avocado with a light sprinkling of salt and pepper.
Recipe for Bean Salad – What to Serve with Bean Salad (WFPB, Vegan, Gluten Free)
Course: Main course, Lunch, Side
Cuisine: Vegan Gluten free, WFPB, Oil free
Difficulty: Simple
The time given is for making the salad using pre-cooked beans.
The cooking time for the beans will depend on your chosen cooking method.
Ingredients for oil free vegan bean salad
Cooked beans of choice or a variety of beans

Finely sliced spring onion (optional)

Cherry tomatoes, halved

Finely chopped cucumber

Sliced red pepper

Fresh basil leaves

1 avocado, chopped and semi-mashed to blend into the salad

Salt and pepper

Dash of gluten free ketcap manis
Directions
Combine the ingredients in a bowl
Stir through the mashed avocado
Sprinkle with salt and pepper
How to cook beans (and some other tips)
Notes
You can use Borlotti beans, Black eyed beans, Black beans, Kidney beans, Lima beans or a mix of more than one type.
I hope you enjoy this recipe and never again have to wonder what to serve with bean salad!