This easy gram flour flatbread recipe has only 2 ingredients. It takes just a few minutes to make and can be gobbled up for breakfast, lunch or dinner.
You can eat it in place of bread or wraps, as a side dish to your main, or like a chapati or flour tortilla.
You can make flatbreads with other types of flours but in this post we look at the beauty of making flatbread from gram flour, which is actually chickpea flour, also known as besan or garbanzo flour.
Yeah, right? I mean how many names does one flour need?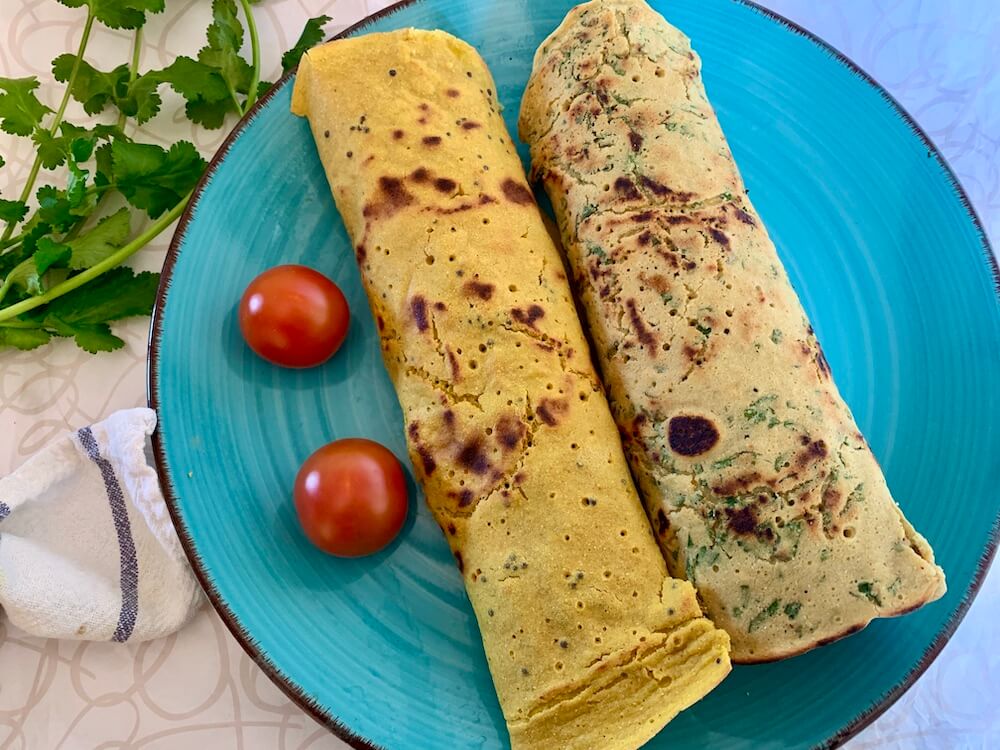 Well I guess if anything deserves 4 names it's the good ol' chick pea. So versatile, easy and delicious, I use them in so many ways.
Other Chickpea Recipes You Might Like
If you've ever been put off cooking your own chickpeas because you think it's a hassle, think again. Chickpeas needn't be a pain to cook and homemade are so much better than from a jar. Take a look at cooking chickpeas in a rice cooker.
Once you've got the hang of cooking your own chickpeas, you can use them to make so many different recipes. My three top favourite chickpea recipes are probably hummus (of course, I mean who could live without humus right?)
Then there's the all time wonderful food in a glorious vegan bowl, probably containing some chickpeas in there somewhere. Maybe that doesn't count as a chickpea recipe, so I've still got two more to go.
This easy peasy Sweet Potato & Chickpeas in a Coconut Sauce has to be up here in the top three. It's soooo tasty.
And my number three would be a spicy roasted chickpea snack recipe, which sounds fancy but is just plain old chickpeas tossed in some yummy spices.
Why Use This Gram Flour Flatbread Recipe vs Other Flatbreads
This is one of my favourite flatbread recipes – not because it's the most perfect flatbread out there but because it's so easy and convenient and can be cooked instantly from a batter, just like a pancake.
That means no kneading, no rolling, no hassle. To be honest, I don't often feel like making a dough and rolling it out. I'm lazy about that.
And with this easy gram flour flatbread recipe, you just make the batter and pour it into the hot pan.
Et voila!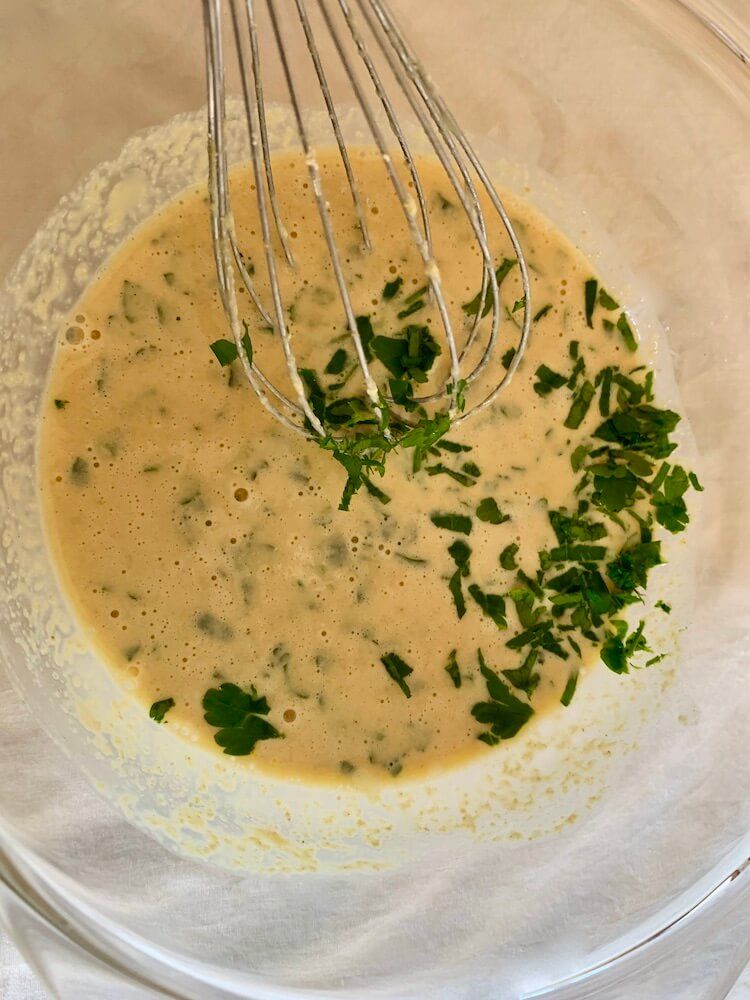 You don't need to prepare anything in advance either, which is why this is such a useful recipe, but to be honest, if I have more time on my hands, then I'd probably make my favourite red lentil flatbreads.
Apart from a slightly stronger flavour, the main difference is that you need to grind the lentils first for lentil flatbreads, so they aren't quite so instant as this gram flour flatbread recipe is.
What is Flatbread?
Flatbread is a generic word used to describe any bread which is flat.
Often it refers to unleavened bread whose main ingredients are flour, water (or another liquid, like milk) and salt.
Some flatbread recipes require yeast and a prepared dough which is kneaded and rolled out (like a pizza base for example) but the majority are more simple affairs.
Flatbread can be cooked in the oven, in hot oil in a pan or on a dry heat.
There are so many variations. They can be vegan – or not; gluten free – or not; oil free – or not.
We're interested in gluten free vegan flatbread which you can make with just a wiping of an oily paper over the pan, or with zero oil if you prefer.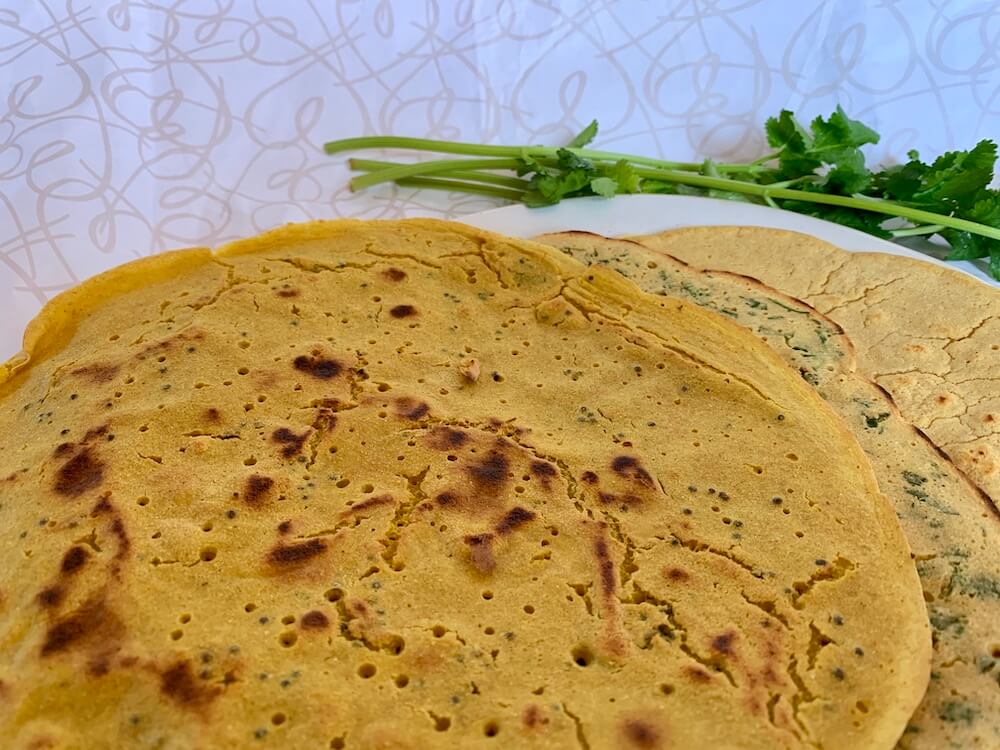 Origins of Flatbread
Flatbread is one of the first examples in history of people making a processed food and evidence demonstrates that flatbreads were being made as long ago as the Mesopotamia civilisation, in ancient Egypt civilisations and by the Indus.
Flatbread has continued to be a staple part of the diet in many parts of the world and today there are (apparently) over 60 different types of flatbread with 150 recipes for accompanying foods like mezze, kebabs, curries and more.
Examples of Some Common Types of Flatbread
There are so many different variations on the simple flatbread, but some of the best well known varieties are:
Flour tortilla
Chapati
Naan bread
Focaccia
Roti
Puri
Pitta
Pizza base
Is This Gram Flour Flatbread Recipe Healthier than Bread?
As with most things, it depends.
If you buy commercial bread, it isn't a whole food and it won't be the healthiest choice you could make. In this case, these flatbreads are healthier as commercial breads often have sugar, salt, preservatives, emulsifiers and other unhealthy ingredients added.
If you're following a whole foods plant based diet, you will probably choose to eliminate shop bought bread from your shopping list altogether, but you can still include these gram flour flatbreads.
But, if you make your own wholegrain bread and you're in control of what goes into it, then maybe your homemade loaf can be a healthy food too. Especially as you can make bread from black rice and gram flour for example.
And if you make your own flatbread using just gram flour and water, the flatbread will be a complete whole food and 100% healthy as there are no added nasty ingredients. The chickpea flour is both high in fibre and rich in protein.
So, bottom line: gram flour flatbreads are a healthy form of bread and more healthy than most traditional loaves of bread.
Is this Gram Flour Flatbread Recipe Gluten Free?
This gram flour flatbread is gluten free because it uses gram flour as the primary ingredient. Shop bought flatbreads aren't gluten free unless specified as being gluten free.
Another gluten free flatbread recipe to have up your sleeve is lentil flatbread.
How to Make this Easy Gram Flour Flatbread
By far the easiest way to make this instant gram flour flatbread is to take a piece of kitchen paper, dab it over the top of an oil bottle and then wipe that around your pan. This will make the flatbread cook easier and not stick to the bottom of the pan.
But if you're eating an oil-free whole foods plant based diet, (WFPBNO) no problem, just leave out the oil. Make sure the flatbread's completely cooked before trying to flip it or you might end up with a mess.
I've seen videos online where the flatbread cooks perfectly with no oil, making it look so simple. But it will depend a lot on your pan, so give it a go but bear in mind that if you have an average frying pan, you might find the flatbread sticking to the bottom of the pan.
The trick is to wait long enough before trying to turn the flatbread.
If you prefer to use zero oil, make sure the pan is non stick (or cast iron) and that it's very hot before pouring in the batter.
I don't use any oil in my cooking any more, so I make these without the oil on the pan and they come out just fine. But you need to wait until you see those little suckers bubbling.
Don't be impatient!
What Can Go Wrong When Making Gram Flour Flatbread?
It always looks so easy when you see somebody making flatbread on Youtube but the truth is, it might not look like that when you first try it out.
What can go wrong?
Well the most common thing that can go topsy-turvy is that when you go to turn your flatbread over, you find it's just a big mush and doesn't flip. So you scrape at it a bit more and end up with lumps of flatbread instead of that perfect, beautiful, thin flatbread.
If this happens, don't worry, it still tastes ok and the next one will be better!
Normally it's because you didn't wait long enough before trying to flip. When the flatbread is cooked, it will flip. Other mistakes are not letting the pan heat up enough before pouring in the batter or not having the heat at the right level.
Make sure that the pan is really hot before you pour in the batter.
If the flatbread won't come away from the pan to be flipped, it isn't ready yet. Leave it to cook for longer, adjusting the heat if you think it will burn. I cook my flatbreads on a heat of 7.5 on my induction hob.
It can take up to 6 minutes total for one gram flour flatbread. 3 minutes on the first side and 2-3 minutes on the second.
Variations on Gram Flour Flatbread
You can make this gram flour flatbread just plain so that you can serve it as a sweet flatbread for example.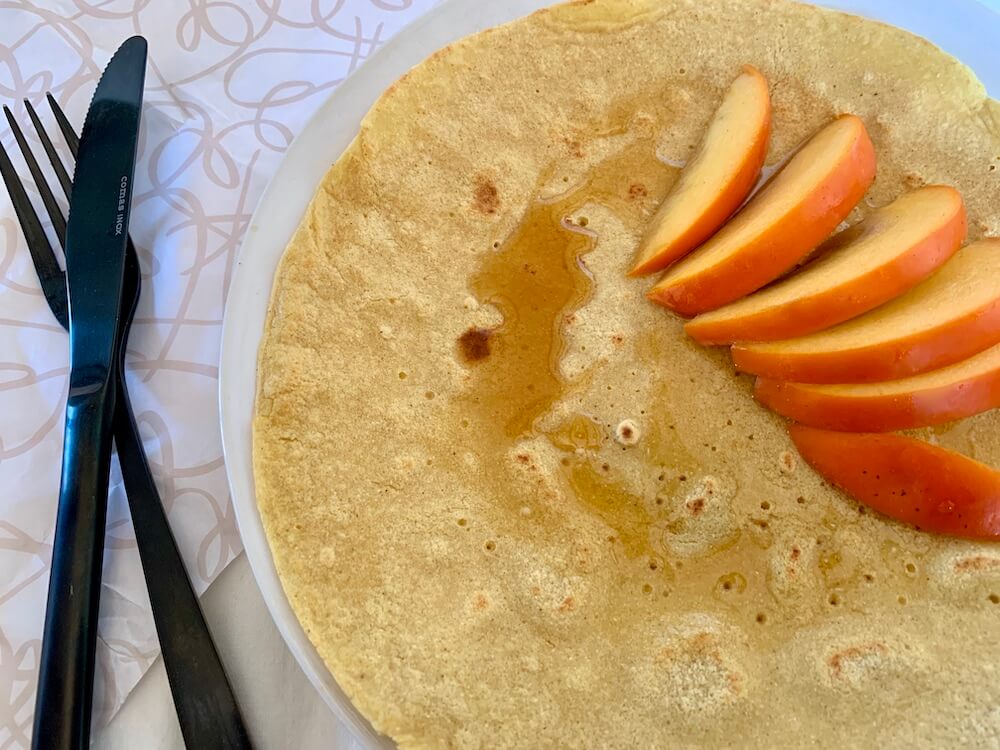 Maple syrup and fruit in a plain gram flour flatbread go really well.
Otherwise, for eating savoury, you can add spices to them (a little cumin, turmeric, chilli and some black mustard seeds).
Instead of spices, you may want to add some nutritional yeast for a cheesy flavour or some chopped fresh herbs, (parsley or cilantro).
Easy Gram Flour Flatbreads (WFPB)
Course: Side
Cuisine: Gluten free vegan
Difficulty: Easy
Easy, nutritious, gluten free, vegan flatbreads.
Ingredients
1 measuring cup of gram flour (buy or make your own)

2 measuring cups of water

Pinch of salt to taste

Optional Flavourings 1

1/2 tsp ground cumin

1/4 tsp turmeric

Either or both of the above plus black mustard seeds

Any of the above plus chopped cilantro


Pinch of chilli powder

Optional Flavourings 2

Nutritional yeast

Sweet Toppings for plain gram flour flatbread

Maple syrup

Chopped fruit of choice (banana, kaki, strawberries . . . )
Directions
Put the gram flour into a bowl.
Pour in about half the water and mix well to get rid of any lumps.
Gradually add the rest of the water until you have a smooth liquid the consistency of pancake batter.
Leave the batter to stand for a few minutes if possible.
Heat up a non stick frying pan over a medium high heat for 2 minutes or until really hot and wipe with an oiled piece of kitchen paper (unless you want zero oil).
Pour in one third of the batter mixture and swirl the pan around so that the batter covers the bottom of the pan.
Leave to cook for 3 minutes on the first side. It will flip easily when it's ready. If it doesn't flip, it isn't cooked yet. 3 minutes is normally perfect. Try with a spatula and when it comes away from the pan easily, you know it's ready.
Flip the flatbread over and cook on the other side for another 2-3 minutes until golden brown and yummy.
How to mAKE cHICKPEA FLOUR
Notes
Eat the flatbreads immediately or reheat in the microwave. Best eaten fresh.
What to Serve with Gram Flour Flatbread
Serve the flatbreads alongside a main meal like a curry for example, or eat them in place of a wrap, stuffed with avocado, veggies, sauerkraut and cilantro pesto.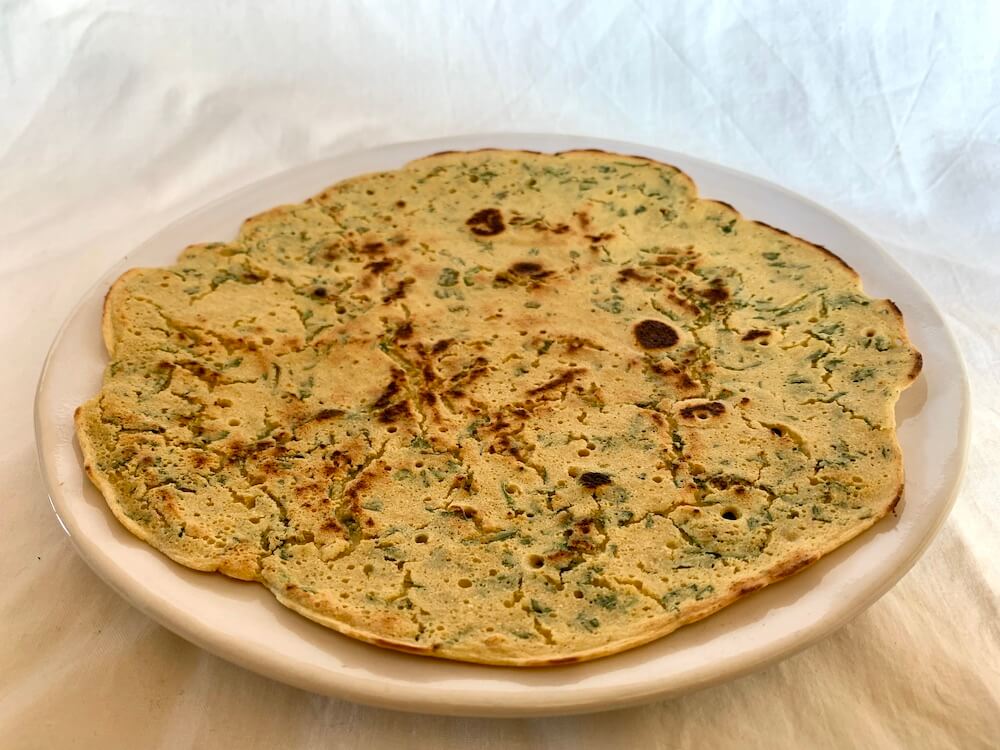 Serve on the side of soups like this best ever lentil soup, a wonderful smooth, green zucchini soup or rich orange coloured roasted sweet potato soup or roasted pumpkin soup
Flatbread also goes well with a vegan bowl or a big green salad.
You can even eat it just as it is, alone as a snack.