This vegan cilantro pesto recipe is not only the easiest recipe you could have but also the most tasty, versatile and foolproof sauce you could make.
You can alter the quantities of individual ingredients to tweak the outcome of the final sauce, so with this one recipe you can make a thick vegan cilantro pesto for dipping or spreading on toast, a slightly thinner, less cheesy cilantro sauce for on the side or a creamy cilantro sauce for using in cooking.
As well as that, you can leave out or reduce the nutritional yeast to give it a stronger cilantro flavour, or add more for a cheesy pesto. And extra squeeze of lemon for a more lemony sauce.
It's so easy that the flavour is never wrong, it's always delicious.
And once it's blended, you can just add more water, lemon juice or nutritional yeast to alter the flavour and texture to how you want it.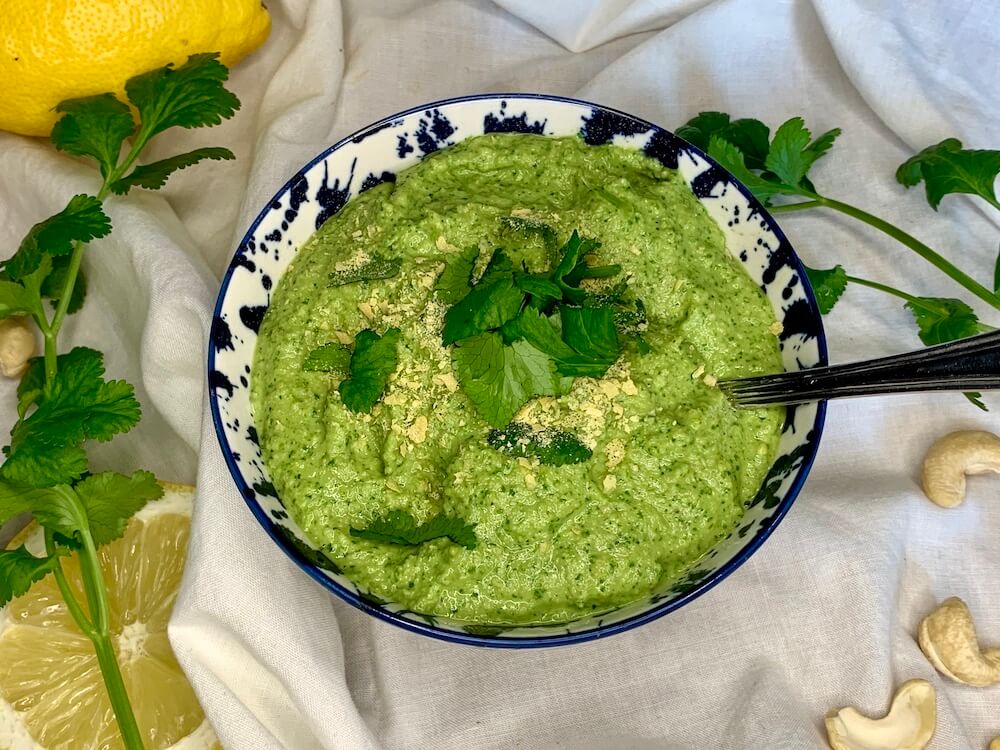 How to Make Oil Free Vegan Cilantro Pesto
All you need for this vegan cilantro pesto recipe are 7 ingredients:
Fresh cilantro
Garlic
Nutritional Yeast
Cashew nuts
Lemon Juice
Salt
Water
Optional: apple cider vinegar
Fresh Cilantro for Making Oil Free Vegan Cilantro Pesto
The best way to buy cilantro is in large bunches with long stems. When I'm making cilantro pesto instead of basil pesto, I use the whole plant, stems included.
Some people prefer to use the leaves only, but the stems are flavoursome and pungent, so why throw them away?
How to Store Your Fresh Cilantro
Keep your cilantro in a jar of water on the window and be sure to change the water daily.
When you take out the cilantro to change the water, rinse the stems and rub them to properly clean them before returning to the jar.
If you keep the cilantro for more than a couple of days, trim the very bottom of the stem off when you see it looking a bit 'tired' to give the cilantro a prolonged lifespan.
If it's taken care of in this way, cilantro can keep for up to about 7-10 days on your window sill.
Health Benefits of Fresh Cilantro
I'm blown away by just how many health benefits are associated with fresh cilantro. Cilantro can:
Lower Blood Pressure
Help Remove unwanted heavy metals from the body
Protect from free radicals due to its high levels of antioxidants
Stabilise and lower blood sugar levels
Improve skin quality
Promote better sleep
Reduce anxiety
Promote cardiovascular health
Support brain health and possibly reduce the risk of alzheimer's & dementia
Lower cholesterol levels
Kill harmful bacteria in the gut and promote digestive health
Improve and support overall health
Cilantro's been shown to be so effective for lowering blood pressure that people who suffer with low blood pressure are advised to use cilantro with caution.
Garlic in this Delicious Oil Free Vegan Cilantro Pesto Recipe
I usually use a couple cloves of garlic in this cilantro pesto but it can equally be made without any garlic at all. It's just a matter of choice in the moment.
Sometimes I make a cilantro sauce with just cilantro, cashews, lemon (or apple cider vinegar), salt and water, and it's also sooo tasty.
Cashews or Pine Kernels in this Oil Free Vegan Cilantro Pesto
I use cashews in this recipe to thicken out the sauce and give it some body. You can grind the cashews up just as they are, or for a smoother result, soak the cashews for a couple of hours beforehand, or simply soak in boiling water for 15 minutes.
After soaking discard the water, rinse the nuts and blend as usual.
You could swap the cashews for pine kernels but they're more expensive – and as I love the flavour of the cilantro, I think its unnecessary to use pine kernels in this recipe unless you have an abundance.
If you prefer them, the result will be delicious!
Water and Lemon Juice in Your Vegan Cilantro Pesto Recipe
Use the water and lemon juice freely to suit the moment. Adding more water for more of a sauce (rather than a pesto) and liberal lemon juice to give the sauce a more bitter tang.
Sometimes I use this sauce in cooking and then I want it to be thinner but not so lemony, other times I fancy the tang of lemon. Vary it according to your taste.
Also, when you taste the sauce, you make like to add a dash of apple vinegar. Play with it and you'll discover the flavours.
Nutritional Yeast in Oil Free Vegan Cilantro Pesto
Using nutritional yeast in this oil free vegan cilantro pesto recipe is completely optional.
If you want a pesto consistency and flavour, then you'll need to add the nutritional yeast, but for a side sauce or cooking sauce the nutritional yeast can be omitted with equally successful results.
Oil-Free Vegan Cilantro Pesto Recipe
Course: Sauce
Cuisine: Mediterranean
Difficulty: Easy
This no-oil vegan cilantro pesto is easy to make, delicious and incredibly versatile.
Ingredients
1 bunch (75 g) fresh coriander

120g unsalted raw cashews

2 cloves garlic

1/2 – 1 lemon

2 tbs Nutritional yeast, or to taste

1/4 – 1/2 measuring cup of water

1/2 tsp salt, or to taste

Optional: apple vinegar
Directions
Wash the coriander and roughly chop it, including stems. Place into a food processor along with 1/4 cup of water and the juice from half a lemon.
Pulse and blend until the herbs are chopped and taking up less space in the food processor, making room for the rest of the ingredients.
Add the cashew nuts, garlic and salt and blend until a smooth paste is achieved.
Taste the pesto and add more salt, lemon juice or water, according to your needs.
Add a dash of apple vinegar if you like.
Scrape into a jar and keep in the fridge for handy access.
Top 5 Health Benefits of Coriander leaves
Notes
This recipe can be made with or without the garlic and the nutritional yeast. And if you want to add oil, you can do that too . . . (but I prefer it without!)
I use this oil free vegan cilantro pesto in so many different ways, varying the nuances of the flavour each time by adding more or less water, lemon juice, cashews or nutritional yeast.
I find it more versatile (and tasty!) than homemade basil pesto for example and while I used to eat cashew nut sauce with everything, now even that's been replaced by this all time favourite cilantro pesto.
You can eat this just on its own with some super easy gram flour flatbreads or these delicious lentil flatbreads with sliced avocado on top.
Because I love adding extras to the side of my plate, easy to make plant based sauces are one of my favourite things to make and since going oil free I even make my tomato sauce without oil these days too.
If you have any vegan questions, drop me a line and I'll be happy to respond.