This easy to make, spicy peanut sauce recipe is one of my favourites (I know, I've got lots of favourites!), because not only is it absolutely delicious but it also adds a kick to your dish.
This spicy peanut sauce takes so little effort it can be made in just a few minutes.
My other absolute favourite sauce at the moment would be this scrumptious coriander sauce.
There are also plenty more essential vegan sauces which I love to make, like cashew sauce in all its fantastic variations, or a homemade vegan pesto or instant carrot sauce.
But when you want a spicy bite, there's nothing quite like this spicy peanut sauce.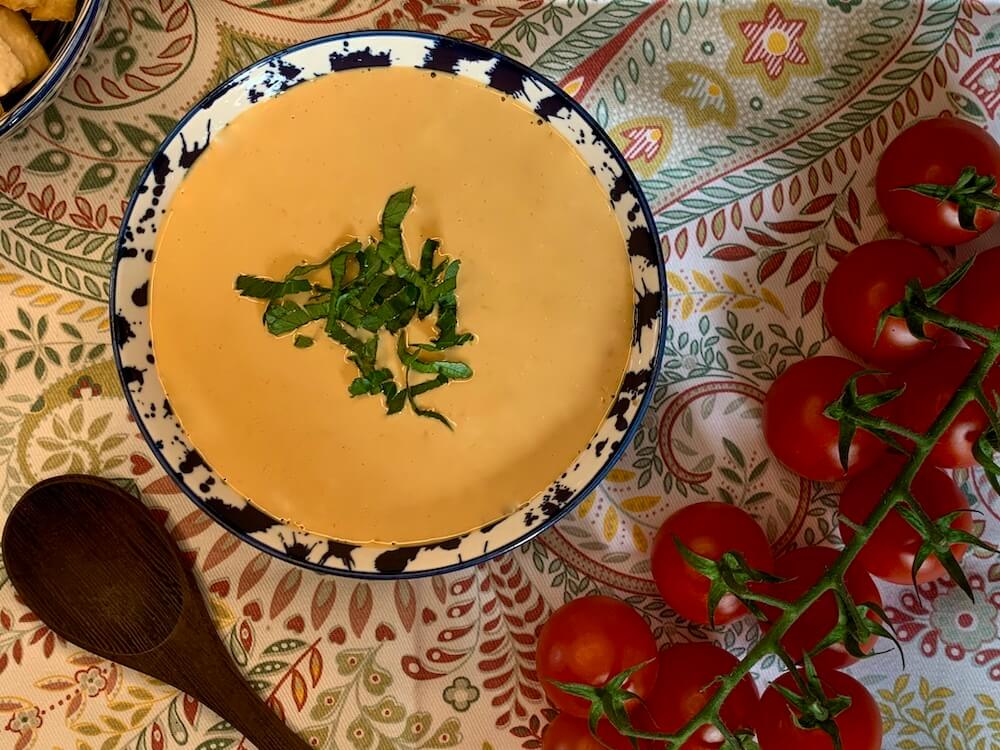 How to make Spicy Peanut Sauce
There are loads of recipes available for making a spicy peanut sauce but after trying so many over the years, I ended up creating this simplified version.
Partly because it's easy and I like simple, and partly because I think it has more flavour than the more complicated, cooked versions.
Ingredients for this Spicy Peanut Butter Sauce Recipe
Peanut butter
Garlic
Fresh ginger (frozen is fine)
Chilli
Lemon juice
Kejap Manis (aka Kecap manis)
Salt (& pepper)
Water
I'll give the quantities in the recipe below, but the true secret to getting this just right lies in tweaking it each time you make it.
It really isn't necessary to measure the quantities once you've made it once, because it will be different every time anyway.
And it won't ever work out perfectly just by measuring the ingredients because different types of peanut butters make a different flavoured sauce; lemons vary in their sourness; brands of soy sauce, tamari or Ketjap manis are all unique and the salt will need adjusting according to taste.
I always blend the sauce, taste it and adjust, blend again, taste again and so on.
Basic Steps for Making this Spicy Peanut Sauce Recipe
Basically this recipe is just a matter of putting the ingredients into a food blender and then adjusting them as necessary after doing a taste test.
You can add more lemon juice, water, soy sauce, garlic or chilli after the first blending.
I use 1/2 – 1 clove of garlic depending on the size of the clove and the mood I'm in.
For the ginger, use a cube the size of a small thumbnail – and it's the one ingredient I don't alter.
Next comes the peanut butter and for the sake of this recipe I've used 100g but that will just make a small bowlful.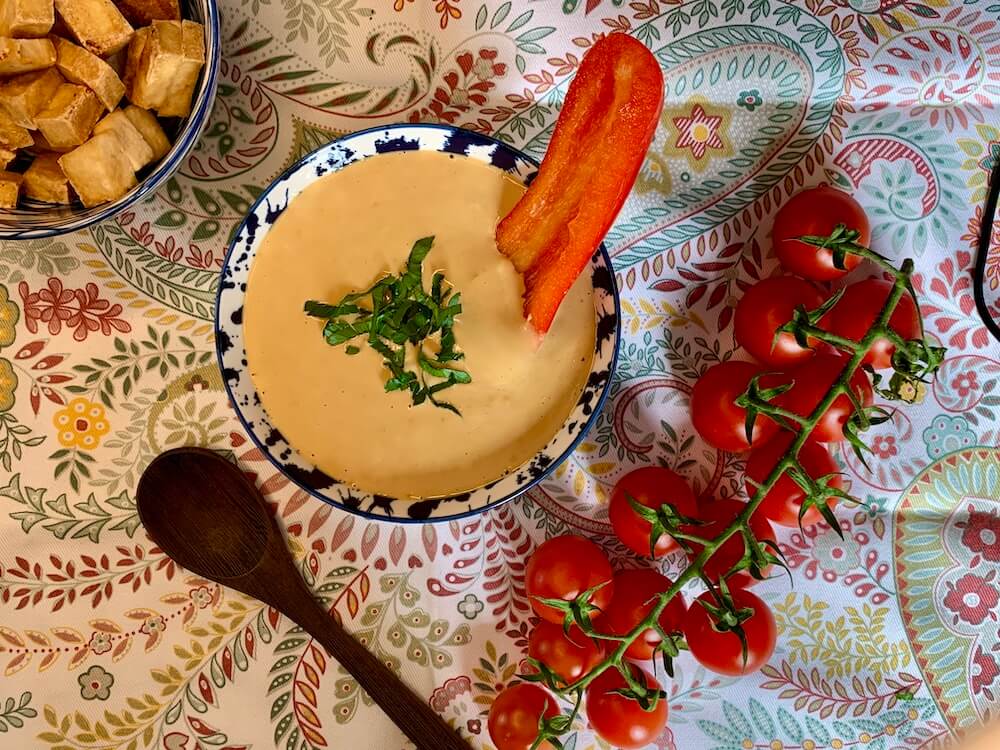 If you want more quantity, double the amount of peanut butter and water etc. It isn't necessary to double the ginger and the garlic and chilli can be adjusted when you do the taste test.
Put the ingredients into the food processor along with a squeeze of lemon juice, a pinch of salt, a dash of ketjap manis (or tamari or gluten free soy sauce), and a dash of water.
Blend, adding more water until you get a sauce consistency.
You'll need to gradually add more water until you get a sauce that's slightly thinner than you want it to end up.
The sauce will thicken up when you let it stand and again when you heat it up.
Once it's blended, taste the sauce and add more soy sauce, lemon juice, salt or chilli powder to tweak the taste.
Remember it will improve if you make it in advance and leave it to stand and infuse the flavours, but it can also be eaten immediately.
Give the sauce a grinding of black pepper if you like, or garnish with fresh chopped cilantro.
Put the spicy peanut sauce in the fridge until you're ready to eat it. Then, take it out and heat in the microwave for a moment.
And that's it, you're done!
What to Serve with this Spicy Peanut Sauce Recipe
This spicy peanut sauce goes so well with so many things!
As an accompaniment to potatoes, chips, steamed, fried or sautéed.
You can add this sauce to anything, as a topping on tofu, a spread on gluten free cheese crackers, a dollop on your plain rice or on top of your Buddha bowl.
Cheer up any plain veggies by adding this sauce to the side of the plate. For example if you have some plain steamed veggies, this goes really well on top.
Crudités – make a plate of raw veggies to dip into the spicy peanut sauce. It's quite rich so maybe have it as one option of many dips.
Other Sauces to Serve Alongside this Spicy Peanut Sauce
For a Buddha bowl, you can make a hummus as well as this spicy peanut sauce and serve them both on top of your Buddha bowl. Yum.
For noodle dishes, salads and rice, you can also serve a cashew nut sauce, which goes with absolutely anything.
So there you have it. One of the easiest recipes of all time and well worth making to add a bit of zing to the main dish.
All you have to do is blend it, heat it and eat it!
Spicy Peanut Sauce Recipe
Course: Vegan sauce
Cuisine: Spicy Sauce, Vegan, Gluten free, WFPB
Difficulty: Easy
Delicious spicy sauce that typically goes with Nasi fried rice or Bami style noodles
Ingredients
100 g peanut butter

1/2-1 clove garlic

Cube of fresh ginger the size of a small thumbnail

Fresh chilli to taste

Pinch of salt

Juice from 1/2 lemon

Water

Dash of ketjap manis sweet Indonesian soy sauce or gluten free soy sauce or tamari
Directions
Put the peanut butter, garlic, ginger, chilli, dash of soy and pinch of salt into a food processor

Add a squeeze of lemon juice and a bit of water and blend
Add more water until you get a sauce consistency
Taste to check the balance and add more lemon, ketjap manis, chilli or salt
Store in a bowl in the fridge until ready to eat
Heat in the microwave for a moment before serving and garnish with some fresh chopped cilantro
Recipe Video
Notes
Tip: For convenience, buy fresh ginger, chop it into cubes or slices and pop into the freezer in a container with a lid. Then you can just take out a slice whenever you need it! Simply peel and it's ready to go.