This is the easiest and tastiest spicy peanut sauce recipe, and in my opinion it's also the best, because it takes so little effort and can be made in just a few minutes.
There are lots of other sauces which I love to make, like the essential cashew sauce in all its glorious forms, or a homemade vegan pesto or an instant carrot sauce, but when you want a kick, there's nothing quite like this spicy peanut sauce.
How to make Spicy Peanut Sauce
All you have to do is take the container for your hand blender and put in half a clove of garlic, chopped, and the same amount of fresh chopped ginger. Next, add 2 tbs peanut butter and the juice from half a lemon.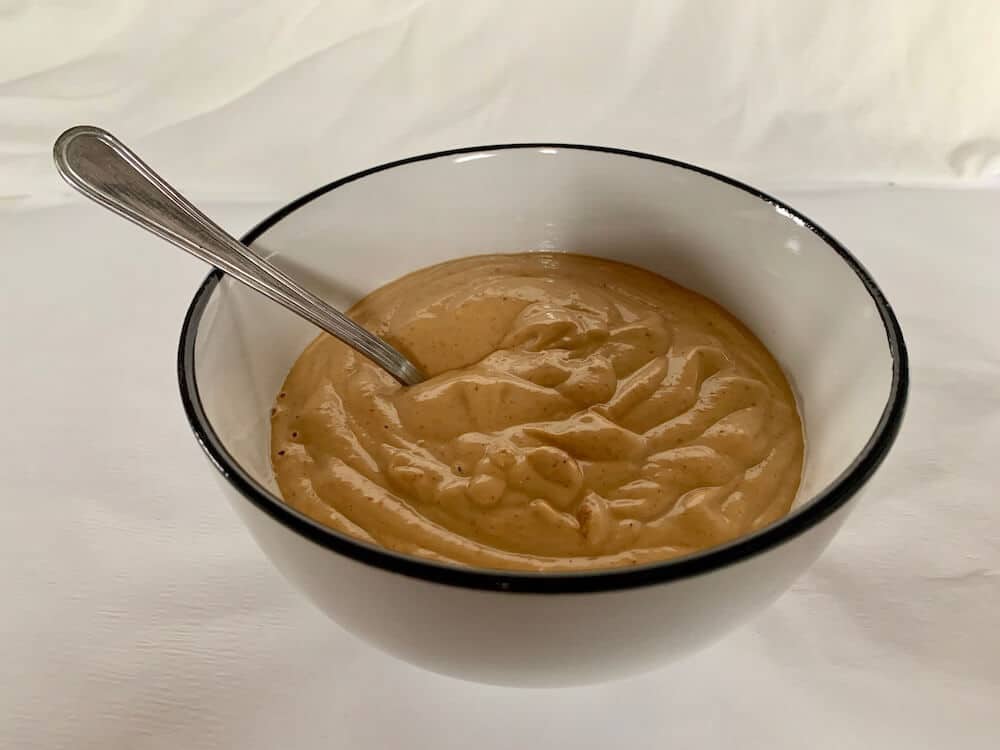 Pour in a little water and a sprinkling of salt and blend the whole lot together. You'll need to gradually add more water until you get a sauce that's thinner than you want it to end up.
I make it a little runny at this stage as it will thicken up when left to stand, and again when you heat it.
Taste the sauce and add more soy sauce, lemon juice, salt or chilli powder to tweak the taste. Remember it will improve when it stands and infuses the flavours.
Give the sauce a grinding of black pepper if you like pepper.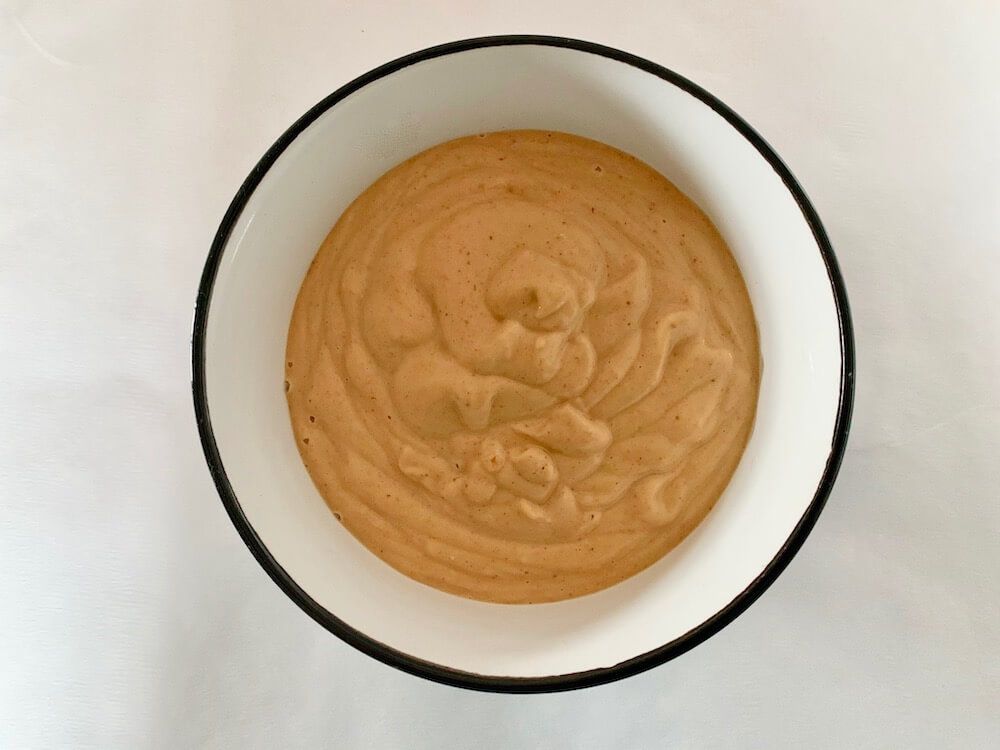 Put the spicy peanut sauce in the fridge until you're ready to eat it. Then, take it out and heat in the microwave for a moment, or in a saucepan if you prefer.
And that's it, you're done!
What to Serve With This Spicy Peanut Sauce
This spicy peanut sauce goes so well with so many things!
Serve this sauce with . . .
Crudités – make a plate of raw veggies to dip into the spicy peanut sauce. Raw cauliflower goes really well with this.
Cheer up any dull veggies by adding this sauce to them. For example if you have some plain steamed veggies, this goes really well on top.
Make a delicious Nasi – fried rice with vegetables, served with flatbread and spicy peanut sauce!
Make a yummy Bami – stir fried vegetables with gluten free noodles and yes, served with this spicy peanut sauce!
You can add this sauce to anything, as a topping on tofu, a spread on gluten free cheese crackers, a dollop on your plain rice or on top of your Buddha bowl.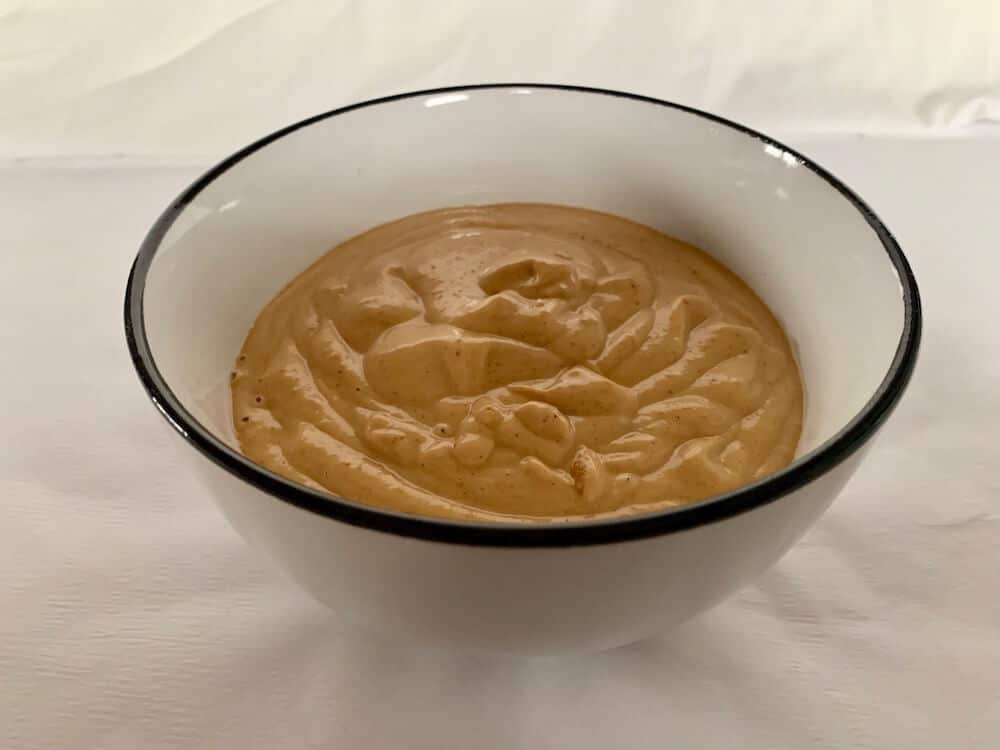 Other Sauces to Serve with this Spicy Peanut Sauce
For a Buddha bowl, you can make a hummus as well as this spicy peanut sauce and serve them both on top of your Buddha bowl. Yum.
For noodle dishes, salads and rice, you can also serve a cashew nut sauce, which goes with absolutely anything.
But actually, the spicy peanut sauce doesn't need another sauce to make it stand out from the crowd, because it already does.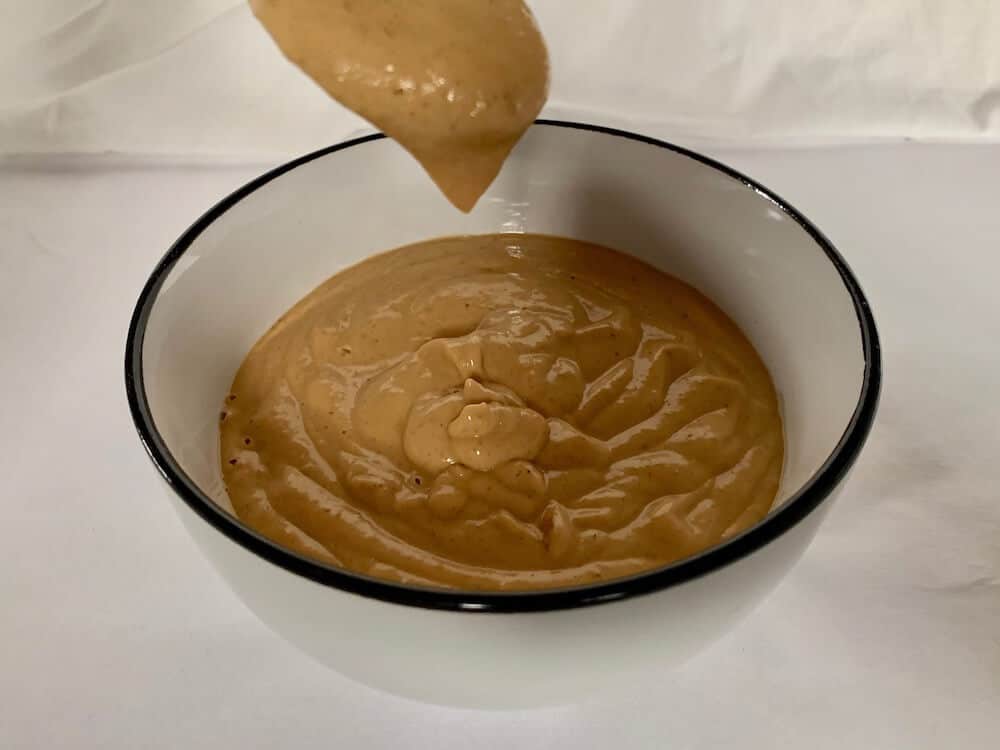 All you have to do is make it, and eat it!
Spicy Peanut Sauce
Course: Vegan sauce
Cuisine: Spicy Sauce
Difficulty: Easy
Delicious spicy sauce that typically goes with Nasi and Bami
Ingredients
3 tbs smooth peanut butter

1/2 clove garlic

Piece of fresh ginger the size of a thumbnail

Small piece of red chilli

Pinch of salt

1 lemon

Water

Dash of gluten free soy sauce or gluten free ketjap manis sweet Indonesian soy sauce
Directions
Put the peanut butter, garlic, ginger, chilli, dash of soy and pinch of salt into your hand blender.

Add a squeeze of lemon juice and a bit of water and blend.
Taste as you make the sauce and add more lemon juice to taste.
Add more water as necessary and keep blending.
Check the levels of chilli, salt, lemon, soy and water. Give a final blend and put into a container in the fridge. When you're ready to eat, remove from the fridge and heat.
Recipe Video
Notes
Tip: Buy fresh ginger, chop it into small pieces and then freeze in a container in the freezer so that you can always take out a portion size of fresh ginger for your recipes! Just peel and it's ready to go.