This vegan noodles recipe, or Bami Goreng, is so tasty, quick & easy to make, and it's inspired by its non-vegan counterpart, the Indonesian Bami Goreng.
I've made one or other type of vegan noodles all my adult life, but I only began making the vegan Bami Goreng after I married my husband, who's Dutch and loves the Dutch version of Bami Goreng! So of course I set out to make a vegan equivalent along with a delicious spicy peanut sauce (or pinda sauce in Dutch!).
The great thing about this vegan noodles recipe is, if you prepare the veggies in advance, you can serve this in under 10 minutes.
Preparing the Bami Goreng Vegan Noodles Recipe in Advance
Preparing this vegan noodles recipe is simple: chop up lots and lots of different vegetables of choice, whichever ones you want to use, or whichever ones you happen to have in your fridge.
If I have a leek, I like to include it. Broccoli's a favourite along with sweet potato and some green pepper but really, you can add almost any veggies. I also make it with eggplant and that goes really delicious! The point is not to follow set rules but to create some yum with whatever you've got.
And if you're going shopping on purpose for this, then take your choice from the following: sweet potato, carrots, leek, sprouts, zucchini, eggplant, broccoli, sweet corn, mushrooms.
Finely chop the garlic, ginger and chilli; cut the veggies into small pieces – and that's the prep done.
Fry the garlic, chilli and ginger in a little olive oil or coconut oil. After a couple of minutes, add some cumin and coriander and the hardest vegetable you're using. Fry the veggies a moment before adding the next soft one in line.
When all the vegetables have been added and cooked for a few moments, turn off the heat and set aside.
Make a bowl of spicy peanut sauce according to the recipe here. If you don't want to make spicy peanut sauce (but I really recommend you do!), you can serve vegan Bami Goreng with some homemade cashew sauce.
The final touches to the vegetables will be just before serving, so for now, that's all the preparation finished! You can set it all aside until you're almost ready to eat.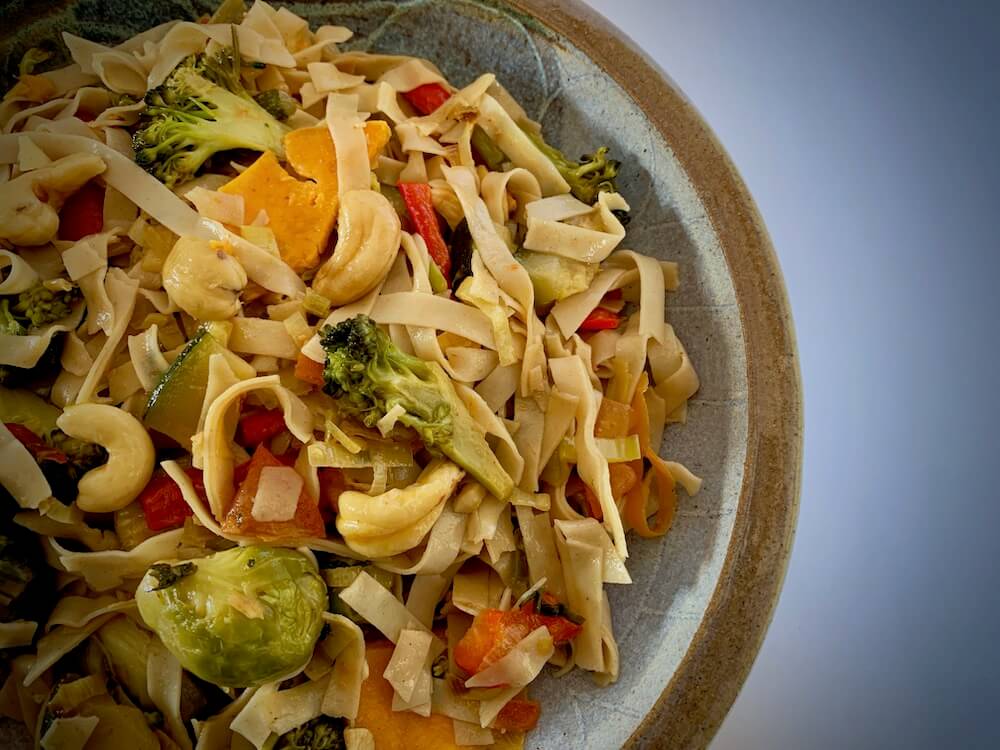 Cooking the Bami Goreng Vegan Noodles Recipe
When you're almost ready to serve, put the big pan of veggies back onto the heat and stir fry. Add a good slosh of gluten free soy sauce or ketjap manis (sweet Indonesian soy sauce) to taste.
For the noodles, I use gluten free rice noodles and I prefer the red/brown rice or silver-rice to the transparent noodles. I almost never use the transparent ones, but it's a matter of personal preference.
If yours are the same, they're soooo easy to cook!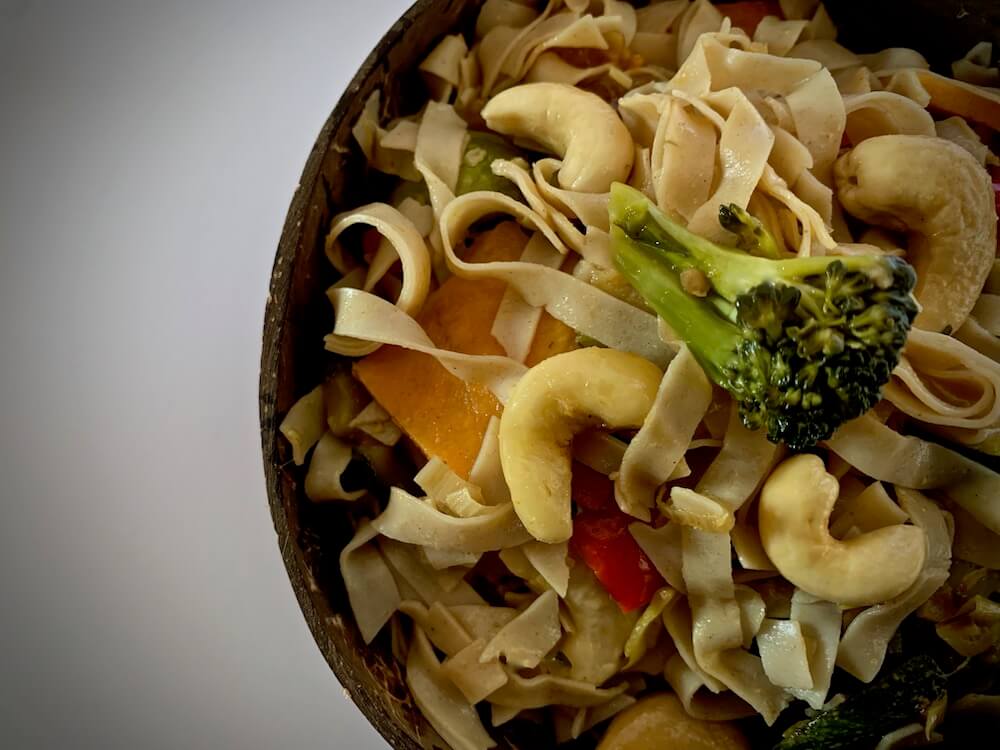 The noodles are a dream to cook! Just boil a pan of water, add the noodles and turn off the heat. Leave them for 2 minutes (yes, really! Only TWO minutes!), then rinse under cold running. How easy is that?
Of course, if your noodles are different, just follow the instructions on the packet.
And if you're preparing them in advance, this is the point you can set the noodles aside until you're ready to serve, when you'll add them to the pan of veggies.
Mixing the Vegan Noodles Recipe Bami Goreng
So you've got your noodles cooked, (if you count 2 minutes soaking in hot water as cooking!) and you've got stir fried veggies in ginger, garlic, cumin & coriander in a separate pan.
All you need to do now is put the veggies back onto the heat and add a good slosh of gluten free ketjap manis (Indonesian sweet soy sauce) which you can sub for standard gluten free soy sauce if you can't get ketjap manis.
Stir the pan well and add the noodles. It's just a matter of mixing the noodles well with the veggies an allowing it all to heat up (if reheating).
As the noodles never seem to properly completely mix with the veggies, my tip is to share the noodles out between the plates first, and then top each of them with the extra veggies which are left in the pan.
If you serve one complete plate and then go on to the next, you might find when you get to the last plate that it has far more veggies and much less noodles. And the first person got all noodles and a few veggies!
Vegan Noodles Recipe – Bami Goreng
Course: Main course
Cuisine: Dutch Indonesian
Difficulty: Easy
Prepare in advance and serve in 10 minutes!
Ingredients
2 cloves garlic

1 cm Piece of fresh ginger finely chopped

2 tsp cumin powder

1 tsp coriander powder

1 fresh red chilli

Lots of chopped vegetables: sweet potato, 1/2 leek, 1 carrot, broccoli, zucchini, red pepper, mushrooms.

Handful raw unsalted cashew nuts (optional)

Olive oil or coconut oil for cooking

Gluten free ketjap manis (sub for GF soy sauce)

For the Noodles


Gluten free red rice noodles or silver rice noodles

For Serving
Directions
Finely chop the garlic, ginger and chilli.
Heat a little olive oil or coconut oil in wok (or similar), add the garlic, ginger & chilli, and cook for a couple of minutes.
Add the hardest vegetable you have. If you use sweet potatoes or eggplant, these will go in first, followed by the finely sliced leek if using.
Each vegetable only needs a moment in the wok/frying pan before the next vegetables goes in, except if you use sweet potato or eggplant, both of which need a few minutes to cook on their own first.
Season with a little salt (to taste).
Add the rest of the vegetables in order of softness, ending with the mushrooms.
When all the vegetables are in the pan, add the handful of cashew and stir fry the whole lot for a couple of minute.
Turn off the heat until you're ready to make the noodles to eat.
For the Noodles
Cook the noodles according the the instructions. If in doubt, boil a pan water (and add salt if desired).
Add the noodles and turn off the heat. Leave the noodles to stand for 2 minutes.
Drain and rinse under cold water.
Set aside until ready to serve.
Putting It All Together
Re-heat the stir fried vegetables for a couple of minutes over a medium high heat.
Add a good slosh of gluten free ketjap manis (or sub for GF soy sauce).
Pour the noodles into the vegetables and stir to mix well.
Notes
You can make this with minimal vegetables if you're running low, or with all the vegetables you can lay your hands on!
Can be made totally in advance and then just put together in 10 minutes.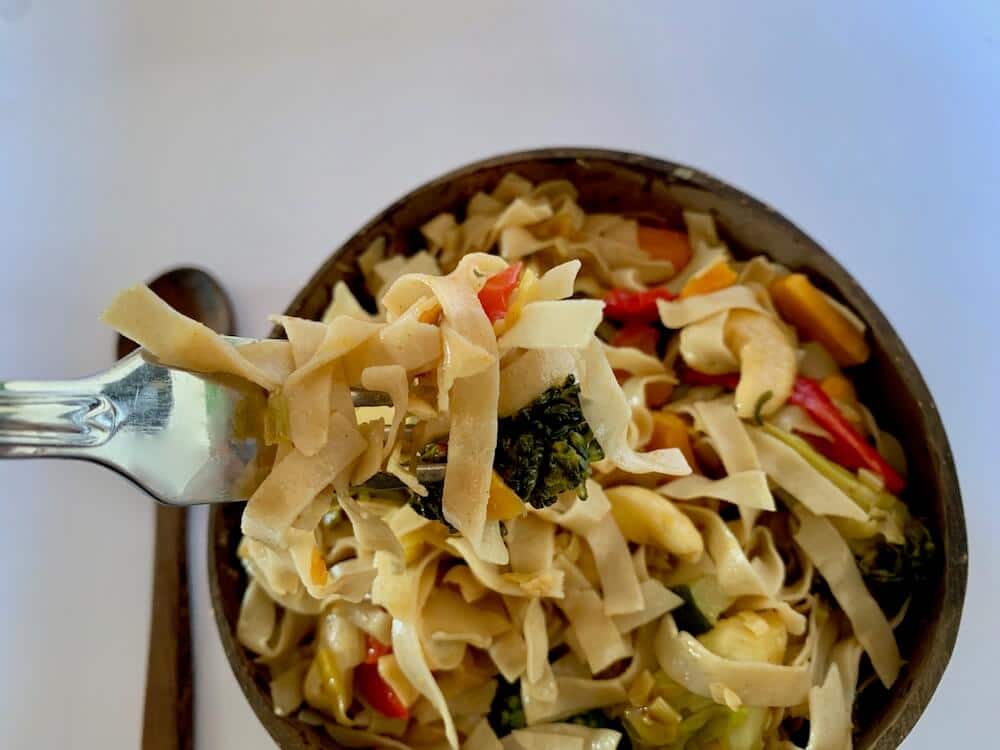 If you like these noodles and are a pasta fan, have a look at this yummy lentil pasta salad for some more pasta inspiration!
Oil Free Vegetable Noodles
For an oil free version of this Bami Goreng noodles dish, chop up all the veggies & garlic. Finely grate a little ginger but use less than you would when frying, or, if you don't like a pungent ginger flavour, substitute for powdered ginger.
To cook the veggies you can steam them and although this will change the finished dish considerably, it can still be tasty.
Another alternative is to start by dry-frying and then add a tablespoon of water at a time. This method needs patience and delivers crunchy stir 'fried' veggies.
Finally, another method you can use for stir-frying the veggies without oil is to use a little apple sauce instead of oil.
With all three methods, you need to add the leek or onion, followed by the spices, and once the spices have been cooking for a couple of minutes, add the rest of the vegetables in order of hardness.
Once you've made the veggies, mix with the noodles, the same as the normal oil fried version.
Take a look at this guide on oil free vegan cooking for more information.