If you've ever wondered what the ingredients in a Buddha bowl are, and what makes the difference between an ok and an awesome buddha bowl, then you've come to the right place.
Buddha bowls are filled with healthy goodness and are easy to make so it's no wonder they're so popular at the moment – they can be thrown together in minutes and made with so many variations – whatever takes your fancy, pop it in, but make sure you include lots of antioxidants, protein, vitamins and minerals in there.
Buddha Bowl Concept
So how to create scrumptious buddha bowls that you'll make time and time again. Because creating tasty food is often more about a concept than a recipe.
First off, have you ever created a buddha bowl before? If not, don't worry, it's easy. And you can prepare everything in advance too, so it's even great for when you're feeding other people or busy with other things, or for keeping in the fridge in advance.
And of course, it can be made with leftovers from the day before.
The trick is to have the main ingredients pre cooked and the toppings on hand in the fridge.
What's in a Vegan Buddha Bowl?
A vegan buddha bowl's basically a complete meal served in a bowl (beautiful by nature!). It's filled with a variety of veggies, protein and natural carbs making it a really healthy and filling option.
Traditionally a buddha bowl's served cold but I also like to serve it with some hot ingredients and rest cold, because I love the contrast. You can also add a vegan cheese like this vegan cashew cheese with jalapeños to your bowl.
Another great use for a buddha bowl is when you have leftovers. So if you've made some vegetable nasi rice the day before, or maybe some Bami noodles or vegan eggplant parmesan, you can take any leftovers and use them as part of your buddha bowl. Another great ingredient would be some of this lentil pasta salad.
Whatever your imagination comes up with can become a Buddha bowl. But normally, as a rough guide, a buddha bowl often has certain ingredients.
Essential Ingredients of a Buddha Bowl
A grain – whole grain rice, black rice, buckwheat, quinoa.
A green leaf – spinach, kale, Swiss chard, lettuce, lambs leaves
Vegetables – avocado, cherry tomatoes, broccoli, cauliflower, carrots, peppers, eggplant, zucchini, onion
A topping – pumpkin seeds, walnuts, chia, flax, hemp
A dressing – extra virgin olive oil, balsamic vinegar, lemon juice, tahini
The secret to creative cooking is to just create a delicious dish using whatever you have in your cupboards and fridge, without limiting yourself to strict recipes.
So you can absolutely change the ingredients however you like. And that's where the buddha bowl is so flexible.
How to Make a Buddha Bowl
Choose a grain and cook it in advance. I love black rice, red rice or quinoa so any of those will go perfectly in my buddha bowl of the moment. You could also use pre-cooked chickpeas instead but a grain is my favourite base.
Choose some green leaves for your buddha bowl.
Add veggies, either cooked or raw.
For example, you could have a buddha bowl made with roast eggplant, zucchini, roasted chickpeas and quinoa (as well as the additional extras), or you might have raw vegetables like red pepper, carrot, tomato with wholegrain rice and tofu for example.
Add toppings to the bowl: pumpkin seeds; chia seeds; ground flax seeds
Choose some sauce: hummus; sweet chilli sauce; hot pepper sauce; cashew nut sauce; vegan mayonaise.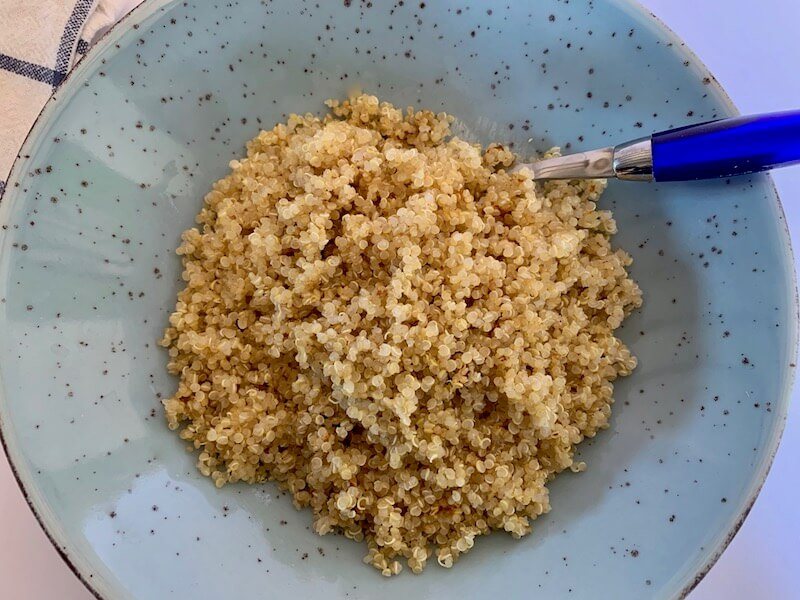 Easy Vegan Buddha Bowl Recipe
Prepare something in advance:
Refried chilli beans
Leftover Nasi Goreng
Spinach or Swiss chard
Steamed broccoli florets
Steamed/boiled sweet potato cubes
Halved cherry tomatoes
When you're ready to start putting your easy vegan buddha bowl together, toss the broccoli florets and sweet potato cubes in a wok or frying pan in a little olive oil.
Heat the quinoa and spinach in the microwave (or in a pan) then place into a deep bowl and top with the chilli beans, vegetables and sauces.
If you want, you can serve everything cold. In the summer I do them all cold, and in the winter I do half-half, as above.
Build Your Own Buddha Bowl
The greatest thing about building your own buddha bowl is that anything goes. Literally, a buddha bowl just means a complete meal in a bowl, so if you fancy some noodles with tofu and grated carrot on top, that's your buddha bowl.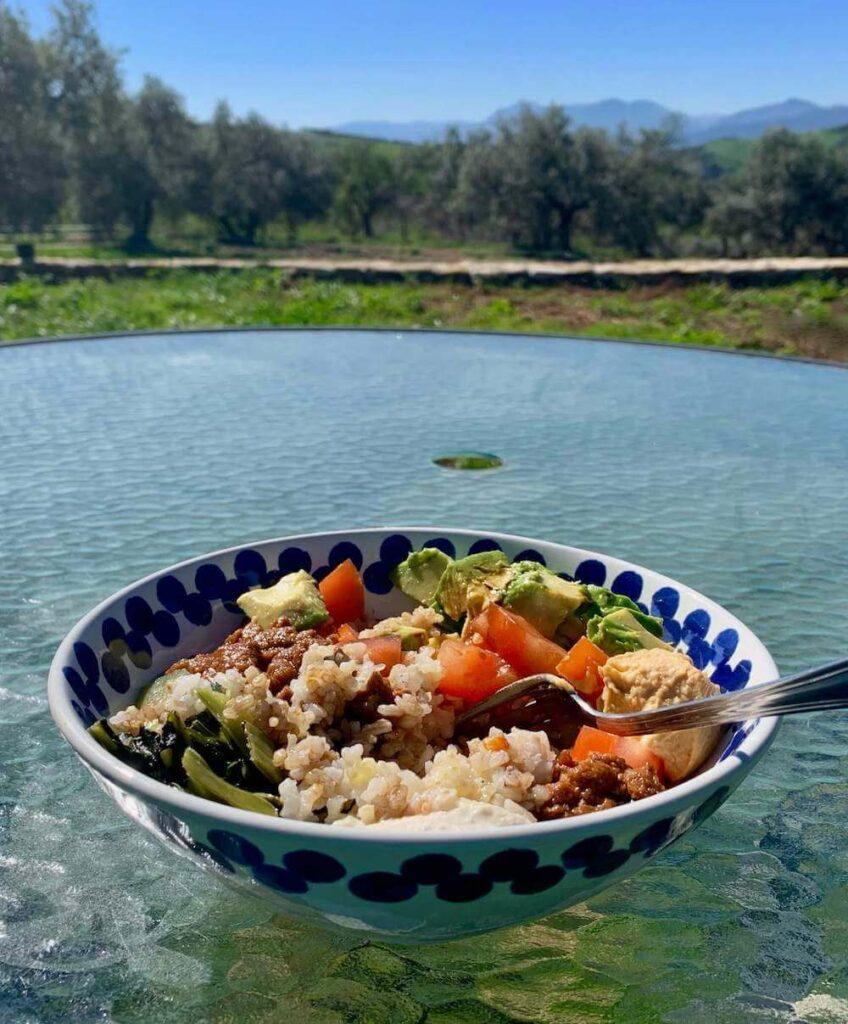 If you liked this recipe, I'd love to see you over on Instagram #loveveganliving!