I love the flavour of this vegan cashew cheese with jalapeños, but I tend to forget in between making it, just how much tastier it gets when matured!
It starts off with a cheese-spread consistency and can be used immediately, spread on crackers or gluten free toast, but the real flavour and character comes through after 2-3 days in the fridge.
Just put the vegan cashew cheese onto a dish in the fridge and leave it alone. After a couple of days, turn it over so that the bottom side also matures.
It then has a lovely firm texture, gooey and soft, but firm enough to hold its form.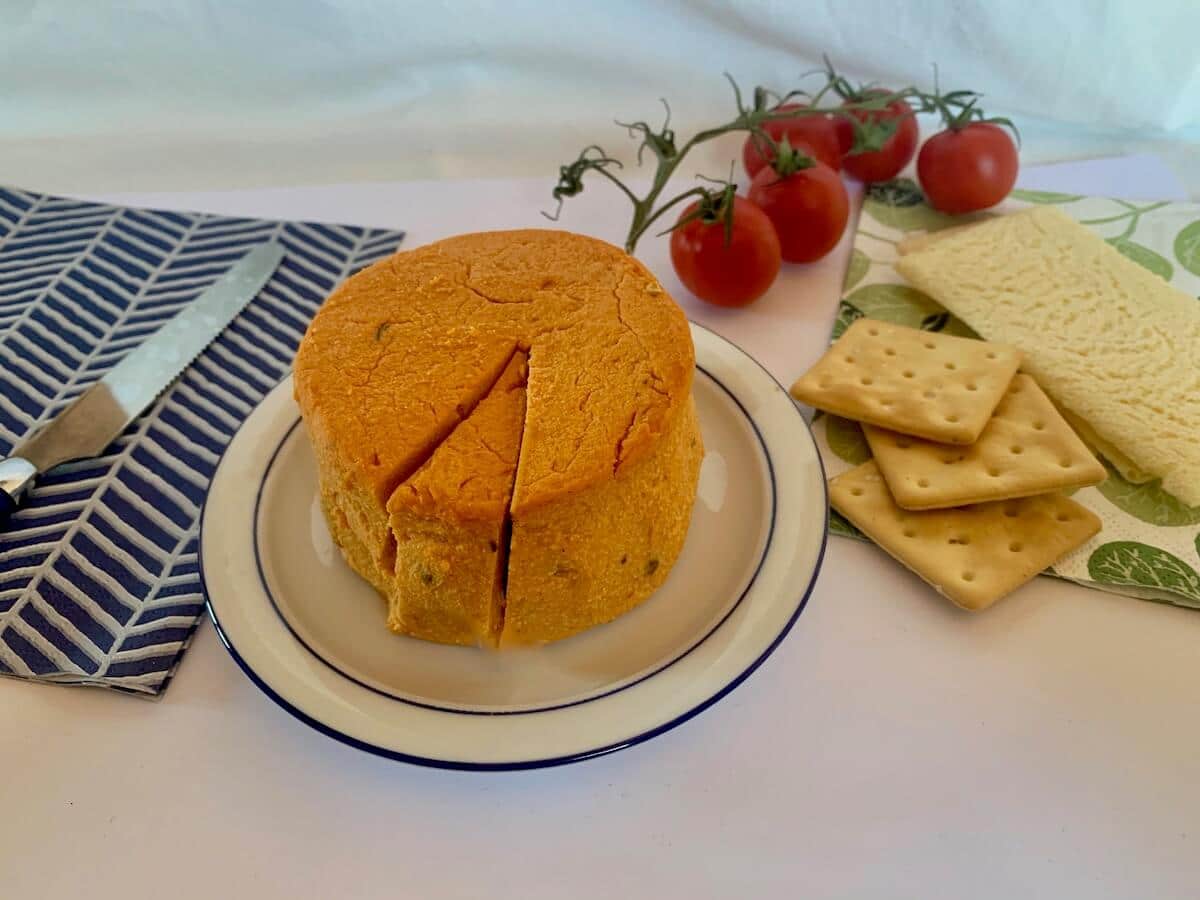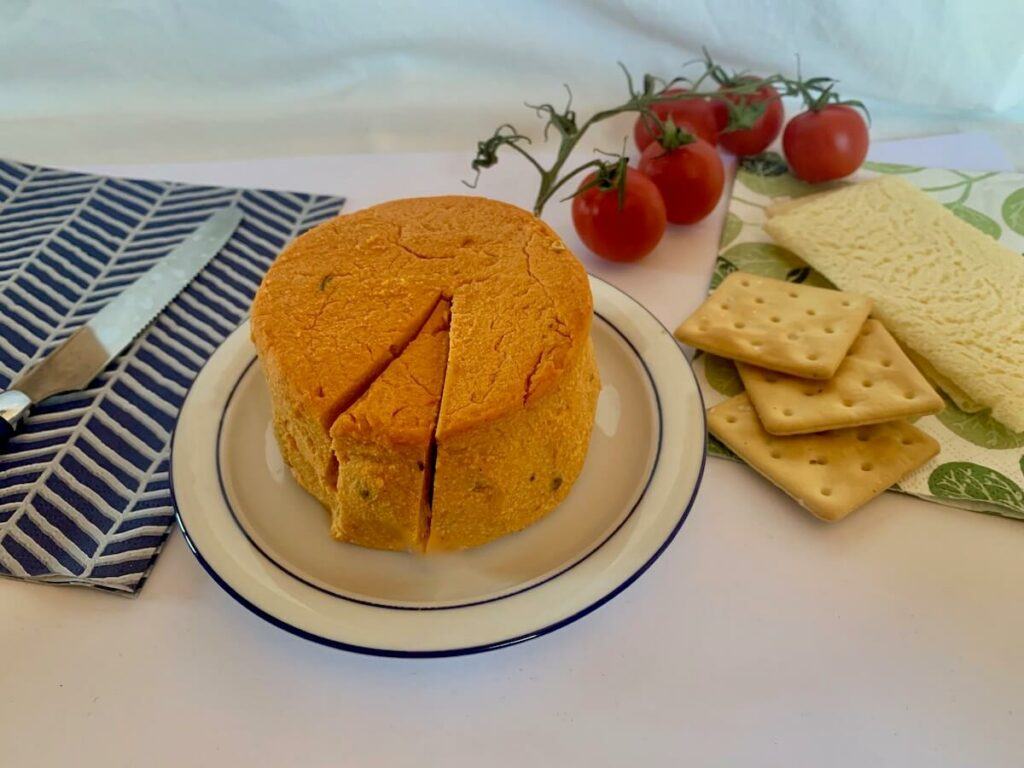 Everyone I know who's tried this, loves it.
I should point out that it doesn't taste anything like dairy cheese though. So let's be clear from the outset: this isn't a chunk of cheddar!
When you go vegan, you may find yourself craving cheese and the logical reaction is to discover things to use as substitutes to things you used to eat.
But in reality the flavour will always be different when you make plant based versus animal based. Like this vegan mayonnaise or these other types of vegan cheeses – all delicious but unique.
And the number one secret killer food in a vegan kitchen has to be the amazing cashew sauce, which I used on and with everything, in its various different forms.
One of the easiest vegan cheeses to make is vegan parmesan, followed closely by vegan mozzarella, which can be used in pizzas, dips, cooking and more.
Don't worry, if you're anything like me, you'll end up preferring the plant based flavours any day.
How to Make Vegan Cashew Cheese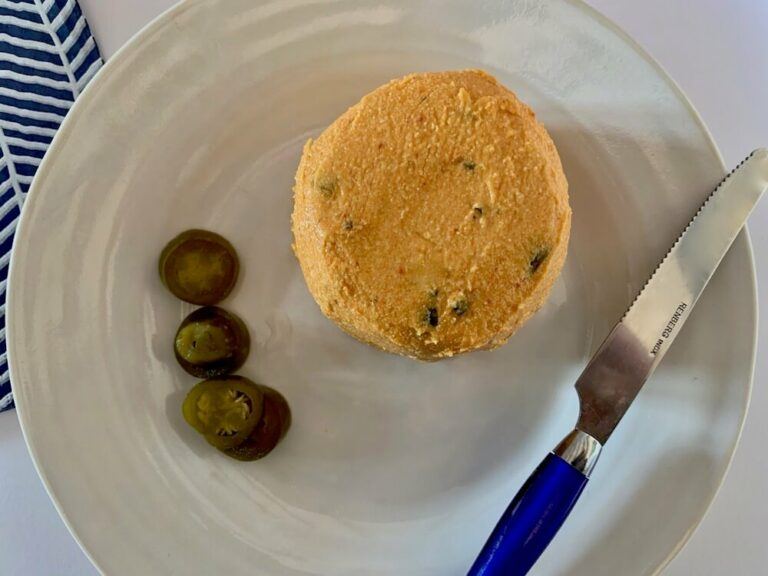 Once you've got the hang of making a basic vegan cheese, you can play around the flavours.
The essential ingredients are cashew nuts (or another nut), some form of thickener (like the agar agar or tapioca), some form of acid, like lemon juice or vinegar, a liquid such as plant milk or coconut milk – plus flavourings.
You could make a simple cashew nut cheese using cashews, agar agar, coconut milk, apple cider vinegar and salt. You can also replace the coconut milk with another type of plant milk, like unsweetened almond milk, for example.
This cheese has added flavour from garlic, sweet paprika, turmeric, sweet potato, dijon mustard and roasted red peppers, as well as the jalapeños.
Vegan Cashew Cheese Recipe with Jalapeños
Course: Vegan Cheese
Cuisine: Cashew Cheese
Difficulty: Moderate
Every time I make this cheese it varies a bit in flavour and texture (probably because I usually don't measure the ingredients), but I've come to the conclusion that the consistently-good flavour warrants writing up the recipe.

If you aren't happy with the taste the first time you make it, add extra ingredients to tweak the flavour, like extra herbs, soy sauce, or more chilli.
Ingredients
150 gr cashew nuts

1 cup of nutritional yeast, or to taste

3/4 tin coconut milk

1/2 cooked sweet potato (or 1 small)

3 roasted red peppers from a jar

1 small teaspoon dijon mustard

1 clove garlic

1-2 tablespoons apple cider vinegar

3 heaped teaspoons agar agar

1 heaped teaspoon tapioca flour

Salt to taste

Sweet paprika

Turmeric

After Blending

Chopped Jalapeños
Directions
Add the ingredients to the blender and blend, reserving the coconut milk and adding it gradually once the basic mix is blended.
Taste the mixture. It won't taste like delicious cheese at this point, but it should have flavour and character.
Pour the mixture (with the help of a spatula!) into a saucepan and add the chopped jalapeño peppers. Stir to mix well.
Heat the mixture and keep stirring as it thickens. When it's coming away from the sides of the pan, keep cooking and stirring for another 5 minutes.

Pour the thickened mixture into a cheese mould or a glass dish and leave to cool. Transfer to the fridge overnight. Remove from the fridge and turn the cheese out onto a small dish. Be careful as at this stage the cheese will be soft.
Return the cheese to the fridge and leave to mature for a few days. The minimum for this to set is 3 days, but you can eat it at any time. Softer or more mature, it's your choice.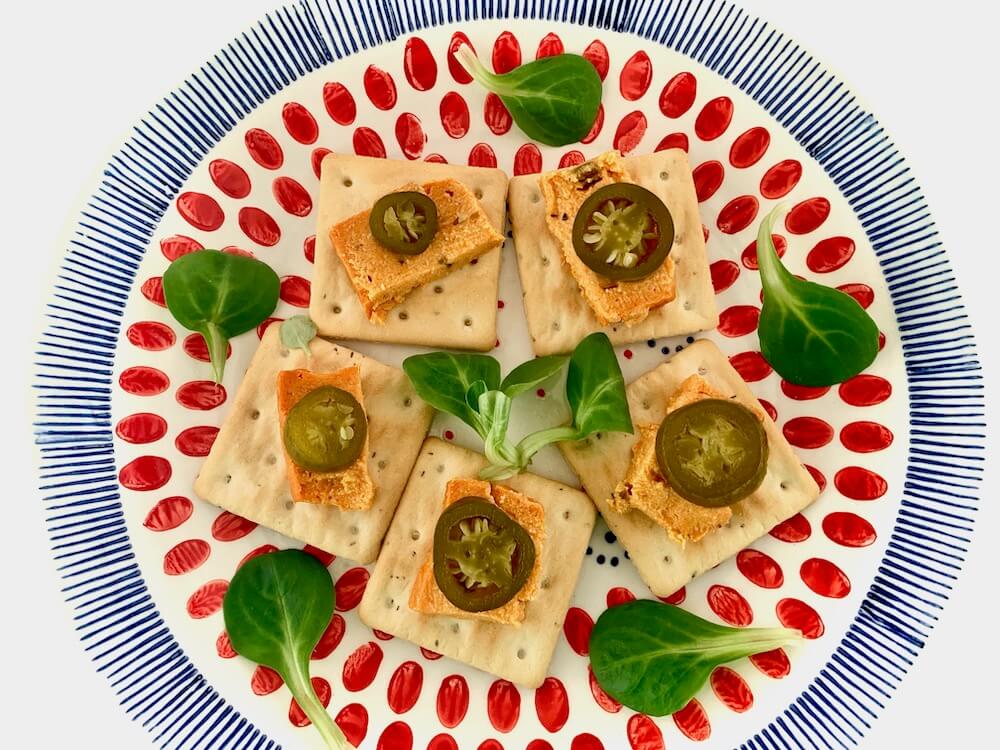 I hope you like this cashew cheese with Jalapeños. . .