I love this stuff. And yess, like most recipes that I love, it's easy to make.
And when I say easy. I mean. Easy.
The thing is, I spent years without making vegan cheeses and then, after starting to make cashew vegan cheese, I still went ages without making vegan mozzarella cheese. It seemed alien in my head. I didn't know what ingredients were needed. I didn't think it was something I needed.
Actually I used to have the same mental blockage about making vegan mayonnaise too.
But that all changed when I realised how simple these things are to make, and all it took was taking the first step and experimenting.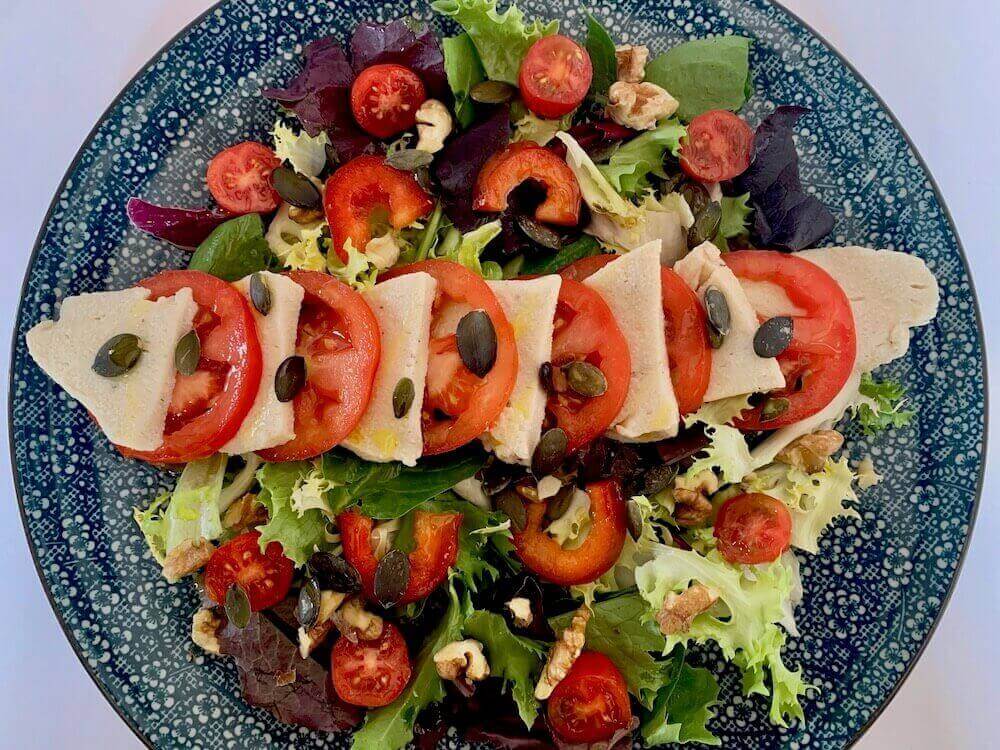 Oh, and by the way, the reason it's called mozzarella isn't to try and rip-off authentic mozzarella from Italian buffalos. No, the sole reason for calling this vegan-non-cheese, 'Mozzarella' is to portray an idea of its characteristics and uses.
It's chewy. It's flexible. It's mild. It goes great on pizza.
N.B This cheese is always gooey but it doesn't particularly change on melting.
And I like it just to eat it.
How to Make Vegan Mozzarella Cheese
Have you made the yummy all time classic cashew nut sauce? Seriously you must have. I mean it's a sauce that goes with almost every single vegan food you could imagine. It's a sauce that I whip up in a few minutes and use all the time, whenever I fancy, instead of all those shop bought sauces people have stocked in their fridges.
Anyway, so what's the point? Well if you've made cashew nut sauce, then you've almost made vegan mozzarella because it's only 1 ingredient away. But I'm digressing . . . back to making vegan mozzarella . . .
Soak some cashews for a few hours in cold water, or for one hour in hot water. Discard the water and rinse the cashews. You can also soak them overnight if it's more convenient.
Place the cashews into a food processor or blender and add the juice of half a lemon, a dash of apple vinegar, a pinch of salt and a little water.
Blend and scrape down the edges to include all the cashews, adding more water as necessary until you get a smooth paste.
At this point, taste the cashew nut paste to check the level of salt, lemon and cider vinegar, adjusting to taste. When the taste is pleasant (it's bland but with a tang of lemon and hint of salt), add 2 dessert spoons of tapioca flour and blend thoroughly.
Transfer the mix to a saucepan and heat, stirring continuously until the mix begins to thicken. Keep heating and stirring for about 5 minutes and the mix will become all gooey and chewy and sticky.
At that point the cheese is ready! Ether transfer it to a glass container and store it in the fridge or use it immediately in cooking or on pizza.
I like to add vegan mozzarella to salads, in a buddha bowl, use it on top of vegan gluten free pizza, or to make a tomato and vegan-cheese salad.
How to Make Vegan Mozzarella Cheese
Course: Vegan cheese
Cuisine: Nut cheese, vegan cheese
Difficulty: Easy
A simple bland vegan cheese to use where you would use Mozzarella.
Ingredients
1 cup cashews

1 lemon

Dash of apple cider vinegar

Salt & pepper

Water

2 dessert spoons of tapioca flour
Directions
Put all the soaked cashews, juice from half a lemon, dash of apple cider vinegar, sprinkle of salt, freshly ground black pepper and a dash of water into the blender.
Blend and add water slowly as necessary to get a paste consistency.
Taste the cashew sauce. It would taste bland but slightly tangy. Make sure the salt level is right.
Add the tapioca flour and blend again.
Transfer to a pan and heat until the paste starts thickening. Then keep stirring and keep heating for another 5 minutes.
The cashew nut mix will start to really come away from the sides of the pan. Stir all the time and then transfer to a glass bowl.

Leave to cool and then store it in the fridge until ready to use.
Recipe Video
Notes
Make sure you keep cooking it for 5 minutes after it first starts to thicken as it will carry on getting thicker.