If you've ever wondered how to make vegan mozzarella, your search is over. This is one of the easiest recipes out there.
I love this homemade vegan mozzarella recipe.
It's so quick and easy to make, yet so versatile and tasty.
And when I say easy. I mean. Peasy.
Why is Homemade Vegan Mozzarella Recipe Called Mozzarella?
The reason this homemade vegan cheese is called mozzarella isn't to try and rip-off the authentic mozzarella made from Italian buffalos.
No, the sole reason for calling this vegan-non-cheese, Mozzarella is to portray an idea of its characteristics and uses.
It's a substitute for mozzarella.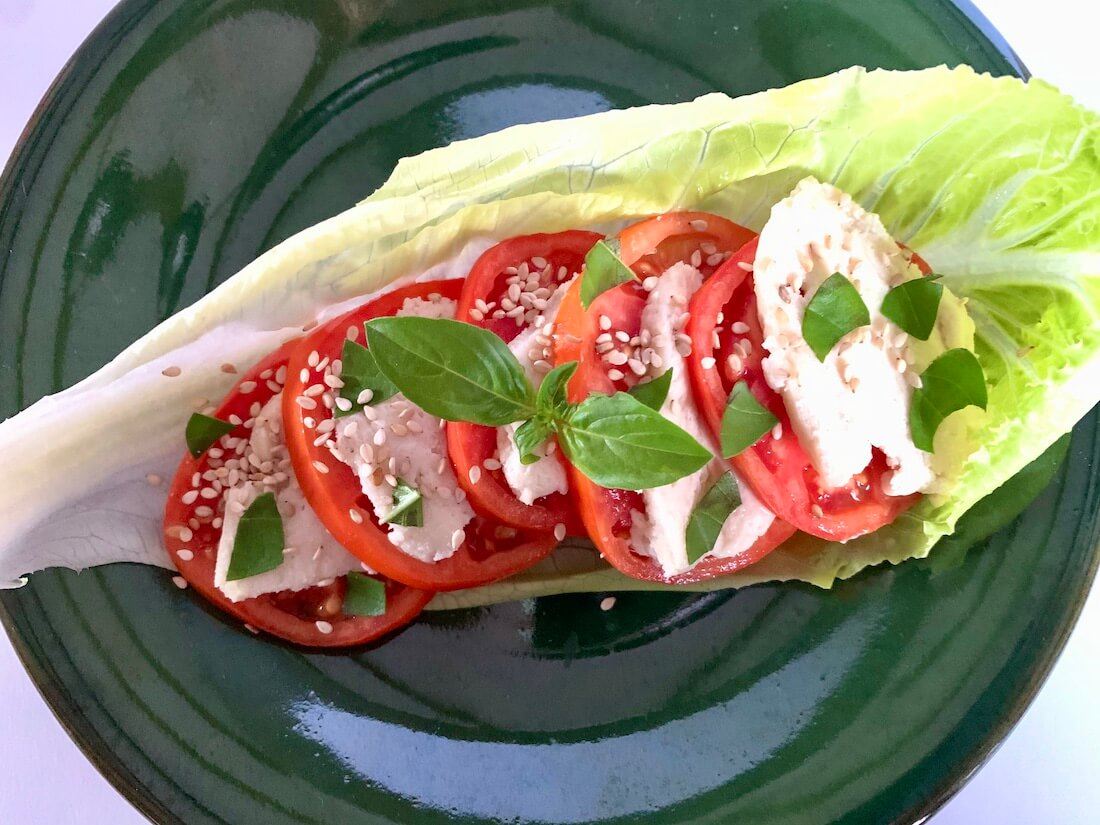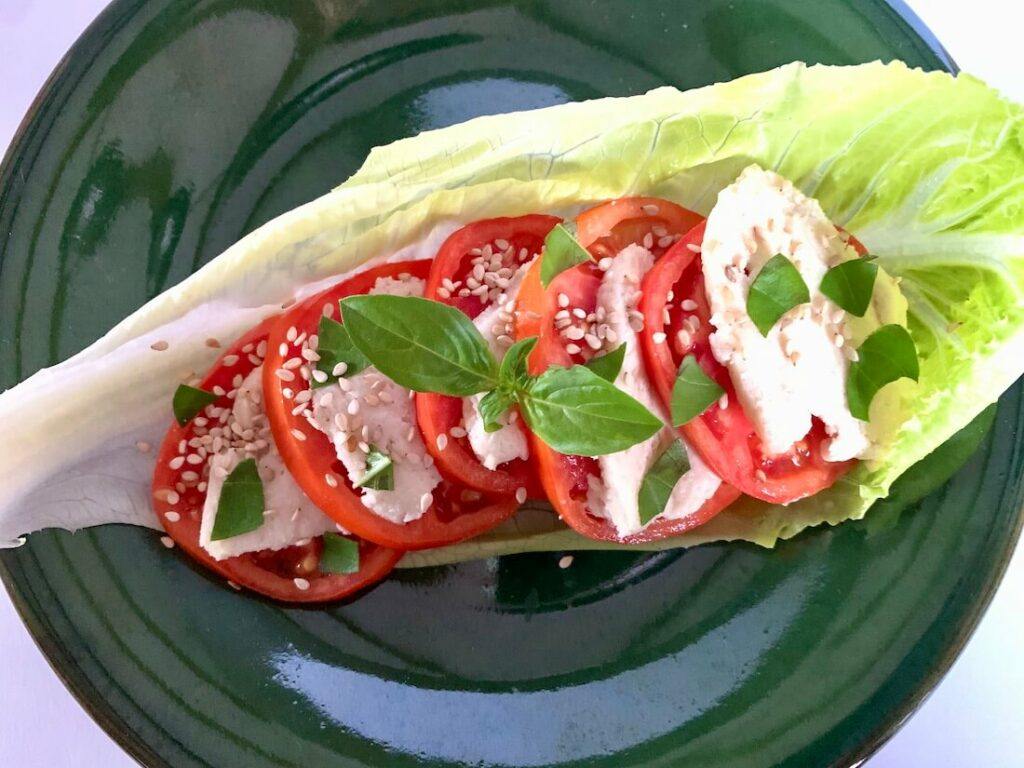 It's chewy. It's flexible. It's mild.
And I just like to eat it.
Variations on How to Make Vegan Mozzarella
There are many variations on how to make vegan mozzarella.
You can make it with water or with coconut milk (both recipes are shared below). Add more tapioca for a firmer cheese for slicing or less tapioca for a melted gooey cheese.
There's also a version which uses Carrageenan as the thickener. Carrageenan is an additive used in the food industry to thicken, emulsify and to preserve. However, it has no nutritional benefit and has even had questions raised about its safety for consumption.
So although I've seen some enviable versions of mozzarella made with carrageenan on the internet, (firmer for grating and meltier for melting), I've decided not to incorporate it into my kitchen's list of ingredients.
I'm not a fan of using empty ingredients, let alone questionable ones.
Another ingredient you can add if you like is nutritional yeast. This will add a cheesy flavour to the homemade vegan mozzarella.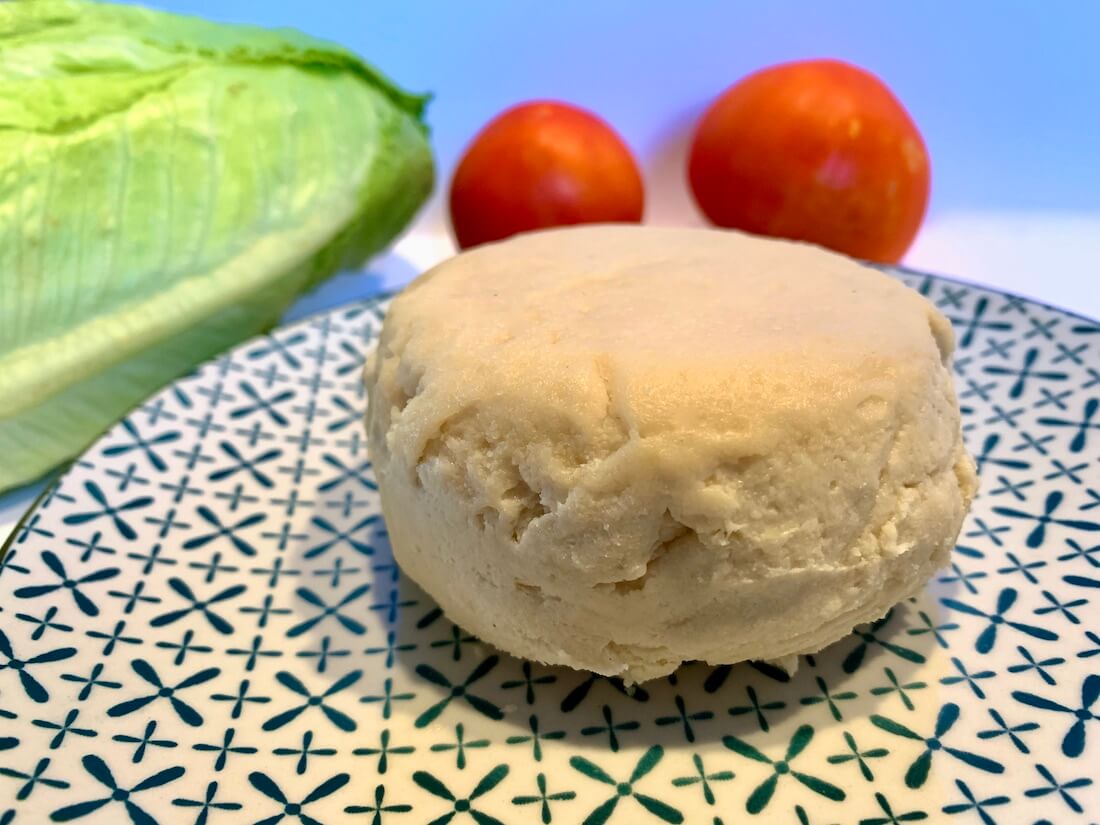 Discovering Vegan Cheese with Cashews
I spent years without making any vegan cheeses at all, then I began to make this cashew nut vegan cheese, but I still went ages without considering making vegan mozzarella cheese.
It seemed alien to me: I didn't know which ingredients were needed, and I didn't think it was something I needed in my life.
I was wrong.
Actually I used to have the same mental blockage about making vegan mayonnaise too, but truthfully, mayonnaise will never be as important in my kitchen as cashew nut sauce and these vegan cheese varieties are.
My mental blocks all vanished when I discovered how simple these things are to make – and all it took was taking the first step and experimenting.
So if you're unsure about making your own cheese, I'd say go for it. Try it out and see what happens.
I bet you'll be surprised by the results.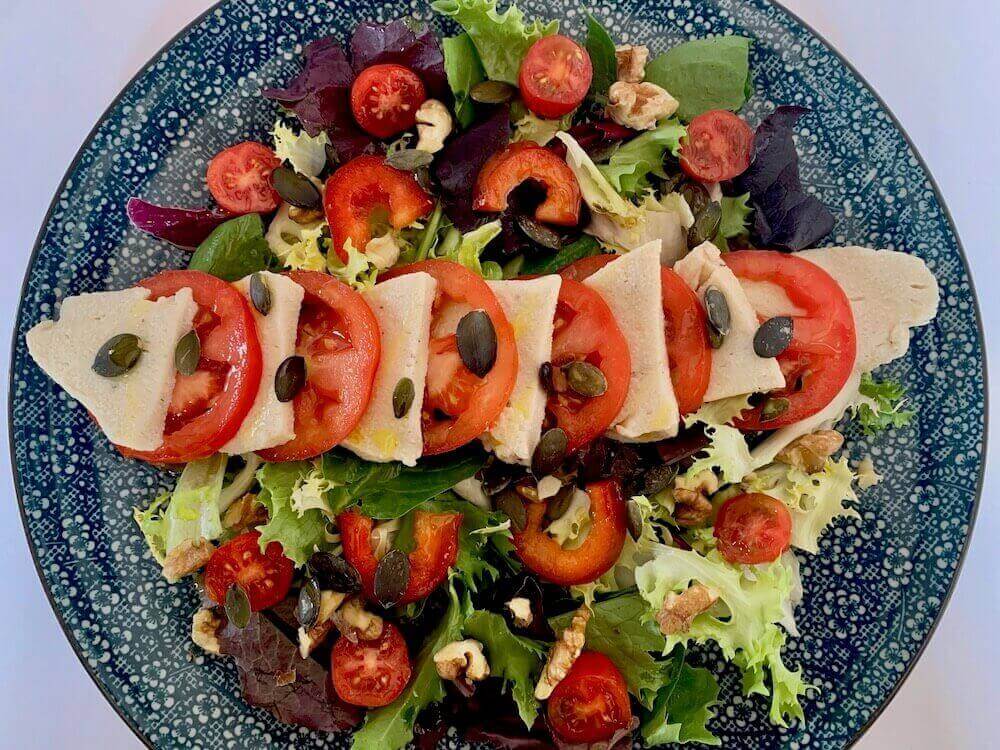 Having said that, even though it's easy to get started, that's not the end of the road: it's also fun (& important) to keep striving to get better at making vegan cheeses.
There's a long road ahead of me before I can claim to be an expert. This homemade vegan mozzarella recipe has gone through quite a few updates to keep it up to date as my technique improves, and things like vegan camembert and vegan aged cheeses are still on my to do list.
How to Make Vegan Mozzarella: Understanding the Ingredients
Cashews
Cashews are the basis for so many vegan recipes. They really are an amazing all rounder when it comes to creating dairy replacements or vegan sauces.
Cashews have many health benefits. They're rich in monounsaturated fats, fatty acids which have been shown to reduce bad cholesterol levels, thereby also reducing the risk of cardiovascular disease.
Cashews also provide a great source plant protein, copper & zinc, and antioxidants to fight free radicals.
Have you made the yummy all time classic cashew nut sauce?
It goes with almost every single vegan food you could imagine. It's a sauce that I whip up in a few minutes and use all the time, with whatever I fancy, and it never lets me down.
Instead of buying all those shop-bought sauces, you can make this one in a few minutes and with a few tweaks you can turn it into something else. Like alioli for example. Or use cashews to make a vegan cream.
Cashews are just THE best single ingredient for making vegan cheese!
How to Make Vegan Mozzarella: Tapioca Flour
Tapioca flour's a fine white powder made from the Cassava root. It's gluten free and is used as a thickener for many recipes, from soups to sauces and baking to vegan cheeses.
Tapioca flour's sometimes called tapioca starch (it is the same ingredient) but it isn't the same as cassava flour. Tapioca flour is made only from the starchy pulp of the root whereas cassava flour uses the whole root.
Cassava flour isn't recommended for making vegan mozzarella, so when you buy tapioca flour make sure that it isn't in fact cassava flour.
Tapioca flour is what gives the vegan mozzarella its stretchiness and chewiness. Without it, that would be gone.
To use tapioca for making cheese, add it to the ingredients and mix/blend together well. Then transfer to the heat and cook for about 5 minutes. The tapioca makes the magic happen when it suddenly thickens while cooking.
Try it, you'll be amazed!
Tapioca is also a great ingredient for making cheesy sauces like an instant cheese sauce for pouring over broccoli for example, or for a cheesy topping for vegan nachos.
How to Make Vegan Mozzarella: Agar Agar
Agar agar is made from various types of seaweed and is considered the vegan version of gelatine which is used in making jelly, chewy sweets etc.
Agar agar forms an essential ingredient in many vegan cheeses but in this case it is supplementary to the tapioca and can even be omitted.
I include it in my mozzarella just to add to the firmness of the finished cheese.
Agar agar doesn't add any flavour so you can't taste the difference whether you include it or not, apart from in texture.
It comes in powder, in flakes and in strips. I like to use the powdered version and the quantities here refer to the powder.
So, Here it is: How to Make Vegan Mozzarella
Soak a cup of cashews for a couple of hours in cold water, or for one hour in hot water. Discard the water and rinse the cashews. You can also soak them overnight if it's more convenient.
How to Make Vegan Mozzarella Using Water and No Agar
Place the cashews into a food processor or blender and add the juice of half a lemon, a dash of apple vinegar, a pinch of salt and a little water.
Blend and scrape down the edges to include all the cashews, adding more water as necessary until you get a smooth paste.
At this point, taste the cashew nut paste to check the level of salt, lemon and cider vinegar, adjusting to taste. When the taste is pleasant (it's bland but with a tang of lemon and hint of salt), add 2 dessert spoons of tapioca flour and blend thoroughly.
Transfer the mix to a saucepan and heat, stirring continuously until the mix begins to thicken. Keep heating and stirring for about 5 minutes and the mix will become all gooey and chewy and sticky.
At that point the cheese is ready! Ether transfer it to a glass container and store it in the fridge or use it immediately in cooking or on pizza.
How to Make Vegan Mozzarella Using Coconut Milk and Agar Agar
As in the version above, soak the cashews for a couple of hours before preparing this recipe. This helps to get a smooth blend when you grind them.
If you don't have time, you can pour boiling water over the nuts and leave them to soak in the hot water for 15 minutes or until softened.
Put the cashew nuts into the blender and add a squeeze of lemon juice, a pinch of salt and grind of pepper and blend. Scrape down the sides, add a little coconut milk and blend again. Repeat the process until you've added 1/3 400ml tin of coconut milk.
If you add the whole amount in the beginning you may not get such a smooth finish so I prefer to blend the nuts first with just a little and then add to the liquid gradually.
Taste the mix and add more lemon or salt according to preference.
Next, add 2 heaped or 3 flat tbs of tapioca flour and 1 tsp of agar agar and blend again.
Transfer to a pan and cook for about 5 minutes stirring all the time. It will thicken like magic! But keep cooking for a little while after it first thickens, just to be sure you get the full potential out of the thickening process.
Transfer to a glass dish and pop into the fridge to cool.
Here below, I will describe the recipe with coconut milk and post a video for the recipe using water. Take your pick!
Homemade Vegan Mozzarella Recipe
Course: Vegan cheese
Cuisine: Vegan, Gluten free
Difficulty: Easy
A simple vegan cheese to use where you would use Mozzarella, in salad, on pizza, in sandwiches and buddha bowls.
Ingredients for coconut milk Mozzarella
1 cup cashews

2 heaped tbs tapioca flour

1 tsp agar agar powder

1/3 400ml tin coconut milk

Juice from 1/2 lemon (to taste)

Salt & pepper to taste
Directions
Put all the soaked cashews, a squeeze of lemon juice, sprinkle of salt, freshly ground black pepper and a slosh of coconut milk the blender.
Blend, scrape down and gradually add more coconut milk and blending until you've added the 1/3 of a tin.
Taste the cashew sauce and check the salt level & lemon level, adding more of either to create a balanced flavour. Don't expect it to taste delicious at this point, it just tastes mild and coconut-y.
Add 2 heaped tbs or 3 flat tbs tapioca flour and 1 tsp agar agar. Blend the mixture again.
Transfer to a pan and heat, stirring all the time as it starts to thicken and become gooey. Keep stirring and heating for about 5 minutes to make sure that it has thickened to its maximum potential.
Transfer to a glass bowl and leave to cool.

Store it in the fridge until ready to use.
Vegan mozzarella using water instead of coconut milk
Notes
Make sure you keep cooking it for 5 minutes after it first starts to thicken as it will carry on getting thicker.
There are two recipes included here: 1 with coconut milk and 1 with water.
Uses for Homemade Vegan Mozzarella
First off there are two separate types of homemade vegan mozzarella: the one that sets and the one that stays gooey & soft all the time. For the softer version, just reduce the amount of tapioca flour you add to the recipe.
Vegan mozzarella for slicing and using raw in sandwiches, salads etc.
Permanently gooey mozzarella for pouring over nachos or vegetables etc.
I like to add sliced vegan mozzarella to mixed salads, in a buddha bowl, use it on top of vegan gluten free pizza, or to make a Caprese salad.
For the gooier version of vegan mozzarella cheese, I love to pour it over broccoli, baked veggies or as a sauce over nachos.
Both versions of mozzarella can be used for making a vegan pizza but I usually prefer the solid type and slice it over the pizza base before baking.