These vegan, gluten free breakfast ideas can help you to transition when you're struggling to find ideas for replacing a standard breakfast.
In the beginning, breakfast can be one of the most challenging meals to adapt – but it doesn't need to be. Breakfast is delicious even when vegan and gluten free.
A lot of it has to do with changing your expectations of what breakfast is. Breakfast can be anything!
Vegan Gluten Free Breakfast When Eating Out
Unless you're in a vegan-friendly area with plenty of vegan options, breakfast ideas can be impossible when you're travelling.
Of course, one way round that is just to practise intermittent fasting, but that shouldn't be the motive for your fasting window lol.
I know there are some places in the world where you can eat just fine but in others, well there might be nothing on the menu at all.
When I visited London the hotel offered a full English, vegan, gluten-free version of breakfast.
In Ibiza there was a buffet which included humus and carrot sticks plus a selection of sliced fruits and gluten free bread.
But if you visit rural Andalucia for example, you'll need to research where they serve gluten free bread or an alternative breakfast and choose one of those cafés in the first place.
You can normally order sliced tomato and/or avocado on top of gluten free bread if you're lucky.
However, because of the variation amongst different destinations, this post is more about what you can make in your own home.
When you've discovered your favourite breakfast recipe, you can always make it to take away with you on your travels.
Vegan Gluten Free Breakfast at Home
When you first take the leap or the gradual crawl into being vegan and gluten free, you may find your whole mind-map of what to eat, how to eat, maybe even when to eat, turned upside down.
Breakfast, your mind tells you, should be a traditional breakfast like what you've eaten for most of your life.
Or maybe you're staying with friends and they offer you cereal (oops full of gluten) . . . toast (oops, there's that gluten again) . . . fried eggs then (aggh the egg industry! No-no) . . . how about a yoghurt then . . . (what dairy? Urrrgh) and so it goes on.
So these vegan gluten free breakfast ideas are predominantly for making at home. Eating out can be a different story.
Broaden your mind and open your thoughts to a non-standard-type-breakfast and you'll find yourself loving breakfast, even dare-I-say-it, as the best meal of the day?
#1 Chia Seed Pudding
Although chia seed pudding is usually, well ummm a pudding :), it's actually really delicious to eat for breakfast with a nice load of mango or any other fruit that you like.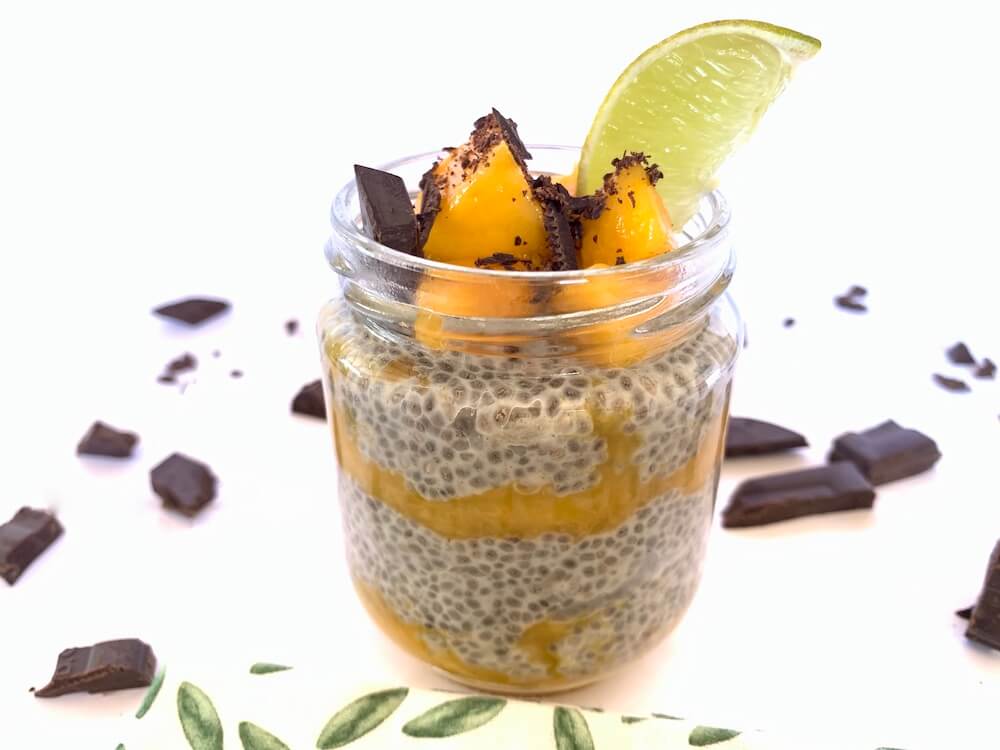 I like chia seed pudding so much that I can eat it all on its own without anything added.
But the best way to eat it is with some fruit of course.
Chia is a powerful food to include in your diet, being a rich source of protein.
Soak the chia seeds in plant milk and sliced Medjool date overnight. Then mix them with the mango in the morning.
Squeeze on some lime juice for a yummy tang.
Another delicious chia recipe is this strawberry chia pudding recipe which I must say, is currently my all time favourite chia recipe.
You can read the full recipe for mango chia seed pudding here.
Tip: chia seed is considered a superfood, making this an excellent choice for a health-packed, high protein breakfast. If you don't have any Medjool dates, you can use maple syrup instead.
#2 Vegan Mozzarella
It's easy to make your own vegan mozzarella, so why not eat it as a colourful salad for breakfast?
Serve vegan mozzarella with sliced tomato just like an Italian Insalata Caprese salad, on a slice of lettuce or a bed of spinach leaves.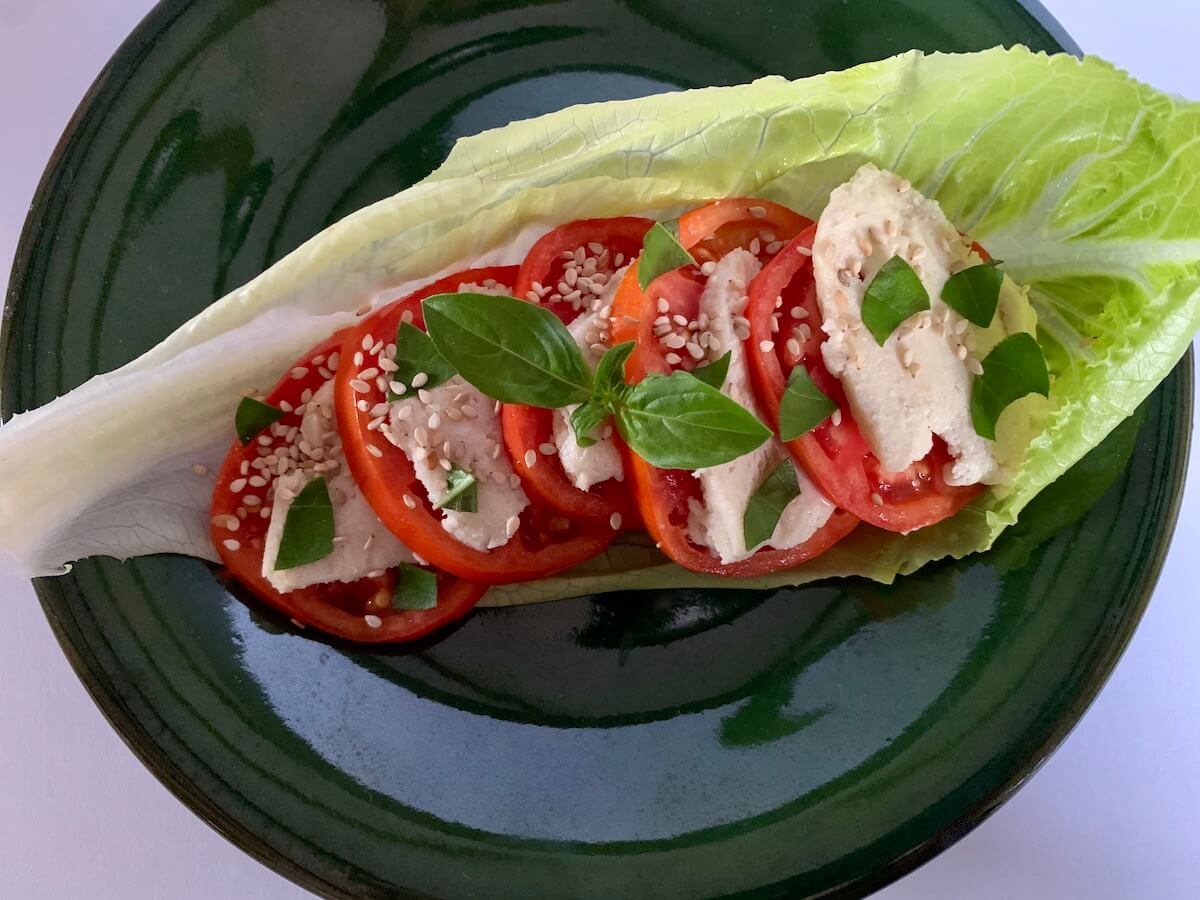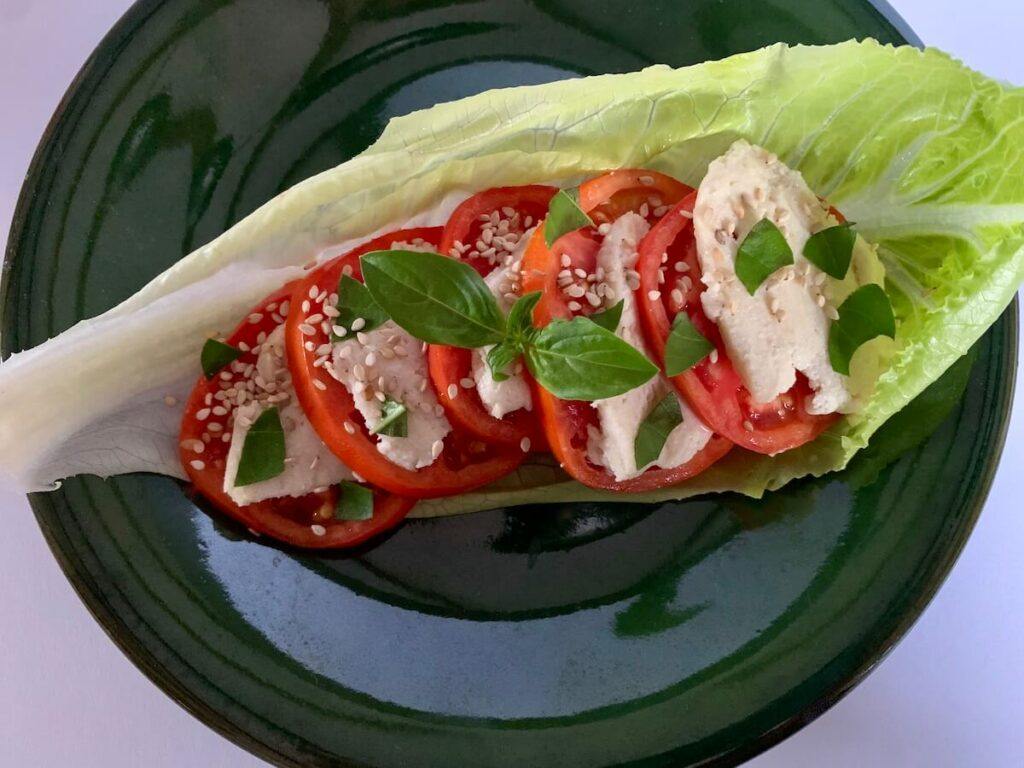 Alternatively, make some gluten free toast and top it with vegan mozzarella, sliced tomato and avocado.
This is also a nice option when you want to serve an attractive breakfast for your family or guests because it looks so pretty.
TIP: Unlike dairy cheese, vegan cheese isn't a source of protein so this is essentially a protein deficient breakfast. To add protein be sure to add some beans, chickpeas, nut, seeds, or tofu to the plate.
#3 Scrambled Tofu
One of the best cooked vegan breakfast has to be a vegan scramble.
It's easy to make your own scrambled tofu for the classic vegan version of scrambled eggs.
Funny thing is I've never liked scrambled eggs at all, but I do like scrambled tofu.
Try scrambling the tofu with homemade baked beans (see recipe #7 below), or just add the beans and tomato directly to the tofu scramble as you cook it.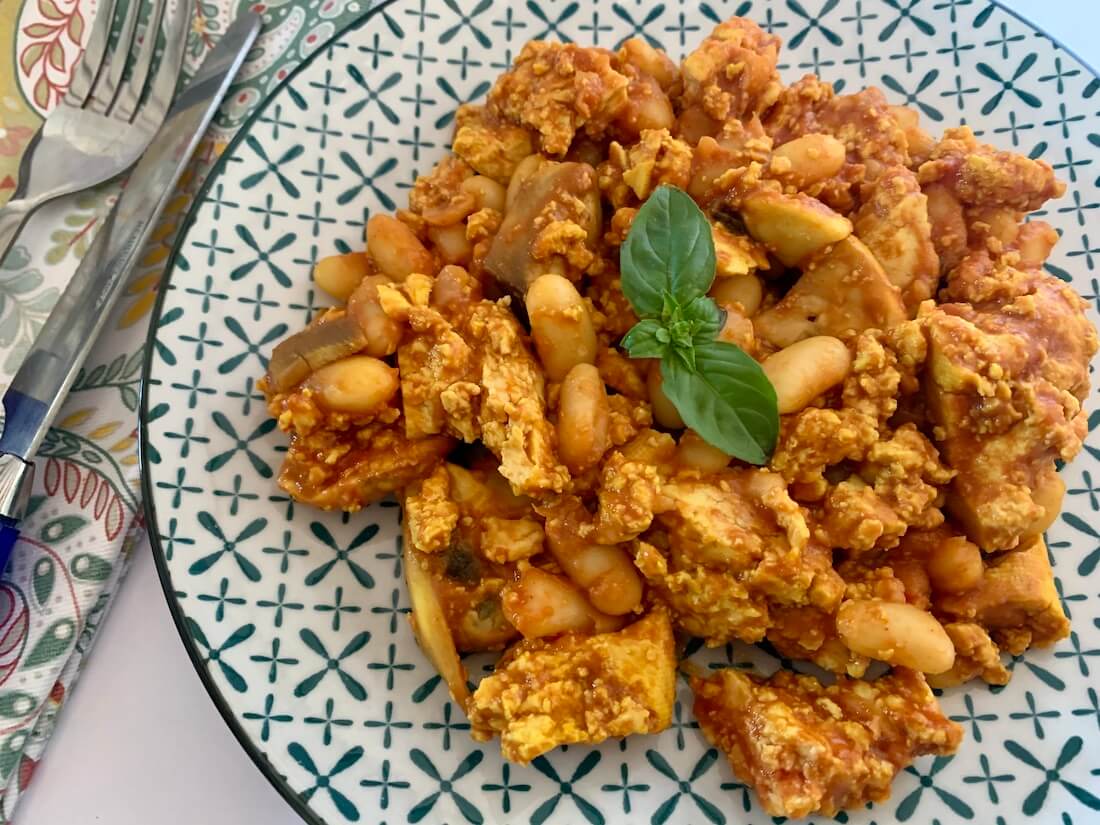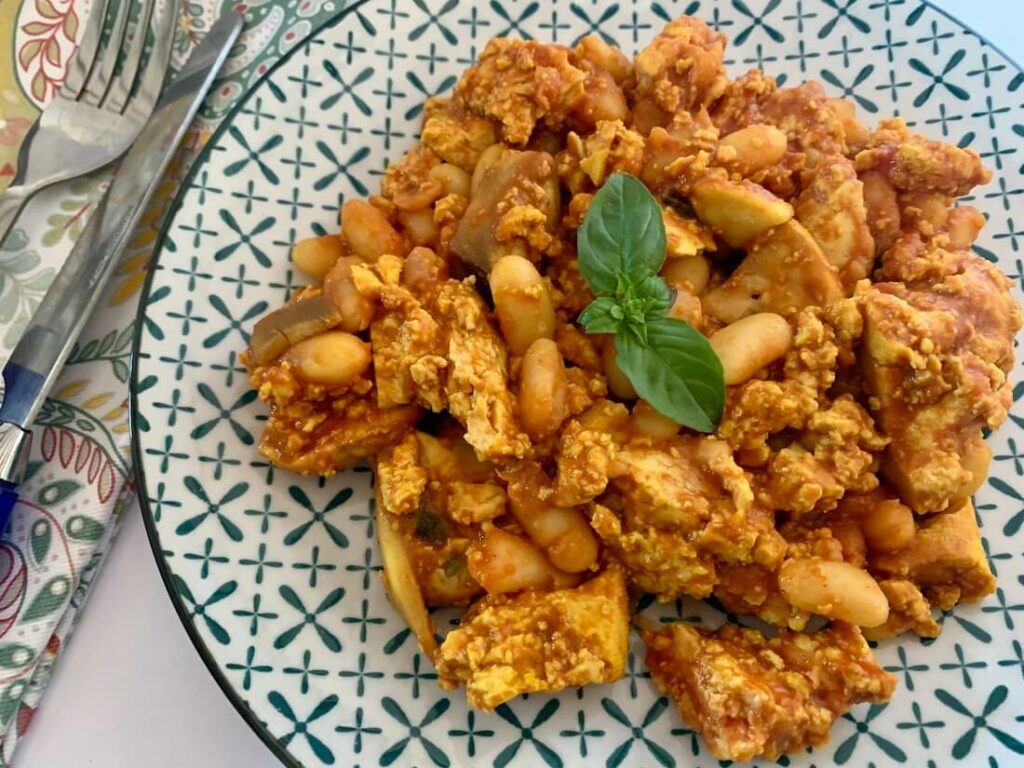 Mushrooms also go well with tofu scramble.
And if you like chilli for breakfast, chilli bean scramble's a tasty treat.
Tofu can be scrambled with so many different additions: fresh broad beans or asparagus for example.
Scramble your tofu plain, or with spices.
There's no limit to variations on this great vegan breakfast option.
TIP: Use firm tofu for the best results. A high protein breakfast which gets even more nutritious if you add the beans.
#4 Gluten Free Flatbreads
You can make some gluten free flatbreads from lentils or from gram flour (chickpea flour).
The lentil flatbreads are slightly richer in taste and have a slightly higher protein content, but the lentils will need grinding into flour before making the flatbreads, so they're slightly more work than the gram flour flatbreads.
For gram flour flatbreads, just use the flour and mix with a little water, salt and the spices of your choice and cook in a dry, pre-heated frying pan.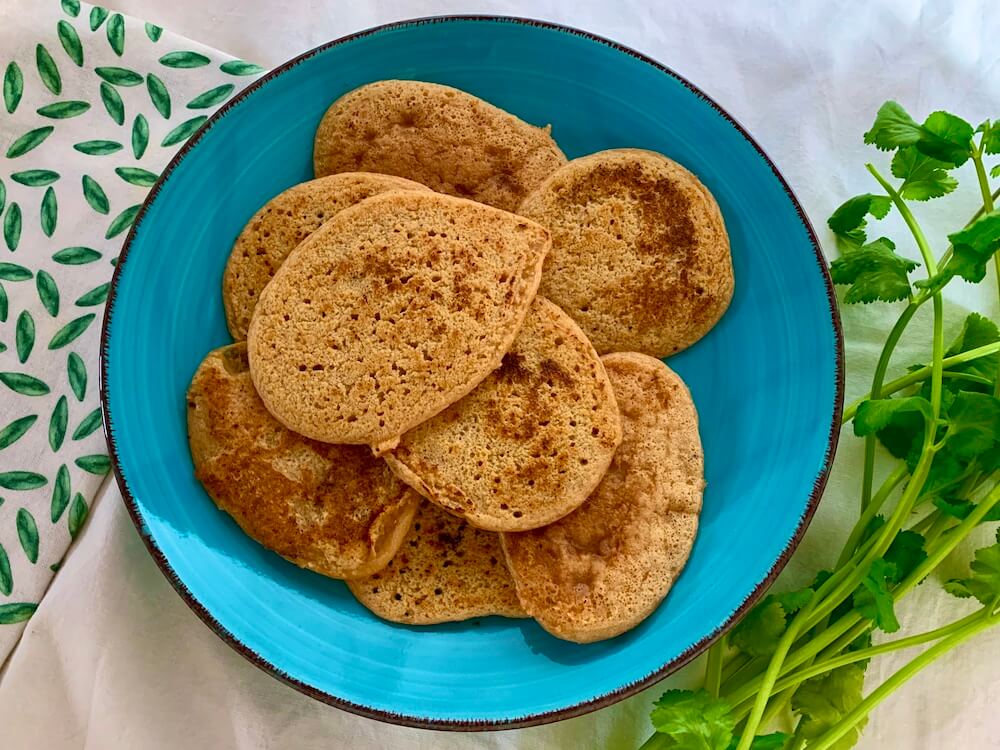 #5 Vegan Gluten Free Salad Wrap
Create a colourful variation of fruits and veggies and eat in a shop bought vegan, gluten free wrap, or serve in an easy homemade gram flour flatbread or red lentil flatbread.
Take some lettuce, edamame beans, tomato, pepper, cucumber, lambs leaves or raw spinach, avocado, nuts, cabbage etc.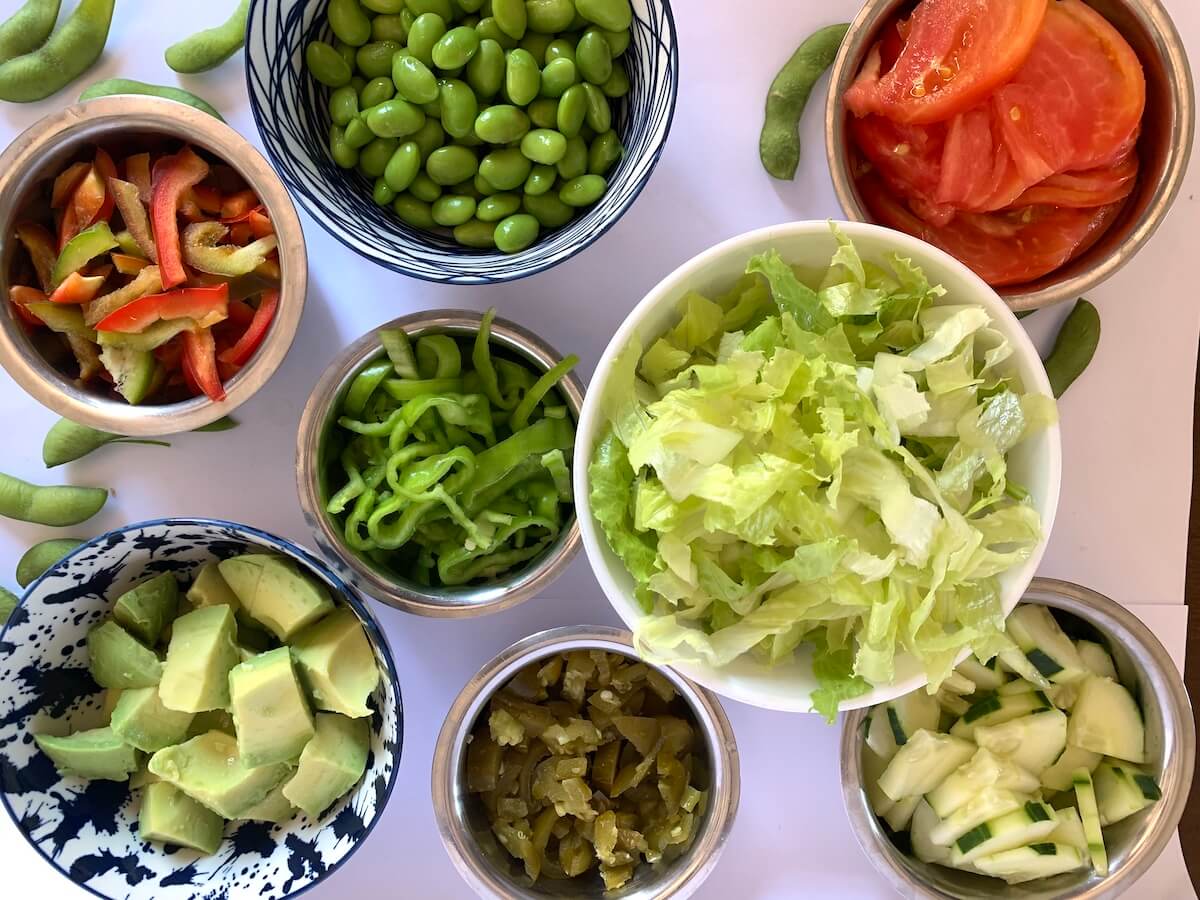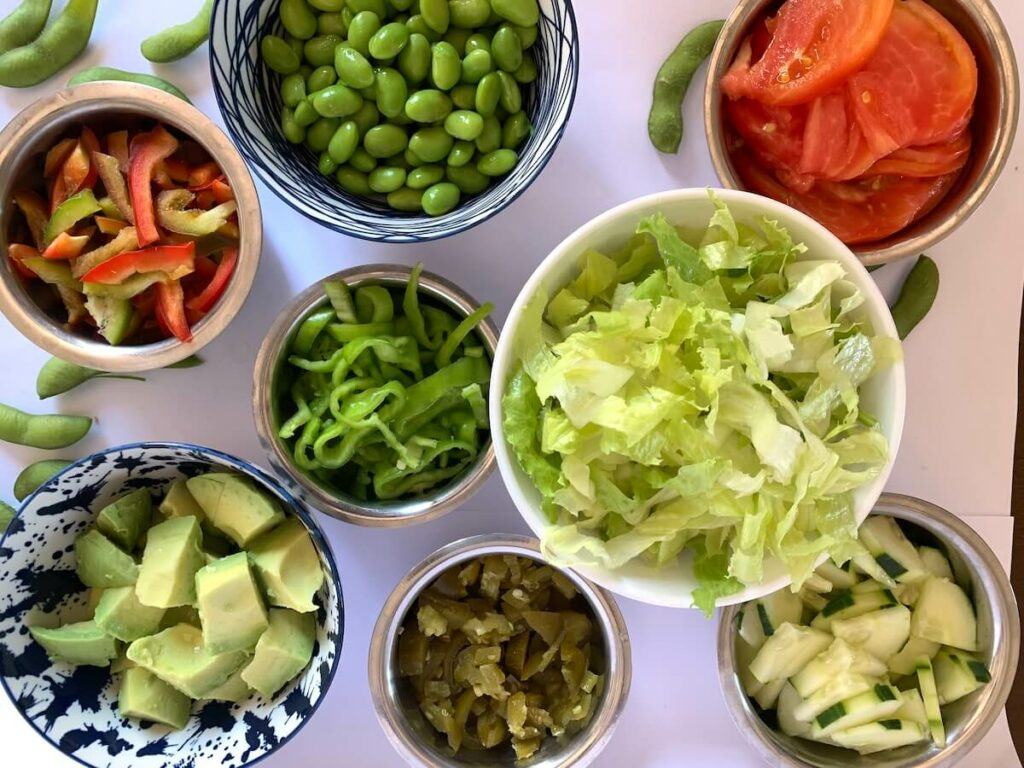 Spread some cilantro sauce over the gram flour flatbread and fill the wrap with the veggies.
I promise you it really does make a scrumptious breakfast!
the gram flour is a good source of protein so this is a healthy and balanced breakfast option to start the day.
TIP: Sprinkle some hemp seeds or ground flax over the top as well as some sunflower seeds or pumpkin seeds for an additional boost to the flavour and nutritional profile.
#6 Sweet Quinoa for Breakfast
Quinoa's the perfect vegan, gluten free, healthy, high protein breakfast. In fact the health profile of quinoa is quite astounding.
Quinoa's a complete protein, meaning that it provides all 9 of the essential amino acids that your body needs.
It's absolutely delicious eaten as a sweet breakfast with sliced fruit and plant milk.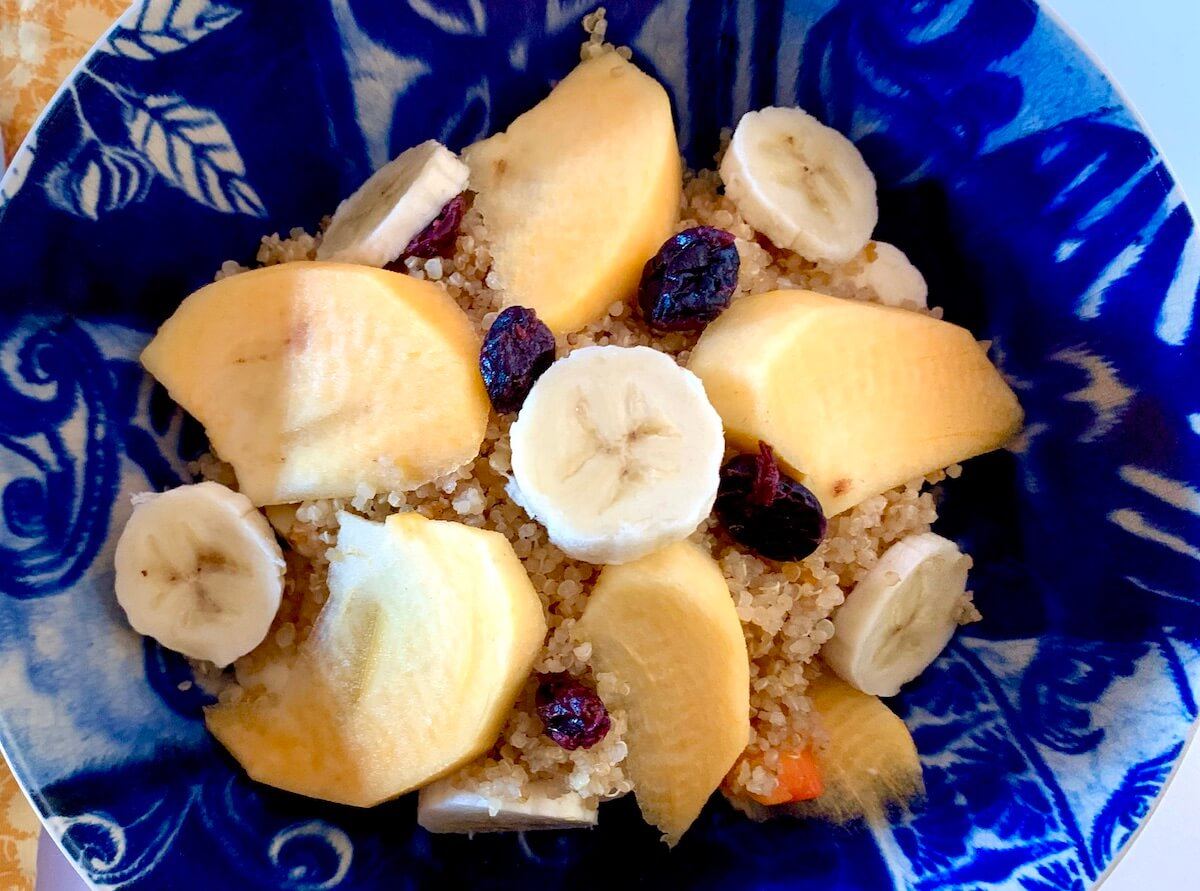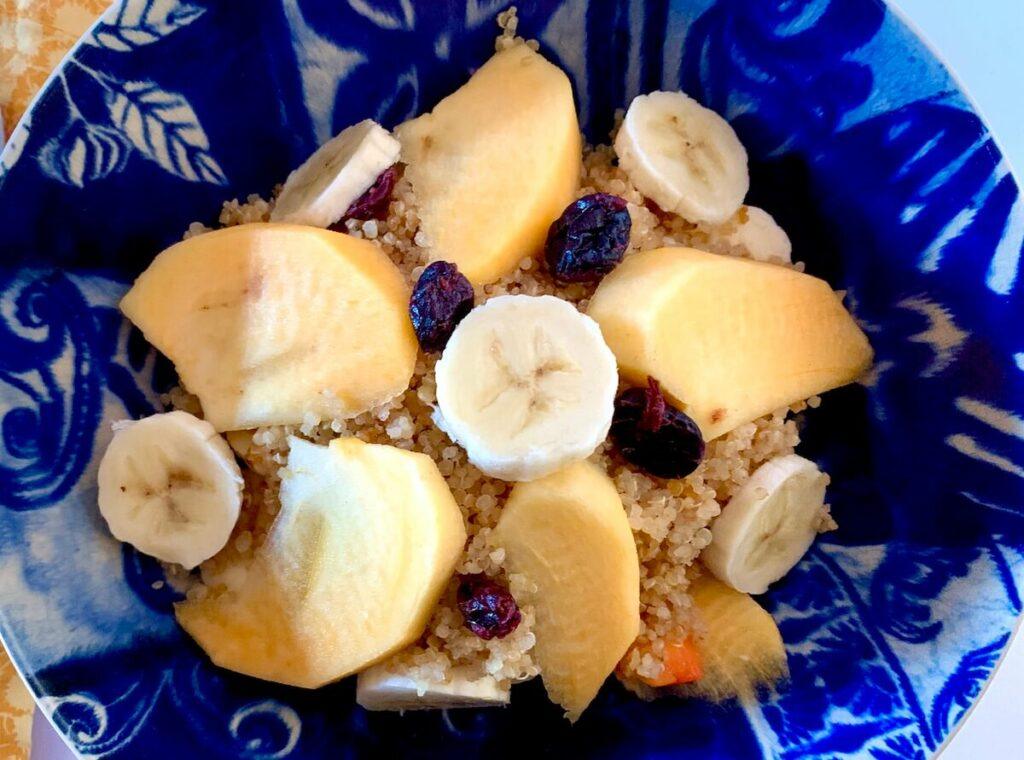 To make a sweet quinoa breakfast, choose some fruit that you like and slice it into a bowl of pre-cooked, cold quinoa.
Pour your favourite plant milk over it and enjoy.
I love a quinoa bowl with kaki and banana with a little unsweetened soy milk over it. Other fruits that go well are mango, pear, kiwi and nectarine.
Absolutely yummm.
TIP: For the best taste, serve the quinoa cold but not straight-from-the-fridge-cold. If it comes from the fridge, microwave it for a moment to take the chill off before serving with the fruit.
#7 Savoury Quinoa
The same as sweet quinoa, you can also make a quinoa bowl in the morning with savoury toppings.
Just add, avocado, pumpkin, tomato beans or whatever else you love.
Over the top, sprinkle some pumpkin seeds, hemp seeds or ground flax.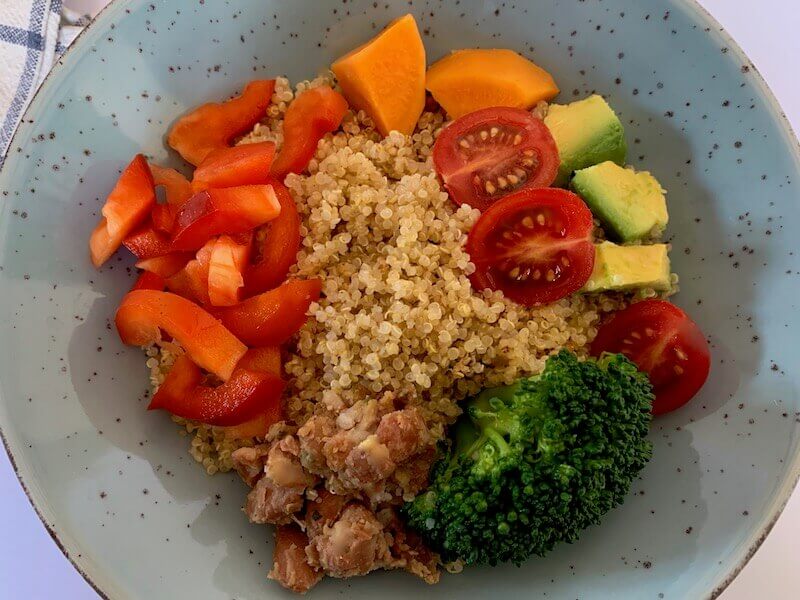 TIP: If you find it dry, try adding some cilantro sauce or homemade hummus
#8 Homemade Baked Beans on GF Toast for Breakfast
It's easy to make some homemade baked beans. They aren't the same as tinned baked beans but they aren't loaded with sugar like the tinned variety are. I much prefer homemade.
Either buy some ready-to-eat white beans or cook them yourself. Heat a frying pan and then cook the beans in a little olive oil, or dry fry if you practice a whole foods plant based way of life without oil.
If you like some spices, add them to the frying part and then pour in some (tinned or fresh) chopped tomatoes and/or tomato purée to the pan and cook.
With fresh tomatoes you'll need to cook on a high heat for a while to allow the tomatoes to reduce and lose their shape and thicken up.
If you use tomato purée you just need to heat it through.
Taste the tomato beans for seasoning and add unsweetened plant milk until you get the consistency you want.
Homemade baked beans go really well with tofu scramble.
#9 Vegan Spanish Omelette
If you have friends staying over, or a family to feed, and if you actually plan your breakfast in advance, you could serve a vegan Spanish omelette for breakfast.
In Spain a Tortilla sandwich is a common option for breakfast in the bars and it can make a nice change as well as an impressive looking vegan option.
A kind of 'special treat' breakfast.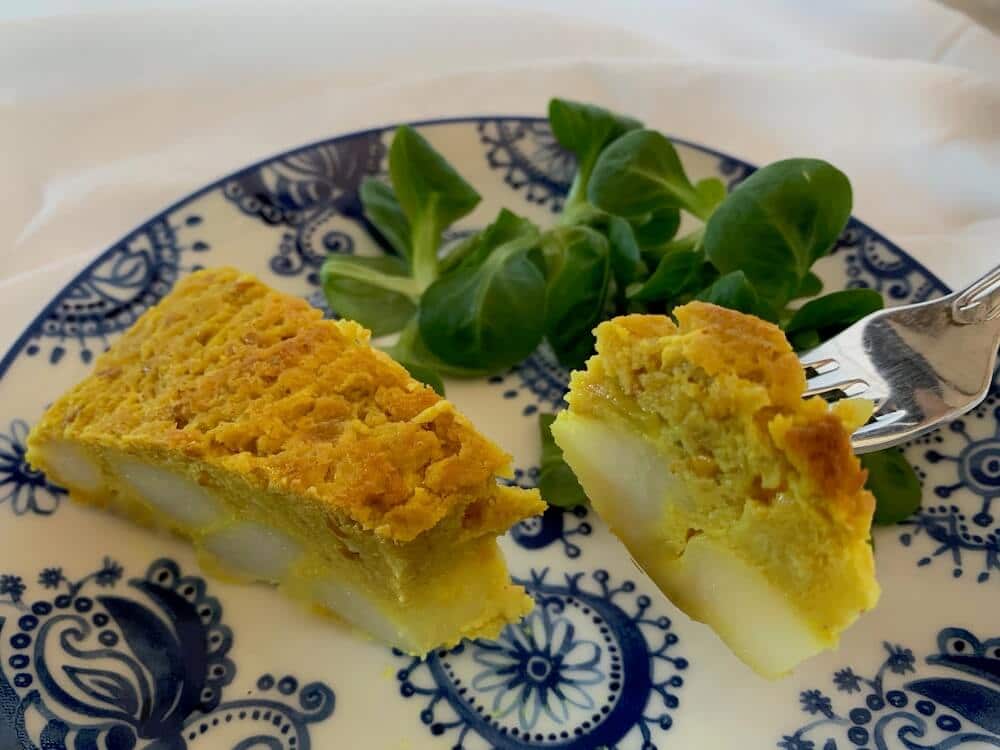 It doesn't take long to learn how to make a vegan Spanish omelette and can come in handy for any meal of the day.
TIP: Make the Spanish omelette for lunch the day before and keep enough for eating the next day.
#10 Leftovers
Don't be put off!
Really!
Leftovers are the best!
There's nothing better than opening the fridge, taking out the leftovers and serving up a plateful for breakfast.
Ok, so maybe not everything is appetising in the morning, but so many dinner meals are.
Don't discard it without trying first!
Some examples of great leftovers for breakfast are oil-free roasted vegetables, oil free vegetables in the air fryer, and easy chickpeas with broccoli, to name just a few.
Make a quick flatbread to go with it and add some avocado for a more breakfasty feel.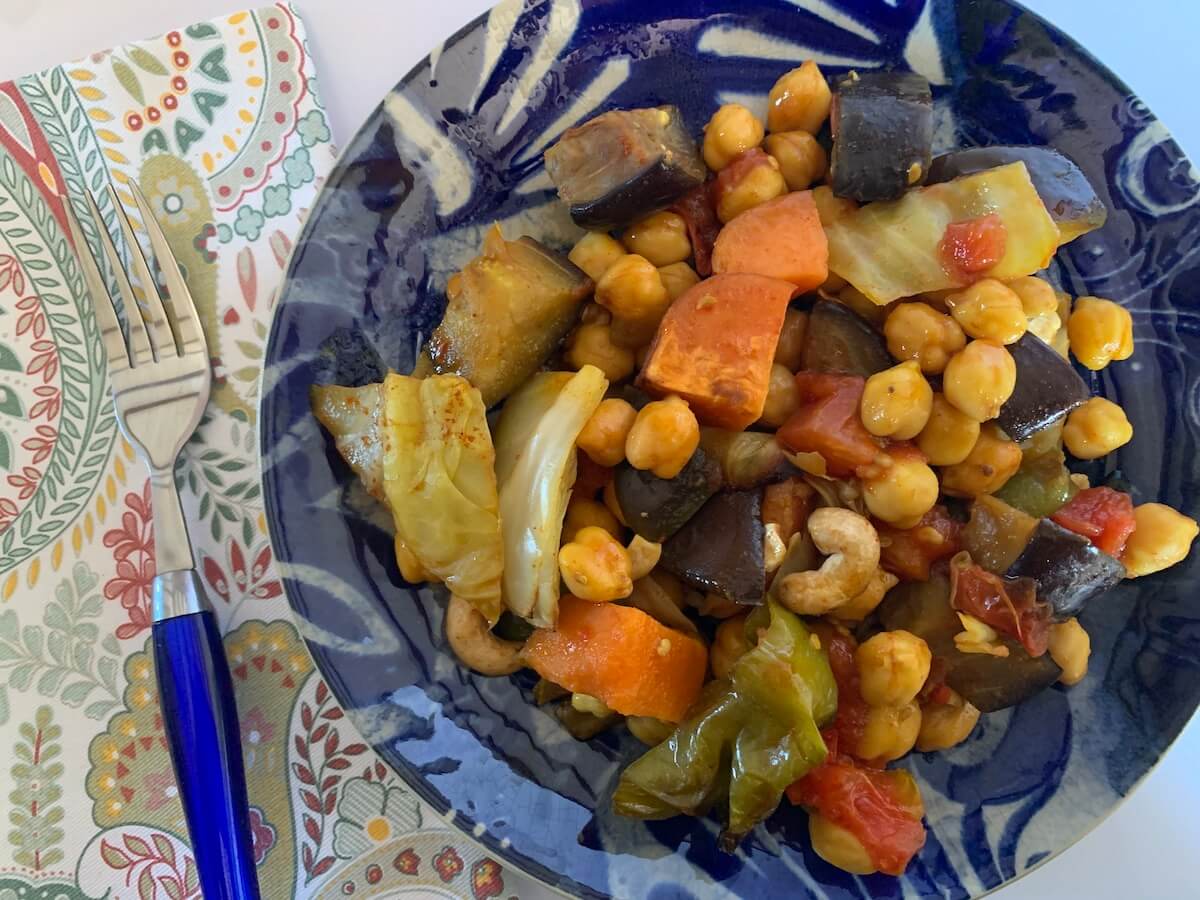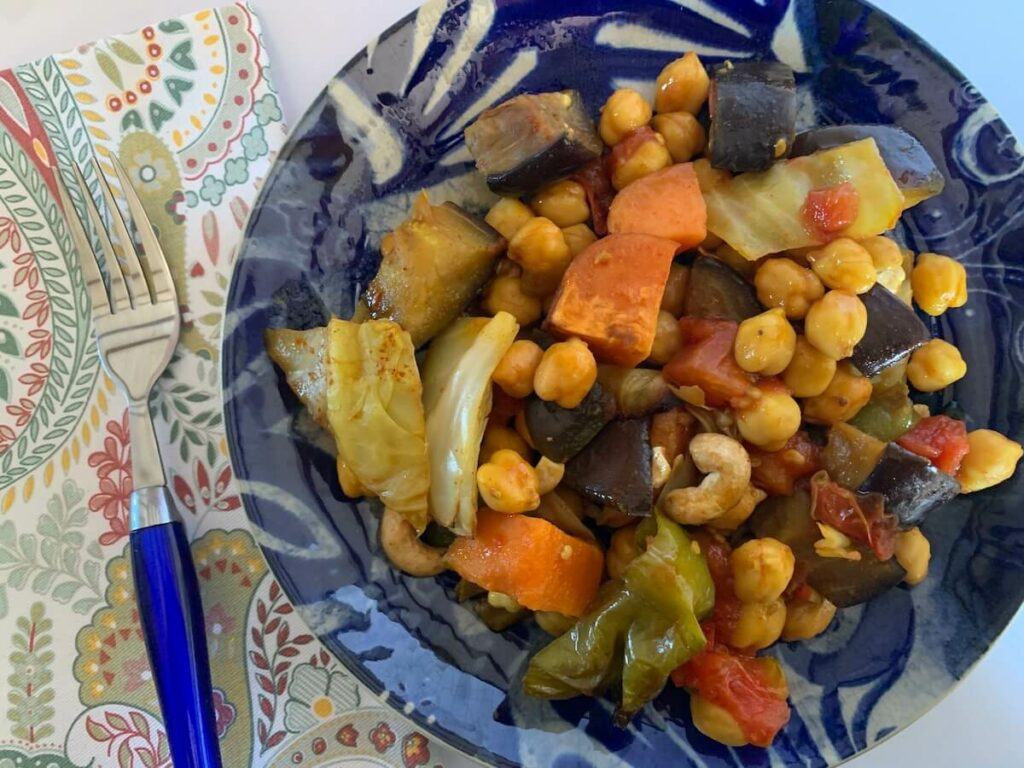 #11 Traditional Fruit Salad
Of course we can't leave out the fruit salad!
A variety of fruit chopped in a bowl, topped with healthy toppings, and accompanied with your favourite unsweetened plant milk is a great way to start the day.
To make a fruit salad into a nutritional feast, add some dried cranberries or fresh blueberries, a few broken walnuts, cashews or pumpkin seeds and lashings of ground flax seeds for that extra yumminess and nutrition.
You can also add some flax seeds, not only for their flavour but also for the amazing health benefits that come from eating flax seed.
The advantage of this breakfast is that you can ask for it almost wherever you are and everybody understands what a fruit salad is!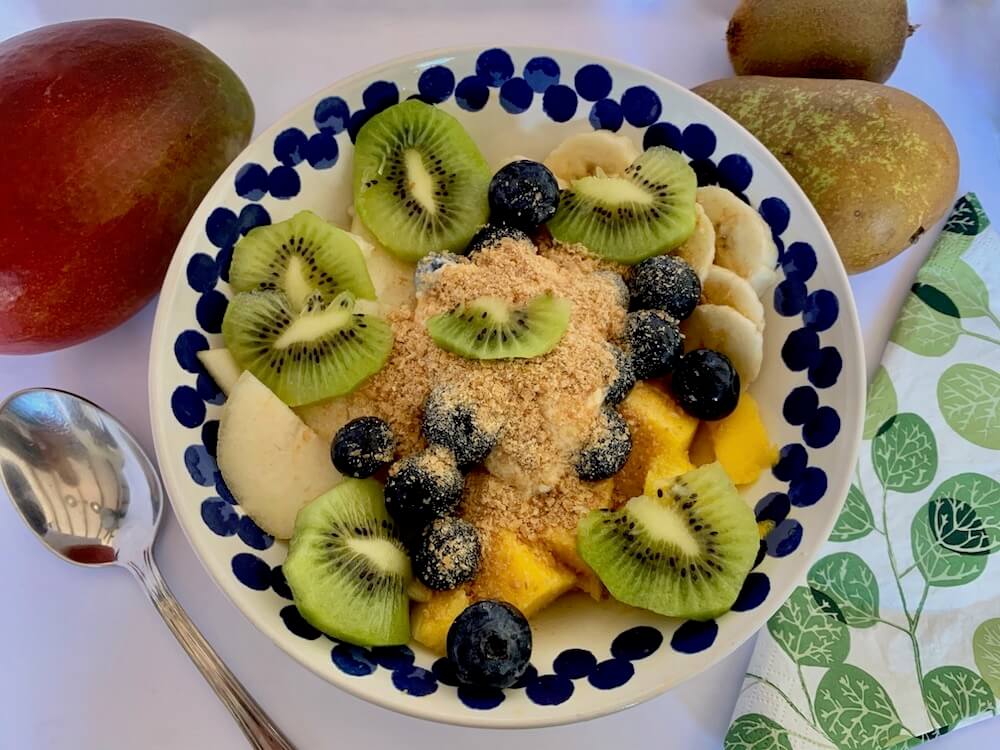 My favourite fruits are mango, kaki, banana, nectarine, kiwi, apple & pear – but any fruit you like will go just fine.
For the toppings use dried cranberries or gogi berries, sunflower seeds and pumpkin seeds.
On top of all that I like to pour on some unsweetened plant milk. And ready to go!
TIP: You can carry a little bag of flax and/or mixed nuts and seeds in your bag to add to a bowl of fruit salad when you're out, to lift its nutritional profile.
#12 Avocado with Kimchi and Flax
I love eating a perfectly ripe avocado, sliced onto the plate and covered with a mountain of homemade kimchi and a sprinkling of ground flax seed on top.
Absolute yum.
And I find that my energy levels are better if I don't eat breakfast or if I eat something light like this, rather than toast (which I love too, haha).
Bonus Breakfast Suggestion – Invent Your Own Breakfast
Don't limit your imagination or restrict your breakfast to what you think breakfast should be!
You can have the most delicious, scrumptious, yummy meal of the day first thing in the morning.
I've made many a weird mix of sweet fruit with savoury veggies for breakfast, and it always turns out tasty.
Can't go wrong really, for breakfast.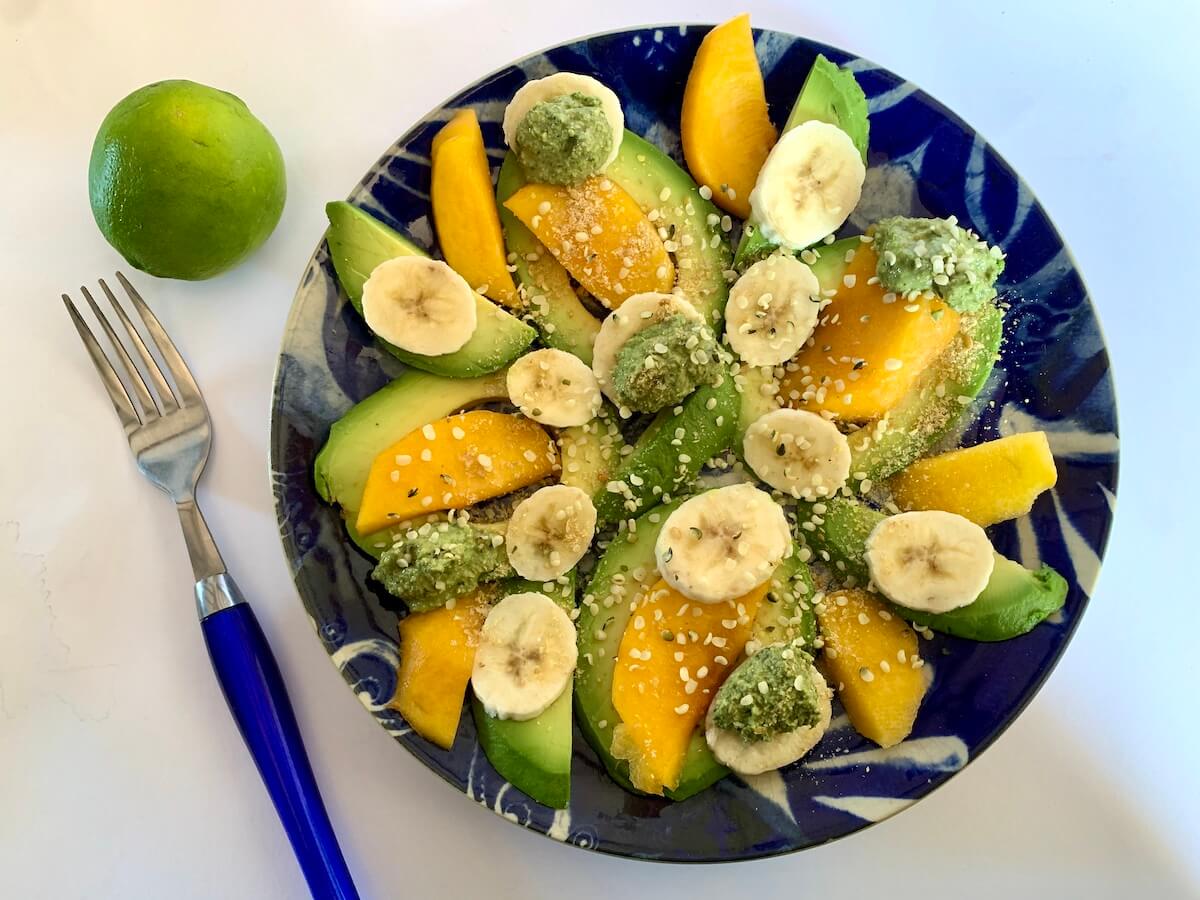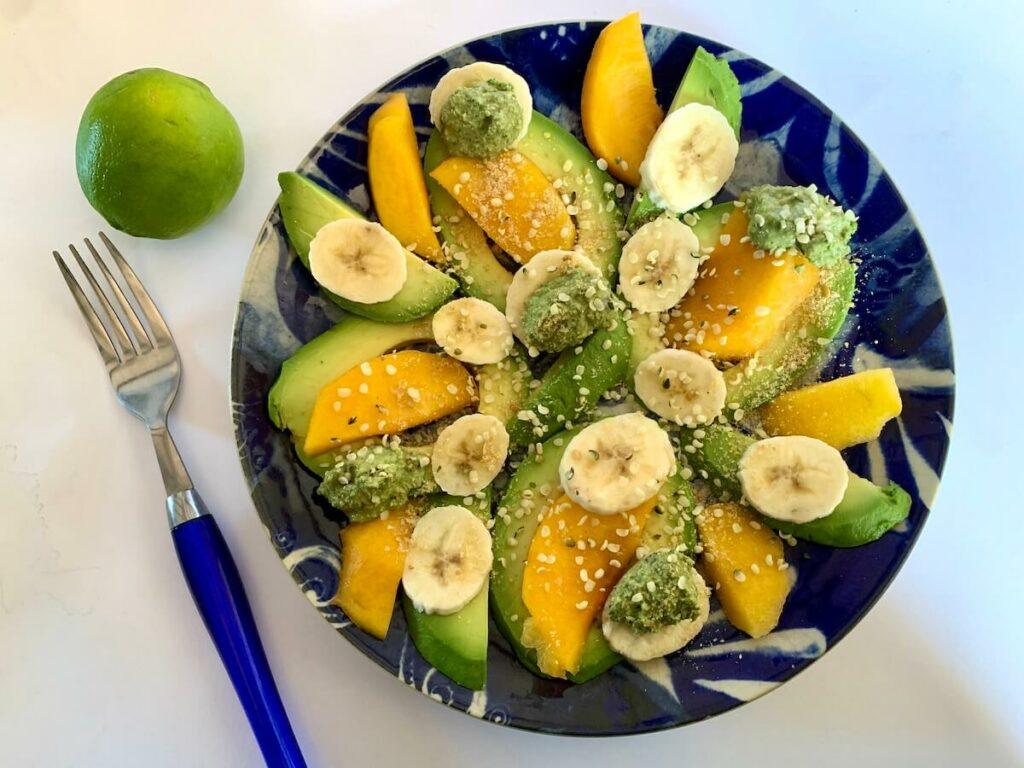 What are your favourite foods to eat for a vegan gluten free breakfast?