These vegan quinoa stuffed peppers can be eaten on their own or with salad, potatoes or even to accompany a roast meal to replace the meat.
In fact, this recipe is so versatile you can use it for almost any occasion and it has the advantage of being both simple and an attractive centrepiece on the plate.
There are so many things to love about this vegan quinoa stuffed pepper recipe:
Vegan quinoa stuffed peppers can be . . .
adapted to fit your ingredients.
prepared completely in advance.
cooked in under 10 minutes in the microwave – or baked into the oven if preferred.
served the next day.
served as a complete meal or as the main piece.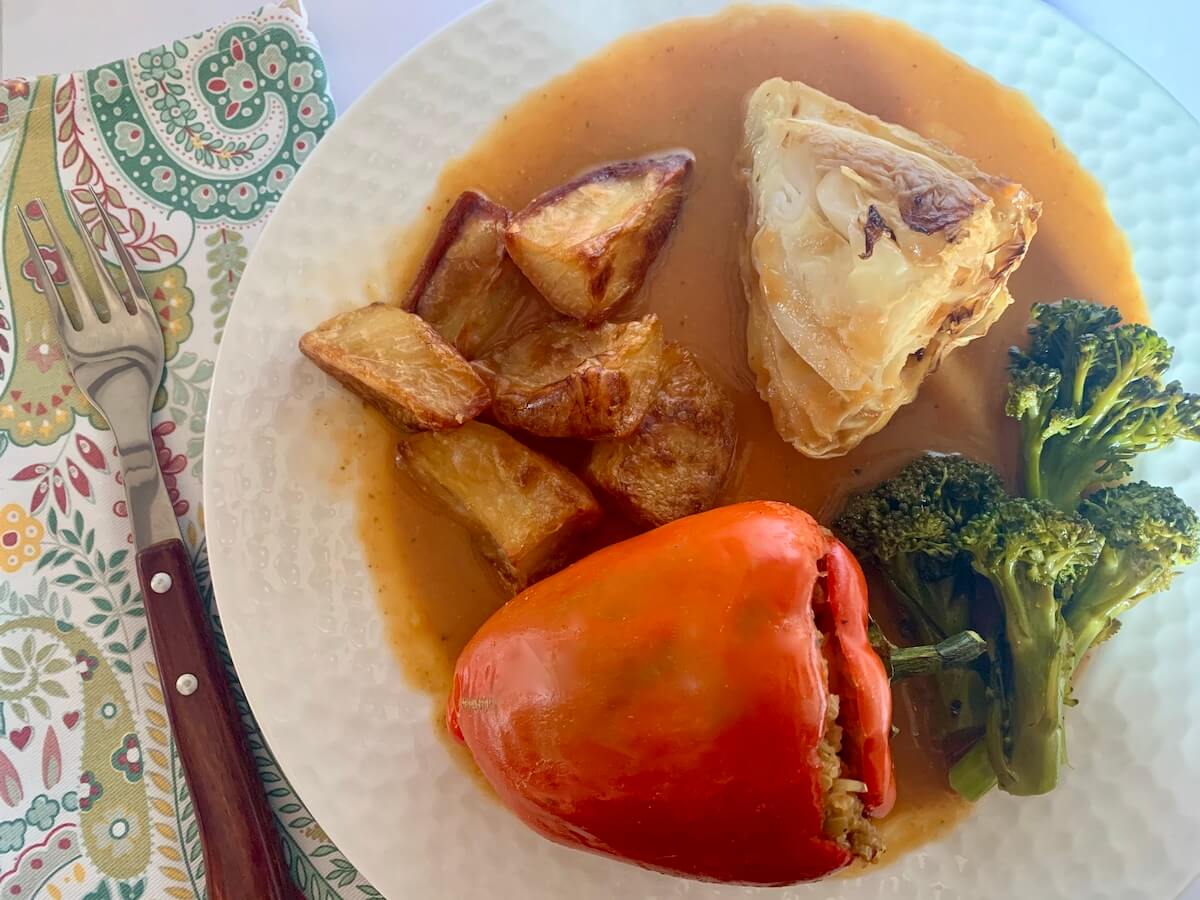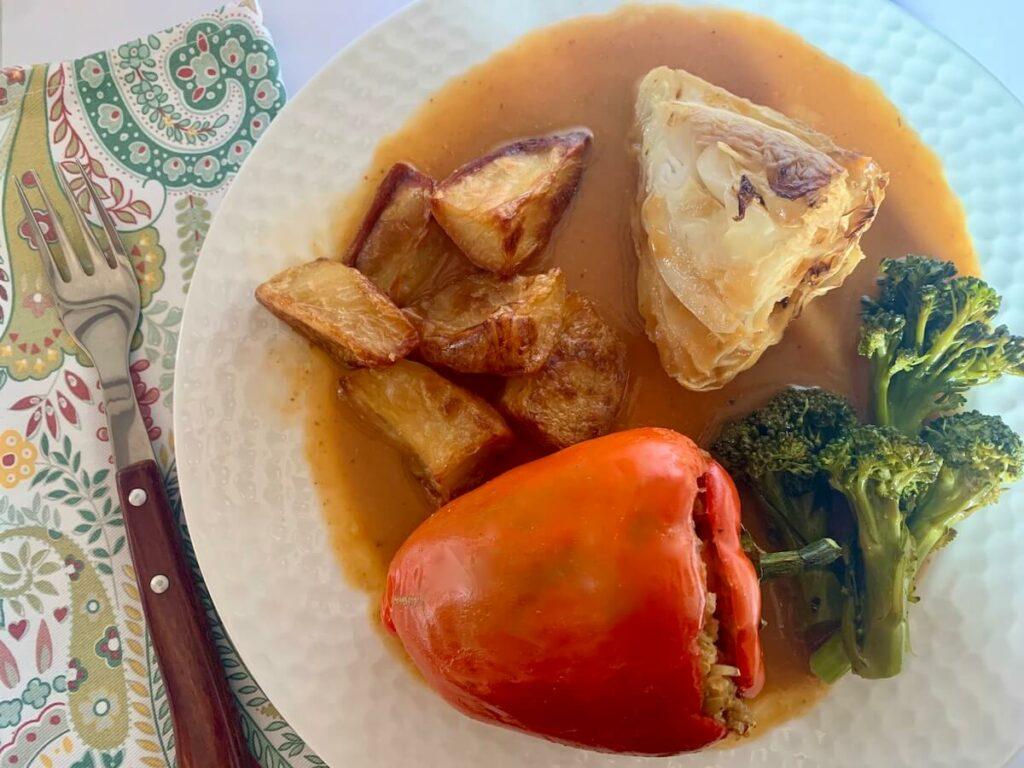 Preparing the Stuffing for Quinoa Stuffed Peppers
First of all, choose the ingredients for your quinoa stuffing. You can combine the quinoa with almost anything of your choice. Here are a few suggestions:
Black beans, onion, garlic, dried parsley & chilli
Chopped peppers, sliced mushrooms, sweet corn, onion & garlic
Brown beans, onion, garlic, red pepper, oregano, cumin & chilli
Mix of vegetables and tofu stir fried and cooked in soy sauce
When you've decided what you're going to put into your stuffing, it's a simple case of preparing it. You can prepare the quinoa the day before if you like, and that way this will be a super quick recipe.
Cook the quinoa in a rice cooker for the easiest method of cooking and be sure to wash it really well by rubbing it between your fingers in a bowl of water and changing the water many times before the final rinse in order to remove the bitter saponins which coat the quinoa.
In a large wok, or similar, fry the onion, garlic and spices, and any other veggies you're using. When the onion is translucent, cover with a lid to soften.
Add in the beans if using, and pour on a large dash of gluten free soy sauce (also if using). Finally, add the quinoa and mix well. Taste to check the seasoning and adjust as necessary.
Stuffing the Peppers with the Quinoa Mix
Choose some lovely big fat, red bell peppers for best results. They give such a lovely flavour and contrast to the quinoa stuffing.
For bell peppers, make a cut around the stem and remove the 'lid' of the pepper. Cut off the seedy bit which is attached to the lid and check the inside of the pepper for any unwanted remains of the seeds.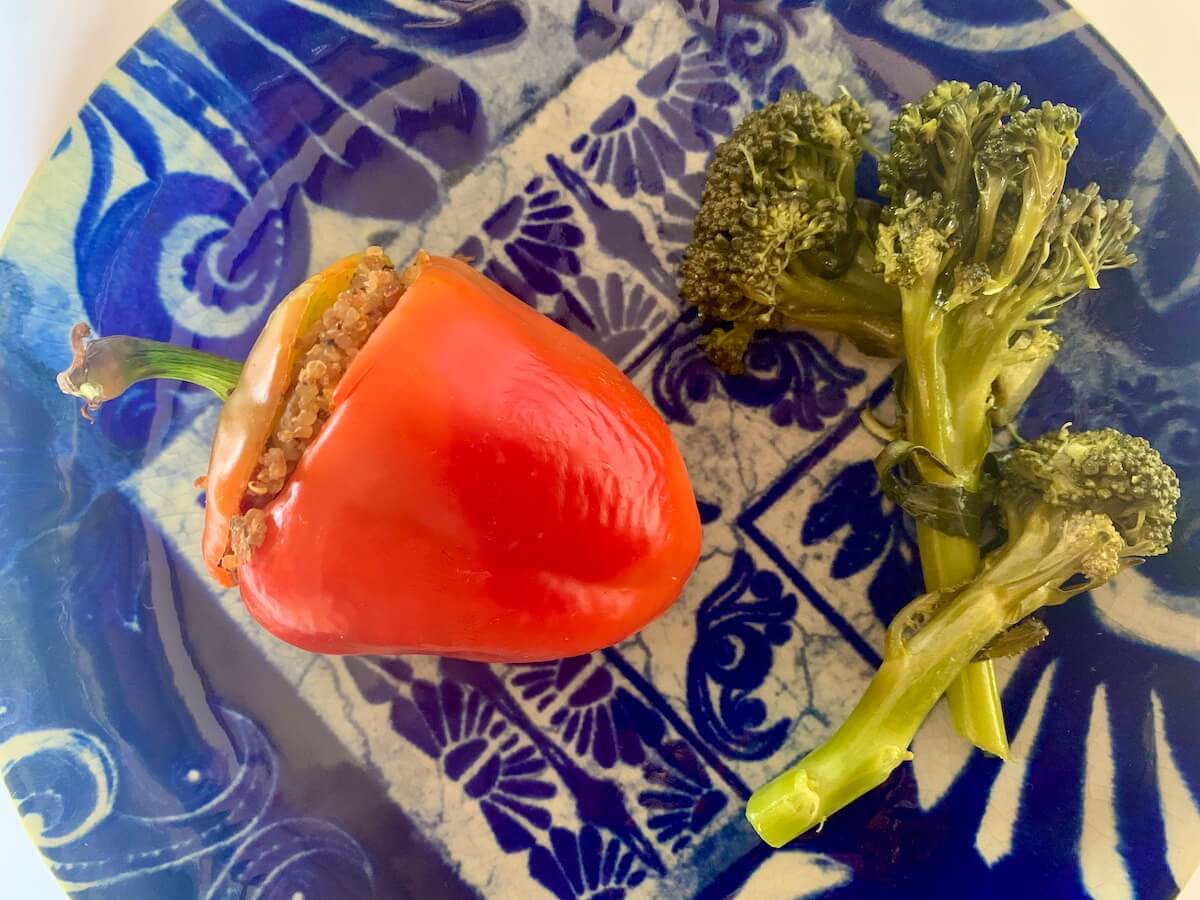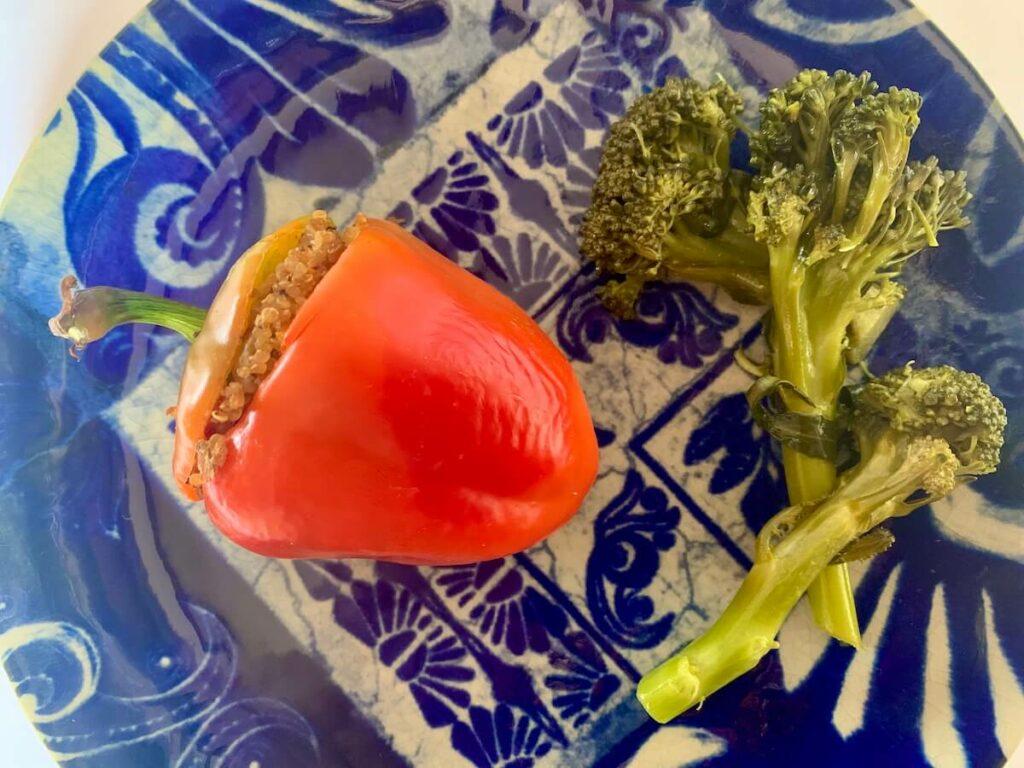 If you only have the long Spanish or Italian peppers, you can also use those, they just don't have such juicy, fleshy results.
For the long peppers, chop off the head and remove the seeds. Next, make a cut through the flesh lengthwise along the pepper and stuff the pepper on its side.
Fill the pepper with stuffing and replace the lid.
If you have any leftover quinoa, you can reuse it again the next day, or make a delicious quinoa salad. And one of my all time favourite vegan breakfasts is quinoa with chopped fruit, Medjool date and a little soy milk.
You can store the peppers like this overnight or for a few hours, until you're ready to proceed.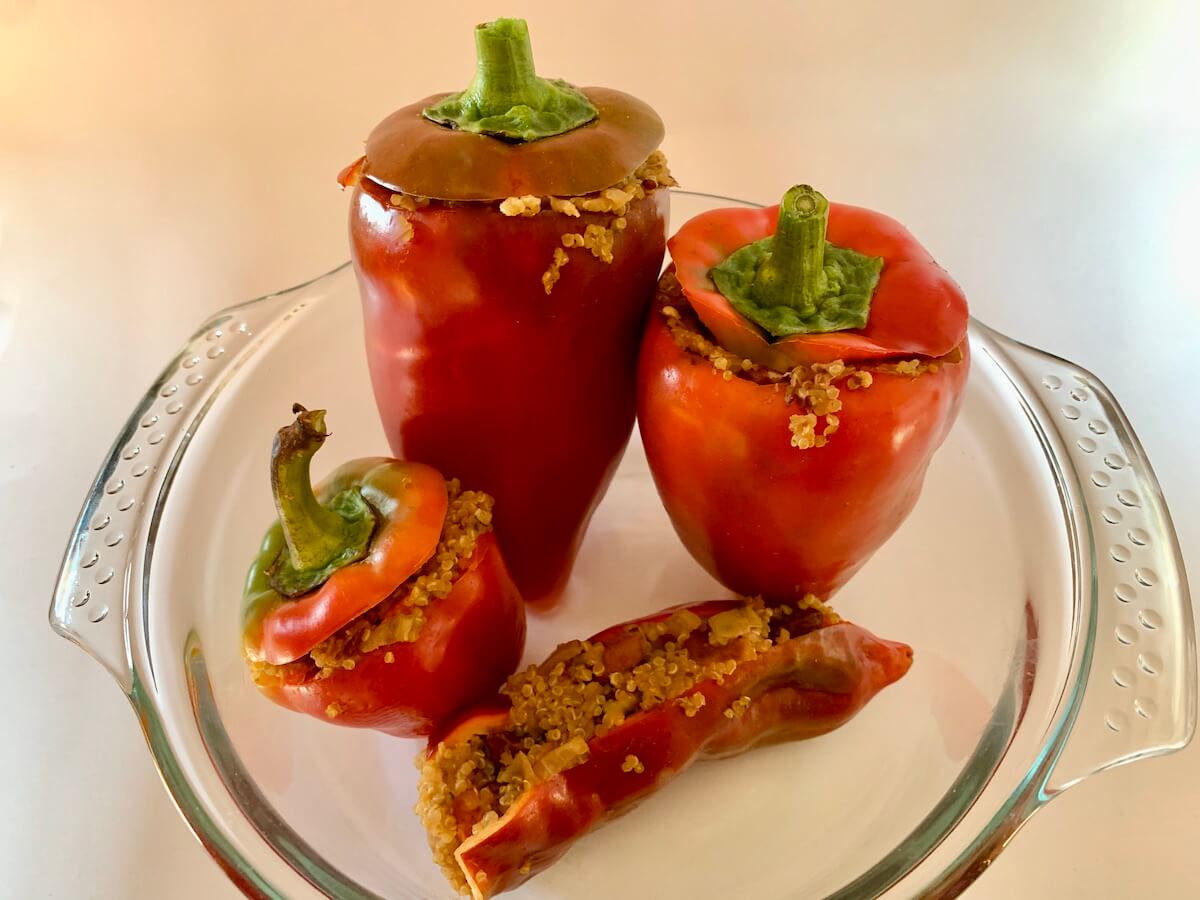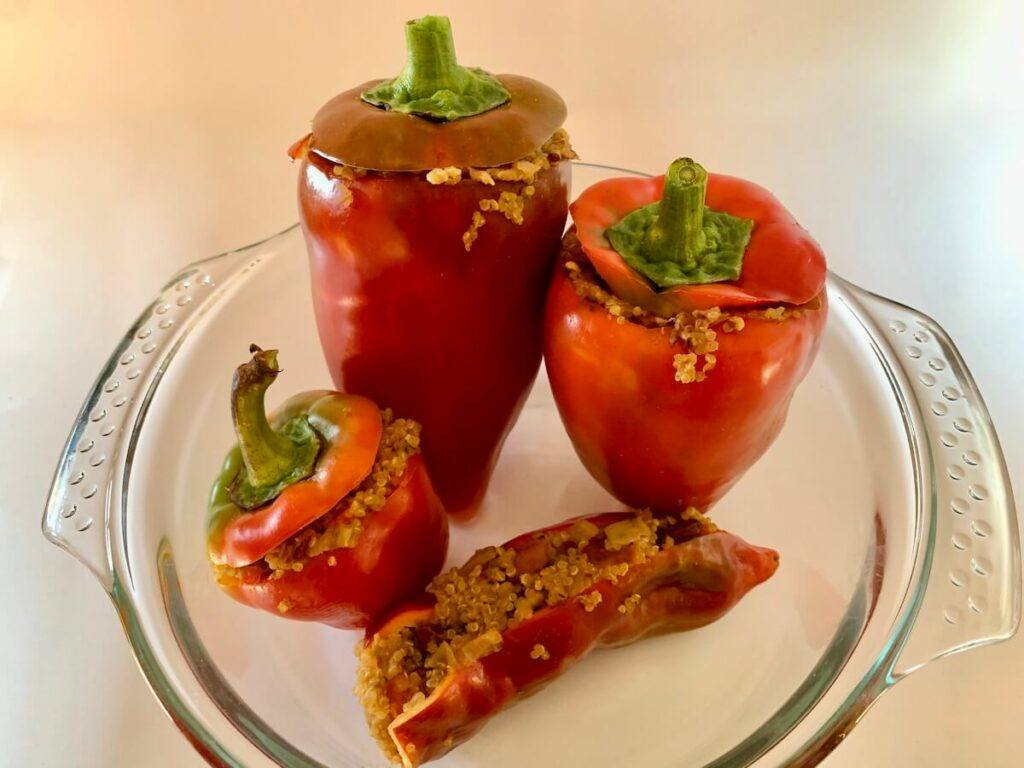 Cooking the Vegan Quinoa Stuffed Peppers
One of the great things about this recipe is that you can actually make it without using the oven, which can be really handy if your oven is already full up with roasting potatoes and cabbage for example!
But it's also great when you want to prepare something that can be on the table 10 minutes after arriving in your kitchen. Simply place the whole dish into the microwave and cook on high heat for approx 8-10 minutes or until the peppers are soft through.
Alternatively, heat the oven to 180ºc and cook the vegan quinoa stuffed peppers for 30 minutes or so in the oven.
Serving the Stuffed Peppers
A sauce is a pretty essential component of this recipe.
Without a sauce, these stuffed peppers will be dry and, well, kinda boring. Which sauce you choose to serve is entirely a matter of the moment. They go equally well with a spicy tomato sauce as they do with a vegan gravy.
If I were serving this as a complete meal, I'd go with a hot chilli tomato sauce, and if serving as part of a roast, well then the gravy would win the day.
Vegan Quinoa Stuffed Peppers
Course: main course
Cuisine: vegan, gluten free
Difficulty: simple
These quick and easy quinoa stuffed peppers can be cooked in 10 minutes if you cook the quinoa in advance.
Ingredients
2 rice-measuring cups of quinoa

4 red bell peppers

1 onion finely chopped

2 cloves crushed garlic

Fresh chilli

Black beans, red beans or an assortment of vegetables and or tofu

Gluten free soy sauce

Oregano, cumin, salt

Olive oil for cooking
Directions
Wash the peppers and cut around the top of the pepper so that you can remove the top as though it were a lid.
Cut off the seedy part which is attached to the lid and also check inside the pepper and remove any unwanted bits.
Wash the quinoa throughly several times, rubbing between your fingers to remove all the bitter saponins which form a natural protective coating on each quinoa seed.
Cook the quinoa according to instructions or in the rice cooker, as you would for rice.
Fry the onion, garlic, herbs and spices in a little olive oil. Add any other vegetables you're using and cook for a few minutes. Cover with a lid and allow to soften.
Add the beans or tofu to the pan and stir.
Pour in a dash of soy sauce and fry for a moment before mixing in the quinoa.
Stuff the peppers with the stuffing and cook in the microwave on high heat for about 8-10 minutes or until soft. Alternatively, cook in the oven at 180ºc for about 30 minutes.
Recipe Video
Notes
Easy to make, nutritious and perfect for a family meal or dinner party.
I hope you enjoy this recipe! If you make it, please take a photo and tag me on instagram so that I can see your creation! And if you have any questions or adjustments, please leave them in the comments below!
A Word About Quinoa for Filling Vegan Quinoa Stuffed Peppers
Quinoa comes in different colours but all of them are delicious. The white variety is the most common version and works just fine as a stuffing material.
The red is even tastier, with a slightly nutty flavour and my absolute favourite for stuffing peppers. It does take slightly longer to cook than the white, but if you're using a rice cooker you don't need to worry about that as it will adjust automatically.
The black quinoa is even harder than the red and in my opinion is delicious in salads. It isn't easy to find in the shops here, so I tend to stick to the white or red.
Quinoa is one of the most healthy choices you could make for your meal. It is rich in antioxidants, high in fibre and provides a vegan source of complete protein, containing all 9 essential amino acids.
In fact I love quinoa so much, I wrote a post about the top 16 ways to include quinoa in your diet.
If you think you don't like quinoa, chances are it wasn't washed properly when you ate it. Wash it well, then wash it again. And again. Until you're sure that there's nothing left of the bitter saponins to come out of it!
And don't worry, it isn't a hassle once you get the hang of it – just soak it in cold water for 2 minutes, then scrunch through with your hand. Rinse away the cloudy water and repeat.
Don't you just love quinoa!