This tasty sweet potato & lentil curry is easy to whip together, and of course (as always), you can vary the ingredients according to what you have at home.
If you think it sounds complicated, it isn't. If you don't have some of the ingredients, just omit them or substitute them; there's absolutely nothing in this recipe which absolutely has to be there.
Well ok, if you don't have any sweet potato, you'll have to change the name of the curry (lol)! But it would still be delicious.
I have also written about an even simpler, oil-free sweet potato in coconut sauce recipe, which is absolutely delicious.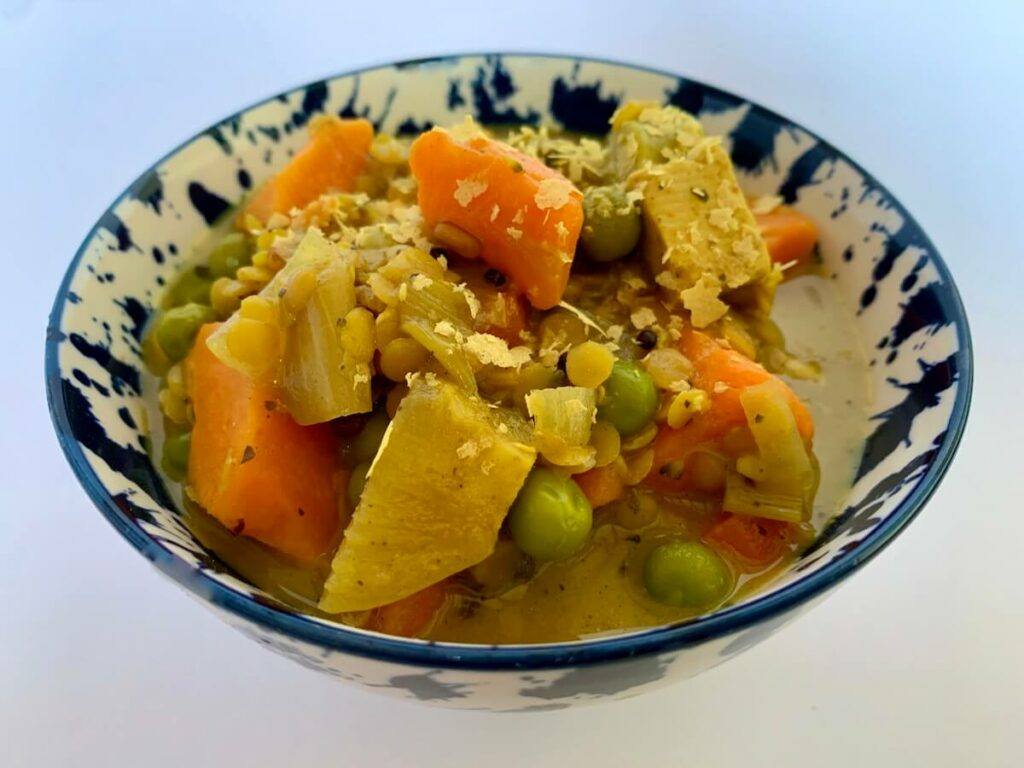 Overview of Basic Method for Making Sweet Potato & Lentil Curry
While there are lots of alternative methods for making a curry, this is a straightforward, no-frills option.
Wash and soak the red lentils in a pan of water while you prepare the rest. Rinse again before using.
Fry some fenugreek seeds to extract their flavour and before raising the heat and adding some mustard seeds to pop them.
Add chopped garlic, chilli, grated ginger and 1 chopped onion and fry for 6-7 minutes.
Next, stir in the spices you're using. I used 1 tsp cumin, 1 tsp turmeric, 1 tsp Balti mix, 1 tsp amchoor and 2 tsp dried coriander.
Cook the spices for another 6-7 minutes on a medium low heat.
Add the chopped vegetables, cubed tofu and washed lentils and stir to cover in spices.
Cover the whole lot with water, heat up and set the timer for 10 minutes.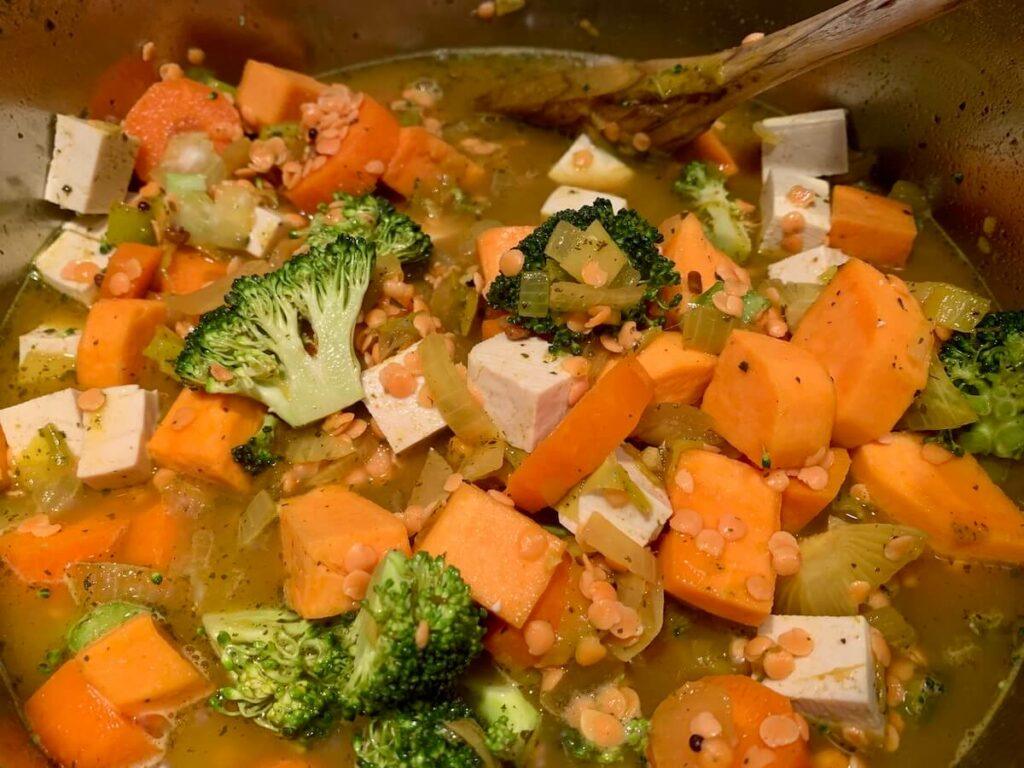 Next, add 1 tin coconut milk and leave to cook for another 10 minutes.
Turn off the heat and leave the curry to stew in its own flavours until closer to the time you want to eat. This will improve the flavour of the curry and give it added depth of flavour.
Tips for a Great Sweet Potato & Lentil Curry
Alter the ingredients however you like. The same method can be used to make a curry with different vegetables or pulses or spices or whatever.
Make the curry in advance and turn it off and leave it for several hours before finishing it off. All curries taste better the next day, so if it fits, make this a day in advance.
Serve with rice, quinoa or buckwheat to go with it.
Serve the leftovers as a stew or soup by adding more liquid and tomato.
Sweet Potato & Lentil Curry with Coconut
Course: Main
Cuisine: Indian inspired, Vegan, Gluten free
Difficulty: Easy
Ingredients
1 onion

3 cloves garlic, 1 piece fresh ginger, 1 red chilli or slice of chilli

1 tsp fenugreek seeds, 1 tsp black mustard seeds (both optional)

Herbs and spices of choice, i.e. 1 tsp of each: cumin, coriander, balti blend, turmeric, amchoor.

2 medium sweet potatoes

3 fat carrots

1 teacup red lentils

1 head of broccoli cut into small florets

1 teacup of peas

1 tin coconut milk

Olive oil for frying
Directions
Set the lentils to soak in a pan of water.
Heat a little olive oil and toast the fenugreek seeds if using.
Raise the heat and add the black mustard seeds to hot oil, if using and allow to pop.
Add the chopped garlic, chilli, onion, grated ginger & 1/2 tsp salt. Cook for a 6-7 minutes.
Add the spices and cook on medium low heat for another 6-7 minutes.
Put the chopped sweet potato and carrot into the pan and stir to coat in the spices. Add the lentils and stir again. Pour on enough water to cover the whole lot and taste it for salt. Add more salt to taste.
Leave to cook for 10 minutes.
Add 1 tin coconut milk and leave for another 10 minutes.
Turn off the heat and leave the curry to stand and increase in flavour.
Notes
Change this recipe to suit your ingredients. Use different vegetables, different herbs or different spices to whip up a delicious curry.
The next day, serve the leftovers with a tin of tomatoes or tomato passata added for a variation in flavour. Or add more liquid and serve as a stew.
What to Serve with the Sweet Potato & Lentil Curry
Serve this delicious curry with basmati rice and a red lentil flatbread on the side, or if you don't feel like grinding the lentils to make the flour for the flatbreads, use gram flour flatbreads instead.
For variation, try cooking some quinoa or buckwheat instead of rice. Buckwheat is completely gluten free, healthy and flavoursome.