You wanna know what's so good about this easy, sweet potato with chickpeas in a coconut sauce recipe?
It's the combination of flavours on your tongue. The subtle layers from creamy to spicy. This one of those Wow moments when I get excited.
Why? Because if you haven't tried this easy curry-style meal, you haven't lived.
You could couple it with scalloped potatoes on the side as well as the black rice.
Decadent I know. But that's one of my favourite combinations.
A while back I wrote about a sweet potato and red lentil curry and that one was pretty straightforward too. But this is even easier.
Hands down, you're gonna love this.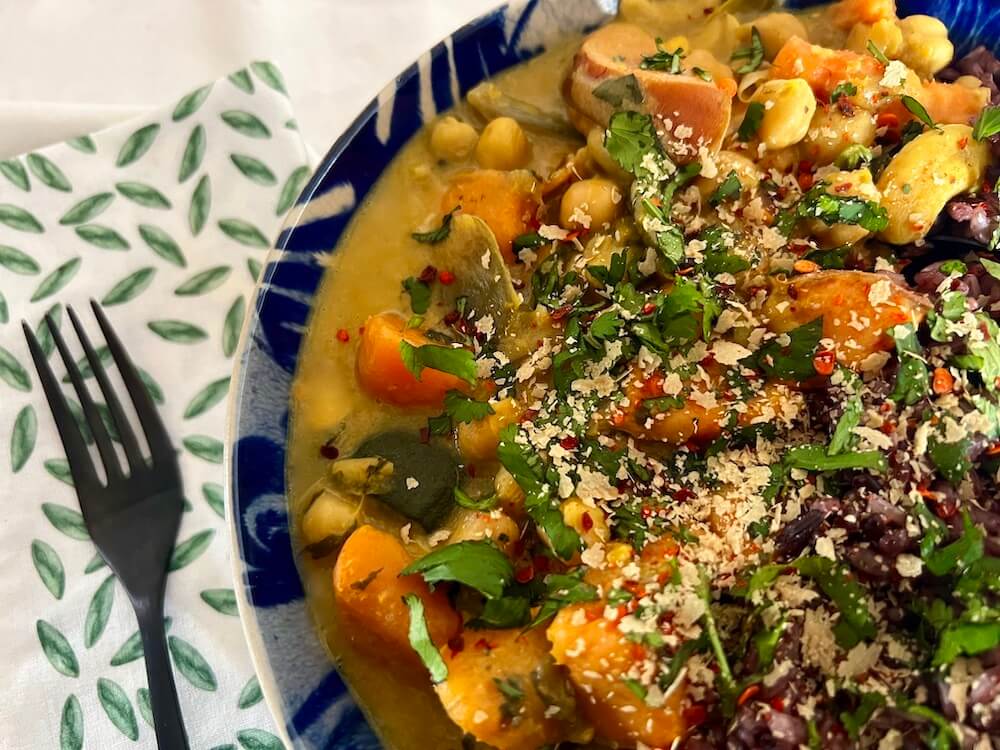 History of this Easy Sweet Potato with Chickpeas in a Coconut Sauce?
My husband and I were invited to the home of some dear friends for dinner, and of course we had an awesome evening.
But as well as that, we ate a most delicious sweet potato & chickpea curry for dinner.
So, when I came home I decided to use that meal as inspiration to invent something super-easy to make which would replica the culinary experience of that creamy curry.
It may not be the same, but this one definitely surpasses all my expectations and I'm sure I'll be making it time and time again.
Is this Sweet Potato with Chickpeas in a Coconut Sauce Recipe Actually a Curry?
Yes and no. This is a quick meal that's delicious and it can be whatever you want, spicy, mild, curry flavoured or just plain deliciously creamy.
Add some extra spices and you have an amazing curry.
The way I serve it in this recipe results in a slightly sweet, slightly spicy sauce.
But wow is this super handy to have up your sleeve when you want to whip up a hands-off delicious meal.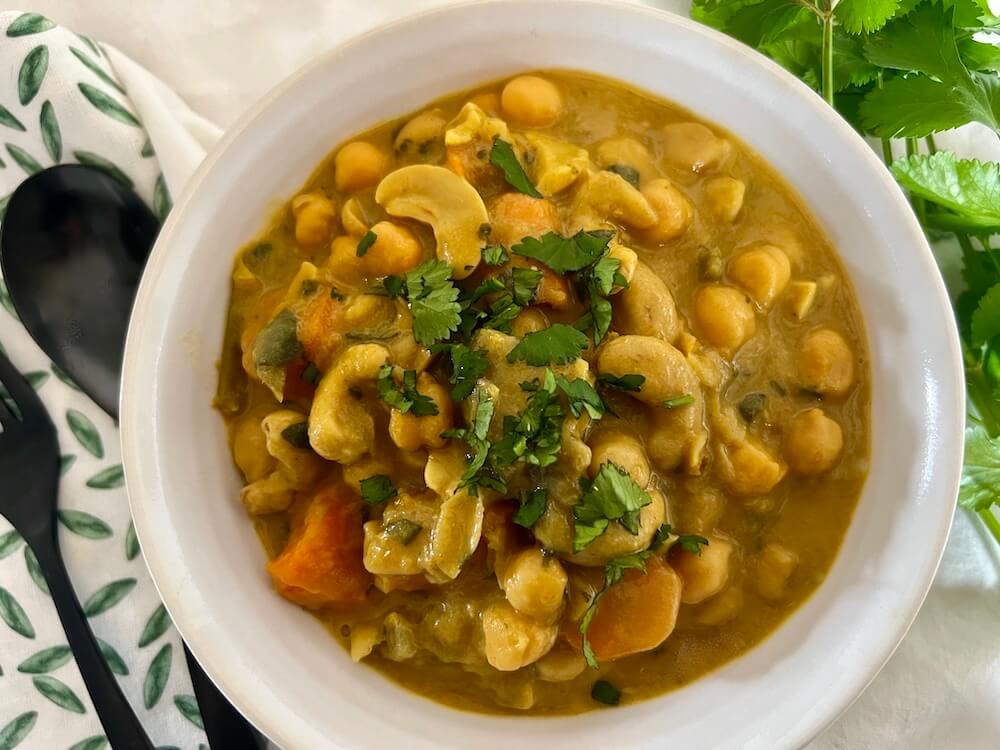 What Chickpeas to Use for Cooking Sweet Potato with Chickpeas in a Coconut sauce
Home-cooked chickpeas are always the best. They're tastier with a fuller flavour profile, they're healthier because you avoid all the added salt that can come with chickpeas in a jar or tin, and they're way way cheaper than buying ready-cooked.
And on top of all that, you'll have less rubbish for recycling.
The only positive about buying read-to-eat chickpeas is that they're so convenient. Which is why I set out to discover the most convenient method of cooking dried chickpeas, so that I'd never have to rely on the jars or tins again.
And I've never looked back. Dried chickpeas are the way to go.
Other dishes which use home-cooked (or shop bought) chickpeas:
Easy Method of Cooking this Sweet Potato with Chickpeas in a Coconut Sauce Recipe
Essential Ingredients
1 large sweet potato
250g cooked chickpeas or 1 jar pre-cooked
1 tin coconut milk
At least 1 other vegetable such as a carrot, zucchini, artichoke or whatever you fancy
Salt
Wash and chop the sweet potato into bite sized chunks. I like to leave them fairly large (comparatively speaking) so that they result in quite a chunk in the finished dish.
Chop at least one other vegetable to go in the sauce.
Pre-cook the dried chickpeas or use one jar of pre-cooked.
Open a tin of coconut milk.
And that's it for the essential ingredients and preparation!
Non-Essential Ingredients
Other vegetables such as: carrot, zucchini, artichoke, broccoli, leek . . .
Handful of raw, unsalted cashews
Spices of choice: cumin, turmeric, chilli powder
Extra coconut milk (the thick part for thickening if necessary) or some homemade cream
Plant milk (for diluting if necessary)
Fresh coriander
I like to add some extra veggies to the pan to give it a bit of extra character. In the dish in the photos I added 1 carrot, 1 artichoke 1/2 zucchini.
You can use any veggies which taste good steamed/boiled.
Next, put your chopped vegetables into a saucepan and pour in about 1-2 cm of water. Sprinkle with 1 tsp cumin, 1 tsp turmeric, 1/2 tsp chilli powder (or to taste), salt to taste and cover with a lid.
Bring to the boil and simmer for about 10 minutes or until the veggies are beginning to soften but not yet cooked through.
Pour in your cooked chickpeas/jar of chickpeas, handful of cashews and a tin of coconut milk, stir and check the salt level.
Leave to simmer until everything is soft through.
Because each brand of coconut milk varies enormously, the sauce may be too thick, too thin or just right.
If it's too thin, you can add some homemade vegan cream, or a couple more tablespoons of the thick part from another tin of coconut milk to the pan.
If the sauce is too thick, add some unsweetened plant milk to dilute it down.
And if it's just right, yippee!
This meal can be completely prepared in advance. Just chop the vegetables into a pan, pour in a cm of water and cover with a lid ready to be cooked at a later moment.
You can eat this as a bowl of stew on its own (in which case it serves 2) or serve with rice.
It's awesome.
It's nutritious.
It's easy.
And it's delicious.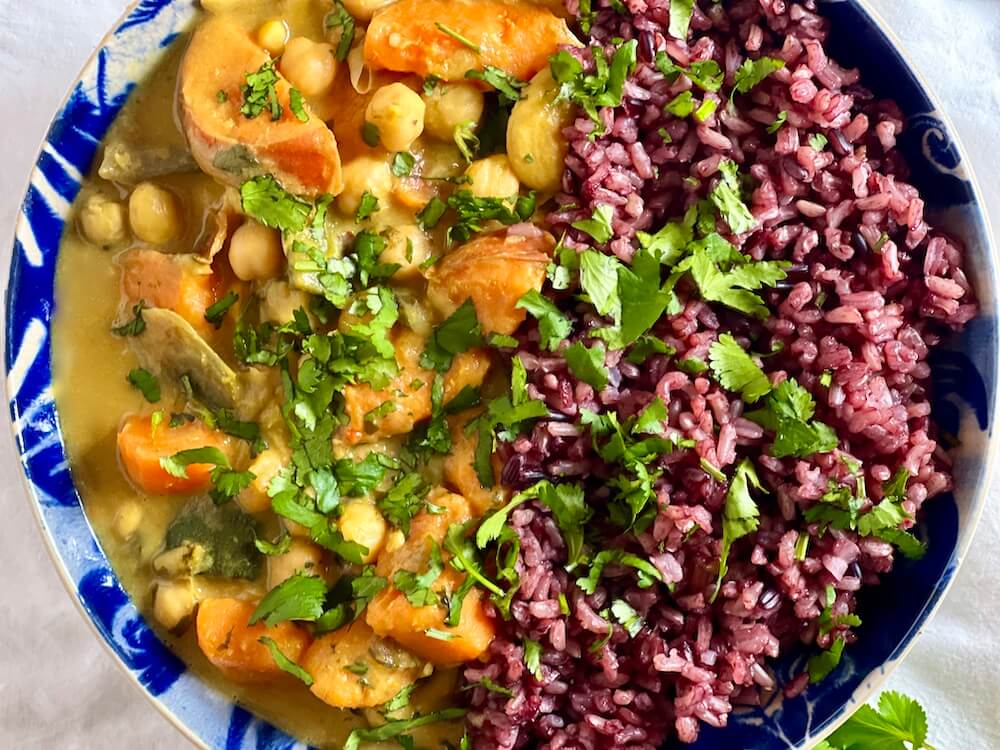 Easy Sweet Potato with Chickpeas in a Coconut Sauce, Topped with Fresh Cilantro
Ingredients
1 large sweet potato
1 tin of coconut milk
1 jar of chickpeas or pre-cooked dried chickpeas
1 handful cashews (optional)
1 tsp cumin
1 tsp turmeric
1/2 tsp chilli powder
fresh coriander
other vegetable/s of choice (carrot, zucchini, artichoke . . . )
Directions
Chop the sweet potato and vegetables and place in a pan.
Sprinkle on the 1 tsp turmeric, 1 tsp cumin and 1/2 tsp chilli powder.
Season with salt.
Pour in 1 cm water and bring to the boil.
Reduce the heat and simmer until the veggies are beginning to get soft (about 10 minutes).
Add the chickpeas, handful of cashews if using, the tin of coconut milk and a small bunch of chopped fresh coriander.
Leave to cook for another 10 minutes or until the vegetables are soft through.
Taste and adjust the flavour with more salt or spices or a dash of ketcap manis.
Dilute with unsweetened plant milk if necessary.
Give extra creaminess with vegan cream or extra from the thick part of the coconut milk.
Serve with fresh coriander on top.
Are Sweet Potatoes Healthy?
I hope you enjoy this recipe as much as I do: it's a new favourite for me. Be sure to make too much so that you can use the leftovers in an awesome vegan buddha bowl the next day!