This tasty vegan eggplant curry is a great way to use up leftover veggies you have in the fridge, or vegetables which are beyond their best moment, because in a curry you won't notice. You can basically use whatever veggies you have leftover to complement the eggplant.
You can serve this curry with rice, quinoa or part of a complete thali spread and maybe some spinach or fresh Swiss chard.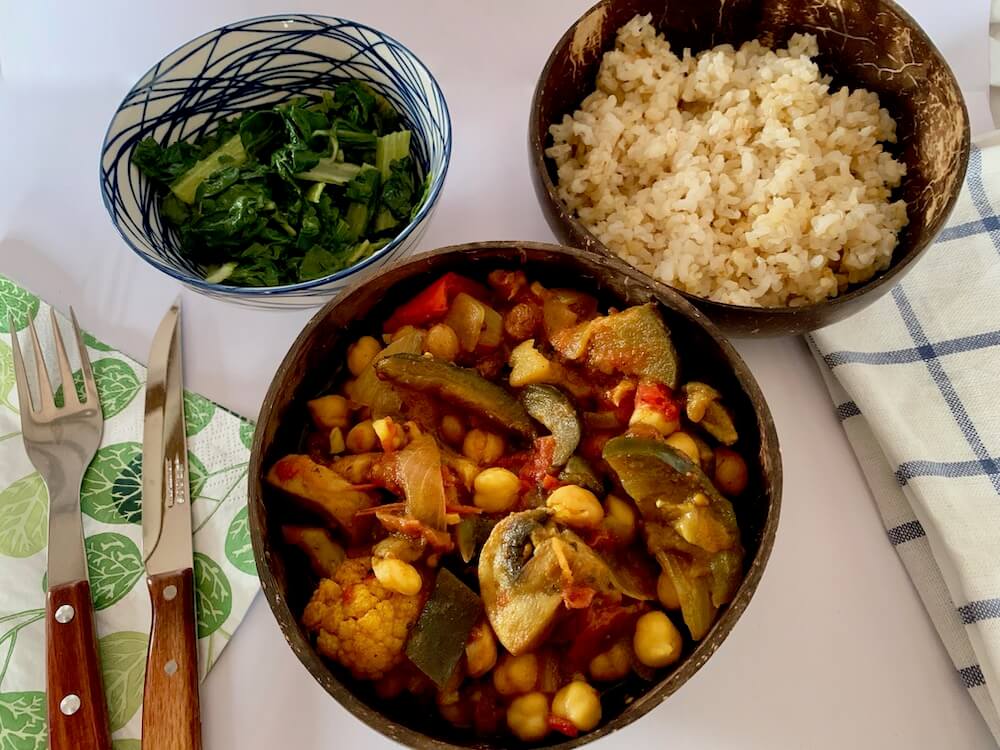 When I was a young child, my best friend was Indian and I used to spend a lot of time with her family.
I have such fond memories of those times and of her mum cooking the spices in the kitchen. We used to eat a potato shack and puris galore. The food back then was made less spicy for us kids, but now I love to eat food with a kick to it.
You can make this vegan eggplant curry as spicy or as mild as you like. I always have to do both because I like it hot and my husband only eats it if it's mild. It works both ways.
Easy Method for a Vegan Curry
When I make a curry, it's a creative process. I don't follow a specific recipe, and each time the curry will taste slightly different to the last. But there are general similarities each time.
What I do decide, is basically whether to make a dry curry (aloo gobi for example) a juicy curry like this one, or a creamy curry, like this vegan coconut curry recipe.
Today we're making a tomato based vegan eggplant curry, so without further ado, let's get on with it.
Tomato Based Eggplant Curry
Today I saw that I had an eggplant which needed using. It was beginning to shrink and the skin would be getting tough.
Plus, it probably wouldn't have the best flavour anymore so I wouldn't use it for stuffed eggplant or eggplant parmesan, both of which call for fresher, younger eggplants.
I rummaged through the fridge and pulled out any veggies which were getting tired looking.
I had a piece of red pepper and a chunk of cauliflower. So, to that I added 1 onion, 2 tomatoes and 4 mushrooms, and the base for my curry was set.
And the motto? Use what you have to hand to go in with your vegan eggplant curry recipe!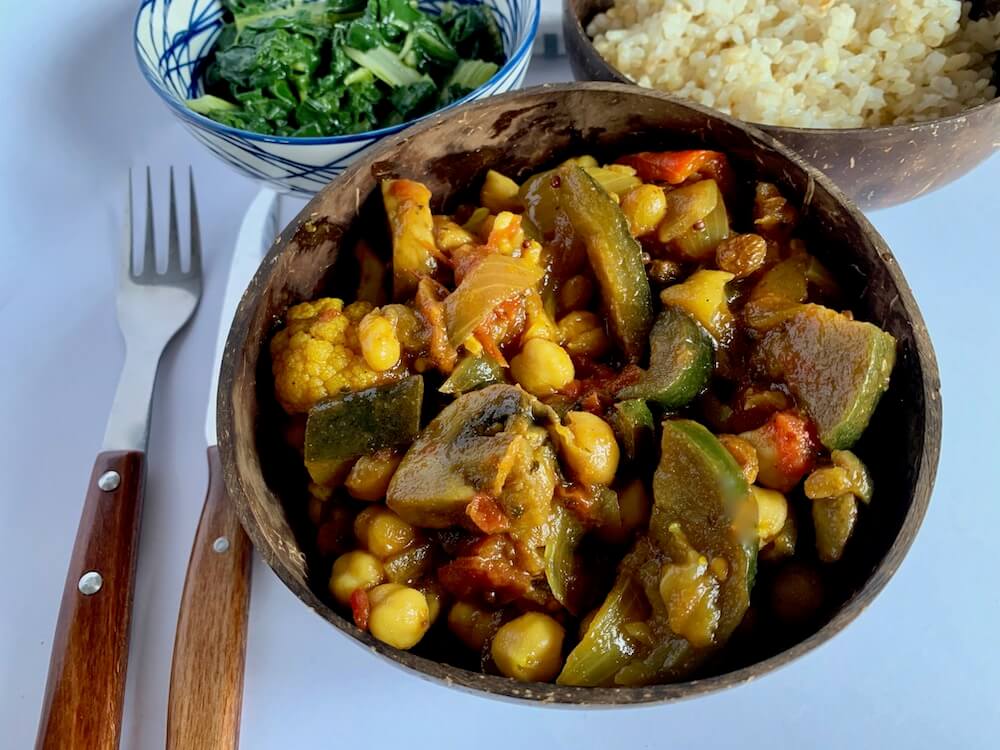 The Process
Because the eggplant was old I decided to salt it and sweat it. That makes it softer and stops it from absorbing so much oil. And gives it a lovely taste.
Chop the eggplant into cubes and cover with salt. Mix it well and then leave it for 30 minutes. When you come back to it, you'll find it's oozed out some brown liquid.
That's what you want to happen. Rinse the eggplant well and cut a tiny bit off to taste, just to touch it to your tongue and check the salt level before discarding your tester bit.
I decided to make the curry in 2 pans. while the eggplant was busy sitting in salt, I created the body of the curry by frying some ginger, garlic, chilli and mustard seeds in a little olive oil.
Next I added some curry spices: Jalfredo curry (use any spice mix of your choice), cumin, paprika, turmeric and half the onion.
As soon as the onion was coated in spices I added the cauliflower and cooked in the spices for a few minutes before adding the red pepper and mushrooms. After leaving them to cook for a few minutes, I added some water or vegetable stock, just enough to cover the base of the pan with about a centimetre of liquid.
Put aside and let's get back to the star of the recipe . . .
Back to the eggplant
Meanwhile, rinse the eggplant well and squeeze out the excess water. After doing the taste-check to be sure you've got rid of the excess salt, pat it dry with some kitchen paper.
In a separate pan, heat a little olive oil and add the half onion, chopped eggplant and some garam masala. Fry for a few minutes and then add the 4 chopped mushrooms and leave to cook for around about 7 minutes or until the eggplant is cooked. Taste it to check.
Next, add the curry base to the eggplant. For an added twist and protein you can now add some chickpeas.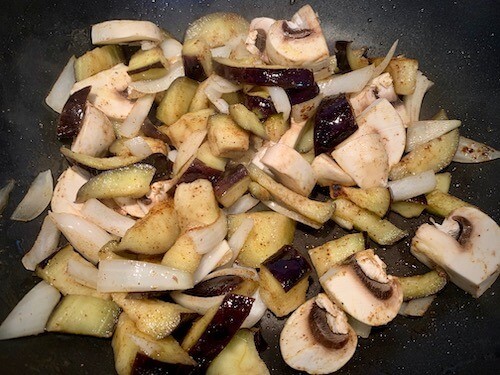 The Final Stages
Pour the curry base into the eggplant pan and stir. Add some cooked chickpeas and a tin of tomatoes, and heat through. Switch off the heat and cover with a lid.
At this point, taste the curry before you decide what to add next. To address a bitter flavour, you can add sultanas, raisons or blueberries. I added a handful of sultanas, and I left it to infuse.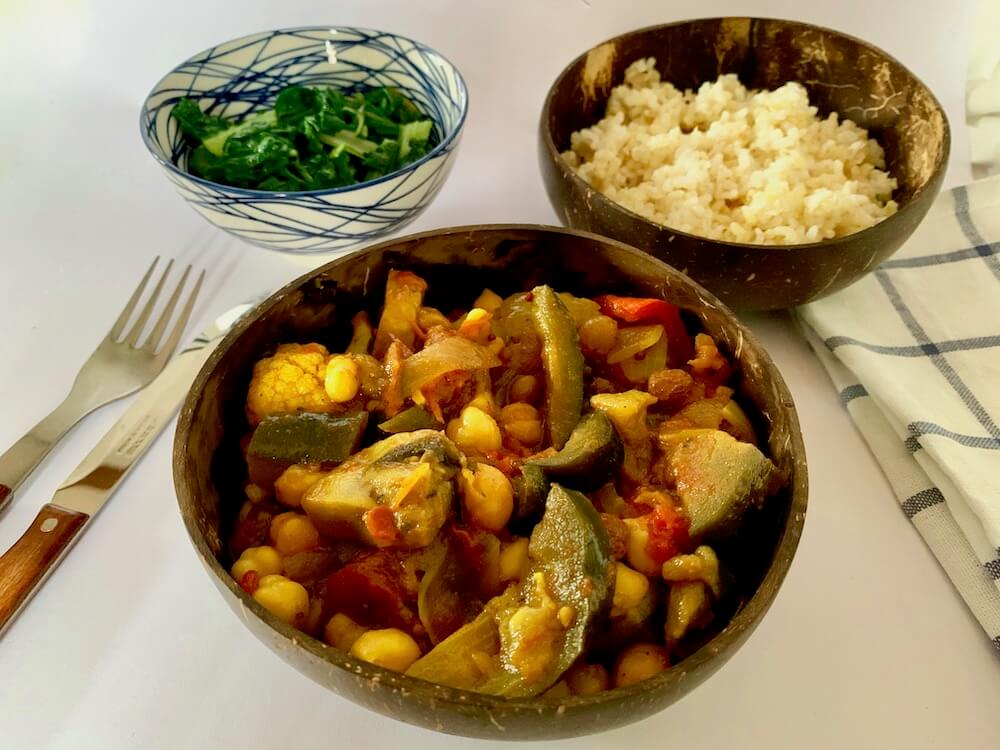 Later, I reheated the curry and added a little water to create more juice.
I served the final meal with wholegrain rice, fresh swiss chard from the garden and a gluten free wrap on the side. And extra chilli on the side of course!
Eggplant Curry
Course: Veganism, Main course
Cuisine: Indian Inspired
Difficulty: Medium
Change the ingredients to whatever you have in your cupboard and fridge!
Ingredients
1 eggplant

1 onion

4 mushrooms

1 piece cauliflower

1 piece red pepper

2 tomatoes

2 cloves garlic

Piece of fresh ginger the size of a garlic clove

fresh chilli

curry spices: cumin, turmeric, paprika, coriander, garam masala or a spice blend

Vegetable stock or water

salt & pepper
Directions
Put the eggplant to sweat in a coating of salt while you prepare the base for the curry.
Fry the fresh ginger, garlic and chilli in a little olive oil.
Add half the chopped onion and spices of choice and cook for a few minutes.
Add the rest of the veggies you're using and stir fry for a few minutes.
Pour on some vegetable stock until the veggies are just covered.
Set aside until the eggplant is ready.
For the eggplant
Heat a little olive oil in a pan and add the garam masala, chopped eggplant and the onions, cut in strips lengthwise.
After a moment, add the chopped mushrooms and stir.
Leave to cook for about 7 minutes or until the eggplant is cooked through.
Putting it all together
Mix the eggplant with the curry base.
Heat through and add one tin of chopped tomatoes.
Taste the curry and add a handful of sultanas.
Adjust the seasoning to taste.
If you can make the curry in advance it will taste much better. Cover with a lid and leave to cool. Reheat when ready to serve.
Notes
The secret of most tasty cooking, including a good curry, is to be flexible and vary it according to what you have to hand.