Turmeric potatoes with black mustard seeds make a great alternative way to cook potatoes.
They can be all soft or a tiny bit crunchy on the edges, depending how much water you use, if any.
You can make them hot 'n spicy or with no chilli at all, as chilli isn't the driver in the flavour of this.
Serve these with a delicious king salad, pasta salad, or grilled summer vegetable salad. In a wrap, with a curry and rice, as part of a vegan thali platter or as a side dish to anything you're eating.
And the next day, eat the leftover potatoes in turmeric in a delicious buddha bowl.
If you're new to vegan cooking you may like to see a simple guide to starting a vegan lifestyle or some top tips to make your life easier in the vegan kitchen or the most common vegan FAQ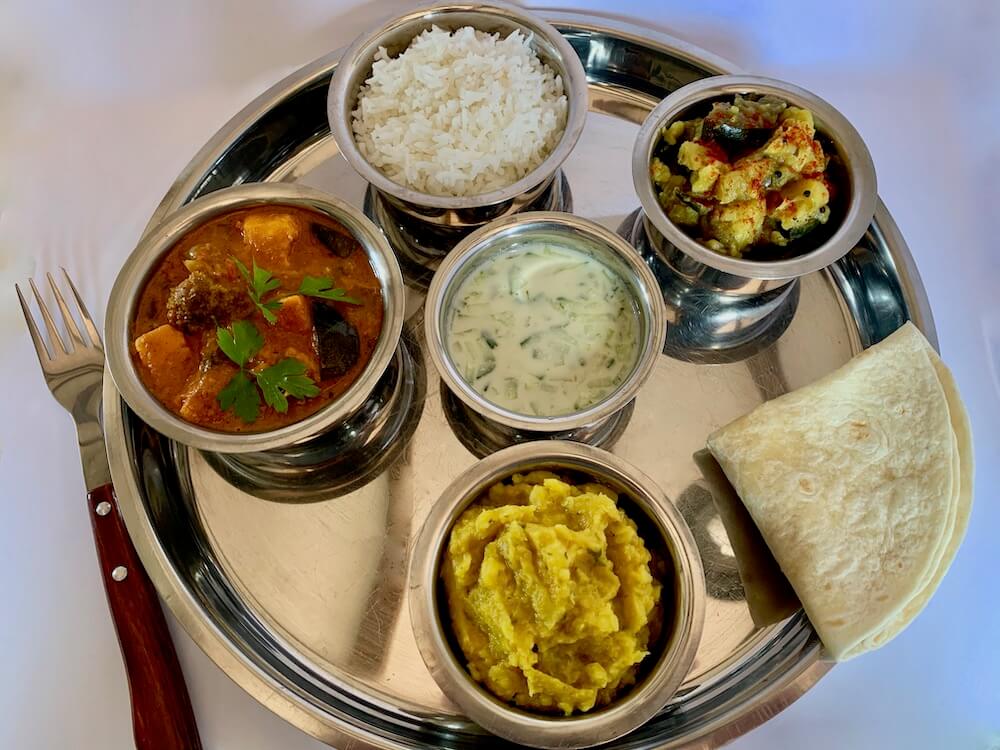 Best Type of Potatoes to Use for Cooking Turmeric Potatoes
This recipe works best with small, hard or waxy potatoes.
Fluffy potatoes, watery potatoes or soft potatoes lose their shape in the cooking and the recipe loses its character. (But you can still make it, regardless of what potatoes you have handy.)
If you're using new potatoes, you can leave the skin on, otherwise, maybe peel them. Well, truthfully I like all potatoes with the skin on, but not everybody does. . . !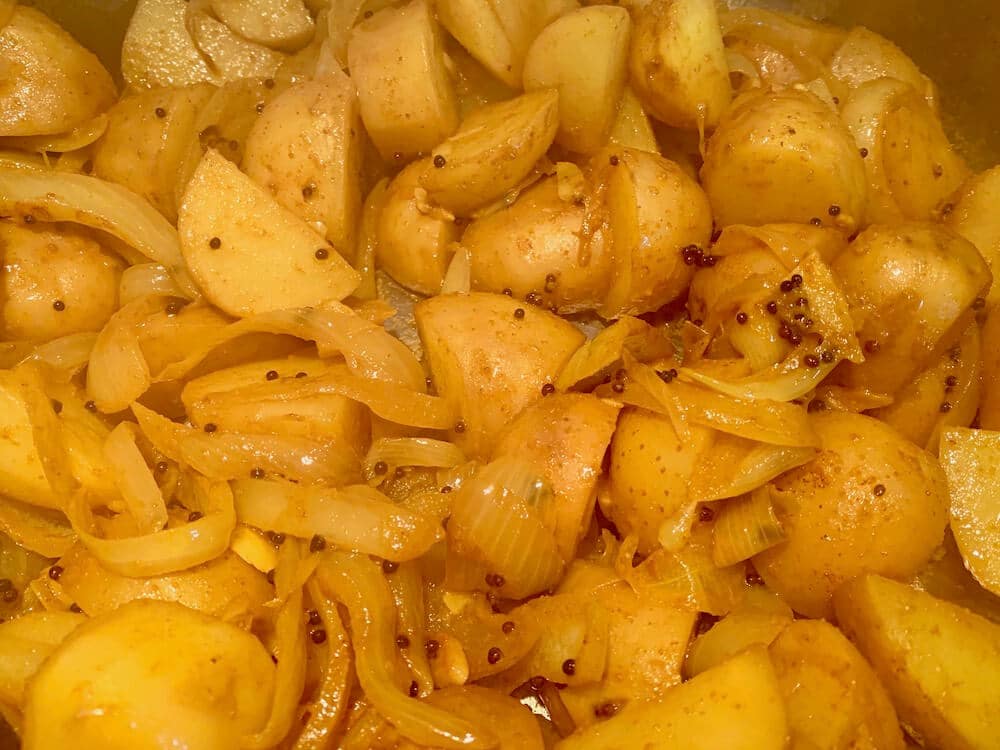 Chop them into small bite-sized pieces (about 1.5 cm) and leave to soak in iced water for 30 minutes.
This is supposed to reduce the starch in the potato, which helps them to keep their shape in the cooking.
How to Make Turmeric Potatoes with Black Mustard Seeds
Chop a large Spanish onion (or 2 small ones) lengthwise into strips. Pour enough olive oil to cover the bottom of a heavy based pan which has a tightly fitting lid.
Heat on a high heat.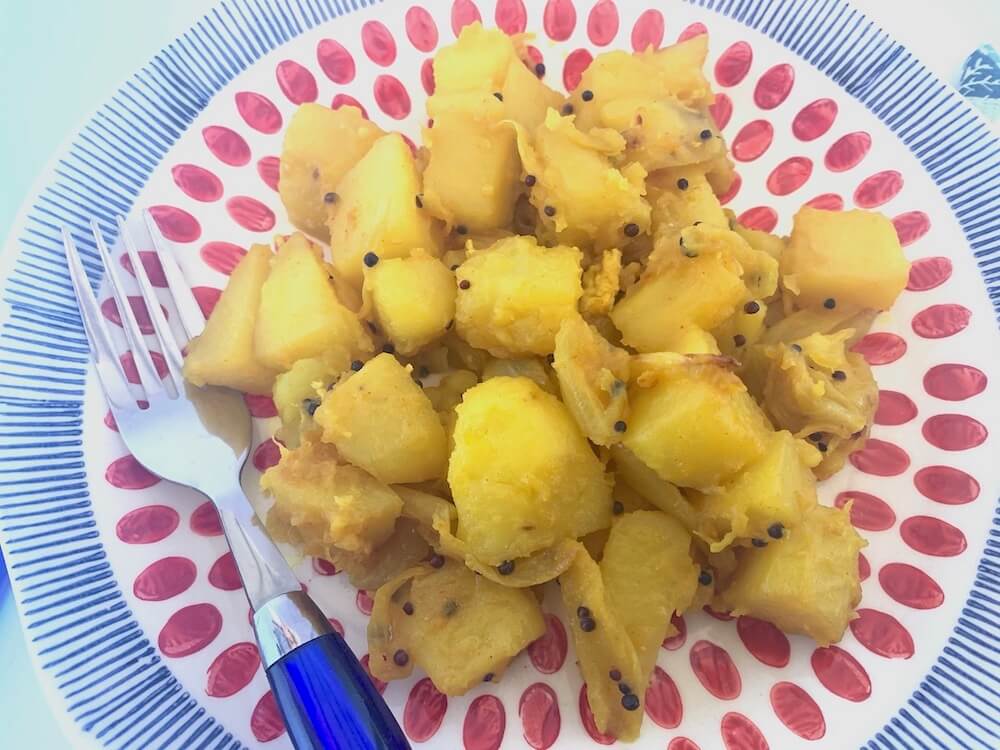 When the olive oil's hot, (it needs to be hot before you add the mustard seeds, so check it with one seed first) add a tsp of black mustard seeds (or more) and wait until they begin to pop.
Add the onion strips and stir to mix with the mustard seed, reducing the heat slightly to stop everything popping out and spitting at you too much.
Next add 1 tsp of turmeric and a teeny-weeny pinch of gluten free asafoetida (or omit if not available), and stir well.
Fry the onions for 2-3 minutes on a medium high heat.
Drain the potatoes. The trick to getting these potatoes just right depends largely on having the right amount of water on the potatoes. Drain them, but don't dry them.
The potatoes should still be damp but not sitting in water. Pour the potatoes into the pan. Raise the heat to high, stirring the potatoes to cover in the spices, and cooking for a minute or two.
Cover the pan with a well fitting lid and reduce the heat to a medium-low heat.
Set a timer for 10 minutes. After 10 minutes, flip the potatoes. If the pan looks very dry, add 1 tablespoon of water, cover again and set the alarm for another 10 minutes.
After the potatoes have been on for 20 minutes, sprinkle with a little chilli powder, salt and a dash of gluten free soy sauce. Flip again and replace the lid. Set the timer again for another 10 minutes and keep checking and re-setting until the potatoes are cooked through.
They need enough steam to be cooking, so if you find them staying like hard rocks, you can always add another tbs of water. If you add too much water they will lose their shape and the flavour of the recipe will be altered.
Variations on this Turmeric Potatoes with Black Mustard Seeds Recipe
One of the great things about this recipe is that you can make it time and time again with different variations. Here are some of the ways that I like to alter the basic recipe.
Turmeric Potatoes with Black Mustard Seeds & Eggplant
If you're a fan of eggplant like I am, (I love it every way possible – well except raw!), you'll already have fallen in love with stuffed eggplant and vegan eggplant parmesan as well as the traditional eggplant curry so this is maybe something new to try with those purple beauties.
Cut the eggplant in half and then each half in half again, lengthwise. Now, slice across the eggplant so that you get slices of the eggplant. Sprinkle with a lot of salt and set aside for 20 minutes or so, or until the eggplant has oozed out some liquid.
Rinse the eggplant really well to remove all the excess salt. Taste a tiny bit of the raw eggplant jut to make sure that you've successfully removed enough of the salt. They should taste just pleasantly and mildly salty, no more.
When the potatoes have been left cooking for 10 minutes, add the sliced eggplant to the pan and stir well. Continue the same as you would otherwise.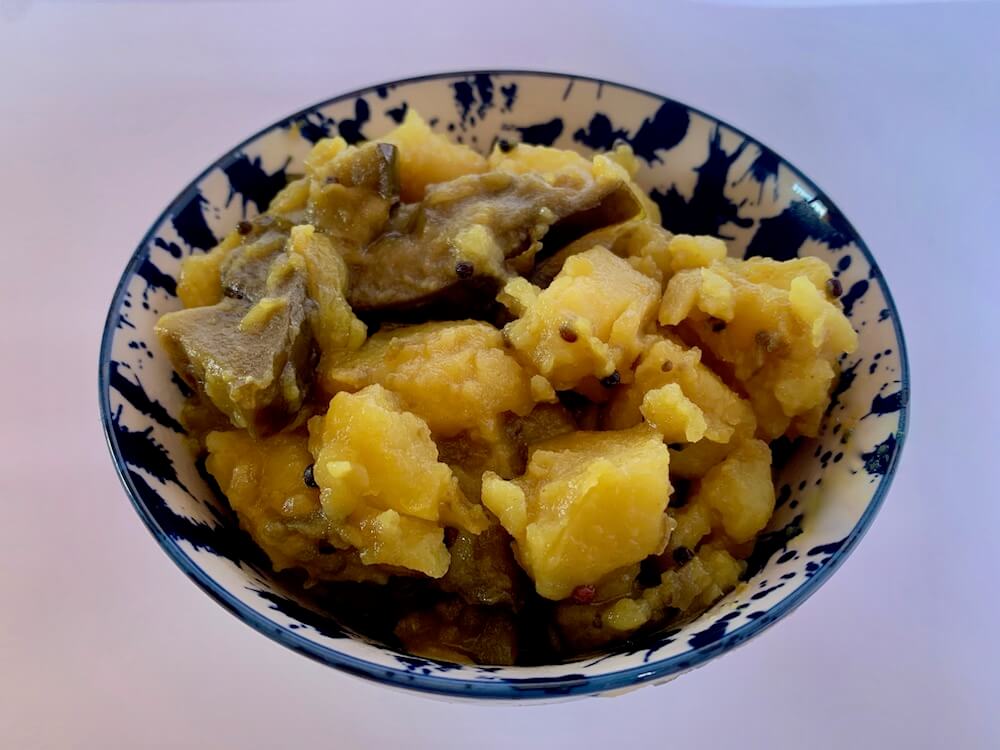 Turmeric Potatoes with Black Mustard Seeds & Cauliflower
Cauliflower often gets a bad rap. I often hear people say 'I don't like cauliflower,' when in truth, they've only ever tried cauliflower cheese.
So how can you make cauliflower taste great if you don't like it? Well, as well as this turmeric recipe, cauliflower rice is a great way to eat it if you're not a cauliflower fan.
The flavour in cauliflower cheese couldn't be more opposite than this cauliflower in turmeric recipe. So even for those cauliflower doubters, this might be a recipe worth trying.
Break the cauliflower up into small florets and either steam them or drop them into boiling water. Don't cook them all the way through, just half cooked, so that they're beginning to soften.
Add them to the potatoes half way through cooking and flip around to cover with the spices. Once they've been coated in the spices, try not to stir them too much or you may break up the cauliflower florets.
Finish cooking the potatoes and cauliflower together just the same.
Turmeric Potatoes with Black Mustard Seeds & Peas
I love adding peas. Just microwave a cup of peas with a little salt. With my microwave they come out most tender if I don't add any extra water to them.
I just put a cup of frozen peas with a sprinkle of salt into the microwave for a couple of minutes.
Stir them regularly and keep checking them. Be sure to stop the microwave as soon as the peas are just cooked and still bright green. Add the peas to the potatoes at the end of cooking, just before serving.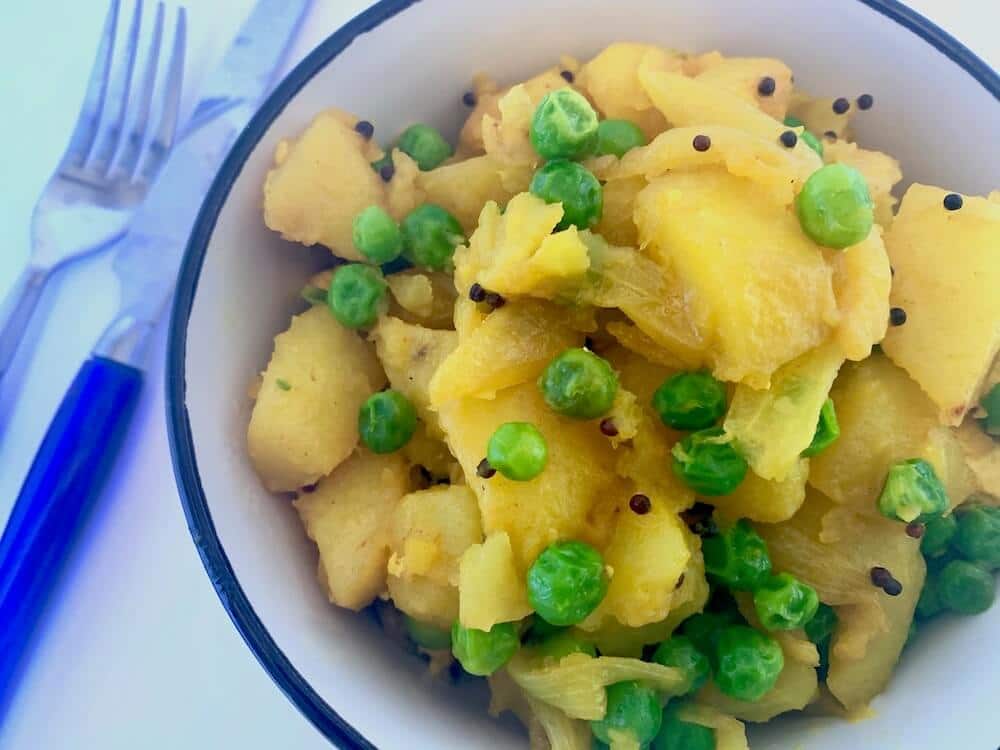 Other Ingredients
There's no limit to what you can add to this potatoes in turmeric and black mustard seed recipe.
I've added chopped tofu about half way through the cooking.
Another option is to add some kidney beans or other beans. Or, you could add tomato if you want to give it a bit of juice.
You could choose to add almost anything you have in your fridge, so just experiment and enjoy!
Notes on Cooking Turmeric Potatoes
The actual cooking times and the amount of water you add to this recipe will vary every time you make it so it's really important to cook this using your judgement in the moment and not rely on set timings or quantities.
The potatoes can be served completely soft, like in the image above, or you can make them with a slightly crunchy coating like in the image below.
If you cook them with less water to get the crunch, it might leave a mess in your pan; be warned! It can take a bit of soaking to get the potato crust off the pan – but it's worth it.
I love to scrape the bottom of the pan and include the scrapings in the final dish – the crunchy bits at the bottom of the pan are the best!
Serve and enjoy!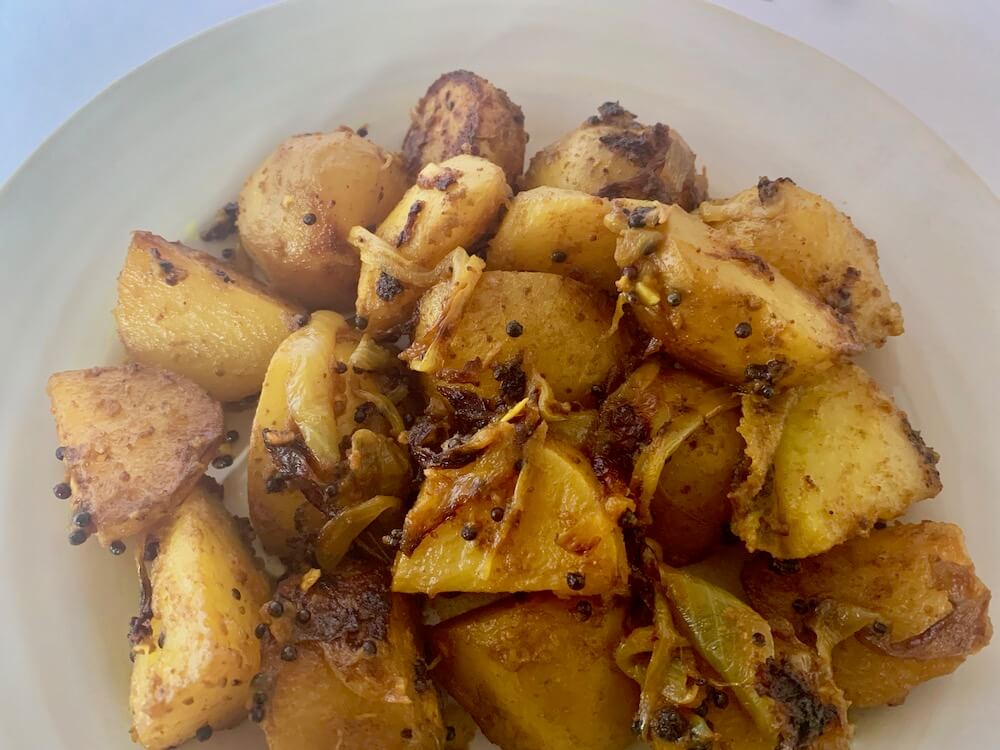 Turmeric Potatoes with Black Mustard Seeds
Course: Main Course, Side Course, Lunch
Cuisine: Vegan, Gluten free
Difficulty: Easy
Make delicious turmeric potatoes with black mustard seeds for a delicious Indian-inspired main meal, in wraps, on the side or as a snack.
Ingredients
6 Potatoes

1 large Spanish onion

1 tsp black mustard seeds

1 tsp turmeric

Tiny pinch of gluten free asafoetida

Salt

Dash of gluten free soy sauce (optional)

Olive oil for cooking

Other Optional Ingredients

Eggplant

Peas

Cauliflower

Red beans, kidney beans or black beans
Directions
Chop the potatoes into bite size pieces (approx 1.5 cm) and soak in ice water for 30 minutes.
Heat enough olive oil to cover the base of a heavy based pan, on a high heat.
Add the black mustard seeds and wait until they start to pop.
Add the sliced onion and stir, reducing the heat slightly.
Add tsp turmeric and a tiny pinch of asafoetida and stir.
Drain the potatoes and add to the pan.
Stir well for a few minutes, then cover with a lid and reduce the heat.
Check the level of the heat. You want the potatoes to steam in the pan, so high enough to create steam but not high enough to burn. Leave covered for 10 minutes.
After 10 minutes, carefully turn the potatoes and replace the lid. If necessary, add 1 tbs of water.
After 20 minutes, add some sprinkled on salt, chilli powder and a dash of gluten free soy sauce.
Notes
Because the results depend so much on the potato you're using, you'll need to keep an eye on the moisture level in the pan. The objective is to leave the potatoes alone as much as possible and stir the least amount possible, but if there isn't enough moisture (water) in the pan, the potatoes will cook too slowly (or not at all). And if there's too much water, the potatoes will go mushy.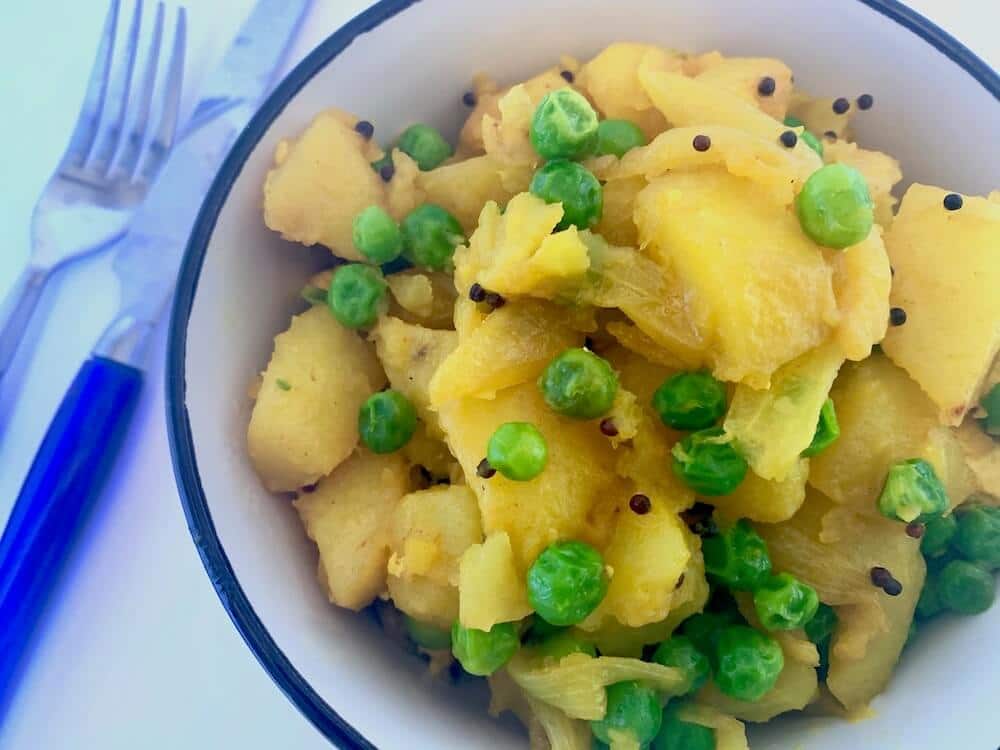 I hope you enjoyed these turmeric potatoes with black mustard seeds.