Discover how to make cauliflower taste great even if you don't like cauliflower.
Because I think, I'm not sure, but I think, that you may not have tried cooking cauliflower in this way.
Don't get me wrong. There are other tasty ways of cooking cauliflower too. But cauliflower isn't my all time favourite vegetable.
I can eat it and think 'Hmm ok,' or I can eat it like this and think, 'OMG yum'.
So if I apply the same logic to you, maybe you'll also think 'OMG yum' when you cook your cauliflower in this way.
I dare to bet that you'll love it. So let's give it a try . . .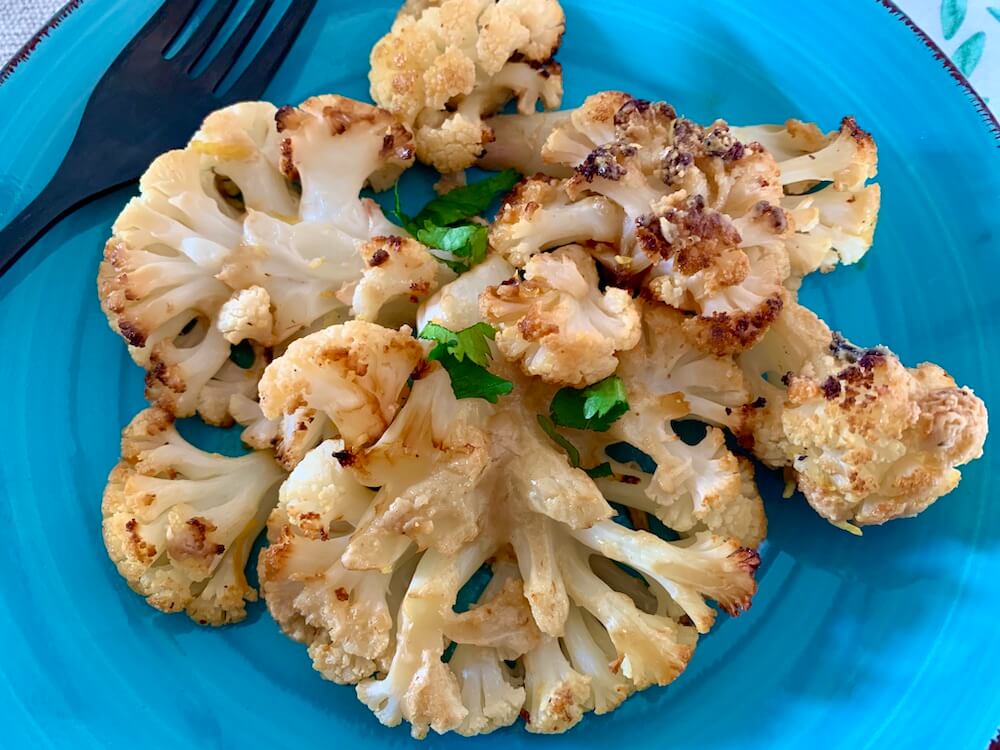 How to Cook Cauliflower So that it Tastes Great (Even if You Don't Like Cauliflower)
You have a big fat, fresh, white cauliflower sitting on your work surface smiling at you. Taunting you to come up with some inspiration of what exactly you should do with it.
You've heard of mashed cauliflower, but is it true that mashed cauliflower tastes the same as mashed potato?
Urrgh you think. I hate cauliflower!
Hang on!
Don't be too fast to judge an innocent cauliflower by the cover!
After all, there's cauliflower and there's cauliflower.
Slow-cooked, boiled, steamed, curried, roasted, riced, pureed, fried . . . they all taste different.
So, let me ask you: how have you eaten cauliflower in the past? How many different ways have you cooked it?
Boiled (or over-boiled)?
Steamed?
Roasted?
Fried?
Curried cauliflower?
In vegan cauliflower cheese?
As a cauliflower white sauce?
Blitzed into cauliflower rice?
Ok, so if you answered yes to 9 out of 9 of those questions and you still don't like cauliflower, then maybe, just maybe, you really don't like cauliflower.
Because maybe you really have tried it in all its shapes and forms.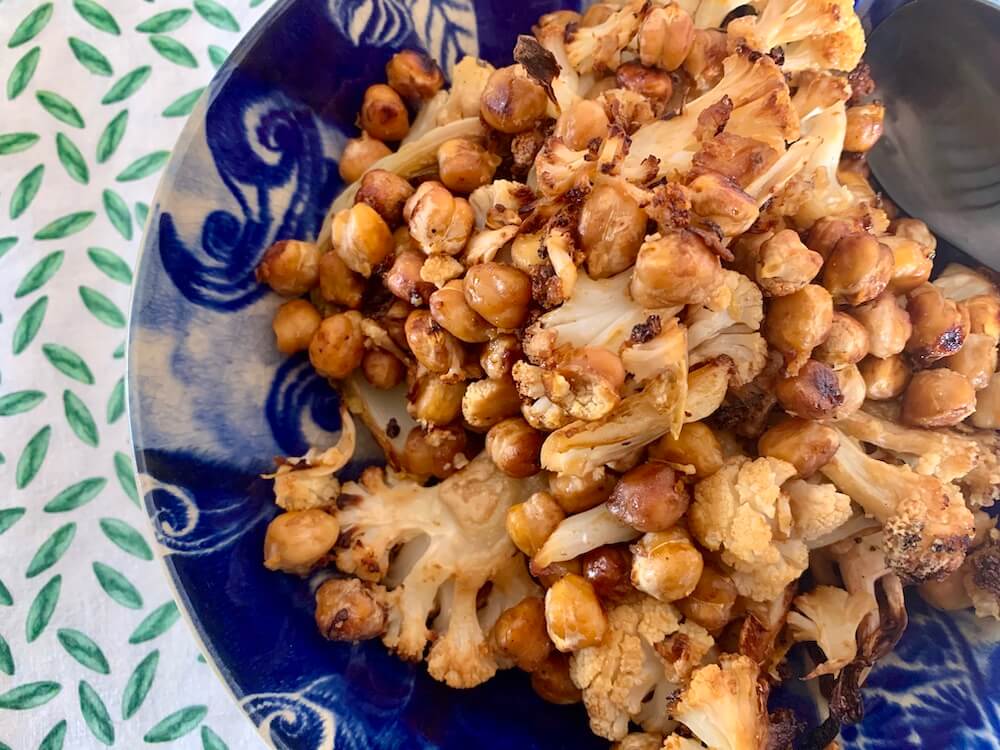 But it's my guess that you've only ever tried cauliflower steamed or boiled and maybe riced.
Am I right?
If I am, then this recipe is a simple hands-off recipe to change your mind about the good old cauliflower.
You can serve this as a side dish or as the main attraction. Eat it hot or eat it cold. Stuff it into a gluten free wrap or make some instant lentil flour flatbreads to eat it with.
It needs very little work.
You can add other ingredients to this recipe. I like to add chickpeas. If you're familiar with how I cook, you'll know that I always like to add a high protein component to my plate.
It makes cooking without recipes easy because you know you're getting a balanced meal on the plate.
But you can also add other ingredients instead of the chickpeas, like large white beans, tofu, eggplant, red pepper . . . whatever takes your fancy.
The name of the game is flexibility.
Lemon & Tahini Roast Cauliflower
Ingredients
1 cauliflower head
Chickpeas (optional)
salt
1/2 a lemon (or more to taste)
Ketcap manis sweet Indonesian soy sauce (or substitute with Tamari)
3 tablespoons tahini (or more, depending on size of cauliflower)
Directions
Cut your cauliflower into thick slices or half florets
place in a baking tray and sprinkle with salt.
Grate over the rind from 1/2 or whole lemon. Avoid grating the white pith (it can be bitter).
Squeeze half the lemon over the cauliflower. Use more if the lemon isn't juicy. Be careful not to make the flavour too lemony.
Add chickpeas to the pan if using.
Bake in the oven for 20 minutes on 200ºc.
Flip the cauliflower slices over and sprinkle over some ketcap manis.
Next, use a spoon to spread tahini over the each piece of cauliflower flesh.
Return to the oven for another 20 minutes.
Check the cauliflower after 40 minutes and remove from the oven if ready. Total cooking time is usually between 40-60 minutes. It should be caramelised and browning on the edges.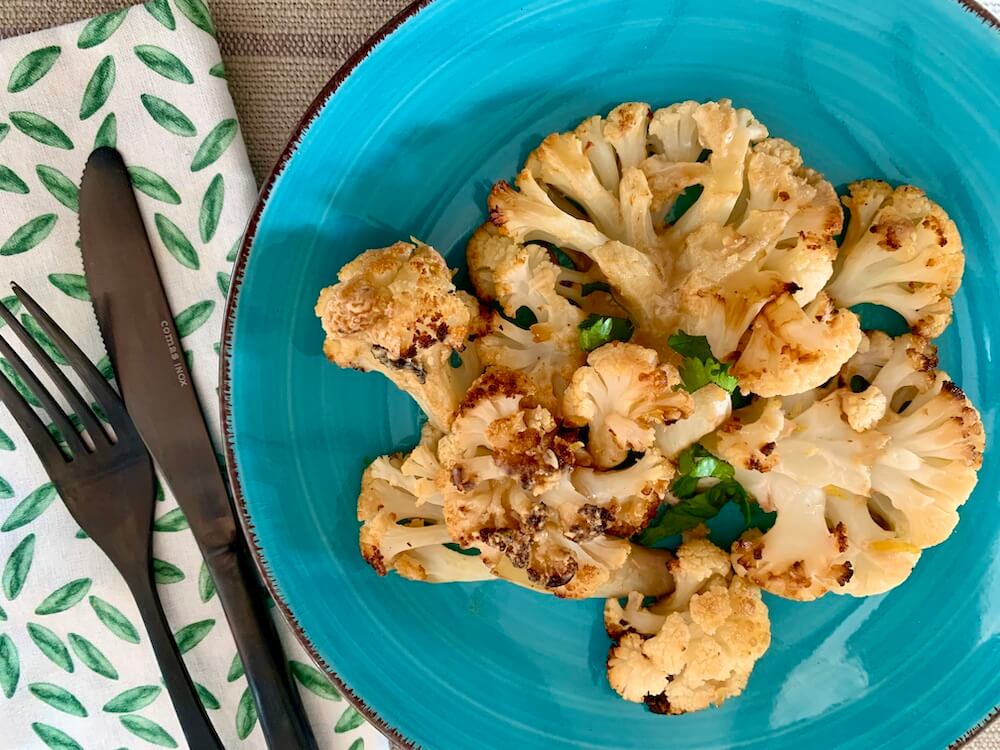 One question: do you love cauliflower now?