Homemade vegan parmesan cheese is sprinkly, slightly salty, crumbly goodness to pour liberally onto pasta dishes, rice dishes, veggies and more.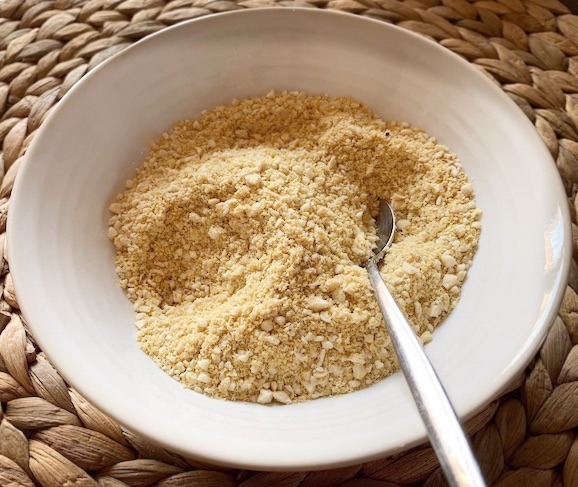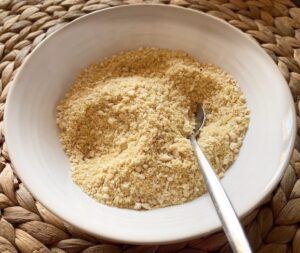 I love this stuff.
I literally pile it onto my food, and I like it on almost everything.
Of course when I have a homemade tomato sauce on pasta I load it on, and I even like it on soup, like this French onion soup for example.
I also put it on top of my grilled summer vegetable salad or standard mixed salad when the mood takes me.
In fact, what wouldn't you sprinkle it on?
It's one of the first vegan cheeses you can make to stop those pesky cheese cravings that so many people get when first going vegan.
It's a ready-in-an-instant, easy to make combination that just works. It does exactly what it says on the packet, if it had a packet that is.
It's not really a recipe because it's too simple to be called a recipe. It's just a matter of blending together three ingredients.
Ingredients for Vegan Parmesan
Cashew nuts
Nutritional Yeast
Salt
Optional Extra Ingredients:
Onion powder
Garlic powder
Personally I'm not a fan of garlic powder. I just don't really like its flavour and I'd sooner just have fresh garlic in my cooking and pass on the powder. But it does have its place and it's worthwhile trying it out to see if you prefer this vegan parmesan with or without.
Onion powder is better than garlic powder, but I like the vegan parmesan so much as it is that I don't add the onion powder either. To me it isn't needed.
The secret is, like everything, to experiment until you find the way you like it best. And for me, that's this simple, straightforward, homemade vegan parmesan made with just 3 ingredients.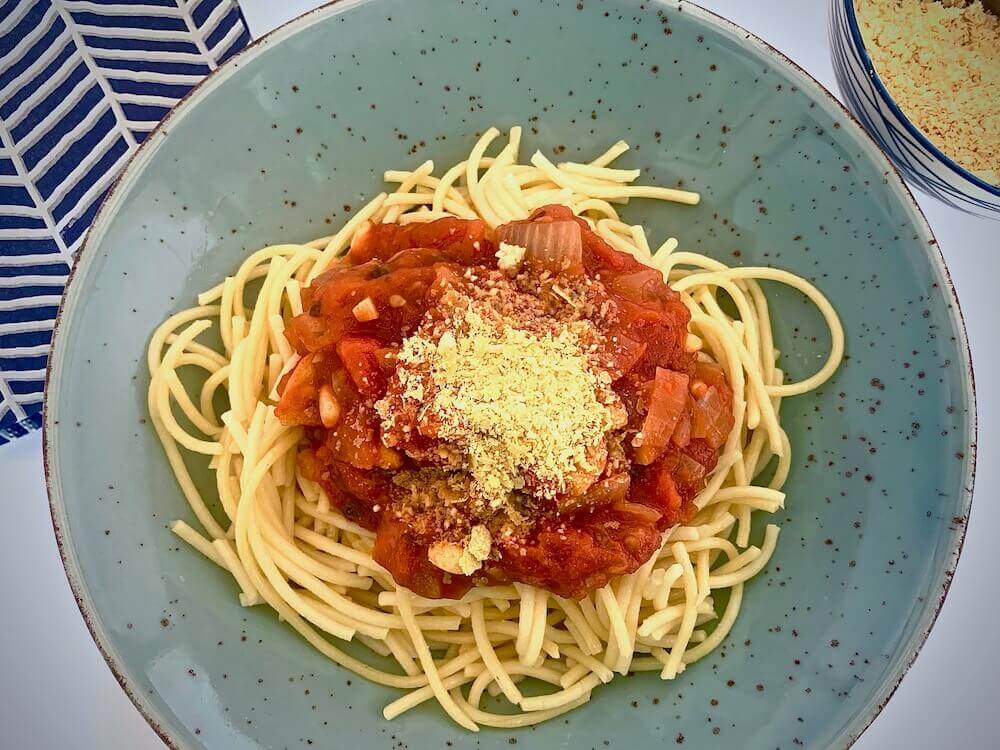 How to Make Homemade Vegan Parmesan Cheese
It couldn't be easier . . . all you need is a blender and three simple ingredients.
Blend everything until you have the texture you want. You can keep it a bit nutty by blending for less time, or you can keep going to get a smooth crumbly effect.
The amount of each ingredient is also up to you but cashews tend to be the highest ingredient.
You can use anything between half the amount of nutritional yeast to cashews, right up to equal amounts 50% 50%. Add salt to taste and you're done!
The salt is essential to give this the extra tasty effect.
Best Uses for Homemade Vegan Parmesan Cheese
I use this homemade vegan parmesan on so many different foods. Sprinkling on top of pasta, rice, jacket potato or grilled vegetables.
Or use it as a topping on gratin recipes like zucchini casserole , or on vegan pizza or lasagne.
It also goes well sprinkled over pumpkin & sweet potato gnocchi or as a cooking ingredient in vegan cauliflower cheese or Vegan eggplant parmesan.
And there are many more. The only limit is your imagination.
Storage of Homemade Vegan Parmesan Cheese
You can keep this in a jar or in a sealed bag and it will keep well. I make up a batch and put it into one of my nutritional yeast containers so that it's always to hand.
I haven't had any problems storing this and I suspect it would last for weeks, but I advise you to eat it all up long before that. Like anything, the flavour will be better.
So I would aim to use up a batch within a 10 day period.
If you're new to this way of eating you may like to check out this easy guide to a whole foods plant based diet or our page on common vegan FAQ.