This gluten free vegan gnocchi is made with pumpkin and sweet potato instead of the traditional potato, and provides a deliciously hearty, gluten free meal.
Gnocchi had its own yummy chewiness that can't be imitated or found in another dish that I've ever come across. Serve it with stir fired vegetables and a sauce of your choice.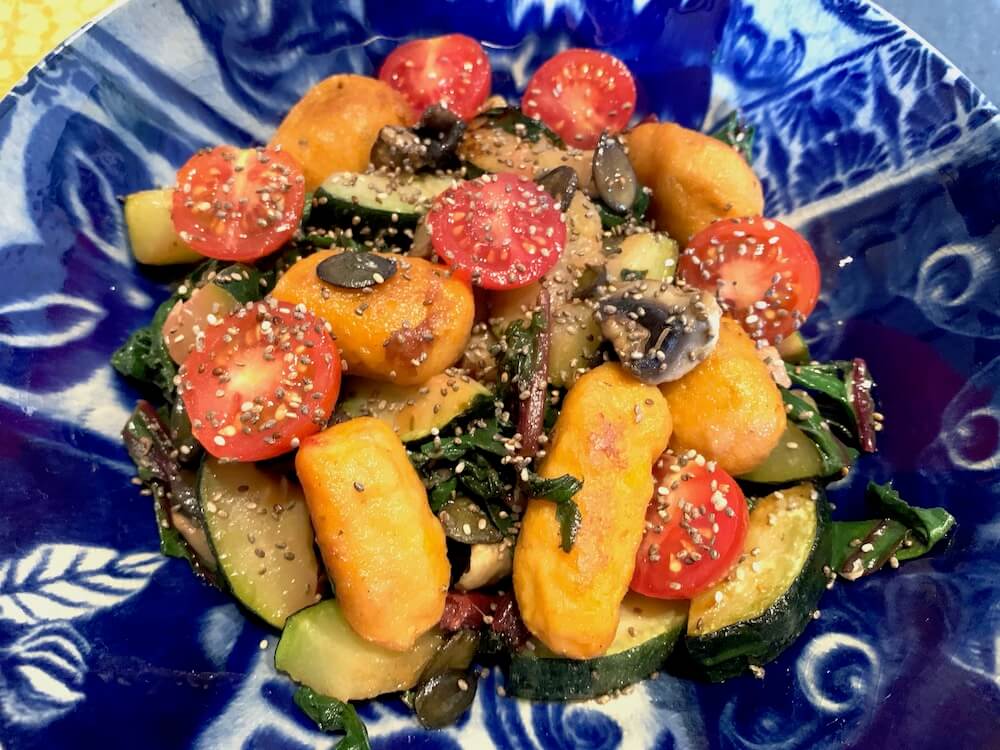 Gnocchi is a kind of dumpling that comes from the north of Italy and has been around at least since the 1500's. It's a popular dish in Italy and well known around the world, but the traditional version is full of gluten and doesn't have a particularly healthy nutritional profile.
The gluten free gnocchi in this recipe comes with a much healthier spec, as we replace wheat flour with chickpea flour and potatoes for sweet potatoes and pumpkin, making this a healthy choice for your dinner.
This was my first time making homemade vegan gnocchi, so I decided to divide the dough into four batches and cook four different flavoured gnocchis to try and find the best flavour.
I made the first batch with just a little salt to see what the plain gluten free gnocchi would taste like. It tasted ok, but I found it a bit bland.
For the second batch I added some olive oil and some Tamari soy sauce and the result was a bit more flavoursome – but it was still missing a slight edge.
So the third batch I made with some spices to give extra flavour and the result was tasty. The third batch was almost perfect, and paved the way for the final creation.
For the fourth batch, I added some fresh basil leaves as well as the spices and it was O-M-G delicious.
I couldn't stop eating it; I kept thinking, just one more!
The Basis of Making Gluten Free Vegan Gnocchi
Traditional gnocchi's made with finely grated (or riced) cooked potato, egg and flour. So, to make this homemade gnocchi vegan & gluten free, I used ground flax seed instead of the egg, and chickpea flour and tapioca flour in place of wheat flour. Easy.
Instead of using plain potato, I switched for sweet potato which has more fibre and vitamin A, as well as being rich in antioxidants.
And then I started playing around with the flavour in my four batches until I got the exact blend I was hoping for, or even better.
Preparing the Pumpkin and Sweet Potato for Vegan Gnocchi
You can cook the pumpkin and sweet potato any way you like, but you want to keep the liquid to a minimum. Because of that, I chose to bake both in the oven.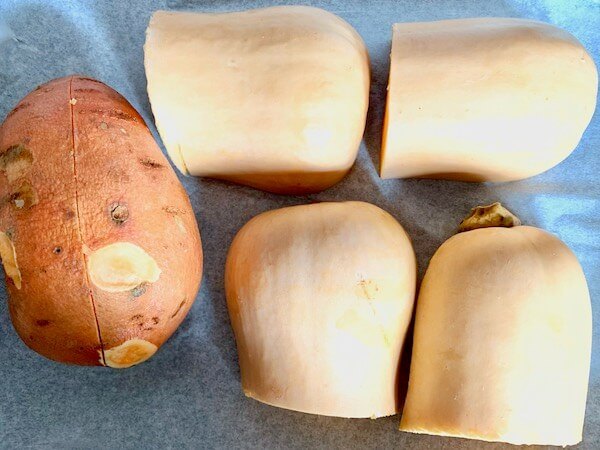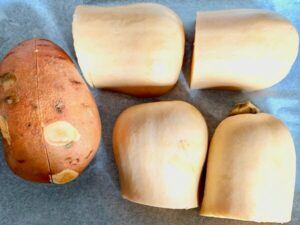 At least with roasting you don't have to watch over it, so you can just put it in the oven and come back in about 40-50 minutes, depending on the size of the pumpkin and sweet potato that you're baking.
You could also use the microwave, but I wasn't in a hurry so I just heated the oven to 200ºc and bunged them in.
I baked the whole butternut squash, cut lengthwise in half and then again, and placed face down in a baking tray on parchment paper. For the sweet potato, I cut a slice into it and baked it alongside the pumpkin.
If the sweet potato isn't cooked when the pumpkin's ready, you can either leave it for longer or finish it off in the microwave.
I cooked the pumpkin for 50 minutes and the sweet potato for 1 hour.
Making the Gluten Free, Vegan, Pumpkin & Sweet Potato Gnocchi Dough
Take the flesh out of the roast pumpkin, removing the seeds and stringy inner bits, and put it into a bowl. Add the scooped out sweet potato flesh and 4-5 tbs chickpea flour, 3 tbs tapioca flour and 1 tbs ground flax seed.
Instead of following the recipe measurements exactly, add the flour gradually, stirring until the mixture is a bit thick, like in the image below. It won't be as stiff as a pizza dough, so don't expect that.
Next, add 1/4 teaspoon of salt, a 1/4 tsp of cumin, a large pinch of chilli powder, a good slosh of gluten free tamari soy sauce (or any gluten free soy sauce of your choice) and a handful of finely chopped fresh basil leaves (which are fine kept frozen).
Stir the whole lot until you're sure it's properly mixed.
The basil leaves give it a delicious flavour so I really recommend including them. I added about 12 leaves to the batch (which was only a quarter of the whole recipe amount).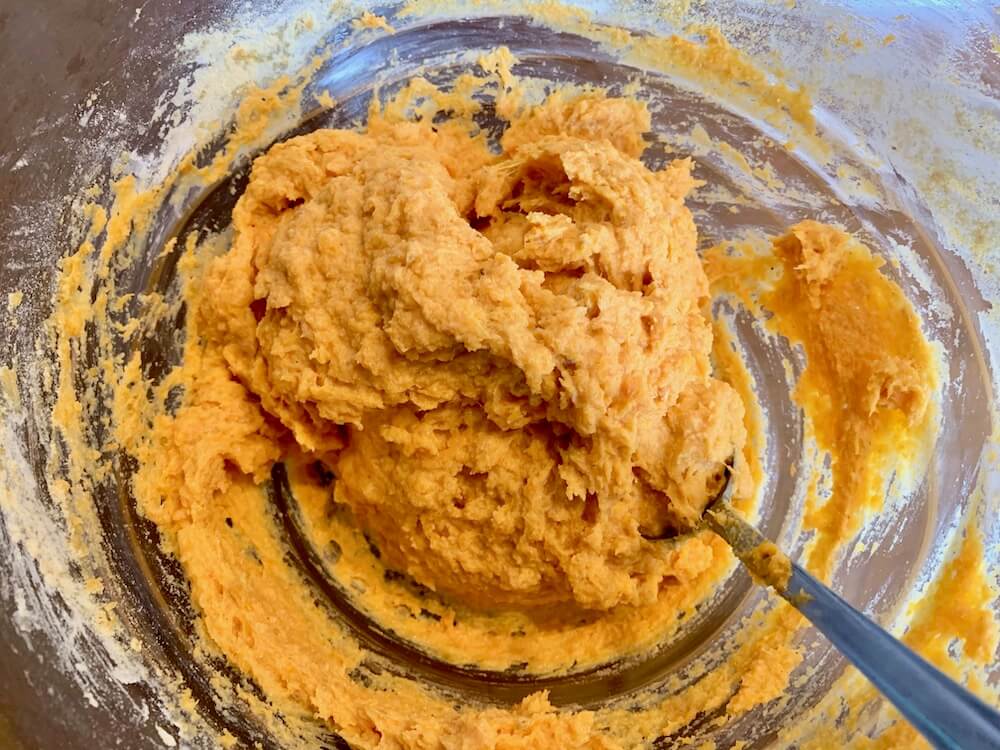 It isn't essential, but if you're not going ahead immediately, put the mixture into the fridge for a while. I think the flavour improved in my later batches, and the dough thickened up slightly.
The next step is making the gnocchi balls.
Preparing the Vegan Gnocchi Balls
Take a chopping board and put a mound of gluten free chickpea flour in the middle. Next, take a scoop of the dough mix and roll it into a large ball.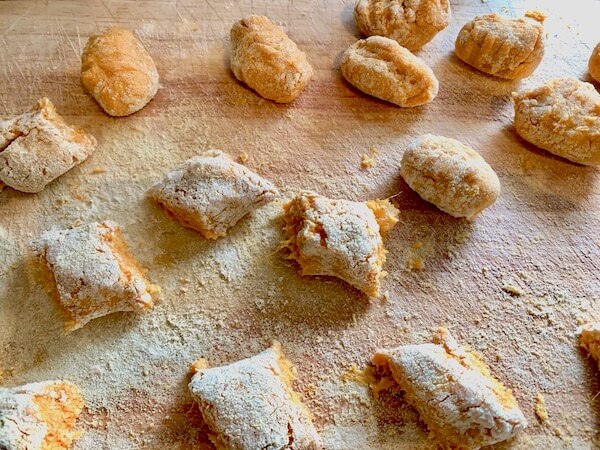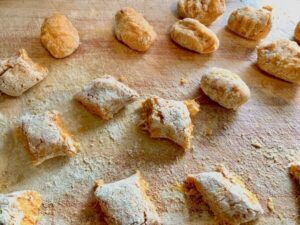 Don't worry if you need to keep rolling it in the flour to get a ball you can manage without it being too sticky.
Roll it out into a sausage and then cut the sausage into small pieces.
I'm not very patient with making perfect shapes so my gnocchi tends to get bigger as I go on! And the shapes aren't at all identical.
But you can be as perfectionist as you like, and if you want to make perfect gnocchi, now's the time to put some energy into the gnocchi shapes you make.
Once you've got a board full of little oblong balls, you can use a fork to roll each one and make the little traditional ridges on it. It's absolutely fine without the ridges too.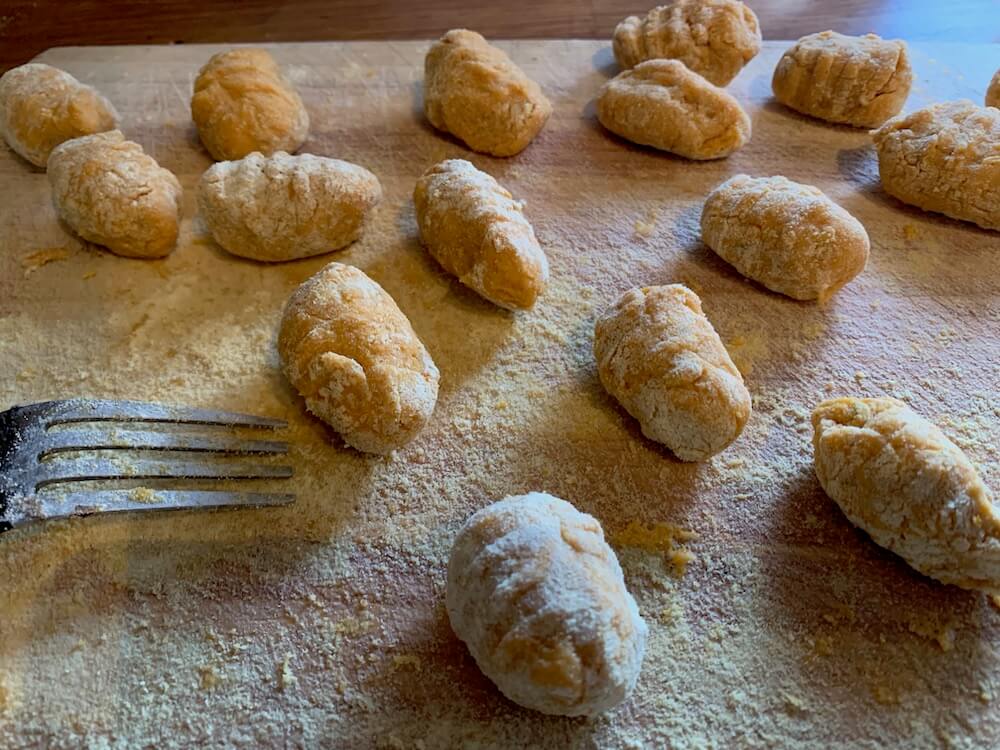 Cooking the Gluten Free Vegan Gnocchi Balls
There are two ways to cook gnocchi: by dropping them in boiling water or by frying them. I prefer to cook them in water but many people prefer the fried version so it's just a matter of trying it out and seeing which you like best.
For cooking in water, it's a very quick affair! You can actually prepare the gnocchi a few hours in advance and then cook your meal in under 5 minutes!
Bring a pan of water to the boil and add a tsp of salt. Add some gnocchi balls to the water and keep on the boil until they float to the top of the pan (about 2 minutes).
Then remove with a slotted spoon and lay on a plate with kitchen roll on it to absorb the excess water. Repeat with the rest of the gnocchi balls until they're all cooked.
Cook the gnocchi in batches and set aside to drain. Serve with extra vegetables and with a sauce of your choice.
How to Serve the Vegan Gnocchi
These gluten free vegan gnocchi, created using pumpkin and sweet potato, are so tasty that I actually find them moorish even just eating them straight up as they are, after being cooked for a couple on minutes in boiling water of course!
But the real way to eat gnocchi is in a sauce or with a mix of veggies and a sauce on the side.
For a dish like in the image I took 1 clove garlic, 1 zucchini, beetroot leaves (sub spinach) and fried them in a little olive oil along with the gnocchi (after it had been cooked in boiling water). Then I added some chia seeds, pumpkin seeds and cherry tomatoes and hey presto! A delicious meal.
I served this with some cashew sauce on the side and a homemade chilli sauce.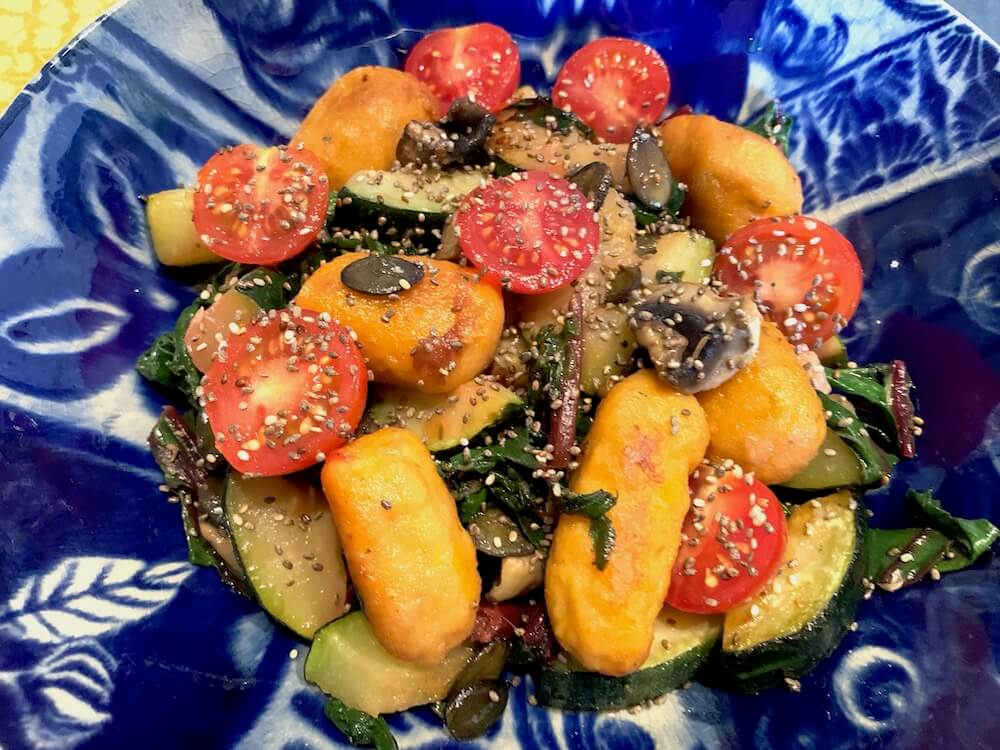 You could also serve this with a delicious homemade tomato sauce or take your pick from one of these essential plant based sauce recipes.
Homemade Vegan Gnocchi with Pumpkin & Sweet Potato
Course: Main Courses
Cuisine: Italian inspired, Vegan, Gluten free
Difficulty: Time consuming, easy
Delicious gnocchi with pumpkin & sweet potato.
Ingredients
1 small butternut squash or equivalent

1 large sweet potato or equivalent

5 tbs chickpea flour

3 tbs tapioca flour

1 tbs ground flax

2 tbs olive oil

salt

1/4 tsp cumin

Large pinch chilli powder

Finely chopped basil leaves
Directions
Bake the pumpkin and sweet potato in the oven for 50 minutes or until cooked. If you prefer, you can cook them in the microwave.
Scoop out the flesh and mash in a large bowl.
Add the rest of the ingredients and stir well.
Set aside in the fridge for 30 minutes (not essential).
Scoop out a spoonful of the dough and roll into a ball, then into a sausage, using a floured surface.
Cut the sausage into pieces, then roll each piece in your hand to make the shape and size you want.
If you like the traditional ridges, take a fork and roll each gnocchi ball along the board, creating the indented ridging in the gnocchi.
Cook in boiling water for about 2 minutes or until the gnocchi floats to the top.
Remove from the water and lay on a plate with kitchen roll to absorb the excess liquid.
Either serve immediately or lightly fry or keep in the fridge or freezer for another day.
Notes
You can vary the ingredients of gnocchi to alter the flavour to suit your taste.
The preparation is the time consuming part but if you prepare the vegan gnocchi in advance, this can be cooked in under 5 minutes.