If you like easy soups, this roasted sweet potato & carrot soup is definitely one to add to your list.
Apart from the time it takes to do the roasting, it's completely hands off and simple to make.
I absolutely love sweet potato and it's becoming one of the most easy and versatile vegetables to use in so many ways.
Apart from this soup, one of my all time favourite ways to cook sweet potato is with chickpeas in a coconut sauce.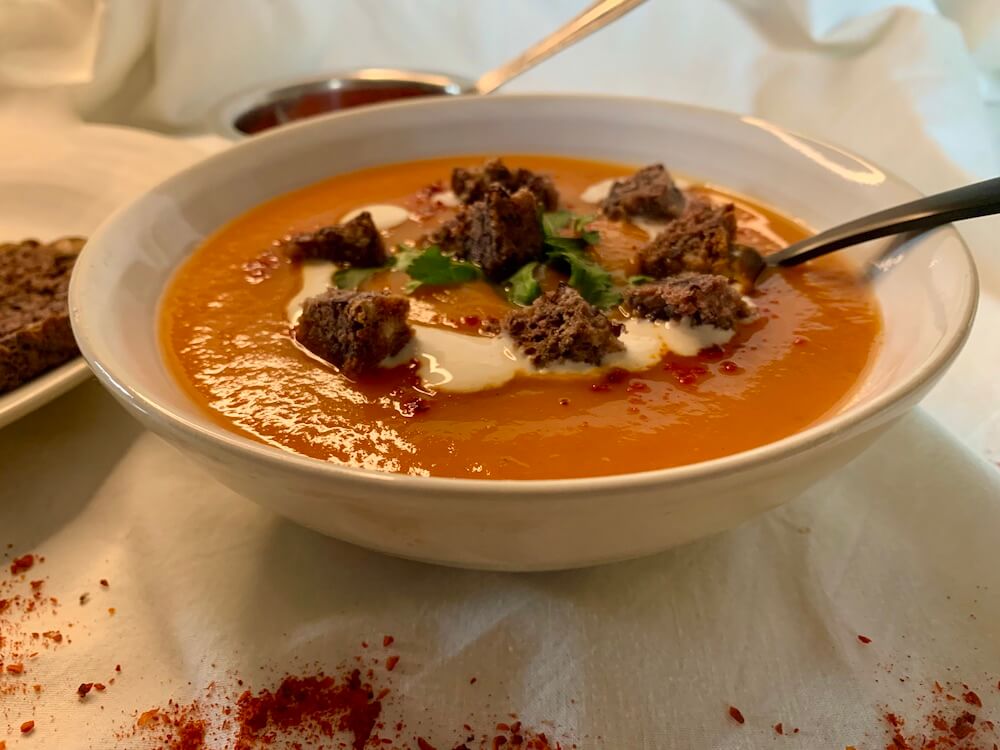 This vegan, oil free soup is great as part of a whole foods plant based diet (WFPB).
A WFPB diet can help you to lose weight, reclaim your health & vitality, reverse chronic disease, protect you brain and your cardio vascular system, and most probably increase longevity.
Ingredients for Roasted Sweet Potato & Carrot Soup
Sweet potatoes
Carrots
Red pepper
Vegetable stock
This 3-ingredient-recipe (apart from the vegetable stock) uses just roasted sweet potato, carrots and red pepper. If you don't have enough of them, you could add or substitute any of the three ingredients for pumpkin.
It's actually a pretty similar soup to roasted pumpkin soup but with a slightly more complex flavour, which I think I prefer.
Method for Roasted Sweet Potato & Carrot Soup
Wash the red pepper and the sweet potatoes. Cut into the flesh of the sweet potato lengthwise. Peel the carrots and place all the vegetables into an oven roasting dish and cover the whole dish with silver foil.
You can roast them without the silver foil but for soup I like to use it as it keeps in the moisture and stops the veggies from drying out.
Basically, all you need to do for this oh so simple and delicious soup is to roast the sweet potato, carrots and red pepper in the oven at 200ºc, for about 50 minutes or until well cooked.
I roast them without oil or salt. The silver foil will help to keep in the moisture as they roast.
Once the veggies are soft through, turn off the heat in the oven and leave it to cool down.
Once the Veggies Have Been Roasted and Cooled Down
At this point take the sweet potatoes and squeeze out the flesh, into a saucepan.
Remove the peel from the red pepper and cut the flesh and add it into the pan. Roughly chop the carrots and add them too.
Add a litre of vegetable broth to the pan and blend the whole lot together. Heat over a medium heat.
I add salt to taste, but if you're on a salt free diet, or following a wfpb diet without salt, then you could skip the salt at this point.
Sprinkle on a little chilli according to how spicy you like it, or serve with chilli flakes on the side.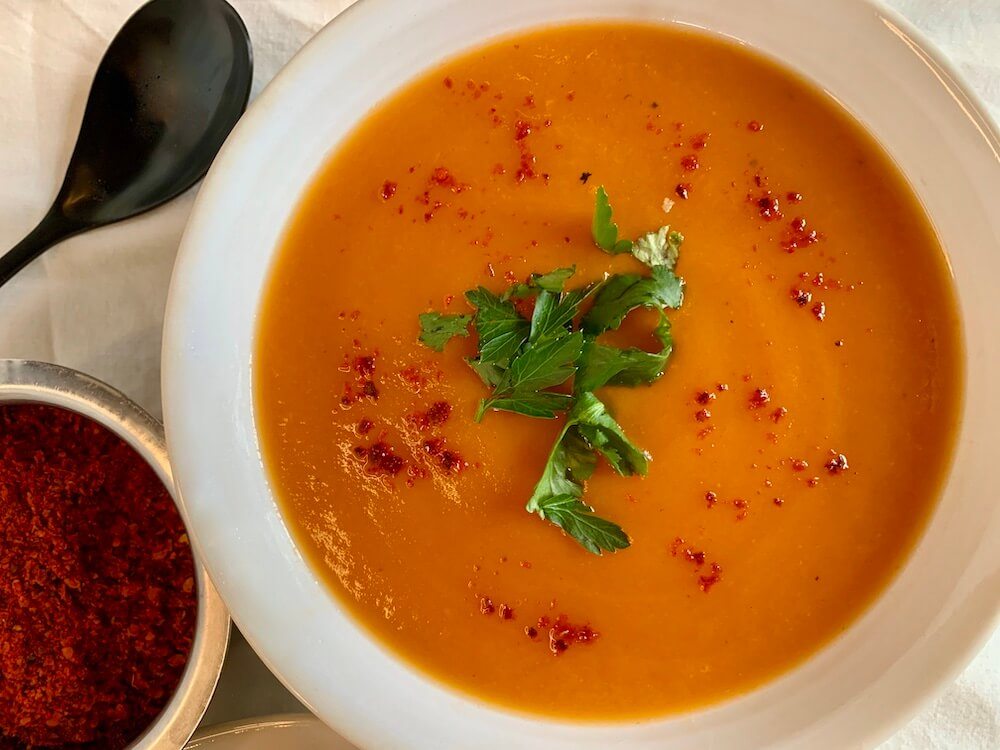 Finally, add a dash of apple cider vinegar. Taste the soup first and add a tiny bit of vinegar to a spoonful of soup to test it out and see if you like the effect it has.
I find it balances the flavour of the soup flavour nicely.
For best results, make this soup in advance and with plenty of time so that it can stand and absorb the flavours.
How to Serve Roasted Sweet Potato & Carrot Soup
To me it makes all the difference in the world when you put toppings on a soup. Especially toppings which help to zing the flavours.
For this soup, try serving it with chopped fresh cilantro on top, some chilli flakes and vegan cream. If you have some homemade wfpb bread, toast it and cut into croutons for a delicious crunch.
The combination of the sweet creamy soup, tangy cilantro, cold cream against hot soup, spicy chilli and crunchy croutons, is pure heaven.
So, apart from toppings, the classic accompaniment with your bowl of soup is some yummy homemade gluten free bread. But if you don't have any to hand you can also serve this soup with some easy gram flour flatbreads or these delicious red lentil flatbreads.
Other Vegan Soups You May Like
Creamy Roasted Sweet Potato & Carrot Soup
Course: Starter, Lunch
Cuisine: Soup
Difficulty: Easy
Ingredients
3 medium-large sweet potatoes (depending on size)

4 large carrots

1 red pepper

1 litre tasty vegan vegetable stock

Chilli powder

Dash of apple cider vinegar
Directions
Wash the sweet potatoes and make a cut into the flesh without going all the way through.
Wash the carrots or peel them if they're not organic carrots.
Wash the red pepper
Heat the oven to 200ºc and roast the veggies until they're soft through (approx 50 minutes). To speed up the cooking time if you're in a hurry, you can cut the vegetables smaller.
Turn off the heat and for improved flavour, leave the veggies to sit in the warm oven until they have cooled down enough to handle.
Chop the cooked carrots into a pan and squeeze out the flesh of the sweet potatoes, discarding the skins or saving them for eating separately (yum).
Pour in approx 1 litre of tasty vegan vegetable stock and blend the whole lot together.
Add salt and chilli to taste.
Heat the soup and taste. Add a dash of apple cider vinegar if you like the effect it has on counter balancing the sweetness.
Notes
Creamy roasted sweet potato & carrot soup can be served with chilli flakes, fresh cilantro or a swirl of vegan cream on top