This easy vegan French onion soup with vegetables is a simple soup with a dark onion broth and lots of veggies chopped into it.
Make this easy soup when you're short on time or ingredients, or you just fancy this kind of rich dark soup.
Oil free, gluten free and vegan, though you could add oil in the frying process if you prefer.
It's quick and easy to make and it isn't trying to copy a traditional French onion soup, which is normally made with beef stock and onions and coated with cheese on top.
And if you're looking for the simplest of the simple soup recipes, check out this easy vegan pea soup recipe, which takes just 15 minutes to make.
Cooking Without Oil
If you haven't discovered the whole foods plant based way of cooking without oil, when you do, you'll discover a new world of delicious low calorie, healthy food.
You can fry with no oil as well as roast your vegetables completely oil free with delicious results.
I actually started out eating oil free just for a month to experiment and check it out. But when the month ended, I enjoyed it too much to go back to my old way of eating.
There are loads of oil free recipes on this site, like this mung bean soup or this broccoli cheese soup for example.
The bowl of soup in the photo below has some grated vegan cheese on top, which isn't actually a whole food but gives a nice contrast in colour to the soup!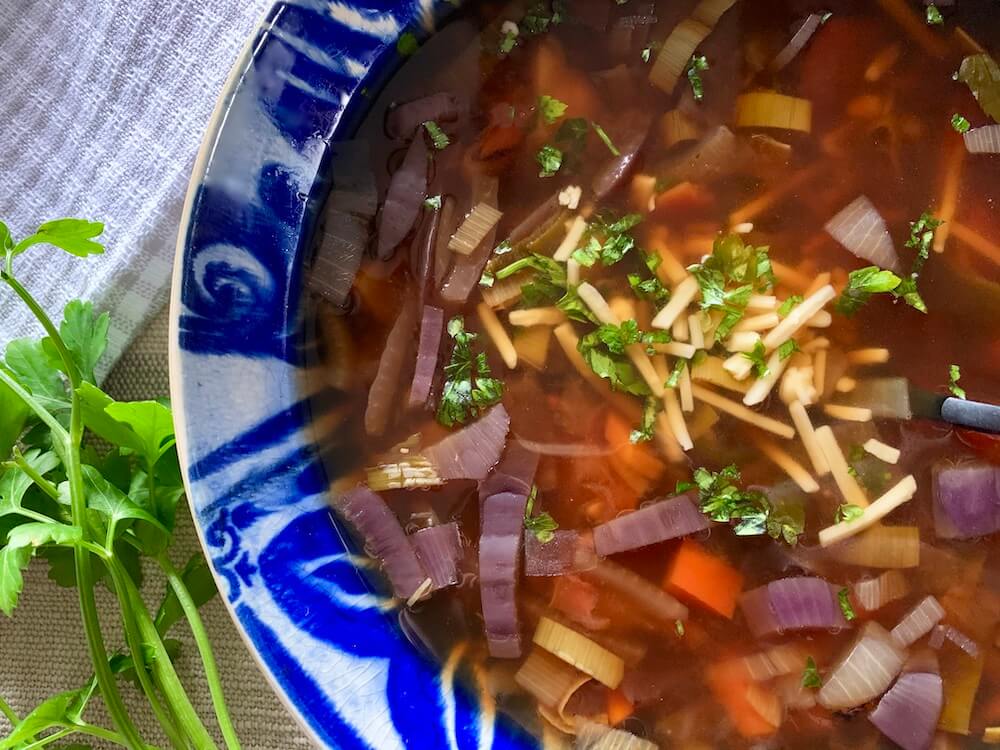 How to Make an Easy Vegan French Onion Soup
To make this easy vegan French onion soup with vegetables, you can either use a ready made stock from your fridge/freezer, or you can prepare one as you make the soup.
Prepare a Stock While Making this Easy Vegan French Onion Soup
Fill a saucepan with water.
Put 1 whole, washed or peeled carrot, 1 tomato chopped and peeled and 1 parsnip into the pan (or other similar vegetables. Avoid cabbage and broccoli for the stock.)
Wash, peel and chop 1 small sweet potato and add the clean peelings to the pan of water. You can add a chopped potato to the stock pan too, if you like. Reserve the sweet potato for adding to the soup vegetables.
Trim 1 leek and add the tops and the outer layer to the pan of water.
Add some fresh parsley or cilantro or both and a tsp of salt.
Add 1 tsp of miso paste to the pan and bring to the boil. Simmer the water for as long as you're busy with the other steps to this recipe, adding the additional vegetable cuttings to it as you go along.
Prepare Your Vegetables for the Easy Vegan French Onion Soup
Next wash and slice the vegetables in preparation for the soup.
As you do this, retain any of the skins, tops and tails, peelings etc (as long as they're not bad) and add them to the pot of stock-water with cuttings in it.
Finely slice 2-3 onions (or more if you like) into the size you want to have in the final soup. Sometimes I do some in rings and some in chopped squares. Other times, like in the image, I just chop them all into small ring bits.
Also chop 1 leek, 1 parsnip, 1 small sweet potato, 2 mushrooms and 2-3 cloves of garlic.
Oil-Free Frying the Vegetables
Heat a large non-stick wok over a medium high heat. When the pan is hot, add the chopped garlic and stir for a moment before adding the sliced onions and a pinch of salt.
Dry-fry for a couple of moments before adding the sliced leek and finely chopped parsley if using.
Each time you add a vegetable, also add a little pinch of salt. This will help to draw out the liquid of the vegetables and stop them from sticking to the bottom of the pan.
When the onions and leek are looking transparent, add the finely chopped parsnip and sweet potato. Stir and cook for another 5 minutes.
Finally, add the chopped mushroom and any other vegetables to the pan and fry until the mushroom is looking a bit reduced. You can add the mushrooms at any point earlier if the veggies begin to stick as they will release a little liquid to the pan.
At this point you can also add a finely chopped tomato without the skin.
'Fry' the ingredients until everything is looking cooked, then add a good dash of soy sauce and stir fry for a few moments more.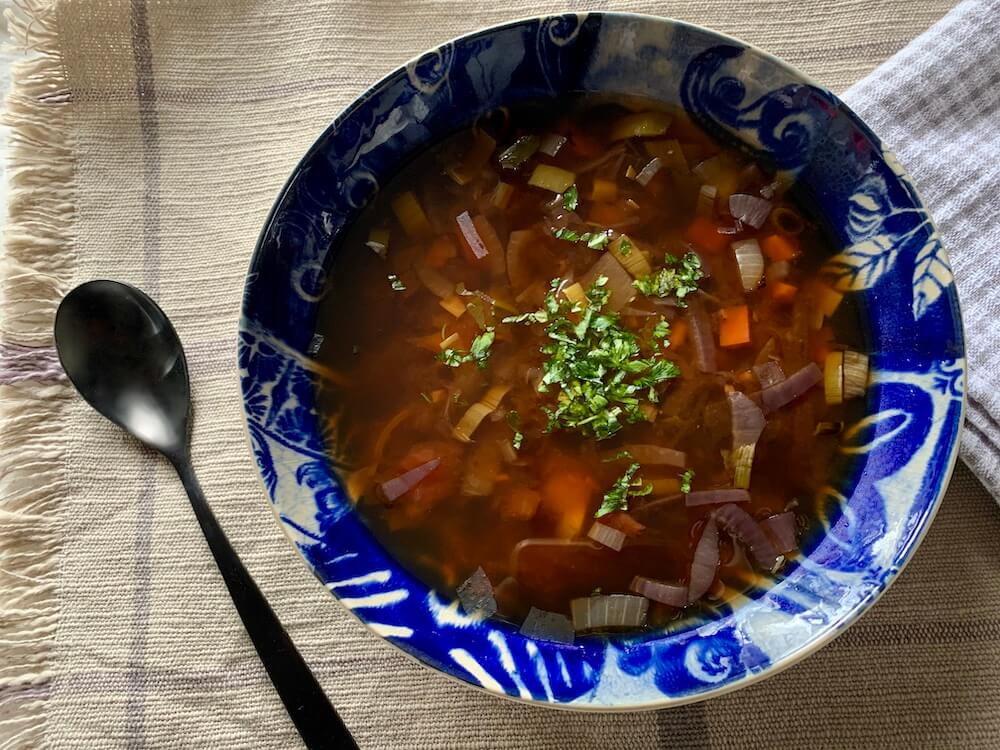 Finishing This Easy Vegan French Onion Soup
Either strain the stock through a sieve, or just remove the peelings etc. from the pan of stock so that you're left with a pan of stock with only edible bits in it. Chop these into fine pieces if they are too large.
Sometimes I put extras into the stock which will stay in the soup. In that case I just remove the tops, tails and peelings and leave the rest in the soup.
Pour the wok veggies into the stock pan and taste. Add some extra chopped herbs (cilantro or parsley), some more salt, or even some extra water.
If you have time, leave the soup to stand and cool down with a lid on it. This will bring out the flavours more.
Tweaking the Flavour of the Final Soup
When you taste the soup, you may like to tweak the flavour. There are several options of what you can add at the end to balance it out or give it more depth.
salt & pepper
gluten free soy sauce or gluten free ketcap manis
dash of balsamic vinegar or a dash of red wine
chopped fresh herbs
How to Serve Oil-Free Vegan French Onion Soup
This soup is delicious as is, served in a bowl on its own. But of course, everybody loves traditional French onion soup to be served with toppings and this easy vegan French onion soup is no exception.
You can toast a piece of homemade gluten free bread and break it up into crudités to serve with the soup. (I love doing that.)
Or, you can make some easy gluten free lentil flatbreads to serve on the side and dip into the soup. To make the lentil flatbreads, you'll need to have a high power food processor to grind the lentils into flour, or otherwise soak the lentils in advance. For a quicker flatbread, try making gram flour flatbreads instead.
Vegan cheese looks lovely but to be honest I prefer to use nutritional yeast because vegan cheese doesn't really have a nutritional profile that adds value to your diet. (In fact it isn't even included in a WFPB diet.)
But as a treat now and then, why not, right? So if you fancy it, go ahead and add some vegan cheese on top of your French onion soup and enjoy it!
Easy Vegan French Onion Soup with Vegetables
Course: Lunch, Starter
Cuisine: Vegan, Oil free, WFPB, Gluten free
Difficulty: Easy
This is a quick and easy soup to make and you can use almost whatever veggies you have available.
Ingredients
2 cloves garlic

2-3 onions

1 small sweet potato

Gluten free soy sauce or tamari

Gluten free ketcap manis

Fresh parsley or cilantro or herbs of choice

Optional balsamic vinegar or red wine for tweaking the final flavour.

Additional (Optional) Vegetables to Add

1 sliced leek

1 finely chopped parsnip

2-3 mushrooms

Chopped red pepper

1 large peeled tomato finely chopped

Chopped potato

Optional Toppings

Fresh parsley or Cilantro

Gluten free toast or crudités

Nutritional yeast or vegan cheese

For the Stock

1 potato

1 tomato

1 carrot

1 parsnip

salt

All the trimmings from the soup ingredients
Directions
Wash and place the ingredients for the stock into a pan of water and set on the heat to boil
As you prepare the other vegetables for the soup, add the discarded parts to the stock pan.
Wash and chop the onion, leek, parsnip, sweet potato, garlic and muhsrooms.
Heat a large non-stick wok over a medium heat. When hot, add the garlic and stir.
Add the sliced onion sprinkle with a little salt and dry-fry, stirring.
Add the chopped parsley or cilantro and the sliced leek and cook until the leek and onion are translucent and slightly browning but not yet completely cooked.
Add the chopped parsnip and sweet potato to the pan and continue cooking the whole lot.
Finally comes the chopped mushrooms and another sprinkle of salt. If at any point you find the vegetables are sticking to the pan too much, you can always add the mushrooms with salt earlier on as the mushrooms, when salted, will release a little liquid into the pan.
Pour in some gluten free soy sauce or tamari.
Remove the peelings etc. from the pan of stock and combine the stock wtih the fried onions and leek.
Add 1 finely chopped potato and simmer the water until the potato is cooked.
Mix the stock with the vegetables and stir.
Taste and adjust the flavour of the soup. Add more salt, tamari, ketcap manis or fresh herbs. Pour in a small dash of balsamic vinegar or red wine, (use either of these sparingly).
Notes
Alter the ingredients to fit your choice: use only onion or only leek; add some parsnip or omit the parsnip and add red pepper for example. It's all flexible.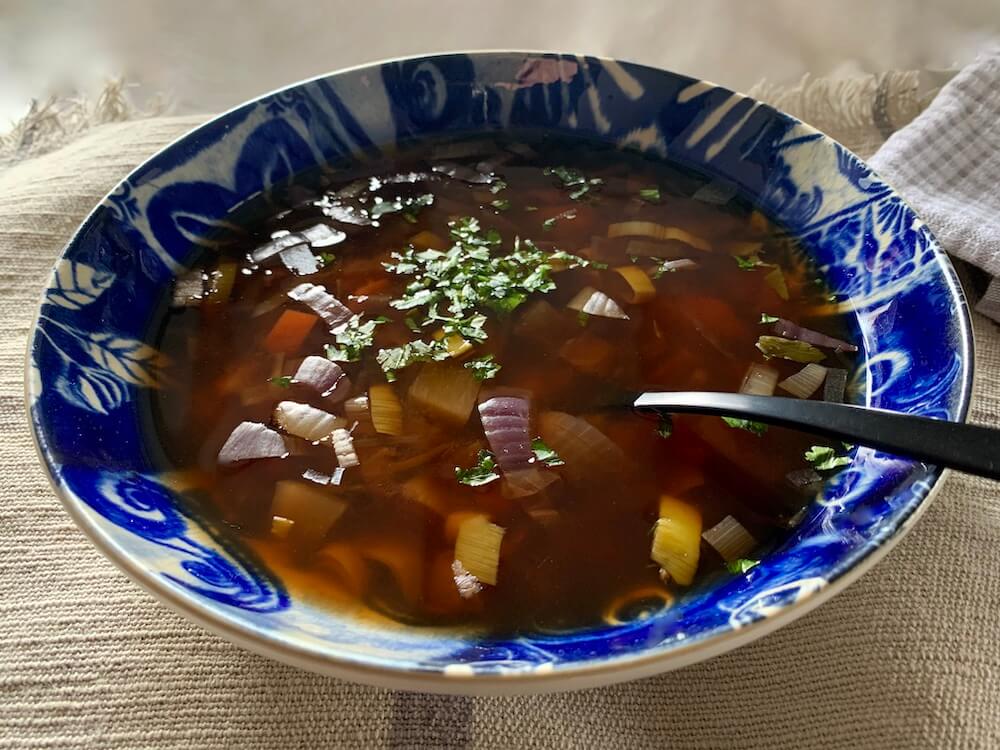 I hope you enjoy this easy soup which is oil free, gluten free and perfect to warm you up on a cold day!