This quick & easy vegan pea soup is packed with nutrients, costs just the price of an onion and a frozen bag of peas, and can be ready in 15 minutes.
The soup is beautiful to look at with its intense green colour. It's also rich in plant protein, delicious and so easy to make.
You're going to love this pea soup . . .
Easiest ever soup.
Ready in 20 minutes.
Versatile with a rich, sweet flavour.
Cheap to make.
Essential Ingredients for Easy Vegan Pea Soup
How many soups can you think of that only need an essential three ingredients?
Essential ingredients: peas, onion and salt.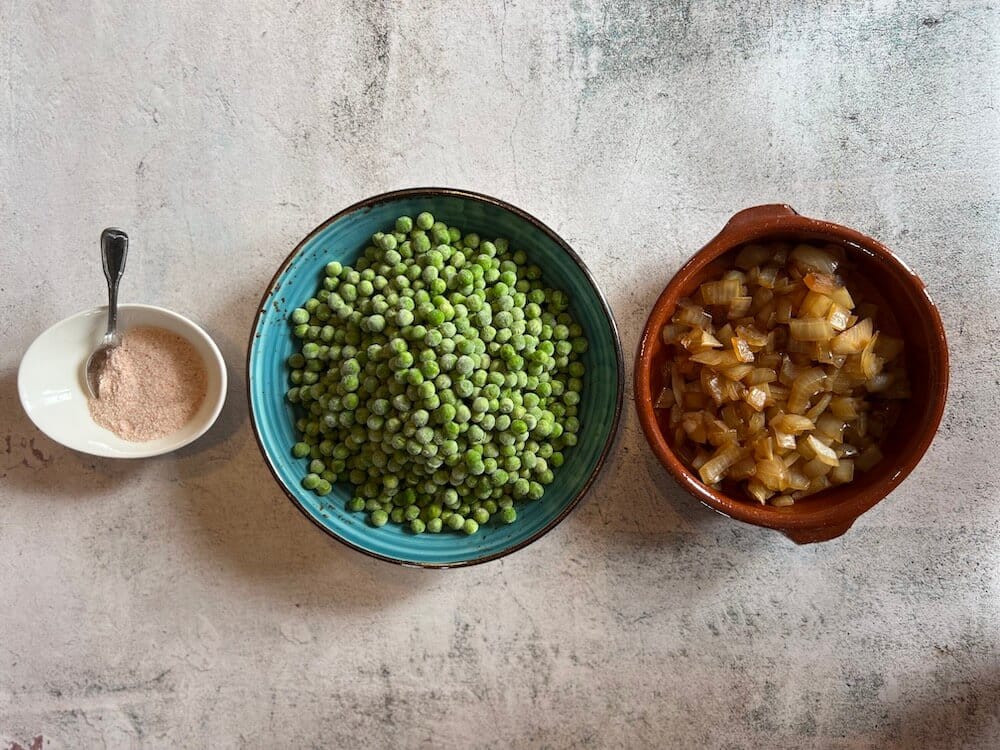 Additional optional ingredients:
Herbs (oregano or mint for example)
Plant milk (almond milk, soy milk or coconut milk)
Vegan cream for swirling on top
Chilli for sprinkling . . .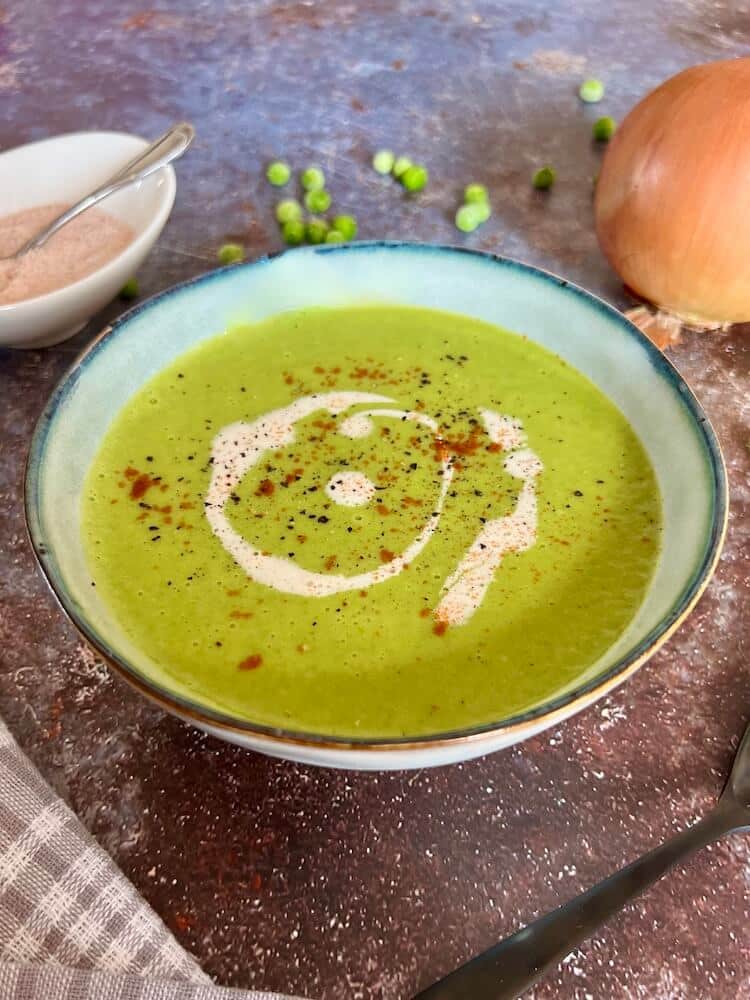 Although they have a sweet flavour, peas are low on the glycemic index (GI), so they won't cause a spike in blood sugar levels.
They can help stabilise blood sugar levels for people with type 2 diabetes as well as prevent chronic disease such as heart disease and type 2 diabetes.
Peas are rich in soluble fibre, which helps to promote the good bacteria in the gut and regulate digestion, reducing the risk of constipation and bowel diseases.
They're rich in minerals, and the antioxidants and saponins which are found in peas are believed to help prevent cancer.
So peas are a great food to add to a healthy vegan WFPB diet.
How to Make Easy Vegan Pea Soup
The base of the soup comes from frying the onion in a little water (or olive oil) with a some salt until the onion's become fragrant.
The onion should be well cooked, but not too browned or it will reduce the lovely bright green colour of the soup.
At this point, add the frozen peas, stir and cook with the onions for a few minutes before pouring on enough water to cover the peas. Simmer for 10 minutes.
The flavour is a bit less punchy if you make this oil free but it's still tasty.
Cook for 10 minutes until the peas are soft through. Blend the pea and onion mixture with a hand blender, or in the food processor.
For the best flavour, it should be on the thick side.
Taste the soup to check the salt level and add more as necessary.
Serve immediately and enjoy the incredible flavour of the easiest ever vegan pea soup.
Why Choose Green Pea Soup?
I'm not exaggerating when I say that this is possibly the most surprising soup you'll ever make, because it's just soooo simple (not to mention cheap), yet it tastes so incredible.
The other soups that are this quick & easy to make and depend on their primary ingredient for flavour are beetroot soup, creamy leek and potato soup and celery soup.
As well as being the most simple soup you could imagine, pea soup also delivers a nutritional punch, being high in minerals, phytonutrients, antioxidants, soluble fibre and plant protein (see below).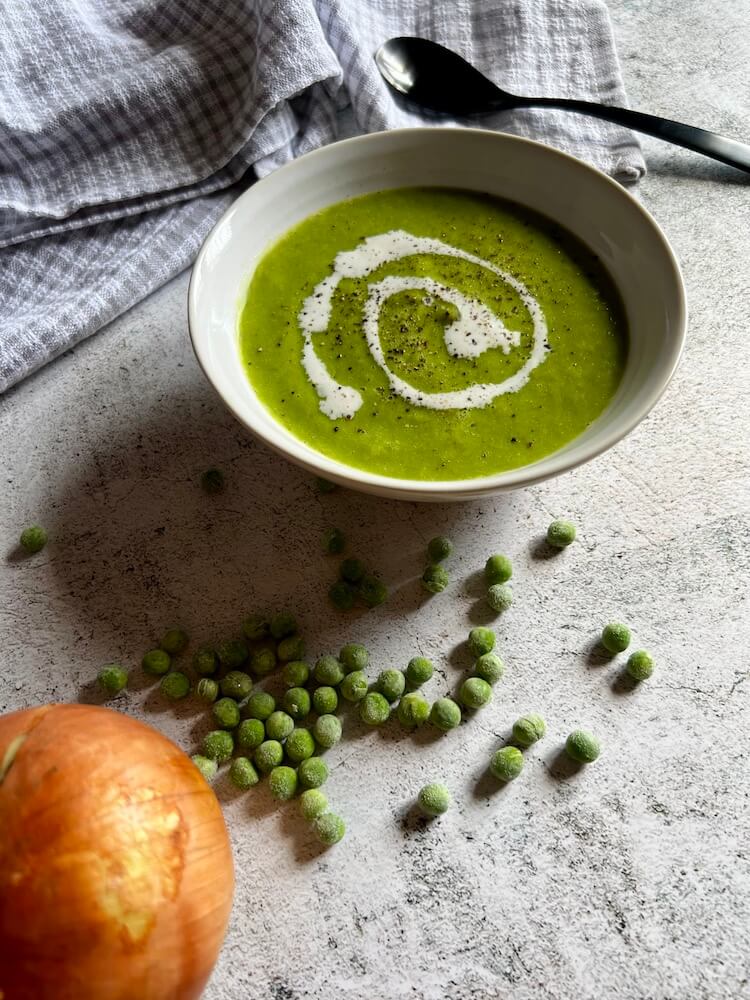 Its straightforward flavour makes pea soup easy to like and almost impossible to dislike, so you can happily offer it to your kids, your family or your friends when they pop in for an unexpected visit.
Nutritional Value of Peas
So many people believe that protein is a problem for a vegan person, but the truth is, there are loads of plant-protein sources available to you.
And peas are one of the best, so this soup isn't just quick and easy (reaaaaly eeaasy) to make, but it's also a nutritional boost . . .
Peas are part of the legume family, high in carbs, fibre and protein, as well as being a great source of iron, magnesium, potassium and calcium.
They're rich in phytonutrients and antioxidants to help to lower cholesterol and support the cardiovascular system.
Oil-Free Vegan Pea Soup
There's no doubt that the frying of the onions in olive oil is a fundamental part of this recipe flavour and gives a panache to the final profile of this soup, but you can still tweak this recipe to make it 100% oil free and suitable for a no oil whole foods plant based diet.
If you aren't strict about omitting oil from your diet, then I'd recommend frying the onions in oil.
Otherwise, fry the onions in a tablespoon of water and a sprinkle of salt. Be sure to let them become really fragrant before you add the peas.
Because you don't have the olive oil in the final flavour of this soup, the result is a bit more simply-like-peas and you may like to tweak the flavour somewhat when you've finished. It can be very sweet if you only use the water-fried-onion and the peas in this recipe.
Instead, consider adding a few more ingredients to tweak the flavour of your final soup.
Fry your onion in some herbs of your choice (I like oregano and parsley but many people like mint with their peas).
Then, when the soup is done, taste it and consider the following options . .
Fresh mint added toward the end of cooking
Add a dash of apple vinegar if the soup is too sweet, to balance out the sweetness
Use unsweetened almond or soy milk as part of the liquid instead of just water
Choose coconut milk for a creamier, heavier flavour
Give the soup a kick with a sprinkle of chilli powder
Quick & Easy Vegan Pea Soup
Course: Starter, Lunch, Soup
Cuisine: Vegan, WFPB
Difficulty: Easy
Even when you have nothing in the cupboard, you can still make this green pea soup.
Ingredients
500 g frozen peas

1 large onion

Salt

Optional Ingredients

Olive oil for frying the onion

Black pepper

Chilli powder
Directions
Chop and fry the onion in a saucepan with a little olive oil or water and a sprinkle of salt, until the onion is translucent and well cooked through.
Add the frozen peas and stir.
Pour in enough water to cover the peas, and cook until soft.
Blend with a hand blender or food processor
Taste the soup and add more water as required. Check the salt level and add a good grinding of black pepper.
Serve with a swirl of plant based cream and a sprinkle of chilli powder on top.
Health Benefits of Peas Video
Notes
Bright green delicious soup