I'm surprised by how tasty this vegan creamy celery soup is when it's so easy to make. Actually it tastes divine!
I had never really been attracted to making celery soup in the past (surprisingly, given as I love all soups), but I thought it was time to try out this mystery dish as I had a bunch of celery which wasn't very good, and definitely not edible raw.
It was stringy, tough and not juicy. So what to do with it? Soup of course!
I'm a fan of all soups and all things vegan (as long as they're simple to make!) and this soup is no exception. It's seriously tasty.
And the best news? It only has 5 ingredients:
1 bunch celery
1 onion
vegetable stock
1 cup cashews
seasonings of choice.
If you get into the habit of keeping a soup-stock-pot or (even a ready made homemade stock), then soup becomes the most simple thing to put together whenever you fancy eating it. This one is no exception and having so few ingredients makes it one of the easier soups out there.
I often make vegetable soup or tomato & vegetable soup but sometimes it's nice to do something different and make a soup that's just based on one pure flavour, like this celery soup.
The inspiration for adding cashews to soup came from a great vegan site called It doesn't Taste Like Chicken, though the celery soup recipe is different as you can see if you want to visit their recipe for celery soup here.
How to Make Vegan Creamy Celery Soup
First make a vegetable stock to give the soup its full flavours.
Next, slice an onion and fry it in a deep wok-type pan or saucepan in a little olive oil and then chop the whole bunch of celery and add it to the pan. Season with salt and cook.
Fry the celery until well and truly cooked through, then add it to the pan of vegetable stock and throw in a handful of cashew nuts. Cook the soup for another 30 minutes and then let it stand to cool.
Blend the soup and taste to check the flavour. It should be sooo flavoursome you'll be surprised. And can it really be so simple? Yes, it can!
Vegan Creamy Celery Soup Recipe
Course: Soup, Starter, Lunch
Cuisine: Soup
Difficulty: Simple
Simple, classic and tasty. Celery soups packs a punch of flavour.
Ingredients
1 head or bunch of celery

1 large onion

Homemade vegetable stock

Olive oil for cooking

Salt & pepper for seasoning
Directions
Fry the chopped onion in a little olive oil for a few minutes until beginning to go translucent.
Add the chopped celery, salt and pepper and fry for another 15 minutes or so.
Add the celery & onion mix to the vegetable stock.
Add a handful of raw unsalted cashews to the pan and heat through.
Cook the soup for about 30 minutes, then turn off the heat and leave the soup to cool down.
Blend the soup and taste for seasoning.
Serve with gluten free bread croutons, the top leaves from the celery and some chopped coriander if you like it.
Notes
By limiting the variety of the ingredients, the flavour of the celery shines through stronger.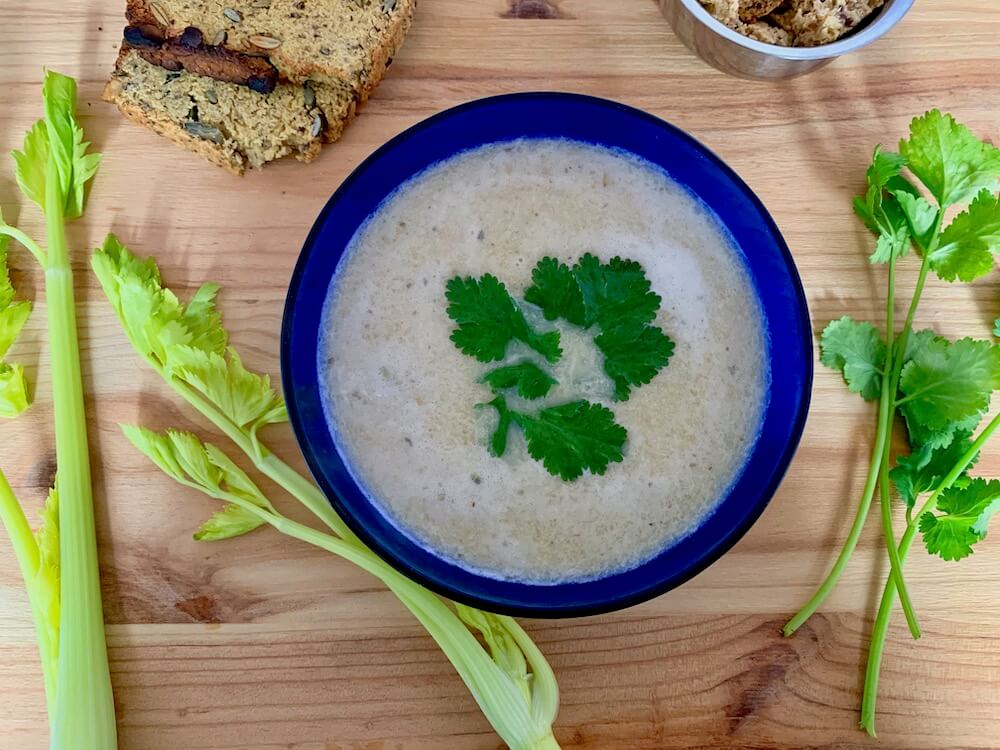 Other Soups to Love
Here are two of my favourite soups:
This best beetroot soup recipe is another really simple recipe which packs a surprising flavour. I'd say it's so surprising that even people who don't think they like beetroot may actually fall in love! Try it and let me know if you agree that it's a special one for keeping up your sleeve.
Roasted pumpkin soup is a well known favourite with most people and it's one which I like to pull out of my box of tricks occasionally in winter. I mean, what's nicer than a creamy bowl of roasted pumpkin soup to warm you up? And this one is a simple version of this tasty soup.