I confess, I love almost all soups, but this easy vegan vegetables soup is one of my favourites, because you can literally make it with anything and use up the vegetables from your fridge.
You can make the soup directly from scratch or you can make a vegan stock and use that for the liquid. If you aren't used to making a vegetable stock, it's very easy to do.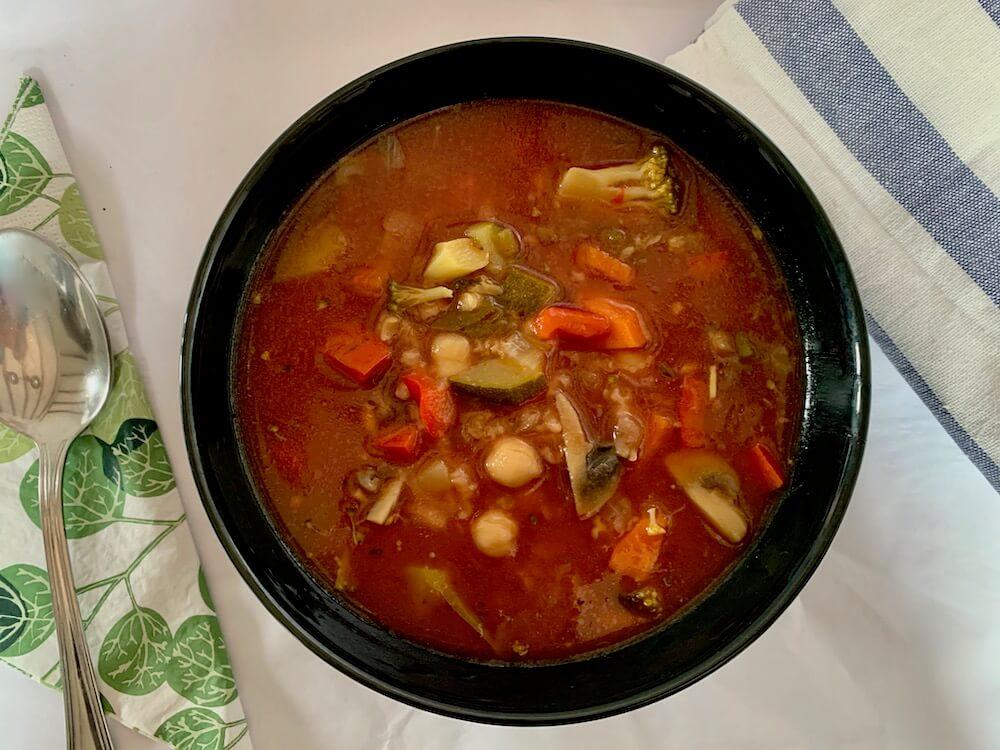 Making an Easy Vegan Vegetable Soup With Homemade Stock
Make the vegetable stock according to the simple method in this post.
In a separate pan, stir fry the vegetables, starting with the onion and garlic, following up with the rest of the veggies you have in your fridge for the soup.
Make sure the vegetable are chopped small so that they all cook evenly.
Add a couple of chopped tomatoes and cook until they're losing their shape. Add a bit of salt and do a taste test.
Transfer the chopped, cooked veggies to the stock pan and heat through. Add some tomato purée, a little chilli powder, gluten free soy sauce and nutritional yeast.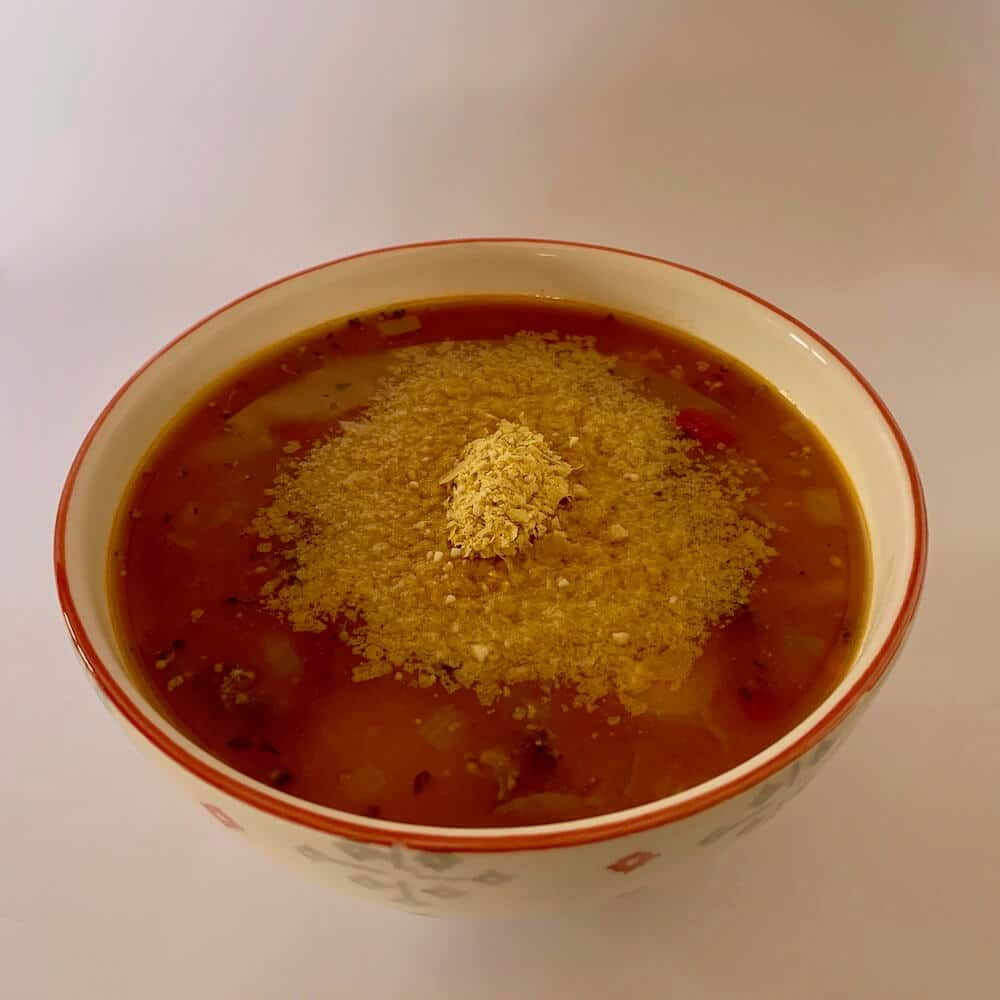 For additional texture and protein, you can add beans, tofu or chickpeas to the soup.
I like it all ways, it just depends on the mood of the moment!
You can also add a couple of handfuls of rice about 20 minutes before serving.
Toast some gluten free bread and break it up into the soup for some yummy croutons!
Making Easy Vegan Vegetable Soup Without a Ready Made Stock
You can still make soup if you don't have any vegetable stock and it will still be delicious.
When your stir fry is cooked and ready, add water to the pan.
You can add a whole carrot to the pan, a stick of celery and some chopped potato. You can also just use water. It all depends on what you have to hand and how you feel like making it.
Transfer the veggies from the stir fry into a pan of water with or without the added veg for flavour, and heat through, then turn off the heat and leave to stand. Soup always benefits from some time to stand and infuse with flavours.
Before you go away and forget completely about it, check its flavour for levels of salt, herbs, soy sauce or spices if using. Remember you can add more tomato purée or plant milk to vary the flavour.
Remember the golden rule. All soup is delicious and if it doesn't taste good enough, just tweak it to improve its flavour.
Easy Vegan Vegetable Soup
Course: Soup, Starter
Cuisine: Gluten free, Vegan
Difficulty: Easy
Any soup is delicious and delicious soup is easy to make. Just do it!
Ingredients
Vegetable stock

1 onion

2 cloves garlic

Sliced veggies: e.g. peppers, zucchini, broccoli, carrots, mushrooms, leeks etc

3-4 chopped tomatoes

Olive oil for cooking

Salt & pepper

Chilli powder and nutritional yeast for serving
Directions
Either heat the stock or fill a pan with salted water and add a carrot, stick of celery, 1 potato, 1 tomato and some herbs.
In a separate pan, fry the 2 cloves of chopped garlic with the finely chopped onion.
When the onion is beginning to look translucent, start adding any other vegetables you're using, in order of hardness.
When the veggies are cooked, add the 4 chopped tomatoes and leave on the heat until they lose their shape. If things begin to stick, you can add a touch of water.
Taste the veggie mix and adjust the salt, pepper, herbs and soy sauce to taste.
Mix the veggie mix with the vegetable stock, heat and then turn off and leave to stand.
Alternatively, if making the stock as you go, remove the carrot, tomato core and celery stick from the pan before mixing in the veggies to the liquid.
Notes
The secret of soup is to wing it! Soup always turns out yummy.