This vegan carbonara style pasta is gluten free, quick & easy to prepare, and makes a nice change from tomato pasta, or rather pasta pomodoro, (which is actually my favourite pasta dish so I don't often make creamy pasta very often).
This sauce is supposed to be mixed through with the spaghetti, but I don't like to mix sauces with the pasta, so the vegan carbonara sauce is sitting on top of the pasta in the image.
The taste is a lovely blend between the creaminess, touch of spice and bite of the vegetables.
Another favourite pasta dish for me is this lentil pasta salad which does get mixed with everything, including a pesto dressing.
Is Pasta Good for You?
Back in the 90's, when I lived in Italy (and for many years after), I loved pasta so much I was addicted to it! I adored the stuff. I would eat it with olive oil and garlic, homemade pesto, homemade tomato sauce, or with vegetables. My favourite was olive oil, garlic and chilli.
In Italy, pasta's eaten as a starter, which means that it's just a relatively small (though none the less important!) part of a full and varied diet. However, if you eat a great big plate of pasta on its own as your main meal, then it isn't a balanced meal and it isn't supplying you with many nutrients.
Plus, it's a well known fact that full grain pasta is healthier for you than white, refined pasta.
But the white tastes the best, right? Well, don't despair, as long as you eat it in moderation and include a large range of variety in your diet, white pasta can be part of a healthy lifestyle. But let's not get carried away and live off pasta.
What About Gluten Free Pasta?
After becoming gluten free (because of developing an intolerance to gluten) the one thing which didn't live up to my expectations was pasta. I was so disappointed by gluten free pasta, I virtually gave up eating it.
Most gluten free pastas are a different texture to wheat pasta: less chewy, and not only easy to overcook and go mushy but also useless to eat the next day. Gluten free pasta, quite simply is not so addictive as wheat pasta!
But over the years I've discovered better gluten free alternatives, so here they are.
With that out of the way, let's take a look at the various options available to you if you're looking to substitute pasta with one of the gluten free options.
White Pasta for Vegan Carbonara
Plain white gluten free pasta can be made (among others) from maize flour, rice flour, quinoa flour or a blend of all three.
Unfortunately you can't tell which gluten free pasta will have an amazing flavour from reading these ingredients: the taste varies from brand to brand even with similar sounding ingredients.
Some of the tastiest gluten free white pasta I've had was from Waitrose and Marks & Spencer in the Uk. Generally, where I live, I don't bother to buy white gluten free pasta anymore except for very, very occasionally. I prefer to go for a more nutrient-dense option and with a higher protein profile.
Quinoa Pasta for Vegan Carbonara
Quinoa is a pseudo cereal which has gained fame for its impressive health-giving properties. It contains all 9 essential amino acids, making it a great a source of complete protein for vegans.
But, and there is a big BUT . . . when you buy quinoa pasta, it most probably has just a little quinoa added to the ingredient list so that it can be advertised as quinoa pasta while in actual fact it is 3/4 maize and rice flour.
So while the idea of quinoa pasta sounds healthy and delicious, you'll need to check the ingredient list before you start jumping for joy.
Lentil Pasta for Vegan Carbonara
My number one choice of gluten free pasta is lentil pasta because not only is it tasty but it's also full of nutrition and high in protein, with roughly double the protein content to normal pasta. It's also lower in carbohydrates and higher in fibre, making it a filling option that can help control cravings and appetite.
It isn't the same as non gluten free pasta, but that's just a fact you have to accept when you go gluten free!
Buckwheat Pasta for Vegan Carbonara
I like buckwheat pasta because it has a little of the chewiness that I miss so much from the olden days. It also works well cold in a delicious pasta salad or served in a buddha bowl the next day.
Nutritionally, buckwheat pasta is higher fibre than refined pasta and contains more vitamins and minerals, making it a healthy option.
How to Make Vegan Carbonara Style Sauce
Finely chop an onion, 3 cloves of garlic & 1 small chilli, and fry them in a little olive oil.
Add some chopped courgette followed by broccoli florets, and finally some sliced mushrooms. Let each veg cook for a little while before adding the next.
The courgette should be almost cooked before you add the broccoli and the broccoli should be beginning to soften before you add the mushrooms.
Sprinkle the sauce with dried oregano and basil, or herbs of your choice.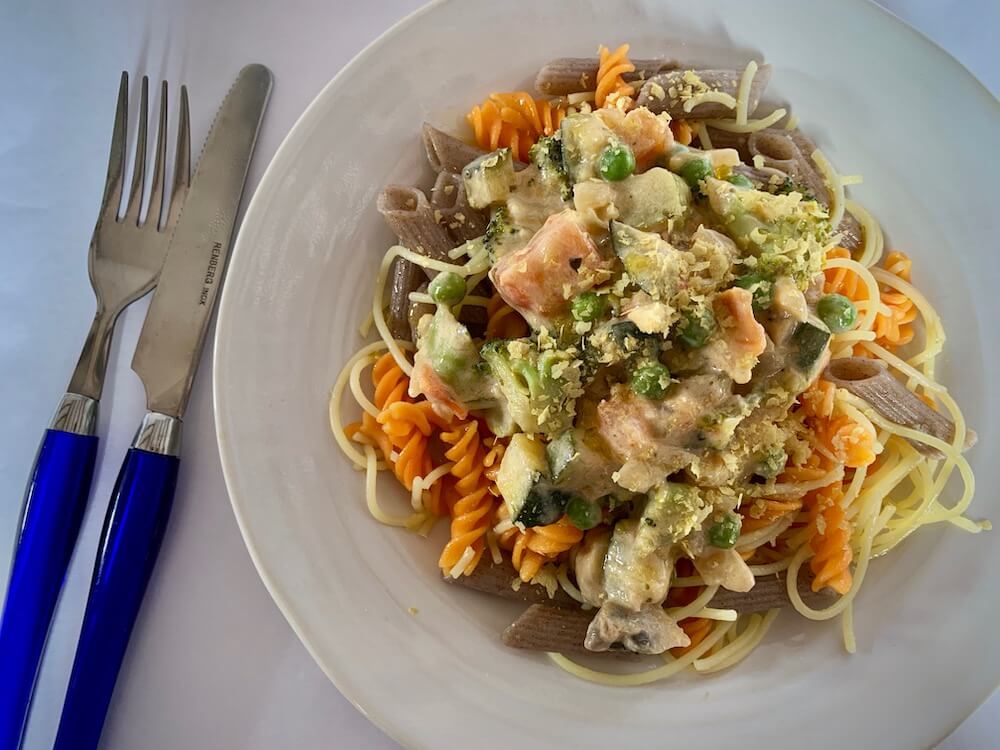 Once all the veggies are in the pan, cook for about 8 minutes or until the mushrooms are looking cooked. Sprinkle with salt and add a dash of gluten free soy sauce and 1 carton of gluten free vegan cream.
Heat the sauce and pour in some water to thin down the cream and give the sauce the right consistency. It will thicken a little in a few minutes.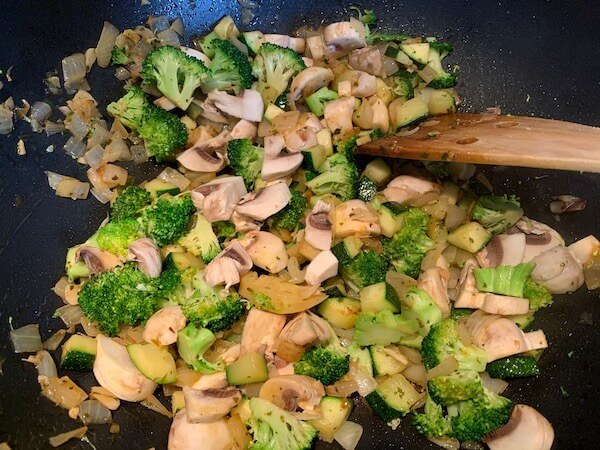 In a separate dish, cook some peas in the microwave. To get the best results, I find they cook best in almost no water and with a sprinkle of salt.
Stir them half way through cooking and keep checking them so they don't overcook. Once they're ready to eat, add them to the vegan carbonara sauce and stir.
Finally add a dash of dry white wine to the sauce and stir well.
Taste the sauce and check the levels of salt, pepper, chilli and soy sauce, and adjust according to your taste.
Serve on gluten free pasta and top with olive oil and homemade vegan parmesan or plain nutritional yeast. Yummm.
Gluten Free Vegan Carbonara-Style Pasta
Course: Main course
Cuisine: Italian Inspired
Difficulty: Easy
This creamy, slightly spicy, vegan carbonara style sauce, tastes great with gluten free spaghetti or tagliatelle. But you can use any pasta shape to go with this sauce! The essentials are the onion, mushroom, vegan cream and gluten free pasta. The rest is up to you!
Ingredients
1 onion

3 cloves garlic

1 small chilli

Piece of courgette

5 mushrooms

Broccoli florets

1 cup of peas

Dried oregano or herbs of choice

Dash of gluten free soy sauce

Vegan cream

Olive oil for cooking

Dash of dry white wine

Nutritional yeast for serving
Directions
Fry the chopped onion, finely chopped garlic and 1 small chilli in a little olive oil
Add the chopped courgette and after a few minutes, the broccoli florets. When they've cooked half through, add the sliced mushrooms.
Sprinkle with salt & oregano and add a dash of gluten free soy sauce.
When cooked through, add a carton of vegan cream and enough water to thin down the sauce a little.
Cook a cup full of peas in the microwave with a sprinkle of salt and then add to the sauce.
Heat the whole sauce through and taste to check the levels of salt, herbs, soy sauce and chilli.
Add a dash of white wine and taste.
Either mix through the pasta or serve on top of the pasta – as in the images.
Sprinkle with nutritional yeast and enjoy!
Recipe Video