Use this easy homemade vegetables stock recipe for making delicious soups that you can rustle up from leftovers whenever you fancy a steaming bowl of goodness.
The trick with making this easy homemade vegetable stock is to collect your vegetable cuttings when you're preparing your meals, and keep them in a handy stock-pot in the fridge or freezer.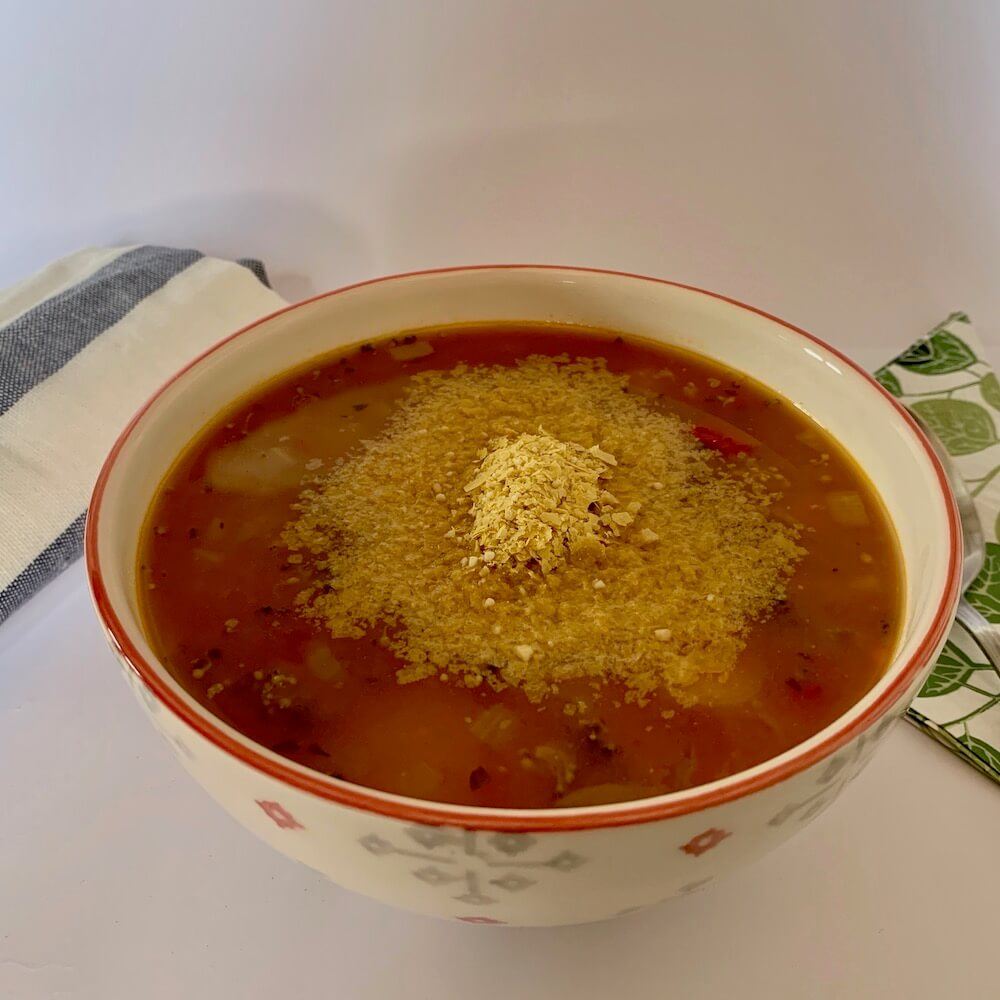 The freezer's ideal if you don't know when you'll next be making a soup, but recently I've been making soup once a week, so for the time being, I keep my stock-pot in the fridge.
Making the Homemade Vegetable Stock
So, whenever you're preparing vegetables, make sure to wash them well and then save all of the cuttings (except any bad bits of course) into a covered storage bowl for keeping in the fridge or freezer whichever suits you best.
What Veggies to Include (or Not)
Onion: I don't include the very outer skin of the onion in my stock because of cleanliness reasons, so I remove that and discard it, but the second layer gets added it to my stock-pot along with the tops and tails of the onion after the skin has been removed.
Tops of red and green peppers, tops and tails of courgettes/zucchini, potato peelings, sweet potato peelings, mushroom stalks, tops of leeks all go into the pot.
I don't recommend adding carrot peelings unless you know they're organic, and as that's difficult to get round here, I never include them. Instead, I peel a whole carrot and add the carrot itself to the stock when I'm cooking it.
I also wouldn't add too much broccoli to the pan. It can make the stock brown and too much will give a strong (strange) flavour. You can add little bits without any damage.
The base of the cauliflower and the stem is great and if you use fresh chilli, you can even put the top of the chilli into the stock pot.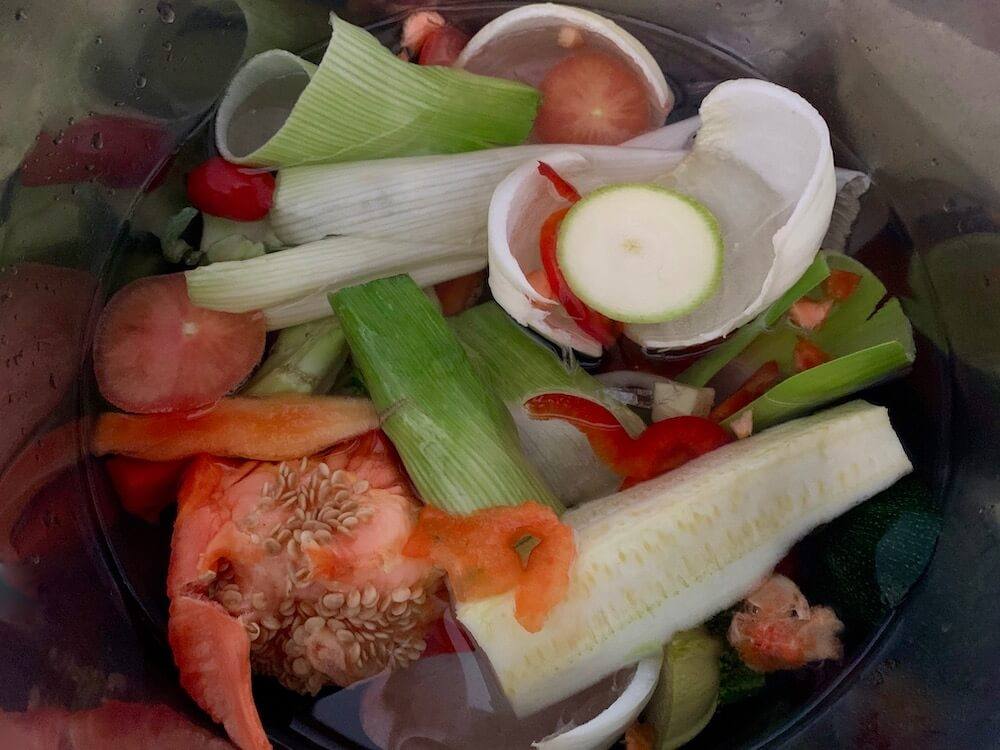 Cooking the Vegetable Stock
Fill a pan full of water and add your stock-pot of leftovers and 1/2 teaspoon salt or to taste.
Next add, 1 carrot, 1 chopped potato, 1 large whole clove garlic in its skin, 1 stick of celery and a blob of olive oil.
Sprinkle in some herbs of your choice (I often use parsley and basil or oregano) and bring to the boil. Reduce the heat and let it simmer for 30 minutes with a lid on. Basically, the longer you leave it the better the flavour.
At this point I usually turn off the heat and leave it until later, when I'm ready to make the soup. This allows the flavours to infuse more.
This stock can be made in less time if necessary, but the flavour gets stronger with time.
Final Touches for the Vegetable Stock
When the stock has cooled down, strain it through a sieve so that all the veggies are caught in the sieve and you're left with the clear liquid.
Next there are two choices. You can either discard all the vegetables and just keep the liquid, or you can pick out the veggies you want to include in your final soup, like for a vegetable soup for example, whereas, for a French onion soup you'd need the clear stock without extra veggies.
Another example, you might chop up the carrot and re-introduce into the stock along with the chopped potato if you're making a delicious pumpkin soup for example.
You can also use the stock for making some of these yummy vegan sauces, to increase the depth of flavour or for a tomato sauce in vegan lasagne.
Before you call your stock finished, taste it and add salt, pepper, soy sauce or herbs to taste.
Use it to make your favourite soup or in this delicious Spanish paella!
Easy Homemade Vegetable Stock Recipe
Course: Soups, Starters, Sauces
Cuisine: Vegan, Gluten free
Difficulty: Easy
The easiest way to make the tastiest vegetable stock.
Ingredients
Vegetable leftovers

1 carrot, 1 potato, 1 stick organic celery, 1 clove garlic, fresh parsley.

Gluten free soy sauce

Olive oil

Salt & pepper
Directions
Collect all your vegetable cuttings and keep them in a bag in the freezer. If you know you're going to be making soup soon, you can keep them in the fridge.
Add the vegetable leftovers to a pan of water along with a dash of olive oil and 1/2 a teaspoon of salt, or to taste.
To get the best out of the flavour you can also add 1 potato, 1 carrot, 1 stick organic celery and 1 clove garlic. (Celery is one of the high-pesticide veggies, hence organic is a better choice (as it is with all vegetables of course.)
Bring to the boil, reduce heat and simmer for 30 minutes.
Taste the stock and add more salt, pepper, herbs, soy sauce or chilli.
Cover with a lid and leave to stand.
Strain the stock and use in your favourite soup.
Recipe Video
Notes
Homemade vegetable stock adds extra flavour to soups.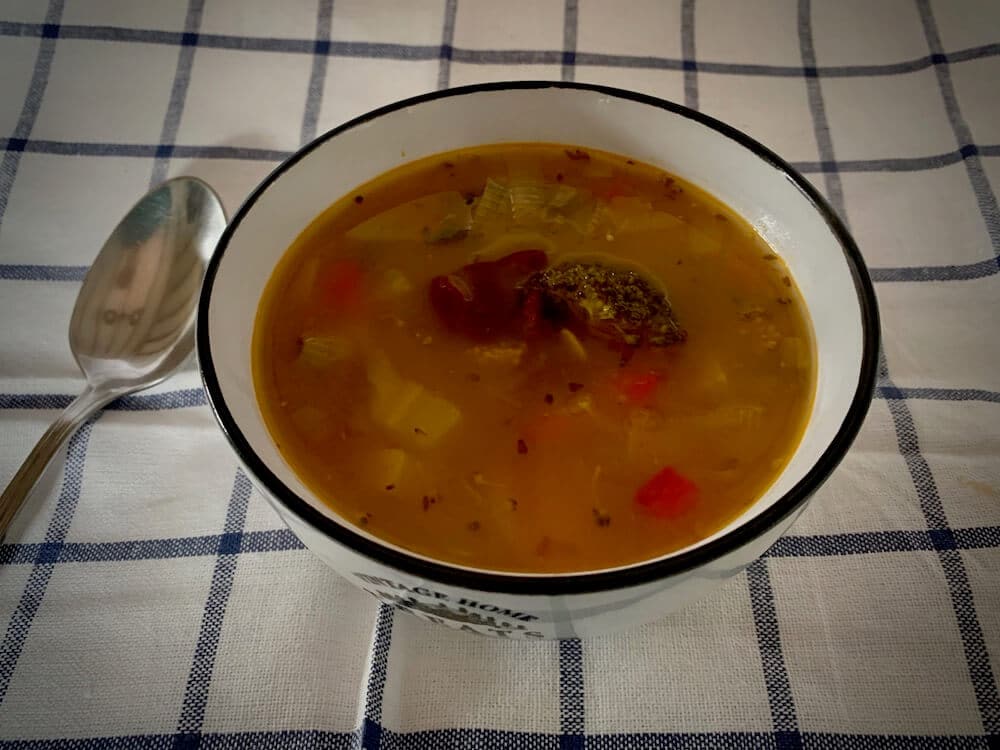 If you enjoyed this recipe, please drop me a comment below!