What could be better than a large pan of delicious Spanish paella when you're having friends around?
Spanish paella, much like gazpacho, is almost synonymous with Spain, so famous has it become.
In this post on how to make Spanish paella, I'm going to share some tips and advice which I've learned from my friends here in Malaga and combine them with my own experience of cooking paella.
The result is this easy-to-follow, step-by-step version of cooking a (vegan) Spanish paella dish.
Traditional Valenciana Paella
Disclaimer! Paella has some really rigid and specific rules which are the pride of Valencia, where paella originates from.
If you want to cook a truly authentic Valenciana paella, then unfortunately this vegan paella recipe won't be for you, as we're going to break some of those rules.
Here in Malaga, many people enjoy a paella in a family get-together for example, and the variations on how to make it are extensive and personal.
Each individual has their own take on making the perfect paella, and in this region, I suspect they aren't quite so purist as in Valencia.
If you're looking to make a vegan paella, you're immediately breaking out from the traditional, authentic way anyway (because paella has either meat or seafood in it traditionally), so I figure you won't mind this more flexi-approach.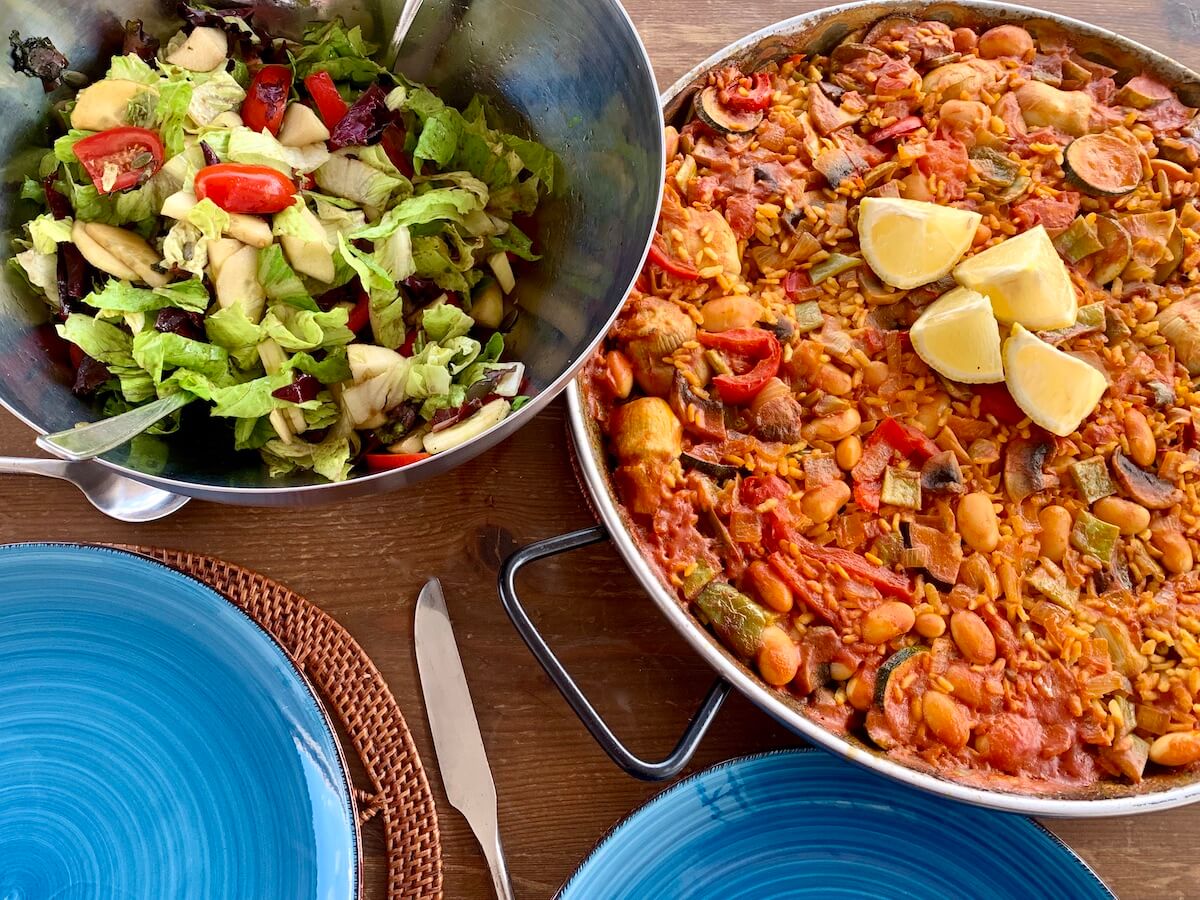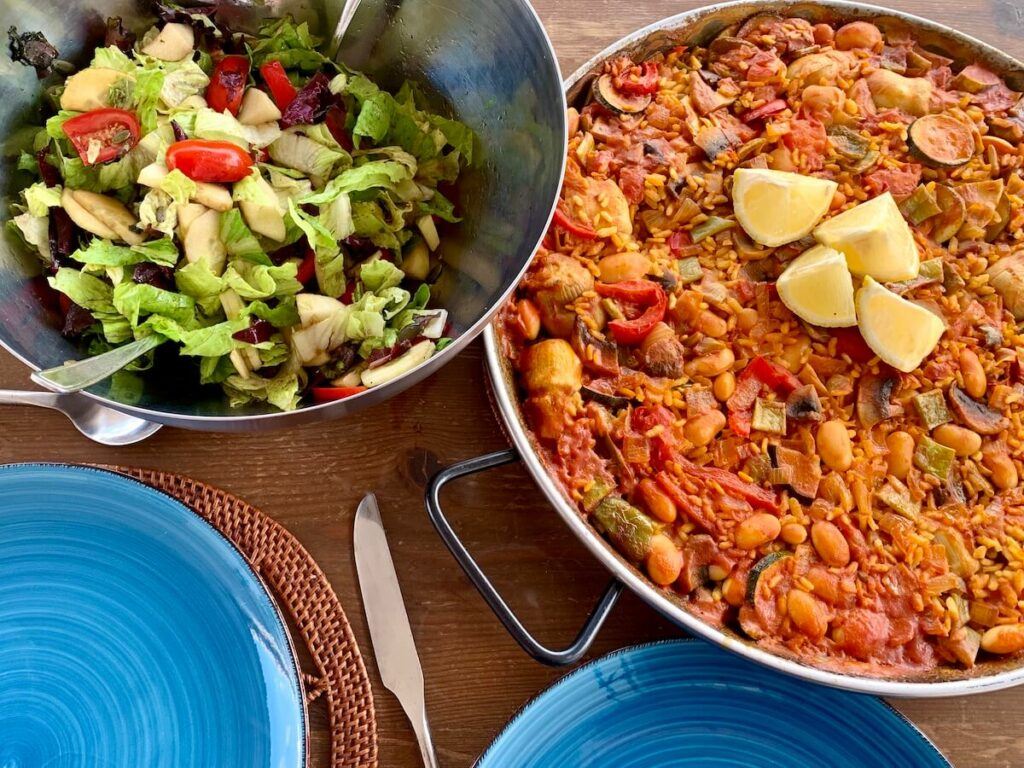 Some Interesting Facts about Spanish Paella
Paella originated in Valencia but is eaten right across Spain, from Galicia to Malaga and everywhere in between, with each region favouring their own variation on the recipe.
There are many types of rice that can be used for making paella but the most frequent in Malaga is the Bomba rice. Bomba is a short round-grain rice that can absorb 2-3 times its volume in water without losing its shape. If you can't lay your hands on Bomba rice, you can substitute it for another round-grain rice but the goal is for the rice to retain its shape and bite in the finished paella.
Although you can vary the rice, to be correct and truly honour tradition, you would need to use a type of rice with its origin in Valencia.
Paella is best not stirred during the cooking stage as this is what gives the rice its paella character and flavour, keeping the grains intact. You can move the veggies just carefully to distribute them evenly among the rice grains when the rice first goes in, but after that, leave them well alone. An occasional shake of the pan is acceptable!
Some people add a glass of white wine to the cooking while others prefer to leave it out. It's a matter of personal preference. I actually quite like the taste the wine brings to the rice, so I tend to include it. But if I don't have any wine handy, I'll still make the paella without it, no problem.
You can add lemon juice to the cooking stage, near the end of cooking. Again, this is an optional stage which depends on the chef.
Always serve paella with a slice of lemon for squeezing on top.
Saffron is at the core of the paella recipe and is considered by some to be non-negotiable. I know many people and restaurants who cook paella without saffron. (Some non-Spanish recipes even use a little turmeric, but this gives a different flavour to the rice.)
The saffron should be toasted in silver foil first and then added to the hot water or hot stock to infuse the flavour into the liquid. I don't toast the saffron, but I do dilute it into the stock before using.
Sweet paprika or smoked sweet paprika is considered essential in this recipe.
The base of the paella should be just caramelised at the end of cooking, taking care not to burn it, so that there is a crunchy base to the paella. This is called a 'socarrat' and is the sign of an exquisite paella.
Some Rules We're Going to Break . . .
Apparently, you should only use water from Valencia and it should be straight from the tap! Authentic paella doesn't use mineral water or a separate stock in the cooking.
The limited list of ingredients allowed includes meat, fish and seafood, beans, artichokes, garlic & tomato. We are going to elaborate on that.
Authentic paella must be cooked in a paella pan, but in my opinion, if you haven't got one, don't let that stop you from enjoying this recipe.
Obviously, the best choice for making paella is to use paella rice, but if that's not possible, we can also use other round-grain rice as a substitute.
In Valencia, they don't use onion but here in Malaga, paella can be cooked with onion, and in this recipe, we will be using onion.
Method for How to Make a Spanish Paella – Vegan Style
Allow an hour for cooking paella and take it easy! It's a social dish, so no hurrying along the way.
Basically, you take a paella pan, and if you don't have one, you want to use a wide-based pan so that the heat is evenly distributed along the bottom of the rice layer.
You will then fry your onion, garlic and vegetables of choice in olive oil for a few minutes before adding some sweet paprika followed by the beans and artichokes and peeled tomato slices. Next comes the tomato passata or tinned tomato to the pan.
After that, you add the rice and the seasoned vegetable stock, (which you can make as you go along – see below the steps for cooking the stock). As for adding the stock, cover the rice, then top it up a couple of times during the cooking as the liquid is absorbed.
Start the heat high for the first 10 minutes (7 on my induction hob) then reduce to medium (6 on mine) and finally turn up again to reduce the final liquid from the pan and allow for the base to caramelise, creating the slightly crunchy 'socarrat' at the bottom of the pan.
The final and important step in making paella is to cover it with silver foil and leave it to continue steaming for about 10 minutes before serving.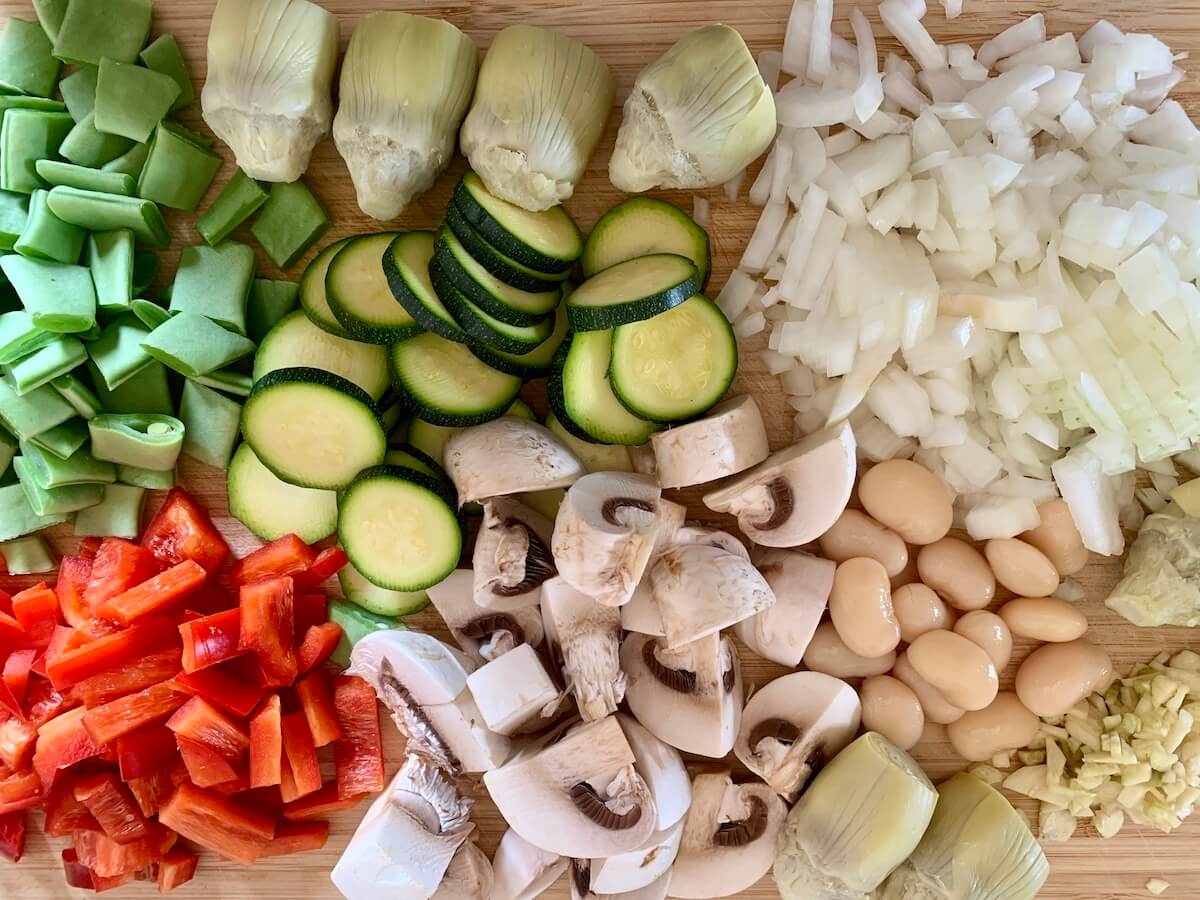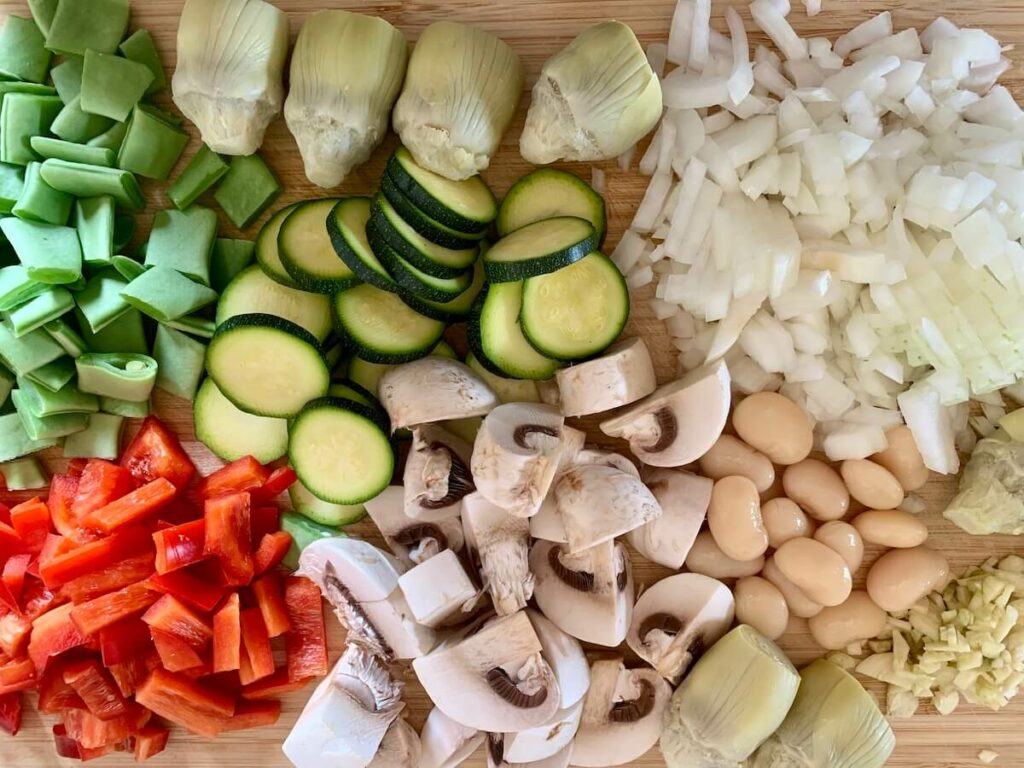 Steps Broken Down for How to Make a Spanish Paella
Pour 1/4 cup of olive oil into your paella pan and heat over medium heat for 2 minutes.
Add the hard vegetables and gently stir fry for 3-4 minutes with a little salt.
Chop the mushrooms and put them into the stir fry mix and cook for a further 6-7 minutes.
Next comes the grated or chopped tomato, cooking for a couple another 4-5 minutes.
Any additional ingredients can be added now, such as lima beans (butter beans) or tinned artichokes and the tomato passata or 'triturada'.
One handful of rice per person (they say 70-90g per person, but I never weigh my ingredients), and gently organise the ingredients so that the veggies are evenly distributed. I use 2 cups full of rice for a 4-person paella.
Pour in 1 glass of white wine if using, followed after 2 minutes by the pre-salted water or homemade stock to cover the rice. You will need to add more liquid a couple of times during the cooking, as it gets absorbed by the rice.
Start the paella off on a higher heat for the first 10 minutes and then reduce to medium heat, making sure that the paella never comes off the boil. It should always be simmering. At the very end, you will raise the heat again.
When the liquid's been absorbed, check the grains of rice. You want it to be al-dente, not too undercooked and not soft. If necessary, add more liquid to the pan and continue to cook and reduce the liquid again until it has evaporated.
Turn off the heat and cover the paella pan with silver foil and a towel on top. Allow it to sit in its own steam for 10 minutes to finish off the cooking process.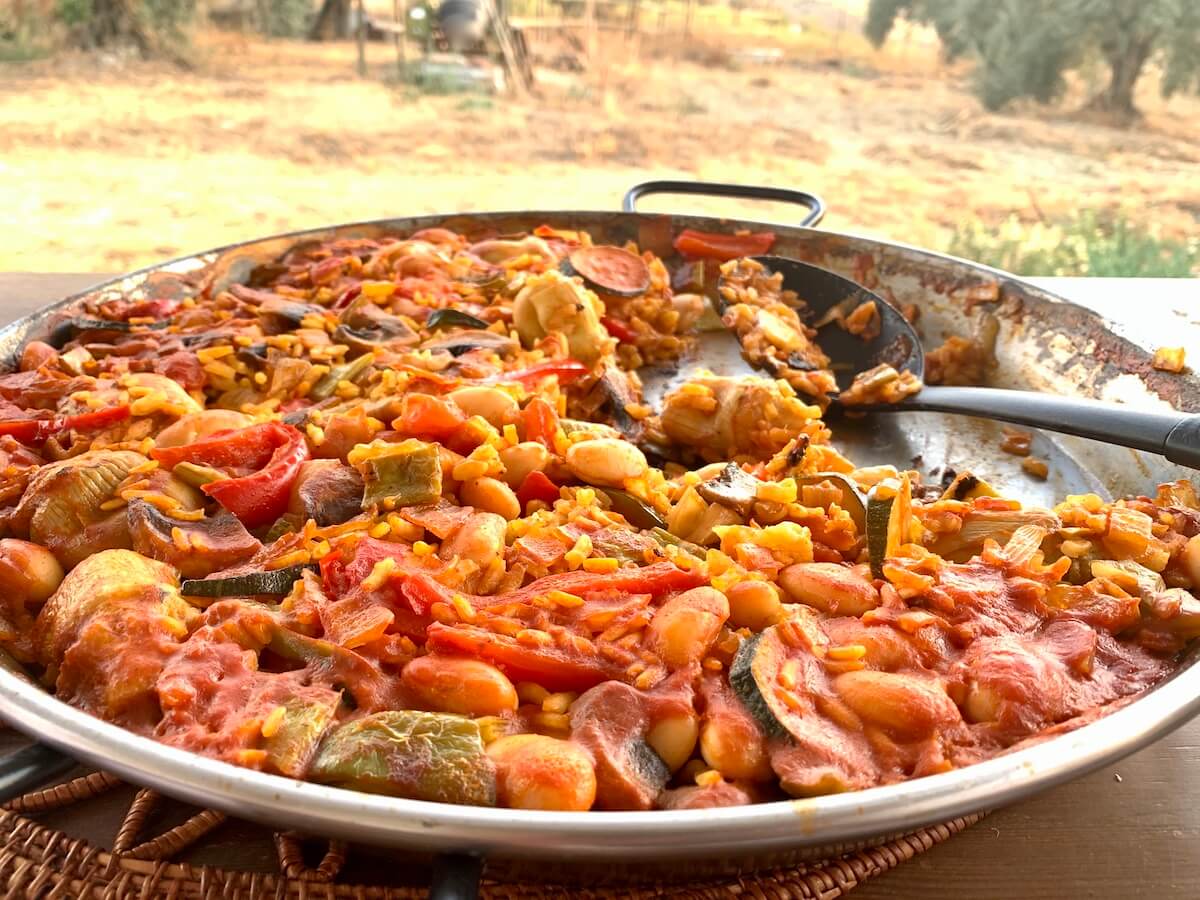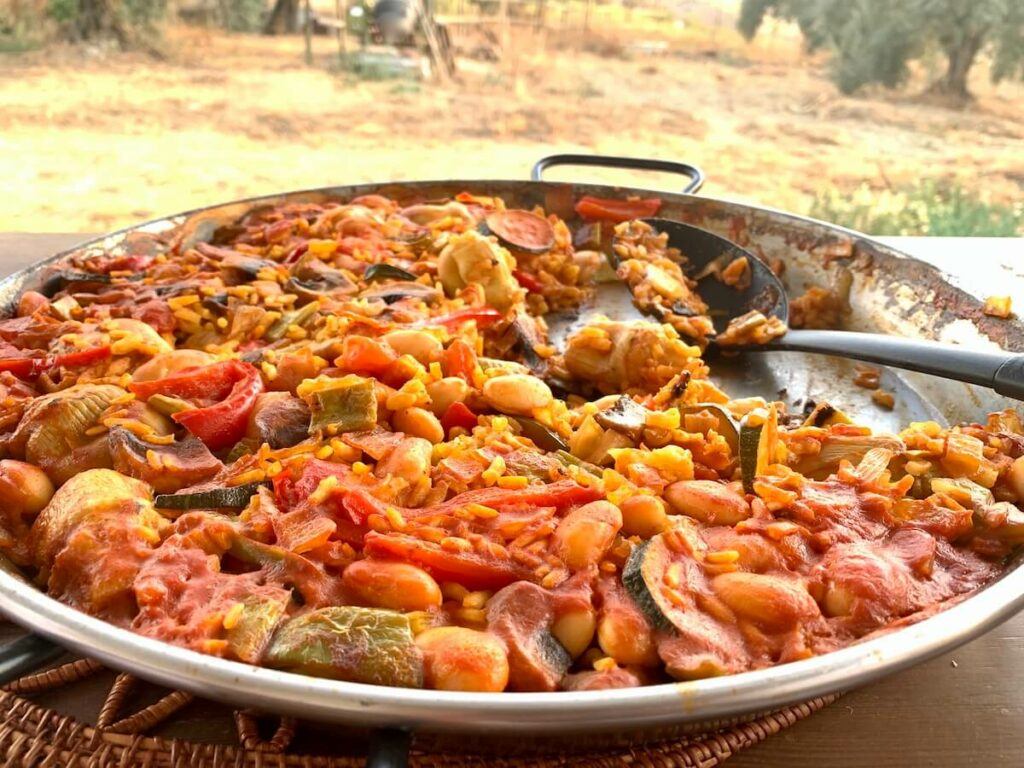 How to Make a Spanish Paella – Making a Stock
While you're preparing the vegetables, take any cuttings, tops and tails etc and place them into a pan of lightly salted water, just a little more water than you think you'll need for the paella (2 cups water to 1 cup rice approx) and bring to the boil.
Add 1 potato, cut into quarters, 1 large tomato, halved, and a bay leaf, and simmer for at least 15 minutes. You can then strain the stock and use it for cooking the paella.
Once it's strained, add the saffron and return it to the heat to allow the saffron to infuse into the stock. You can also make a pre-prepared homemade stock as described in this post.
Vegetable Ingredients for Making Your Vegan Paella
Regardless of which paella you're making, there is a selection of vegetables that go perfectly. All paella recipes have tomato and garlic as their base.
Authentic Traditional Paella Vegetables
green beans
lima beans
red & green pepper
mushrooms
oyster mushrooms
asparagus
artichokes
garlic
Less Authentic (but still delicious) Vegetables
onion
zucchini
peas
broccoli
Types of Vegan Paella Suggestions
Mixed vegetable paella (i.e. onion, garlic, red pepper, green beans, lima beans, artichokes, mushrooms & asparagus)
Mushroom paella (i.e. onion, garlic, mushrooms, green beans, lima beans)
Oyster mushroom paella (i.e. onion, garlic, oyster mushrooms, mushrooms, green pepper, peas)
Asparagus paella (onion, garlic, asparagus, red pepper, lima beans)
If you love rice dishes, you may also be interested in this easy vegan risotto recipe or this nasi-inspired vegetable rice dish, both of which are favourites of mine.
Other Spanish Recipes You May Like
How to Make Spanish Paella – Vegan Version
Course: All Vegan Posts
Cuisine: Spanish, Vegan, Gluten Free
Difficulty: Moderate
Colourful and delicious paella recipe from Spain
Ingredients
1 packet paella rice, or short-grain rice

1 glass of dry white wine for cooking (optional)

Fresh lemon for serving and an optional lemon for in the cooking.

1/2 finely chopped large onion

1 zucchini, finely sliced

4-5 cloves chopped garlic

1/2 large red pepper

8-10 green beans, chopped

6 mushrooms, quartered

1 tin artichoke hearts, drained, squeezed and patted dry

1/2 jar/tin lima beans

1/4 cup olive oil

Salt

2-3 tsp sweet paprika or smoked paprika

Saffron threads

3 large tomatoes grated without the skin or 2 cups of tomato passata
Directions
Heat the olive oil in a paella pan.
Add the vegetables to fry, starting with the finely chopped onion and garlic and gradually adding the rest of the veggies in order of softness. Sprinkle with salt.
Add the 2-3 tsp of sweet paprika to the pan and fry again.
After 5 minutes, add the lima beans and artichoke hearts.
Next, add the sliced peeled tomato and stir into the veggie mix. Cook for 5 minutes.
Pour in 1 packet of tomato passata, tomato 'triturado' or tinned tomatoes and gently mix through the pan evenly.
For each person, add one handful of rice and an extra one for the pan. Or, if you have a measuring cup you can measure 2 cups for 4 people. Remember that you'll need at least double the quantity of stock as the amount of rice.
Pour on 1 glass of dry white wine if using and cook for 2-3 minutes.
Add the stock with the saffron diluted in it, to completely cover the rice and turn up the heat to medium-high for the first 10 minutes. Don't stir the rice during cooking time.
Turn the heat down to medium and leave the rice to simmer. You can gently shake the pan from side to side, but remember not to stir the rice! It should always be bubbling.
Check the rice and add more stock as necessary. I normally add stock twice more after the initial amount.
The rice should still be al-dente to the bite and most of the liquid absorbed. Turn up the heat to reduce the last of the liquid, taking care not to burn the bottom of the rice.
Allow a medium heat to just caramelise the base of the paella so that you get the crunchy socarrat base. If it doesn't work for you, don't worry, it takes practice to get it just right, and the paella will still be delicious.
Turn off the heat and cover the pan with silver foil and a towel. Leave to stand for 10 minutes to finish off the cooking process.
Serve with a wedge of lemon and a fresh mixed salad.
For Making the Stock

When preparing the vegetables, wash well and cut off any ends, but instead of discarding them, save them for the stock. Use the tops of the pepper, the outer, tougher skin of the onion, half of the mushroom stalks (leave half in the mushroom) and the top and tail of the zucchini.

Add these cuttings to a pan of lightly salted water, roughly doubling the quantity of rice which will go into the paella, with a little extra to spare.
Cut a potato in half and add it to the pan along with stick of celery, a large tomato cut in half and a bay leaf, and simmer for at least 15 minutes.
Strain the stock and add the tsp of saffron threads to the pan, returning it to a low heat and leaving it to infuse.
Use the stock to add to the paella, adding more as the rice absorbs.
Notes
Paella is perfect for feeding a party of people and is traditionally a social meal for those family or friend get-togethers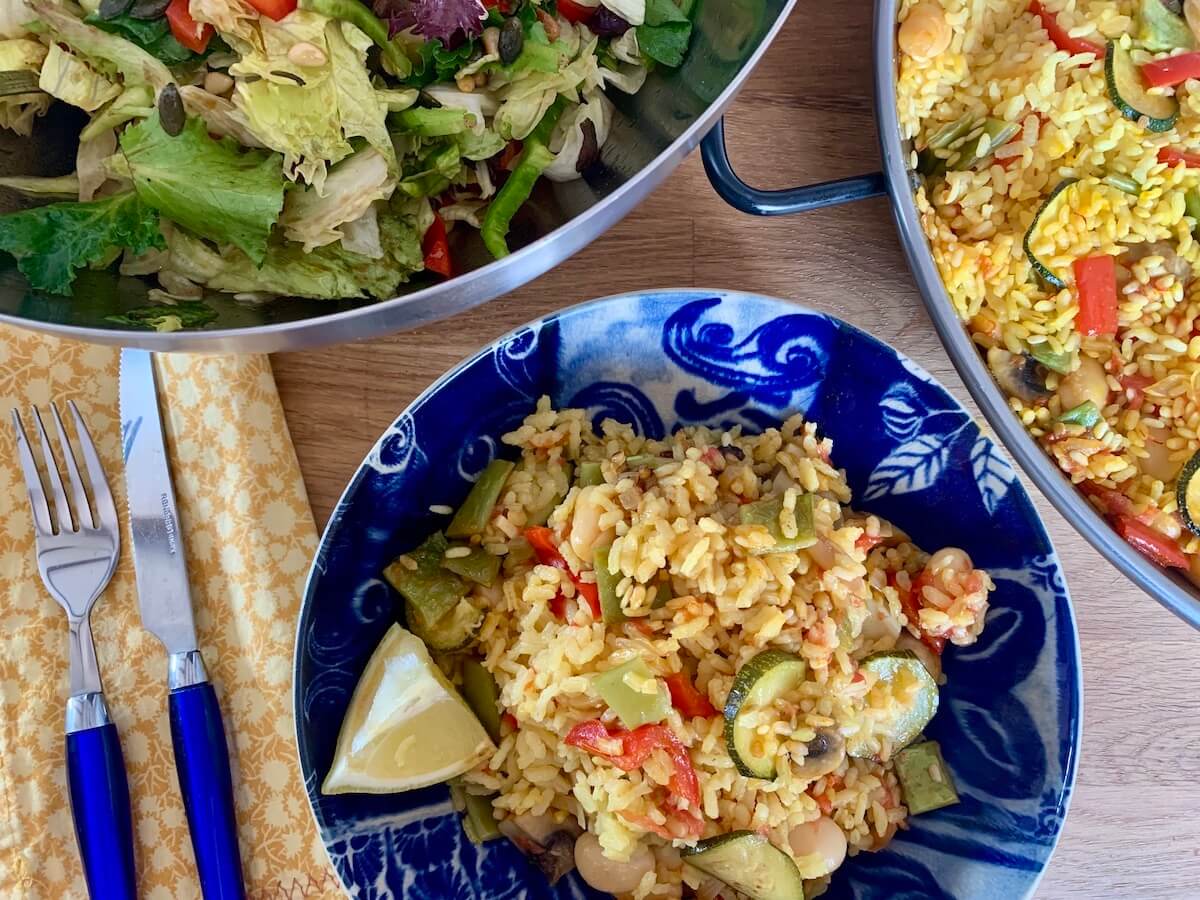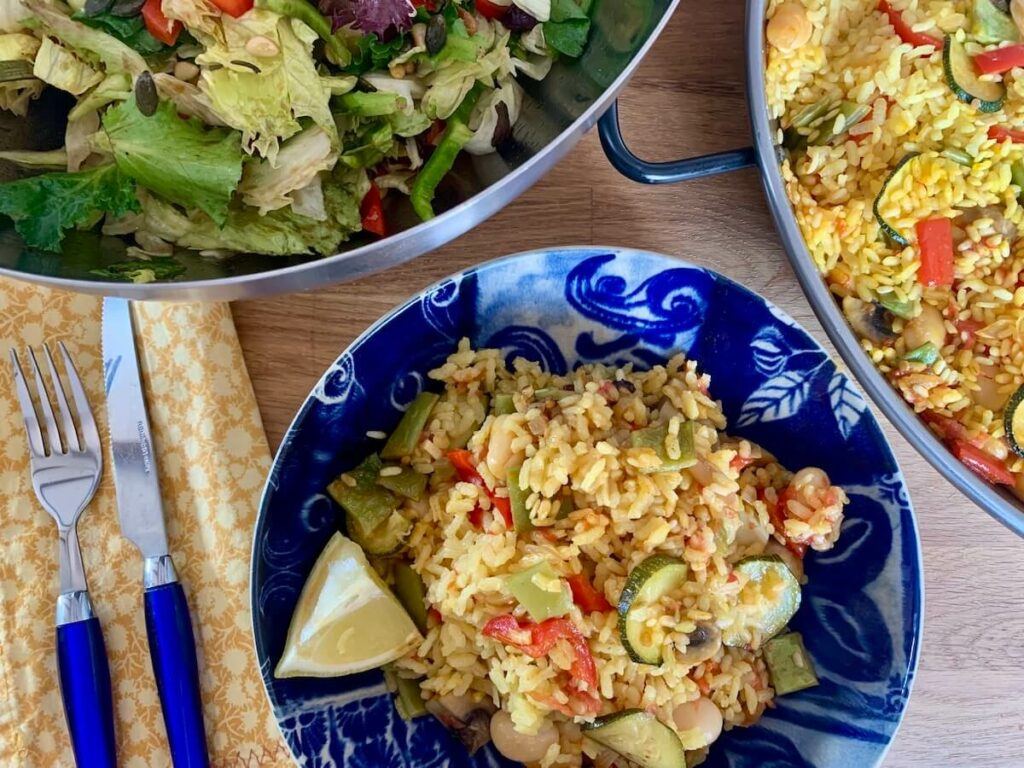 You may also enjoy the best-ever lentil soup recipe which can be put together in less than an hour and takes lentils to a whole new level.