Is Dutch boerenkool stamppot vegan? No, at least not the traditional recipe, which is made with butter and served with sausage and gravy.
But in its essence it's an extremely easy vegan dish.
Just make it with homemade vegan butter or completely oil-free like this recipe, and serve it with homemade vegan mushroom gravy or creamy garlic mushrooms, vegan sausages or a tofu tapas.
Et voila! Vegan Boerenkool Stamppot recipe!
I confess that I've resisted making a stamppot for years, because, well you know . . . we have mashed potato, mashed carrot and sweet potato; why would we need stamppot?
And then I realised the error of my thinking.
The more the merrier!
My passion with food is to try all the different (vegan of course) foods that I can!
(Yes, even if I think they're something I've already eaten. Because a recipe will taste different with every little trick that a different culture brings to it).
I mean paella has 12786 different variations and so does risotto, so why shouldn't mashed potato?
So naturally, one day I decided it was time to dip my toes into the pool of stamppot and what better place to start than the all time favourite, boerenkool stamppot?
Personally, I would leave the skin on the potatoes, but my husband's Dutch and he wanted it the way he's always eaten it – without the skins. So without the skins it was.
And this meal goes down pretty well with him.
I love to put a dollop of spicy homemade kimchi or lashings of homemade sauerkraut on the side, but we're all different and in Holland this is a complete meal as it is.
In fact in Holland there's a stamppot dish called zuurkoolstamppot which is dedicated to sauerkraut, and is one of my favourite ways to eat mashed potato.
I think you'll love this, because it's so easy to make.
It's Dutch comfort food.
Simple, warming and hearty. Traditionally it's served with a Rookworst sausage and gravy, so for this dish we make a vegan sausage and a homemade vegan mushroom gravy to go with it.
But you could serve it on its own too, as a side to whatever else you're making.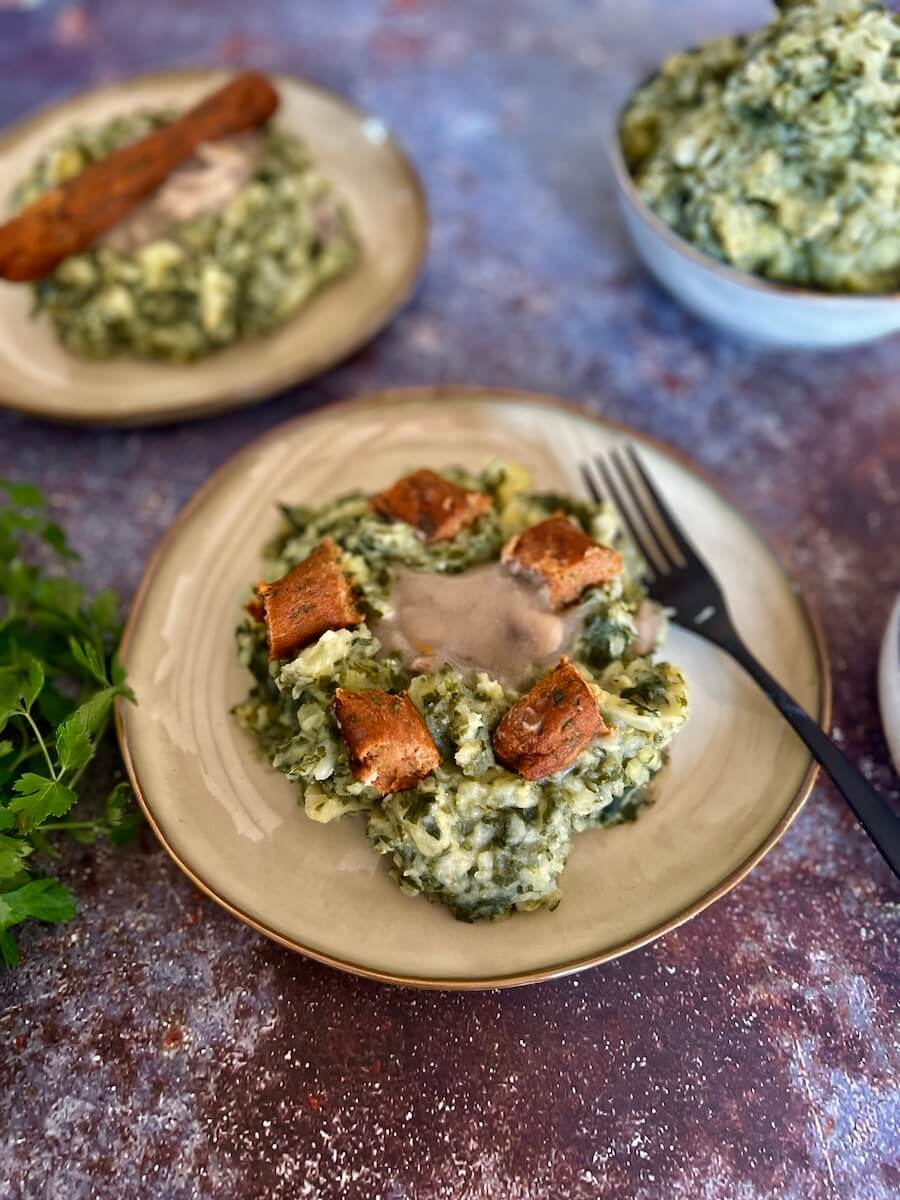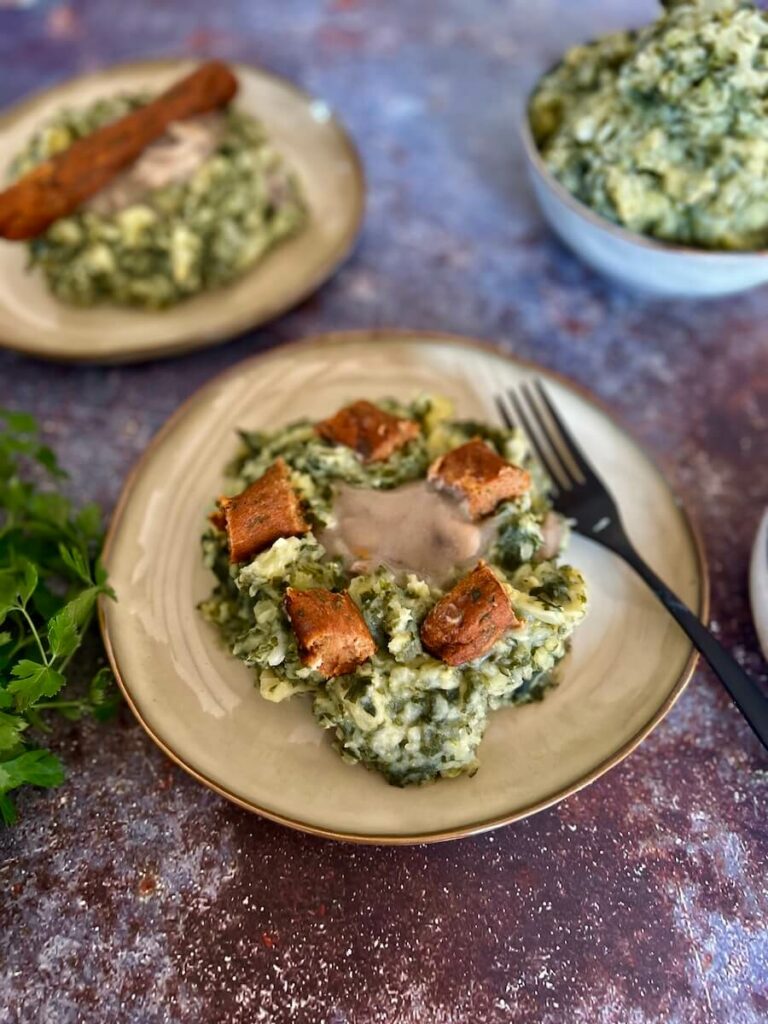 What is Dutch Stamppot?
The word stamppot actually just means mashpot. It describes a dish which is mashed (stamp) potato with other ingredients in a pan (pot).
So stamppot is a one-dish meal and it goes back to the 1600's. It's probably the most eaten dish of the Netherlands.
While some people will argue with you about the true authenticity of the different stamppot recipes, the true Dutch habit is for every family to make some form of stamppot.
So obviously you can end up with a million-and-one variations.
And to be honest, does it really matter if, years ago, something was done differently? Or whether one person argues over whether it should have plant milk in it at all?
Not to me it doesn't. I just take the essence of the meal and create something similar and yummy with it.
So a Dutch stamppot for me, is a pan of mashed potato with another vegetable added.
Popular Types of Stamppot in Holland
Boerenkool stamppot – mashed potato with kale
Zuurkoolstamppot – sauerkraut with mashed potatoes
Hutspot – carrot and onion and potato mash
Andiviestampot – mashed potato with endives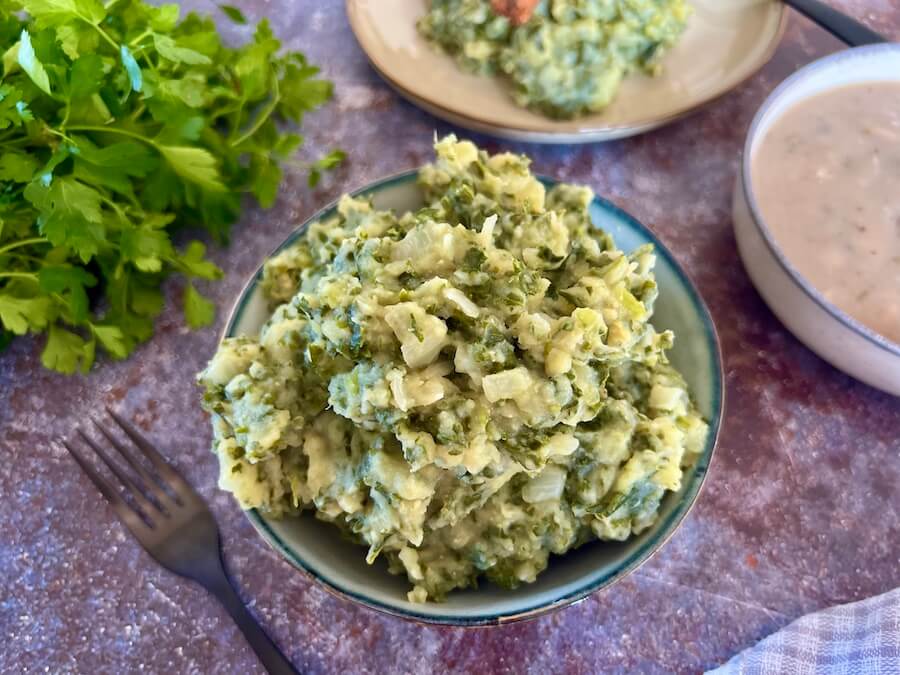 Easy Vegan Boerenkool Stamppot Recipe
For this easy vegan boerenkoolstamppot recipe we're going to cook the potato, onion and kale all in one pot.
You can cook the kale separately but the whole point of a stamppot is that it's a one pot meal.
Traditionally, the kale's added on top of the potato to cook for 20-25 minutes with the lid on and without stirring.
If you haven't already made the gravy, save the water for making the vegan gravy or keep the water for making a delicious soup the next day.
Mash everything together and add some plant milk and freshly ground black pepper. And a good shake of nutritional yeast goes down pretty well too.
In Holland, stamppot has a lot of butter in it so if you aren't eating WFPBOF (oil free) you can also add some olive oil, or you could toss the kale in olive oil before adding to the potato pan.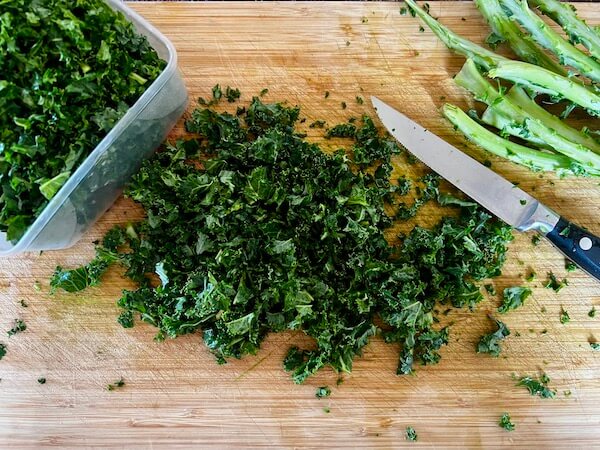 Serve the boerenkool stamppot with some delicious gluten free vegan gravy or mushroom gravy and some chopped up vegan sausage on top.
The sausage gives the dish some bite, so if you don't have any vegan sausages to hand, think of adding something else like cubed air-fried or baked tofu for example.
Dutch Vegan Boerenkool Stamppot Recipe (Potato and Kale Mash)
Course: All Vegan Posts
Cuisine: Dutch, Vegan, Gluten free
Difficulty: Simple
A one-pot winter warmer and traditional meal of the Netherlands
Ingredients
750 g Potatoes chopped

250 g Curly Kale, finely chopped without stems

1 onion diced

1-2 cup plant milk

2 tbs nutritional yeast

salt and pepper

(Optional dash of olive oil)
Directions
Chop the potatoes into quite small pieces and cover with water. Salt to taste.
Dice the onion and add to the potatoes in the pan.
Chop the kale. Remove the tough stems but don't discard them as you can use them the next day in another dish.
Press the vegetables down so that the water covers them and cook for approx 20 minutes or until the potatoes are soft.
Mash well and add the plant milk, nutritional yeast, salt and pepper.
Add a dash of olive oil if you like.
Serve with a vegan sausage and vegan gravy
Notes
The general ratio of potato to kale is 3:1 (by weight)