When you first give up eating dairy, you might be forgiven for thinking that you're going to be butterless for the rest of your life! But this incredible vegan butter can be made in just a few minutes and kept in the fridge just like normal butter.
If you're new to veganism, you might like to check out our guide to starting a vegan lifestyle or read about how to give up dairy.
Making Vegan Butter
All the credit for this incredible vegan butter recipe goes to my mum, who's continually inventing new and exciting meals, as well as vegan essentials like this vegan butter.
This is the closest thing I've had to butter since going vegan, though I haven't bought any vegan shop butter mind you.
And yes, you guessed it – it's easy to make too.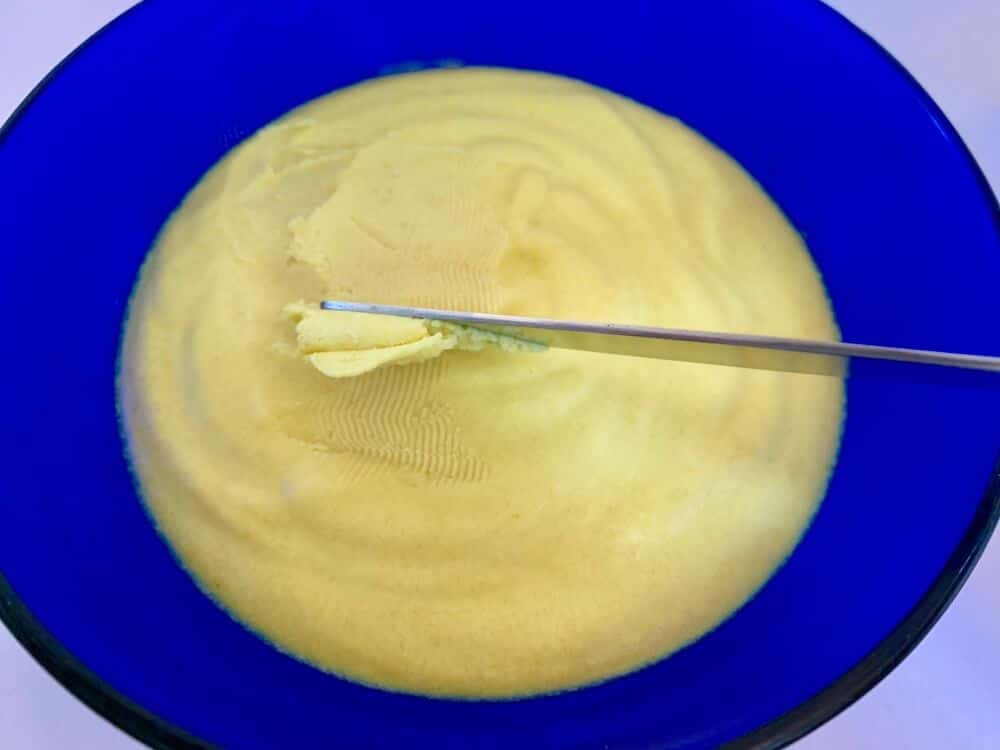 Not difficult. Not at all. This recipe doesn't even need cooking. It just needs putting together.
The only thing you need to do in advance is to soak the cashews so that you can grind them up really smoothly. How long you soak them will depend on your blender, but I soak them for about an hour, using hot water from the kettle.
Then put the drained cashews into your blender, add the olive oil and coconut oil and blend together until it's smooth. Next add coconut milk, apple cider vinegar, turmeric and salt and blend again.
Pour the mixture into a dish and place in the fridge to cool. It will come out just like butter.
When you add the turmeric, add enough to make the colour a nice pale butter-yellow.
Keep the butter in the fridge and it comes out hard to the knife, exactly like its dairy relative, and when it hits hot food, it melts just the same too.
So it's perfect for spreading on toast, stuffing in jacket potatoes, oozing through rice or drizzling over broccoli.
The flavour's different to dairy butter; I prefer this one, but then again, obviously, I'm biased!
Incredible Vegan Butter Recipe
Course: Vegan essentials
Cuisine: Vegan, Gluten free
Difficulty: Simple
This butter is delicious. Just delicious.
Ingredients
2 tbsp cashews, soaked

2 tbsp olive oil

2 tbsp coconut oil

2 tbsp tinned coconut milk

1 tbsp cider vinegar

1/2 tsp turmeric (or until you get the right colour)

Salt to taste (1/4 coffee spoon)
Directions
Soak the cashews for an hour.
Blend the cashews with the olive oil and coconut oil.
Add the rest of the ingredients and blend well.
Taste to check the salt level, but don't expect it to taste perfect just yet. Only check for the balance. The yumminess will come when the mixture has been in the fridge for a while.
Serve with your favourite food and enjoy!
Notes
This butter goes well on bread, toast, rice, potatoes, biscuits . . .