This easy vegan risotto recipe may not be 100% loyal to the traditional way of cooking risotto, but it's delicious. And easy to cook . . . of course.
Risotto's a staple dish from northern Italy, dating back to the 1800's. It's been served to kings and queens throughout the years and become one of Italy's most famous dishes. Just like Spain has its paella and if you visit Holland, you'll find a Dutch version of the Indonesian Nasi Goreng rice dish.
Although it's often served as a starter in Italy, most people tend to think of risotto as a main course.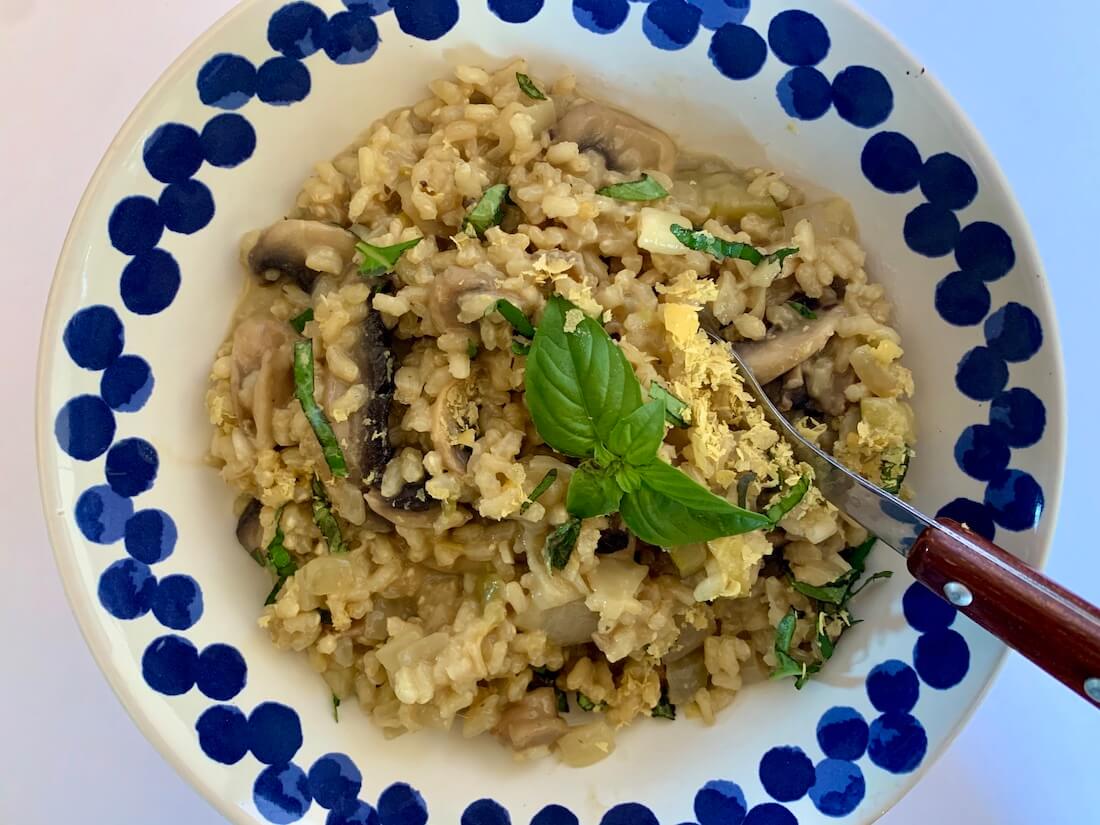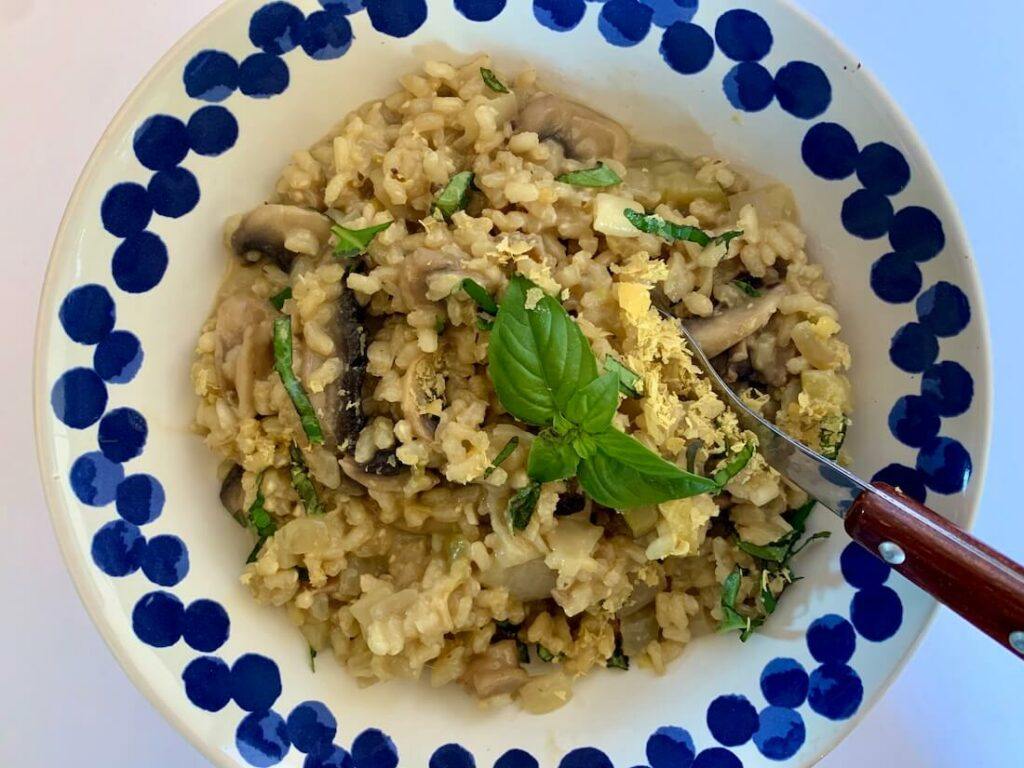 Which Rice to Use for Risotto
The result of your risotto will depend a lot on which rice you use.
You need a round, short-grained, high starch rice for making a creamy risotto, so forget about your basmati or long grained rice you'd use for making a nasi goreng for example, if you want to get the most out of this easy vegan risotto recipe.
In Italy there are lots of types of rice which are sold for making risotto, with different chefs favouring a different type, but if you aren't in Italy, one of the most common risotto rices you'll find is Arborio rice.
As well as Arborio, there are varieties such as Carnaroli, Baldo, Maratelli, Padano, Roma, and Vialone Nano with Carnoroli, Maratelli and Vialone Nano being the most sought after and expensive rice for making Italian risotto.
Make your vegan risotto using Arborio rice or another short-grained starchy rice, which may or may not be labelled as risotto rice and it'll be fine.
Naturally, all rules can be broken! And in the image above, I used a brown rice (short grain) because it's all I had in my cupboard other than long grain varieties. But of course, it won't be as good as when cooked with a proper risotto rice.
Risotto gets its creaminess from the constant stirring which releases the starch from within the grain (as opposed to cooking paella, where you leave the rice completely alone with no stirring so that it can maintain each individual grain shape).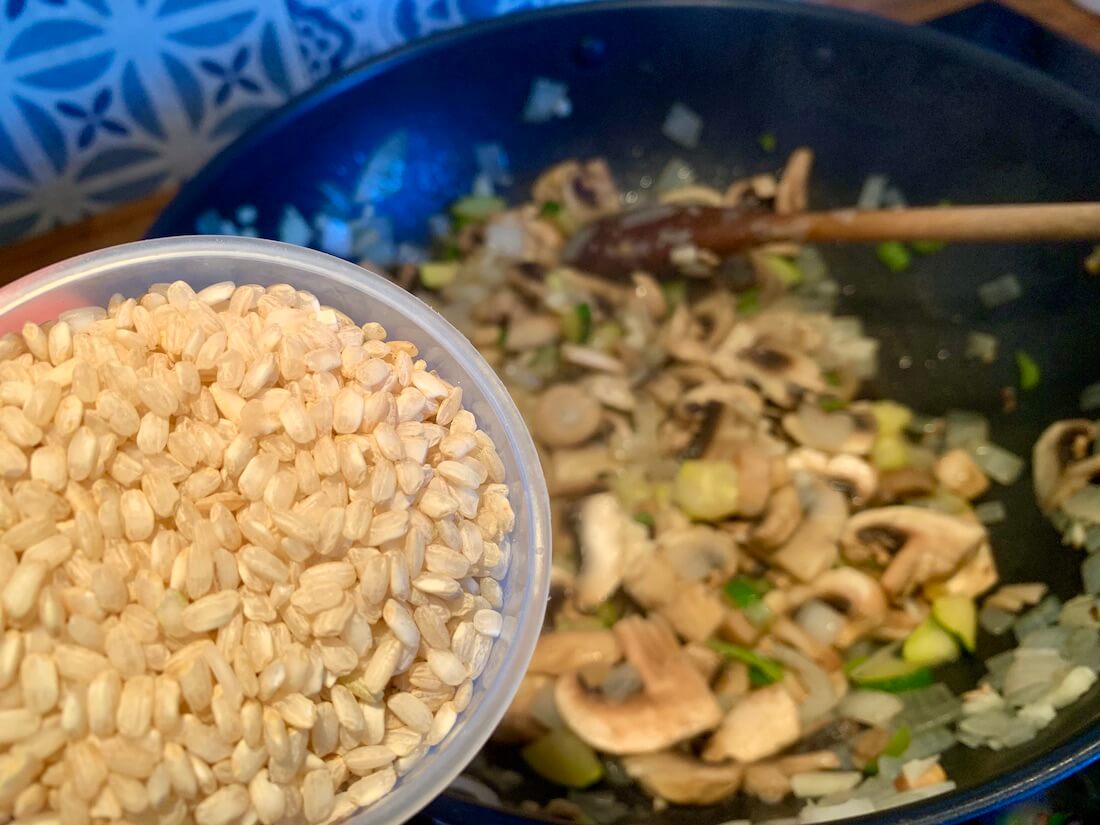 Stirring the Risotto
Traditionally, risotto needs stirring all the time while it's cooking. The more it's stirred, the creamier and tastier it gets. With an easy version of risotto, it's a matter of choice how much you stir or not. I admit that there's no doubt that the best way to make a risotto is to stir it continually without stopping.
But I'll also confess that because I like low-hassle, I don't stir my risotto all the time. Gasp.
But I do occasionally give it a few minutes stirring when I'm checking how it's getting on. (I know, it's not allowed to confess to such bad behaviour! Go ahead and stir away if you want the best results.)
Types of Vegan Risotto Recipes
Probably one of the most famous risotto dishes is mushroom risotto. And even then, there's loads of variations of mushrooms that can be used (Italians love using all sorts of varieties of mushrooms in cooking, from porcini to truffles).
But you can also make a decent mushroom risotto using the basic champignon white mushrooms.
For a vegetable risotto you can use whatever veggies you have to hand, with common ingredients including celery, carrots, peppers & peas.
Other vegan friendly risottos include tomato risotto, pumpkin risotto, asparagus risotto (yummmm . . .) or why not invent something new with whatever else takes your fancy!
All risottos start off with onion and garlic and in fact, a plain risotto can just cooked in the onion and garlic and stock.
7 Steps to Making a Perfect Vegan Risotto
One of the things you'll need for making a delicious vegan risotto is patience! The basis of making a tasty risotto, depends on just a few things:
Using the right kind of rice (Arborio or other risotto rice).
Gently frying an onion and garlic until fragrant.
Adding the rice to the onion and garlic and cooking for a couple of minutes in the olive oil.
Adding half a glass of white or red (red wine will turn your risotto dark in colour) to the rice & onion mix and allowing it to cook for a few minutes until the wine has been absorbed.
Using a delicious vegetable stock, though you can also make it also with plain water.
Adding the water or stock to the rice bit by bit while stirring it into the rice and letting the rice absorb the liquid before adding more.
Optionally, adding a big blob of vegan butter at the end.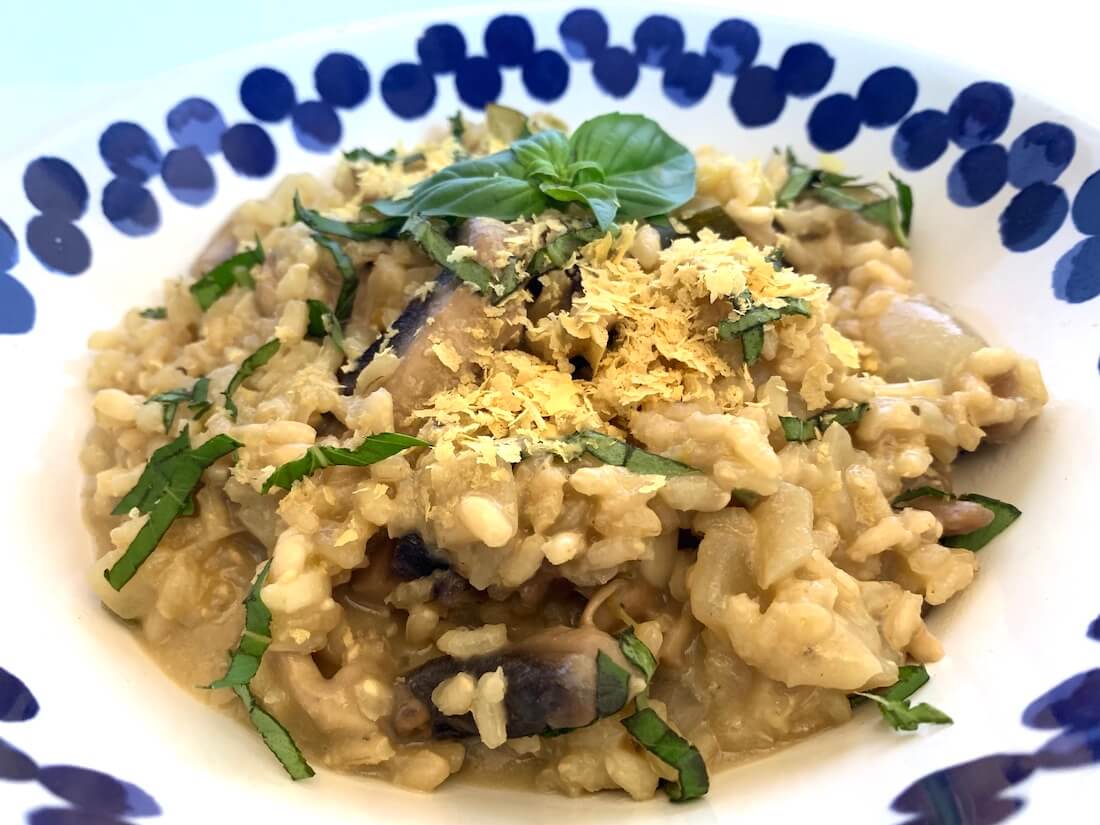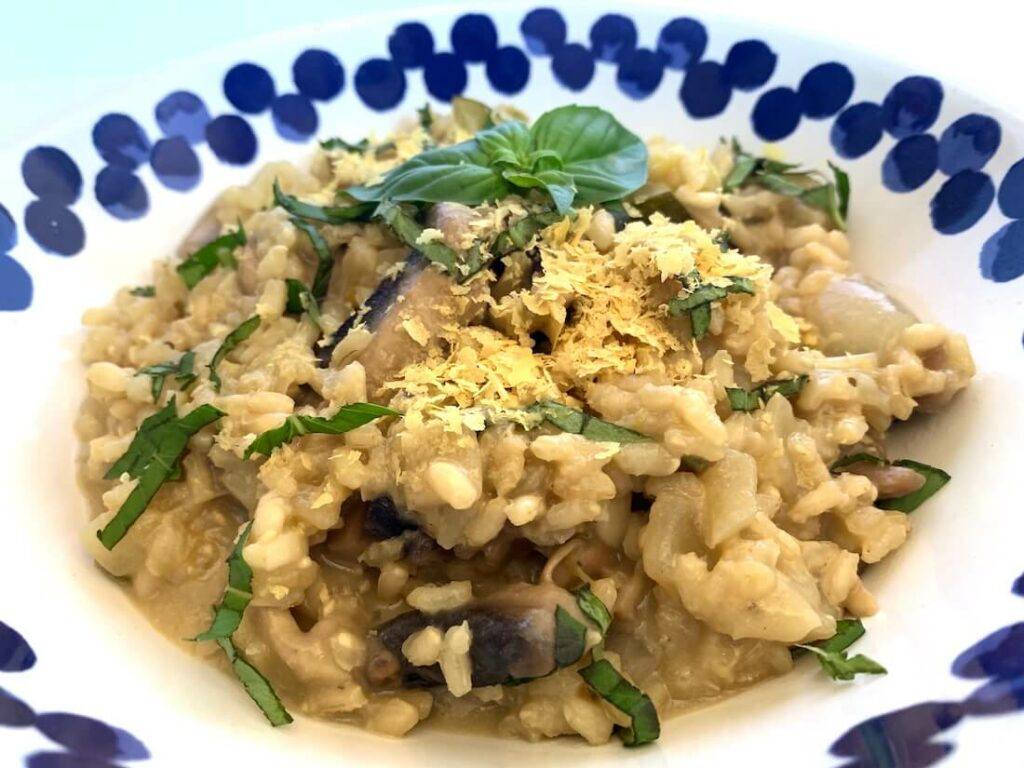 Beyond these 7 steps, there are variations of course. You can add more veggies to the pot or you can leave out the wine, but I like the tang it gives to the finished risotto.
Be careful not to get over enthusiastic with the wine as it can spoil the end flavour if you put in too much.
Making a Vegan Vegetable Risotto
The steps for making a vegetable risotto are the same as above.
First you gently fry an onion and garlic in olive oil. After a couple of minutes, add any hard veggies, like leek (yum I love leek in risotto), carrots, pumpkin or peppers.
Next add the rice and cook for a few minutes to seal it in the olive oil, followed by the red or white wine. When the wine has been absorbed, start adding the hot vegetable stock, bit by bit to the risotto.
It's during this stage that you add the peas if using, so they can cook in the liquid along with the rice.
At the end, when the rice is cooked but still with a bite to it (al dente), stir in some nutritional yeast and vegan butter if you have some.
Serve with freshly chopped parsley or basil leaves for decoration.
Easy Vegan Risotto Recipe
Course: Main course
Cuisine: Italian, Vegan, Gluten free
Difficulty: Easy
With this delicious creamy risotto you would be forgiven for thinking there were cream in the recipe but not at all, the creaminess comes from the rice itself.
Ingredients for a mushroom vegetable risotto
2 cups Arborio rice or other round grain rice

1 onion

3 cloves garlic

4-5 large mushrooms

Vegetables of choice (pepper, leek, carrot etc)

Vegetable stock

Nutritional yeast

Salt & pepper

Olive oil for cooking the onion

Vegan butter (optional)
Directions
Chop the onion and gently fry in a little olive oil with the finely chopped garlic and a little salt.
If using hard veggies like carrots or peppers, add them to the pan at this stage.
Next add the chopped mushrooms and cook until they start looking reduced in size and cooked.
Add the rice to the pan and stir. Leave to toast in the oil for a couple of minutes.
Pour in half a glass of red or white wine and stir. Cook for 3 minutes or until the wine has been absorbed by the rice.
Heat the stock (or use hot water from the kettle) and add it by the ladle full, one at a time, stirring the rice until the liquid has been absorbed.
If you don't want to stir the rice continually and are looking for a way to simplify, simply add two ladle fulls, stir the rice, leave for a few minutes and then come back to check on it and give it a few stirrings every so often.
Keep adding the liquid until the rice is al-dente to the tooth and in a creamy kind of sauce.
Turn off the heat and add a few blobs of vegan butter (optional) and nutritional yeast to the pan.
Serve with nutritional yeast and chopped fresh parsley on top.
Notes
Too much wine can spoil the taste of this delicious risotto dish!
How to Use Risotto for Three Days of Tasty Food Variations
I love to make too much food so that I can have leftovers the next day. Sometimes I'll just eat the food exactly the same as on day one, but quite often I'll adapt it to create a different feast and risotto is perfect for doing that!
Day 1: Mushroom Risotto
Make a mushroom risotto following the recipe above and serve that on day one!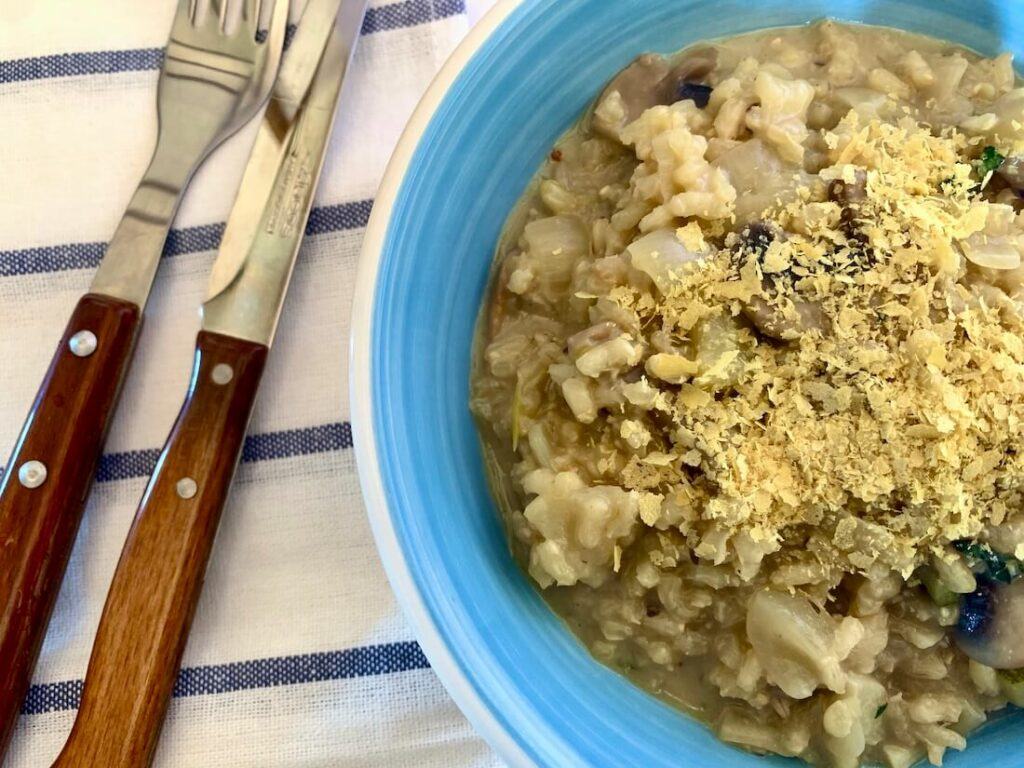 Day 2: Vegan Risotto with Tomato
The next day, add a ton of chopped tomatoes to your risotto and if necessary, some more liquid too. You can also add some tinned sweetcorn or peas to the dish. Taste to check the flavour and remember you can always add a dash of soy sauce to spruce it up if necessary.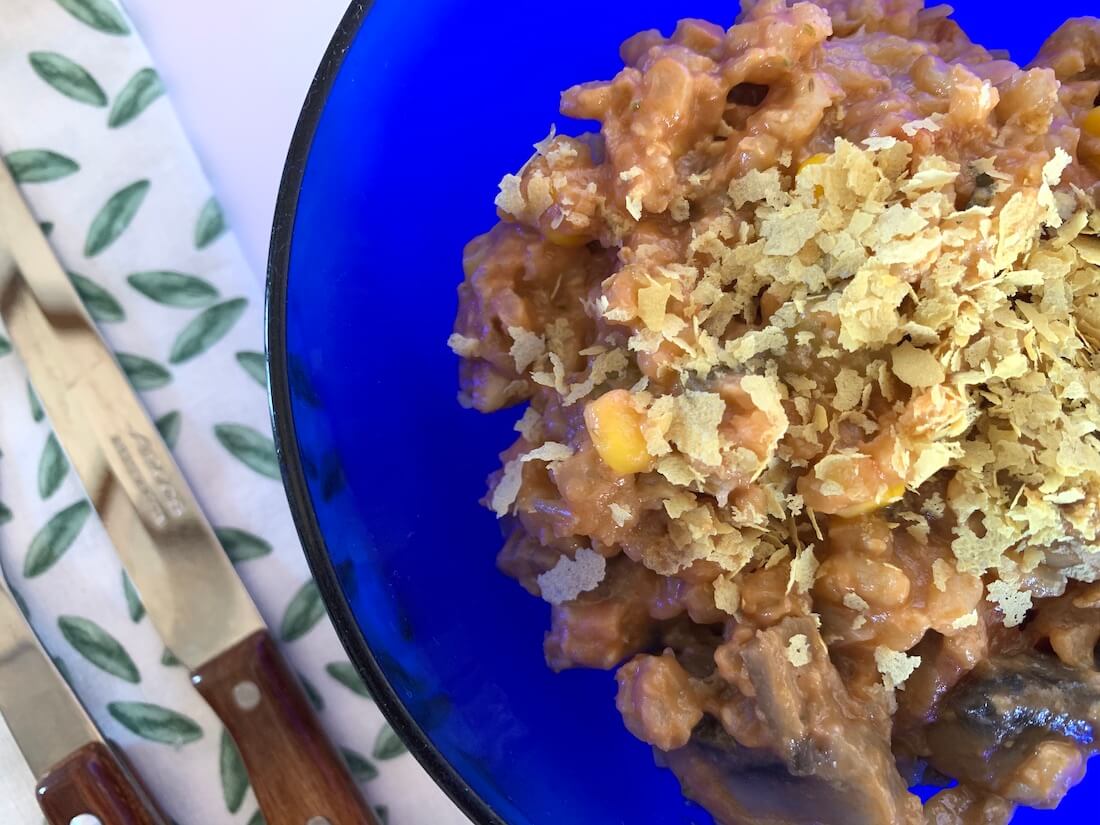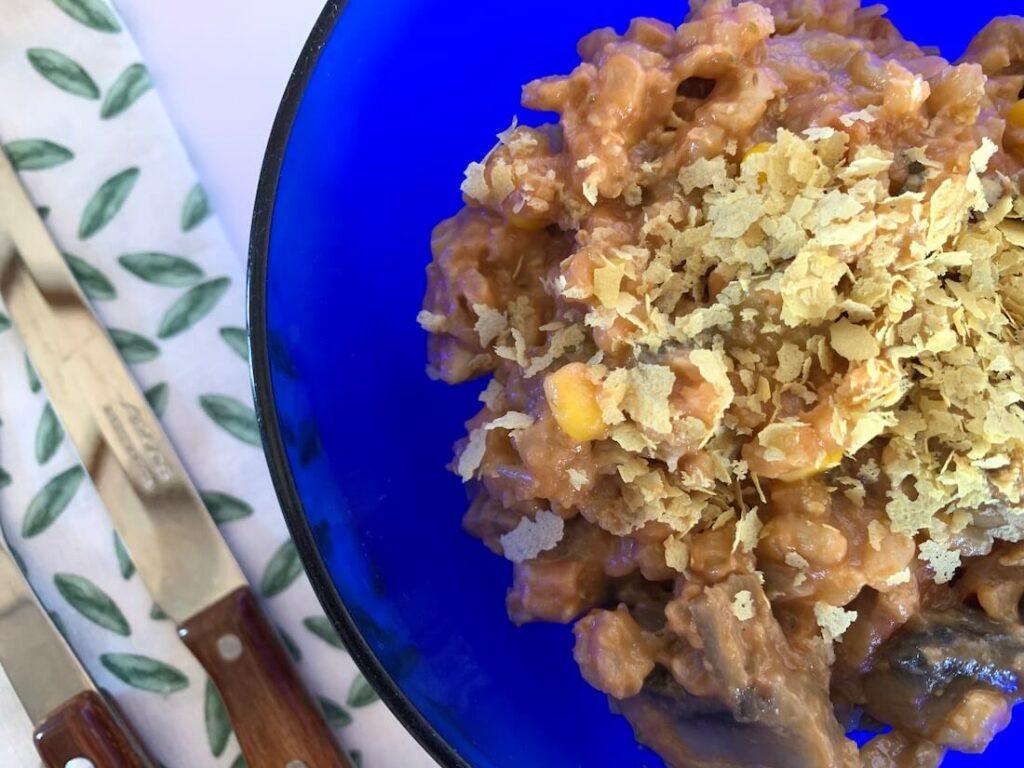 Day 3: Risotto Stuffed Peppers
Take some yummy green peppers and remove the tops. Clean out the insides of any seeds. The best peppers are the bell peppers, but I also use the Italian peppers because I have them growing in the garden.
If using the long peppers, take a knife and slice into one side of the pepper lengthwise so that it's easier to stuff. With the bell peppers, just use a teaspoon to spoon the risotto directly into the pepper.
Lay the stuffed peppers in a baking tray and cover with some yummy homemade tomato sauce. Bake in the oven at 190ºc for about 30 minutes or until cooked.
The cooking time will vary according to your peppers so be sure to keep an eye on them and not let them burn!
Serve with a sauce of your choice and you're done!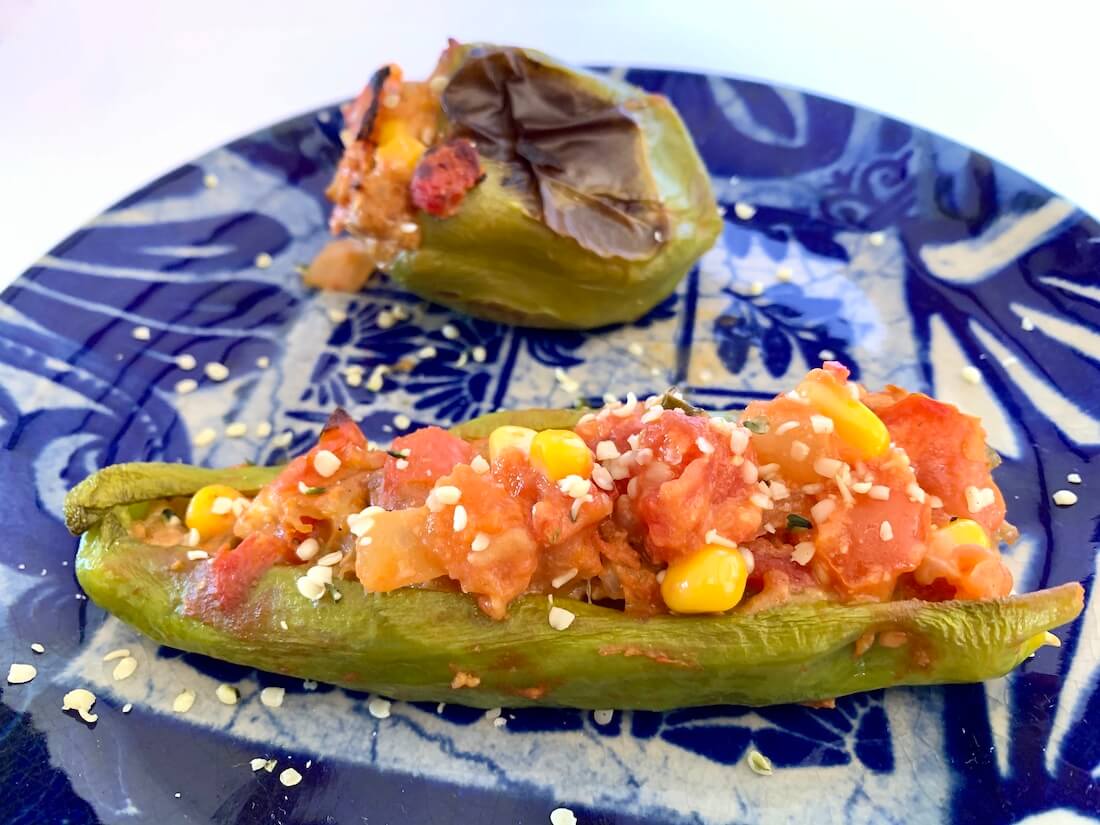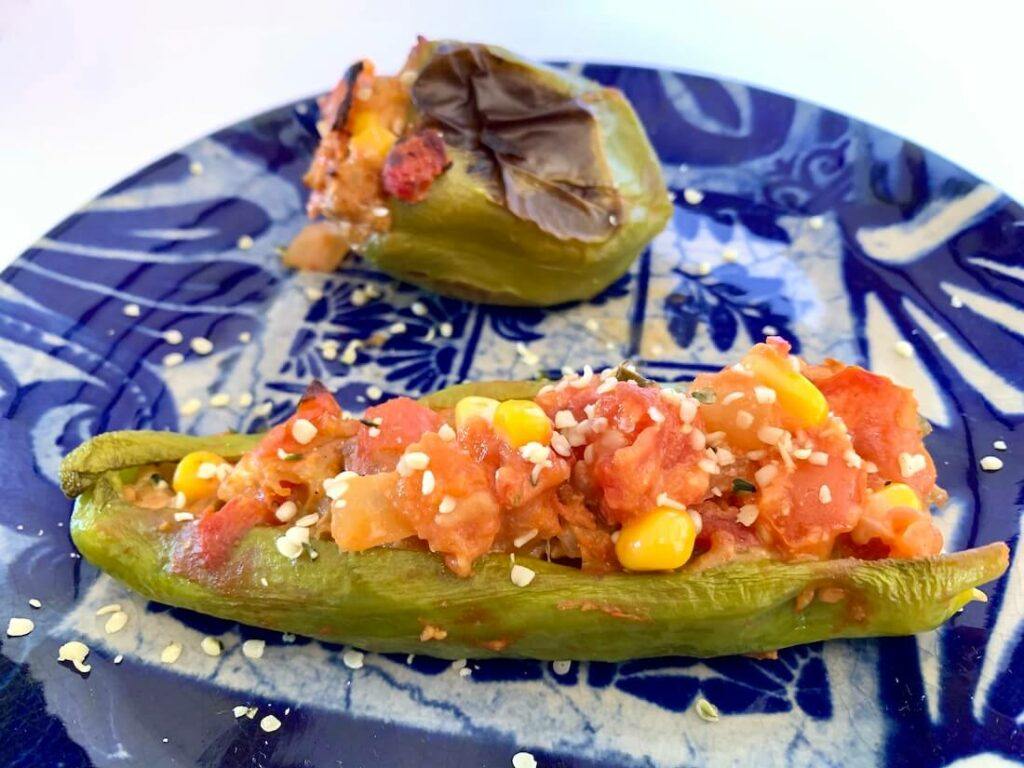 I hope you enjoyed this recipe. If you make this risotto let me know how you get one! And if you tag me on Instagram @loveveganliving I will share your post.