Hello and welcome to my gluten free vegan recipes!
I'm so excited that you're here. I hope that by browsing this site you'll be inspired by some of our gluten free vegan cooking recipes, many of which can be adapted for oil free cooking too.
The gluten free vegan recipes on Love Vegan Living aren't intended to be followed exactly to the letter every time you make them, but rather to be a point of inspiration, creating the spark from which the fire can grow.
If you're looking to embrace a more plant-based way of life, or, if you're just looking for a little extra inspiration, I hope you'll find this site packed full of value.
What My Gluten Free Vegan Recipes on Love Vegan Living, Aren't . . .
All the recipes on this site are shared in the hope that they bring inspiration and ideas – not that they should be fixed in stone or followed precisely.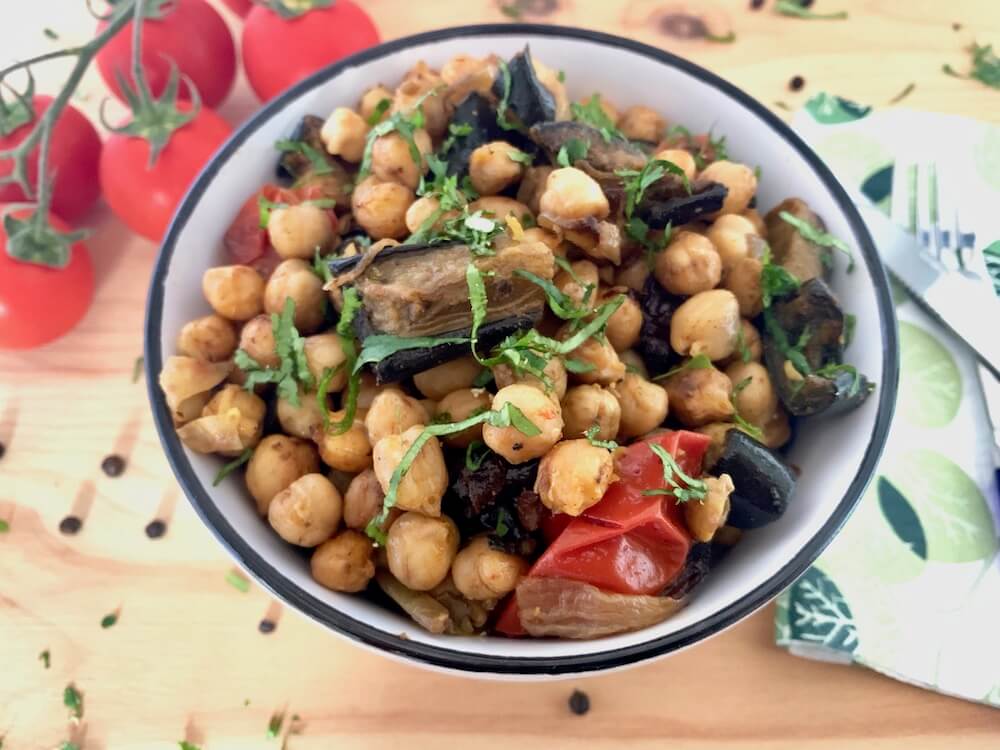 If you want to learn to break free from always having to follow a recipe, weighing out the ingredients, counting calories, putting a timer on to check the cooking times, using the exact same ingredients as the recipe, then this site probably isn't for you.
I mean, it's fine to start like that, but the ultimate goal of Love Vegan Living is to help you to create your meals effortlessly.
So if you ultimately want to be able to create meals from whatever you've got in the cupboard/fridge at the time you're cooking, and you're happy to start off with one idea and allow your cooking to take you along to another, then this is the place for you.
I want to help you to discover the freedom to rustle up a balanced meal, using only whole ingredients and with a minimum of effort.
Even when there's almost nothing left in the cupboard you can always rustle up a feast, like this onion soup pictured below.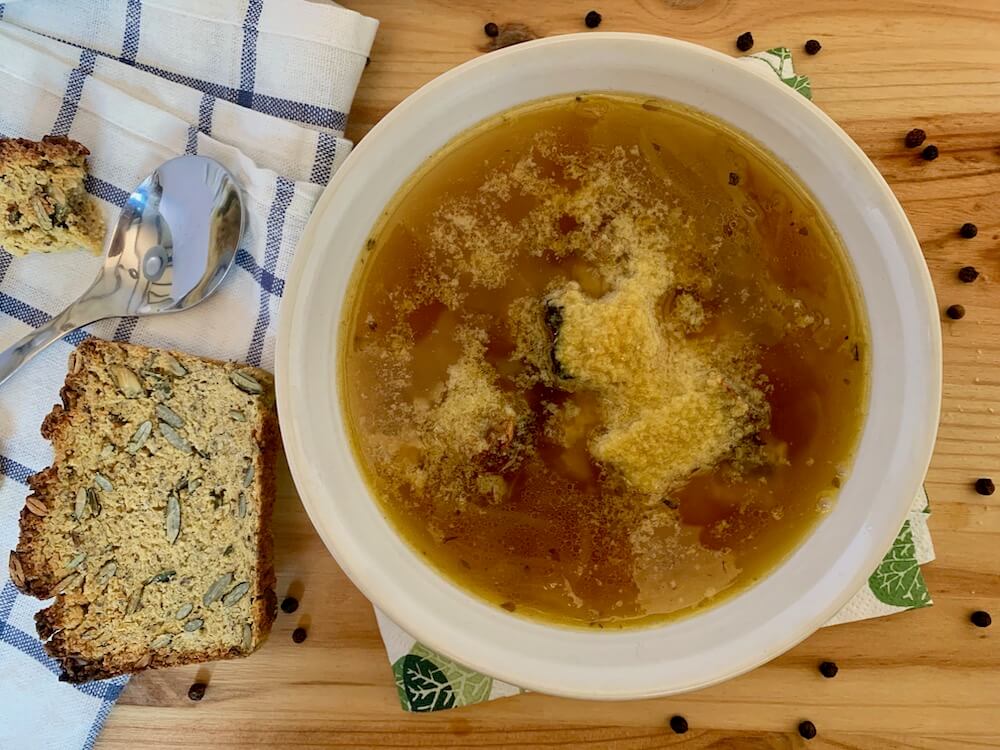 Why Aren't There Any Calories Listed on My Recipes?
You may have noticed that none of the recipes on this site have calories.
This isn't an accident (even though Google would prefer the site if it had the calories listed).
I'm not knocking calorie counting for you if you already do it (and like it), as I believe everyone must follow their own path.
And despite not being a fan of calorie counting, there are some situations when you might want to count calories even on a whole food diet (see section below).
But it's not something I do or recommend that you should do once you start eating a healthy, balanced, whole food, vegan diet.
Instead of counting calories, think about the quality of the food you're eating rather than the quantity. Everything you eat should be nutritious and contribute towards your health.
This may not happen overnight of course, and remember that any changes take time, so don't try to jump 5 steps from where you are.
Instead take 1 step in the right direction and congratulate yourself on that step. Get comfortable with that change before you take on another one.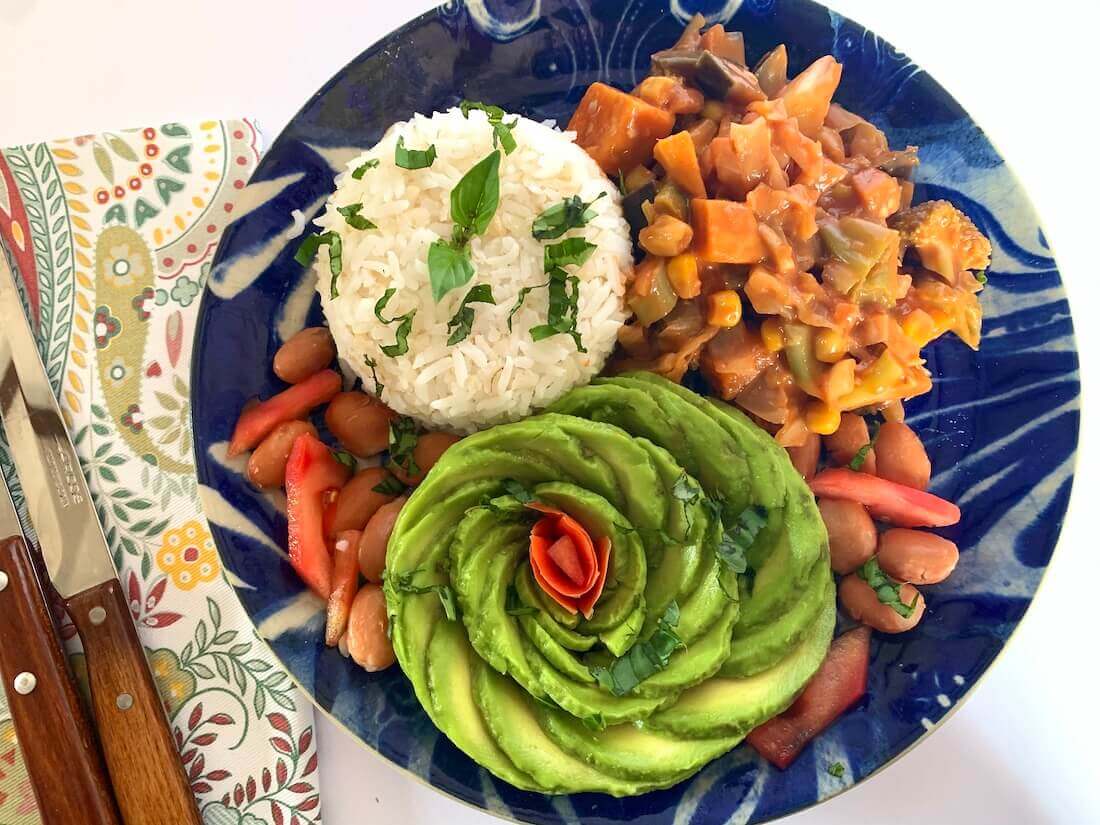 I know you might say that some people need to count calories because otherwise they eat too much, but if they change their lifestyle bit by bit, eradicating the refined sugars, deep fried foods, refined carbohydrates etc. they will also find their eating habits changing.
Sugar Leads to Cravings
Eating sugar leads to sugar cravings. And there are many foods like that, which can create a false hunger. When you cut processed foods, refined carbs and sweet things out of your diet, not only will your taste buds change (even a plain tomato can taste sooo sweet), but also your hunger levels.
And if you feel you should be counting calories, one very big step to reducing your calorie count is to adopt oil free cooking. I've recently decided to explore this way of cooking more, as part of my 5 steps to beat menopause naturally and drop my excess belly fat which no doubt started coming ages ago but to me, appears to have landed overnight during menopause!
As a result of my experimenting, I've added lots of oil free alternatives to many of the recipes on this site. And since I first wrote this page, I've found that I love this way of eating so much, that I now eat oil free all the time.
Take a look at this easy guide to whole foods plant based diet for more information.
By making a single change, step by step you move towards a healthier lifestyle.
If you're new to a vegan lifestyle, be sure to check out this guide to starting a vegan lifestyle.
When is it Useful to Count Calories?
If you're new to eating vegan food, you might not be very aware of the value of different foods, and calories can form a part of the whole picture and education to help you to learn about different foods.
It can be especially interesting to compare the nutrient value of a certain food using calories as a guide (thanks to the WFPB diet for this method of measuring).
So, instead of taking 100 gr of food and comparing the nutrients, you take 100 calories of different foods and compare the nutrients. This give you a much more useful and practical way to understand the nutrient value of any given food.
Also, if you become vegan and only eat very low calorie foods, like just simple salads, without being aware of the nutritional content, you could end up losing weight when that isn't your objective or even healthy for you.
So calories have their place and it's important to have a general understanding of different foods and the roles they play in your nutritional profile, and that includes calories.
Conclusion: calories are an important part of information about any given food, but it isn't necessary to obsess over them and it's far more productive to learn how to eat a healthy balanced diet than to just count the calories.
Why Gluten Free?
All the recipes on Love Vegan Living are gluten free. Gluten is in almost everything these days, from bread to salad dressings, spice blends to snacks.
Gluten is a protein which is very difficult for the human digestive system to digest, regardless of whether you're intolerant or not. In my case, I was lucky enough to develop an intolerance, which led me to remove gluten from my diet.
Now, in hindsight, I'm very glad of that change, because I wouldn't want to feed my body with gluten left, right and centre anyway, given how difficult it is to digest.
It was years ago now, and I became extremely intolerant to gluten, to the point where I have been my most sick ever in my life, from gluten contamination. Since having that experience so many times, my view to gluten, has naturally changed and I've become more informed on the story of gluten.
Even if I could, I wouldn't want to eat it again. And you may think that gluten is ok for you because you're not intolerant, but with gluten intolerance on the rise so dramatically we should be asking ourselves whether this is something you want to eat so much of anyway.
I mean they add it to absolutely everything. Even ice-cream can have gluten added to it.
If you've recently found out that you're intolerant to gluten, I've written this guide to help you transition to a gluten free lifestyle.
If you don't have a problem with gluten, and you want to use normal flour, feel free to substitute the gram/chickpea flour (for example) for regular wheat flour. In some recipes, the wheat flour might taste better whereas in others, the gram flour is the best choice.
For example, for making burgers or vegan balls, I would choose the gram/chickpea flour over wheat flour any day. It's that gram flour that gives the dish its characteristics and flavour. Yet for a pizza base, using wheat flour could make your life easier.
Ultimately, the choice of whether or not to include gluten in your diet has to come from you.
And you already know my answer because to me it looks like poison! But more on that in another post!
Improving My Gluten Free Vegan Recipes
I hope that the recipes shared here will help to inspire you with a new way of eating, or bring you a new dish or maybe introduce you to new ingredients, or whatever.
But of course there might be things that don't turn out the way you would like.
If you follow one of my recipes and are not happy with the results, please share your feedback with me so that I can continually improve my recipes.
And finally, thanks for stopping by!
Enjoy your cooking!
And don't forget to hook up on Instagram @loveveganliving !