It's so easy to cooking in the air fryer.
It's life changing.
Just throw together a nutritious scrumptious vegan meal without oil, all in 15 minutes.
Since I got my air fryer my cooking style has changed. I use it all the time.
I've fallen in love, and food's never been easier or quicker to prepare.
Making the switch can be a bit challenging just because the concept of which meals you can actually cook in it.
For example, it's easy to use the air fryer for making a side dish of sweet potato for example, without any change to your mindset, but to switch to complete meals from the air fryer, that can be a take a little while.
Since I originally wrote this post, I've become completely into a whole food plants based diet, which eliminates processed oil from the kitchen.
So the air fryer's a dream.
Given that I was a total fan of olive oil, it's pretty surprising how completely blown away I am with this way of cooking.
You can eat air fried vegetables in their own right, or you can also cook them in the air fryer and then use them in other dishes, such as a delicious vegan lasagne for example.
Table of Contents
Advantages of Cooking in an Air Fryer
You can choose between no oil at all or adding a small spoon full over the veggies. I cook everything in the air fryer completely oil free and for me it works perfectly. That means a much healthier meal and, if you count calories, a much lower calorie meal.
Oil is best when eaten raw, so in the situation that you add oil after the cooking stage (like in a mediterranean vegetable salad for example), you're still on a winning combination.
Cooking becomes simplified. You just put the food in, turn on the air fryer and walk away. No hassle.
Less washing up. Yes seriously, this is a consideration! When I make a traditional stir fry, I make much more mess than when I cook an oil free stir fry in the air fryer.
Taste explosion – our taste buds change according to what we eat. When you switch to eating primary ingredients without lots of additives, your taste buds become more acute and even the most simplest of flavours explode in your mouth, making plain veggies super tasty.
Disadvantages of Using an Air Fryer
Making the switch: if you're anything like me, you've got some favourite, elaborate recipes which you love to cook. Suddenly the air fryer is seemingly redundant because it can't cook all those favourites. You think it would mean the end of making lasagne, juicy filled wraps filled with tomato sauce or gooey cauliflower cheese. But you would be wrong! You can still make those things, just using a different process, which I will talk about later on in this post.
Other people may find the food strange. It depends on whether your guests are open minded about food, but if they're really traditional and not particularly into vegetables (and not vegetarian or vegan), it can be harder to think of serving up a dinner party using the air fryer. The solution? Use the air fryer for YOU and don't worry about the dinner parties. You can always go back to regular cooking if you're under pressure to produce something specific for your non-vegan guests. But when you've spent long enough honing your air fryer skills, well then your guests will also get to love the food you create.
You still need to make your sauces in a saucepan but this can actually be an advantage rather than a disadvantage because you can batch make a large quantity of sauce and freeze it or keep some in the fridge for the next day to mix with your air fried vegetables (or whatever you're making).
Obviously there are some things which won't be suitable for cooking in an air fryer. Lentils, beans, oil-free tomato sauce are examples to name just a few.
It's not really a disadvantage, but I should point out that the air fryer is an additional tool, so don't expect it to do everything.
But What Can I Cook in My Air Fryer?
So, this is a question I get asked a lot. The truth is, cooking in an air fryer is about changing the way you think about your food and your meal prep. You don't need to cook and actual recipe to create a delicious meal, instead learn how to cook without recipes.
When you adjust, you'll be taking the veggies you want to eat and popping them in to cook, instead of standing over a pan with a multitude of ingredients and additional flavours.
An air fryer lets you eat the food as it is, with all its natural flavour.
And if you want to add a little extra, well then you can. But it isn't mandatory, and suddenly you begin to enjoy the straight flavours instead of the complex blends.
Here are some suggestions of things you can cook directly in your air fryer:
yummy tofu, ranging from soft and juicy to brown and crispy, depending on the recipe requirements
tempeh
stir fried vegetables (air fried vegetables!)
spicy chick peas (from pre-cooked)
stuffed mushrooms
warm or cold zucchini, eggplant and onion salad – inspired from a salad I had in Bordeaux in France
eggplant and tomato salad inspired from Italy
broccoli spears
cauliflower florets or cauliflower 'buffalo wings'
fried cabbage
hot avocado
'fried' onion rings
eggplant slices
zucchini slices
oil free potato chips or wedges
sweet potato rounds o chips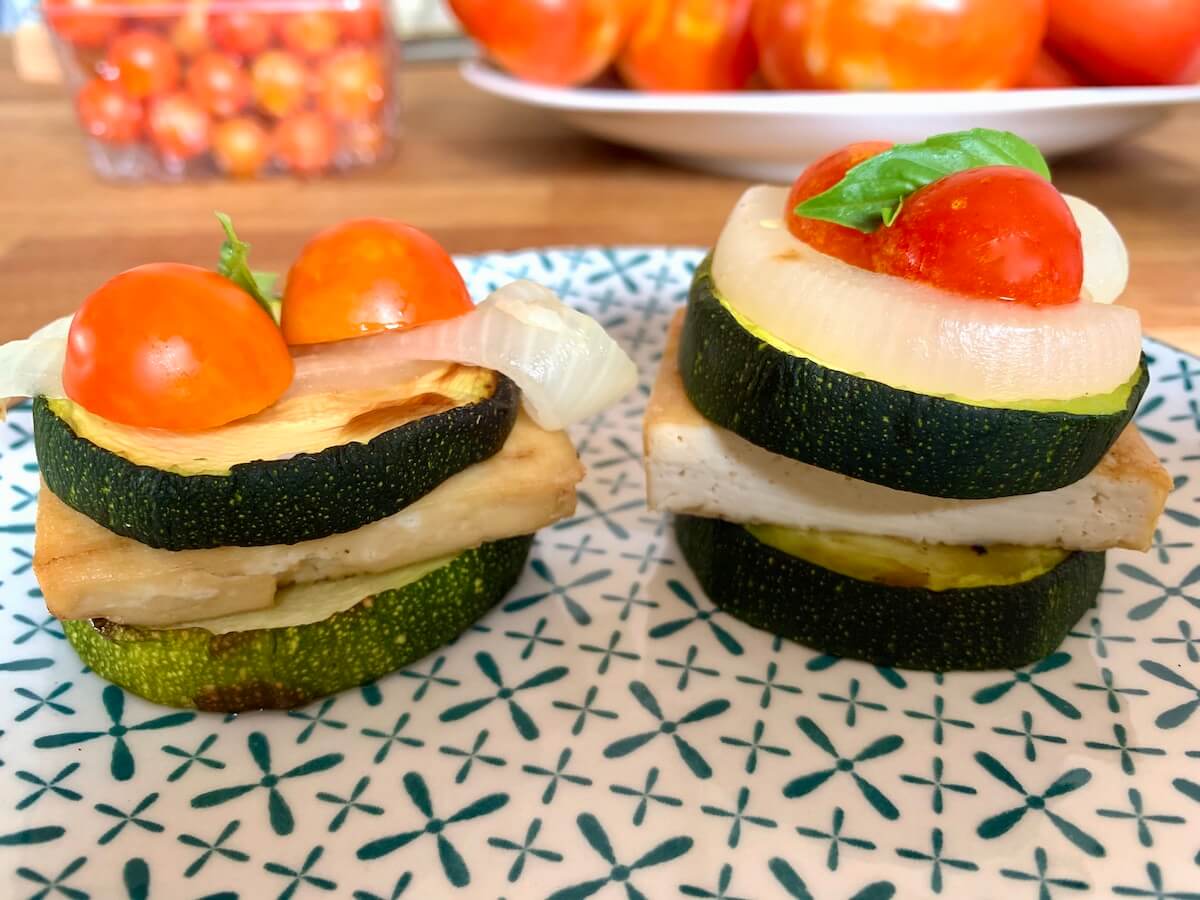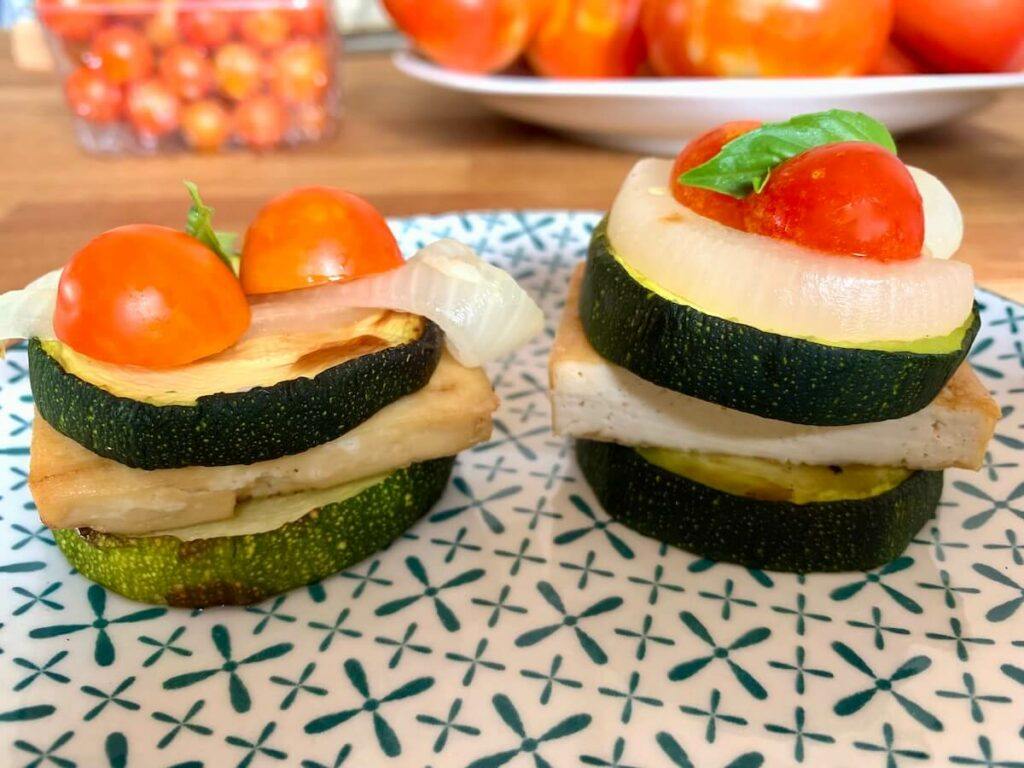 How to Cook Saucy Meals Using an Air fryer
If you want to make a vegan vegetable lasagne, you can make a part of the recipe in the air fryer but you will still need to do the other stages in the traditional way. So, you cook the vegetables in the air fryer and mix them with a pre-prepared tomato sauce or oil-free tomato sauce, then make the vegan cheese sauce in a saucepan (or use a cashew sauce) before layering your lasagne in the usual way and cooking in the traditional oven.
For cauliflower cheese, cook the cauliflower and onion in the air fryer, then mix with your cheese sauce and bake it off in the oven.
Similarly, for vegetable wraps you can cook the veggies and tofu in the air fryer and then mix with a tomato sauce before filling the wraps.
5 Tasty Vegan Meals for Cooking in an Air Fryer (With or without Oil)
Actually the options are endless, because once you get the hang of it, you'll end up eating whatever you have fresh in the fridge, and putting it together in the air fryer to make a scrumptious, nutritious, oil free meal.
You can always add oil as a dressing, if oil isn't off limits for you, and extra virgin olive oil is much healthier eaten raw than when cooked.
Or, if you don't mind eating cooked oil, all these recipes can be adapted to be low-oil instead of no-oil by coating the vegetables in a tbs of olive oil before cooking (as per the advertised way of cooking in an air fryer), but I prefer to cook with absolutely no oil at all, and I find no loss in flavour, though it does change the appearance a little bit – but for me, it's all for the better.
1. Cooked Mediterranean Salad in the Air Fryer
I had a plate of this when I was visiting Bordeaux in France, and it was so tasty that I decided to make my own version. You can read about the pre-air-fryer version (shown below) here.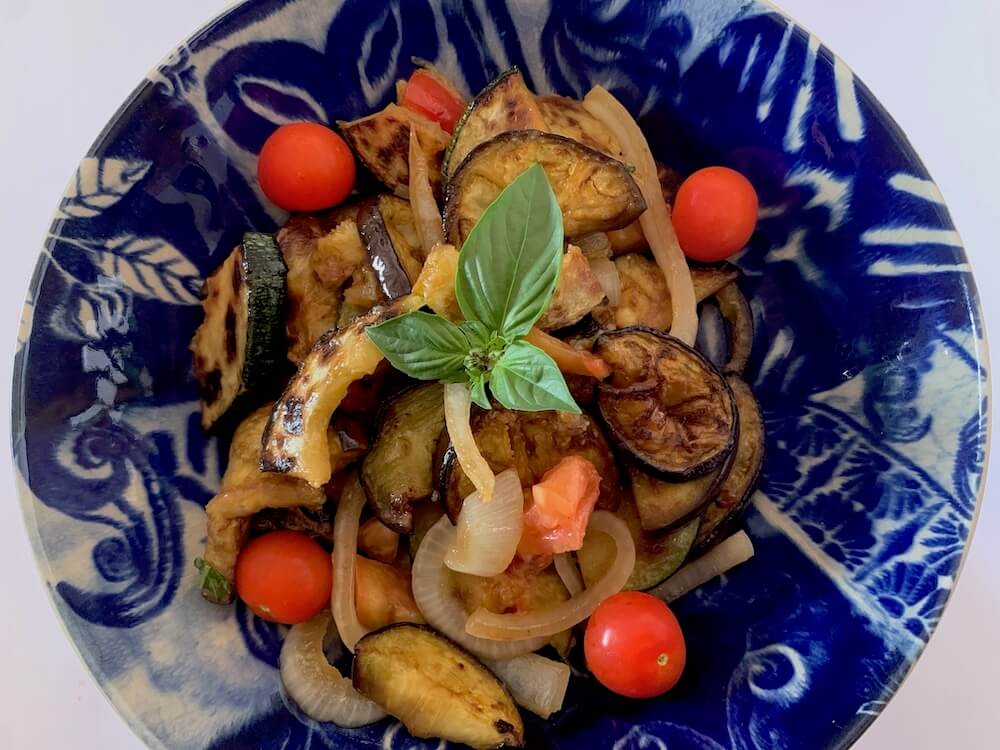 But this air fryer version is even simpler to make and just as delicious to eat.
Ingredients:
1 large zucchini
1 eggplant
1 Spanish onion
cherry tomatoes and fresh basil to garnish
Slice all the ingredients into rings or half-rings, depending on how fat they are and personal preference. Place into the air fryer and cook for 15 minutes, turning half way through.
Test the vegetables after 15 minutes and if cooked, leave to stand in the closed air fryer for a further 5 minutes.
Pour into a salad bowl and add a dressing of your choice.
I like to use a dash of olive oil (it's raw so I don't mind that) and a touch of balsamic vinegar along with some fresh chopped basil.
Sometimes I just like to eat it without the oil but with chopped tomatoes instead.
Leave the salad to marinate in the dressing before serving.
This can be served oil free if preferred or even dressing free.
Instead of the dressing, chop up some fresh garden tomatoes and add them to the salad with a dash of balsamic and a dash of gluten free soy sauce before leaving to stand.
2. Tofu, Sweet Potato and Zucchini Snack in the Air Fryer
This snack is often what I'll eat for my lunch, it's so easy.
Simply cut up the sweet potato into cubes or rounds (I like to leave the skin on but if you don't like the skin you can peel them first), slice the zucchini (or substitute with eggplant or onion) and place into the air fryer for 15 minutes along with the cubed tofu.
Shake the basket half way through cooking and check the veggies are properly cooked after 15 mins, setting the timer for a further 5 minutes if they aren't properly cooked yet.
Serve with tahini and sweet chilli sauce for a moorish treat that will get your taste buds going!
3. Tasty Potato Wedges with Dipping Sauce
Choose between normal potatoes or sweet potatoes.
I prefer sweet potatoes but the recipe works the same for both varieties.
Simply cut the potatoes into wedges, rinse under and pat dry just to remove the excess water, then roll in a little cumin and chilli and dried herbs and cook in the air fryer for 15 minutes, turning once in the middle of cooking.
After 15 minutes, give the pan a shake and return to the air fryer to finish off for another 5-10 minutes depending on the size of your potato chunks and the desired amount of crispiness.
Serve with a side of tahini with sweet chilli sauce or alternatively choose one of these esssential plant based sauce recipes.
4. Bami Goreng Inspired Noodles (My Version) for Cooking in an Air Fryer
This is an adaptation of an adaptation! My original noodle recipe was loosely inspired by Bami Goreng, but not intended to be a faithful representation of the authentic Indonesian dish. (You can see my original recipe pictured below and described here.)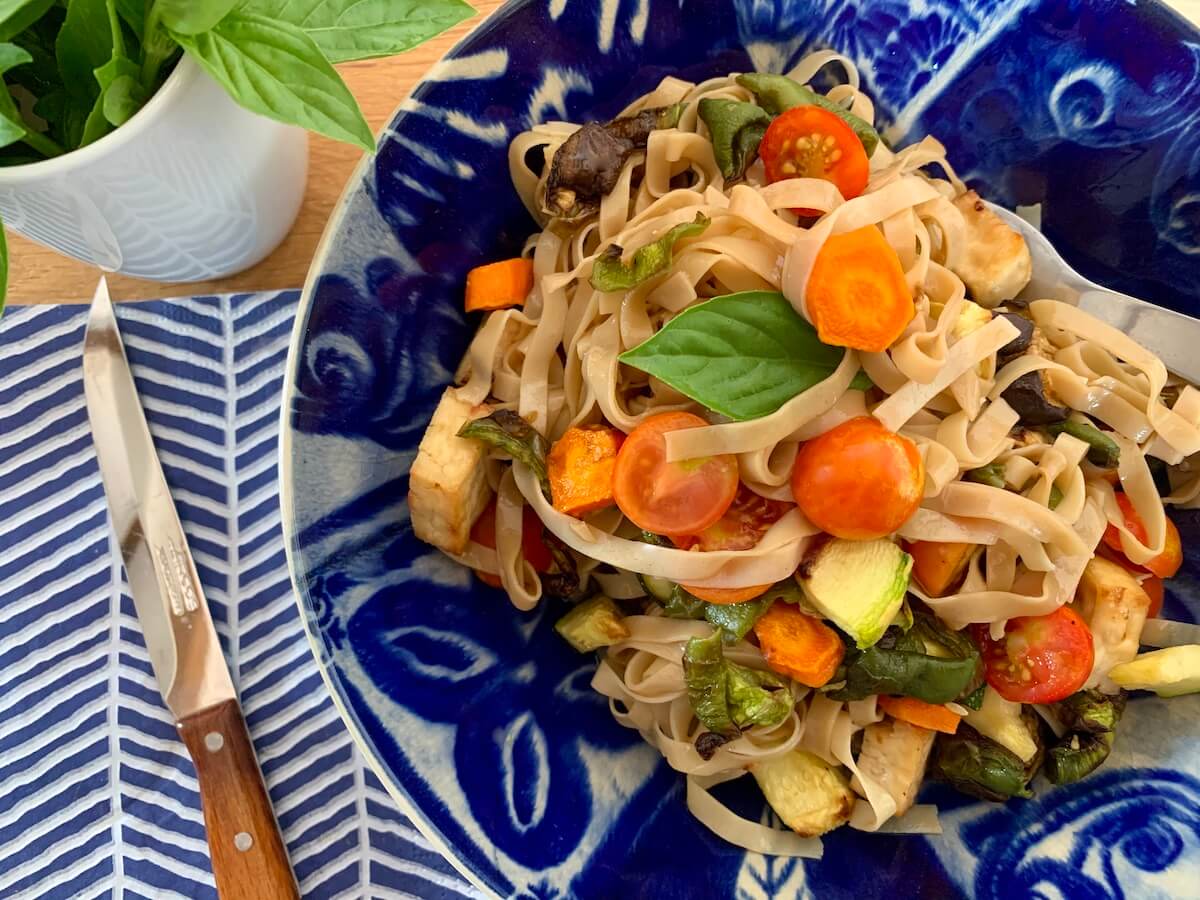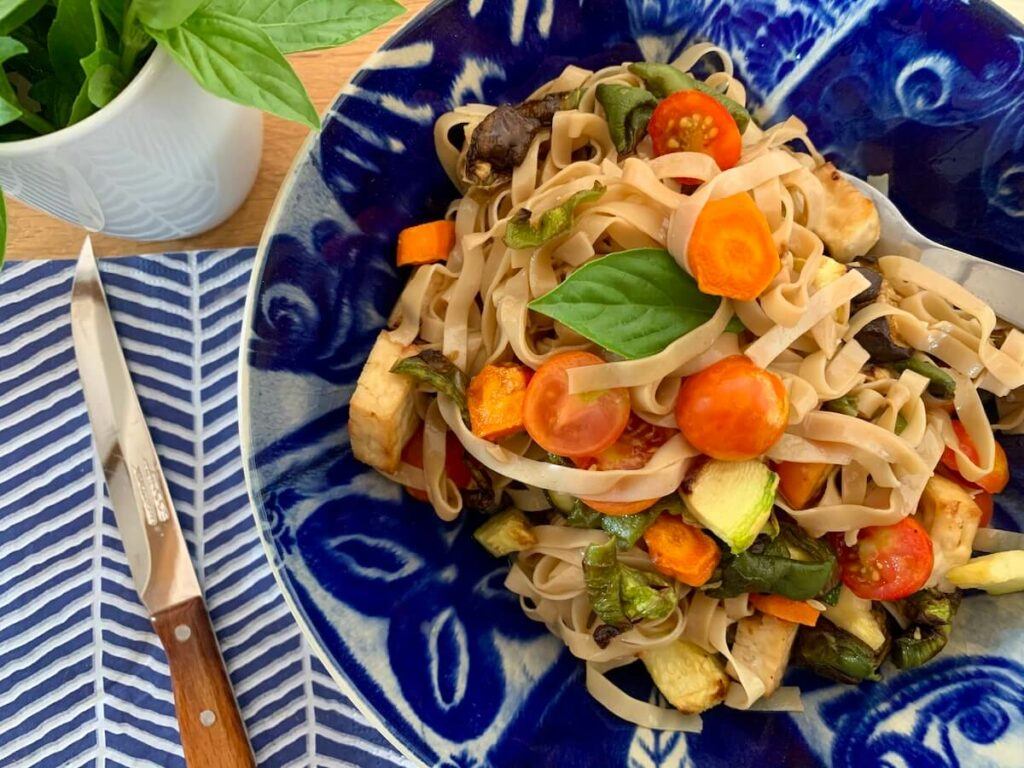 But since falling in love with the air fryer, I find myself loathe to do any kind of frying at all, even including stir frying.
It's partly laziness and partly because I know it's healthier to eat the veggies in their natural state, without frying them.
So it's a win-win situation; I get to be lazy and rewarded for it!!
So, to make your Bami noodle dish in the air fryer without using oil, simply chop up the veggies and tofu like you normally would, into small rounds and sticks, and place them into the air fryer along with some cubed tofu.
Flip the whole lot so that they are mixed and turn on to cook for 15 minutes. Half way through, shake the basket or flip the veggies over to avoid uneven cooking.
You can cook the veggies plain or sprinkle them in spices before they go into the air fryer, whichever you prefer.
After 15 minutes, leave the basket closed in the oven and the veggies will stay hot and continue cooking a little bit longer from the trapped heat while you prepare the noodles.
To Prepare the Noodles
Cook the noodles according to the instructions, rinse in cold water and then mix with the veggies. You can cook them in advance if you like
I use whole grain rice noodles which cook by immersing in boiling water, turn off the heat and let to stand for 2-3 minutes. Once cooked, rinse them under cold water to remove the starch and you're good to go.
Which Vegetables to Use in Your Bami
You can basically use any vegetables that you have handy.
I tend to have different veggies according to the time of year. In summer, I'll make a Bami using veggies from the garden, which will be: zucchini, pepper & eggplant – whereas in the winter I'll have broccoli, carrots and cabbage for example. Feel free to add any vegetables that you like.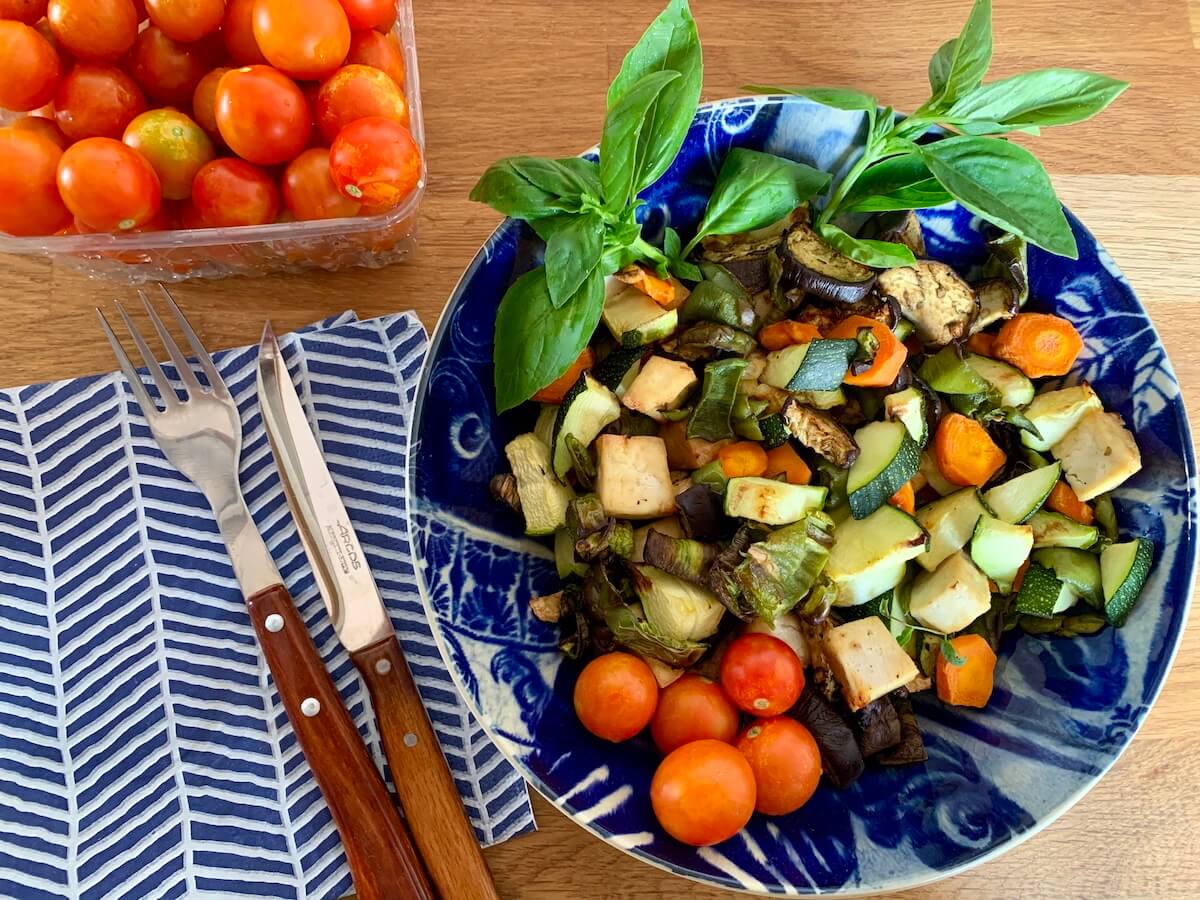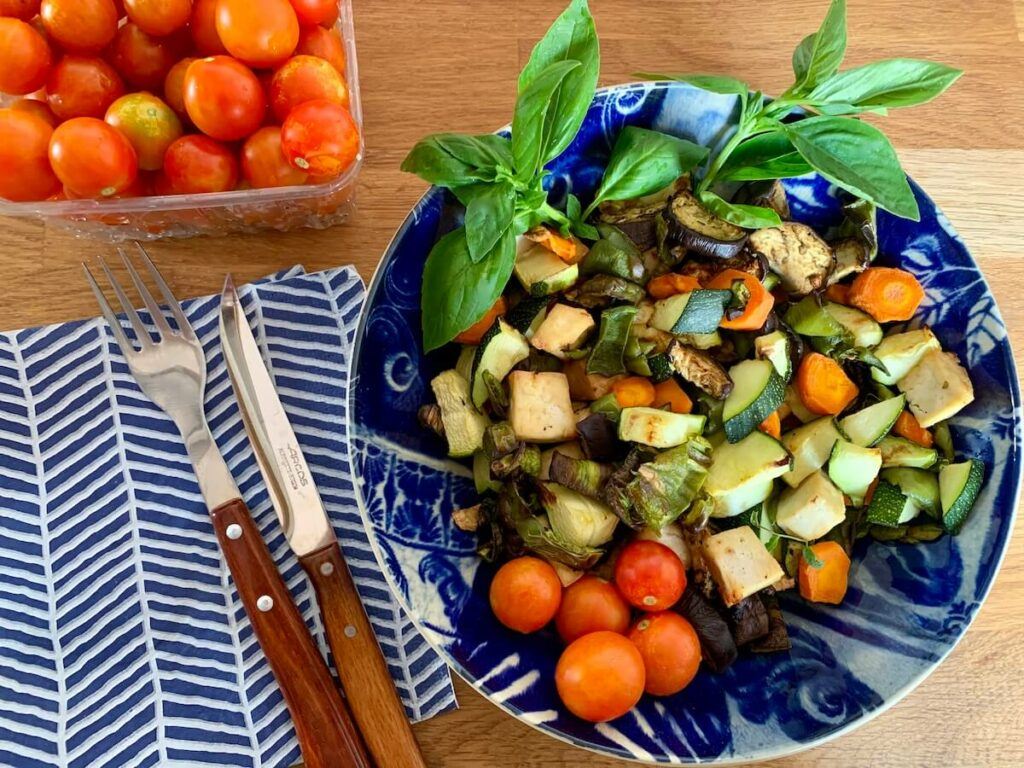 Choose from:
broccoli
cabbage
onion
carrots
zucchini
eggplant
mushrooms
peppers
sweet potato
Assembling the Bami Noodles dish
To assemble the Bami dish, first rinse the noodles well and then add the veggies to the noodle pan and add some gluten free kecap manis and any additional ingredients of choice:
black beans with some bean juice (love this!)
gluten free soy sauce
chopped tomatoes
spicy chilli sauce
spicy vegan pumpkin pesto by Vegmundo – or equivalent
Mix the whole lot together and enjoy! Can be served with this homemade spicy peanut sauce.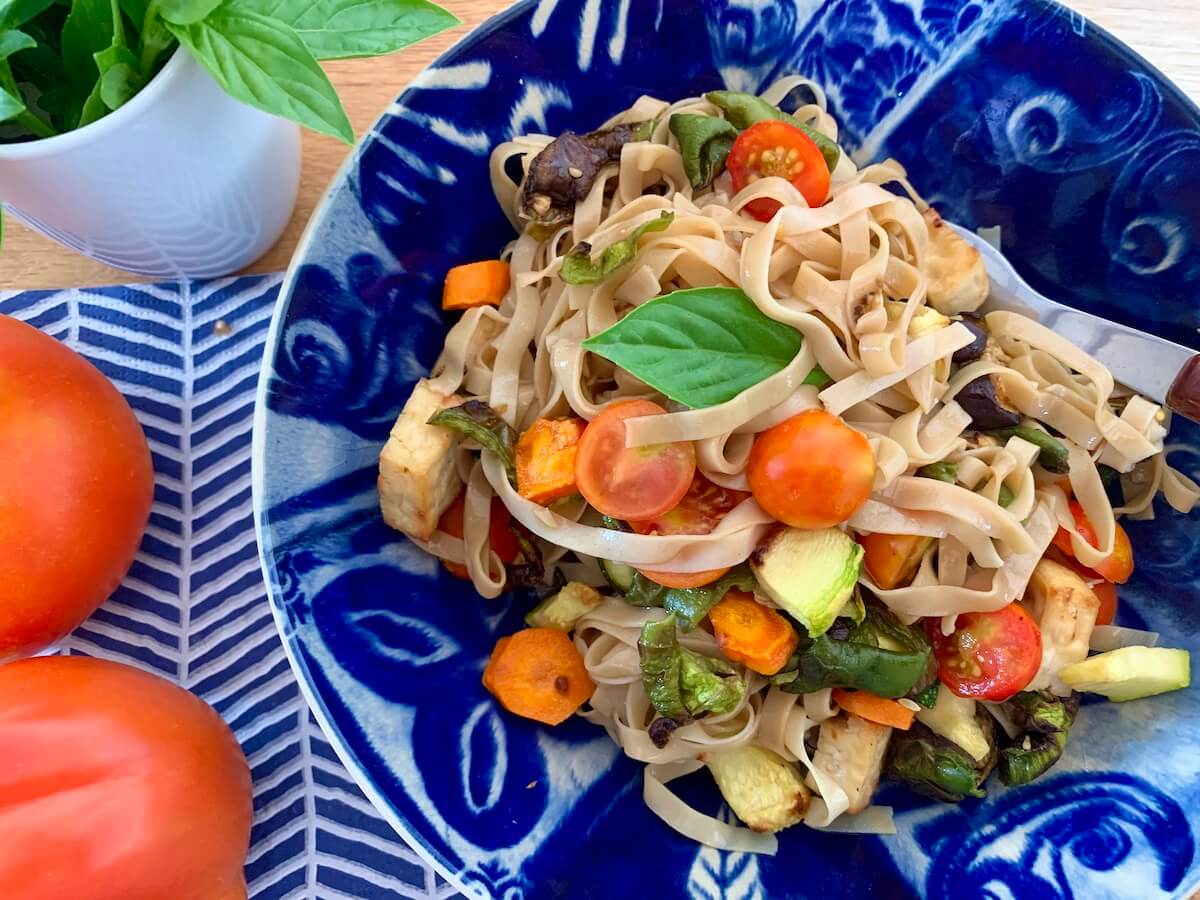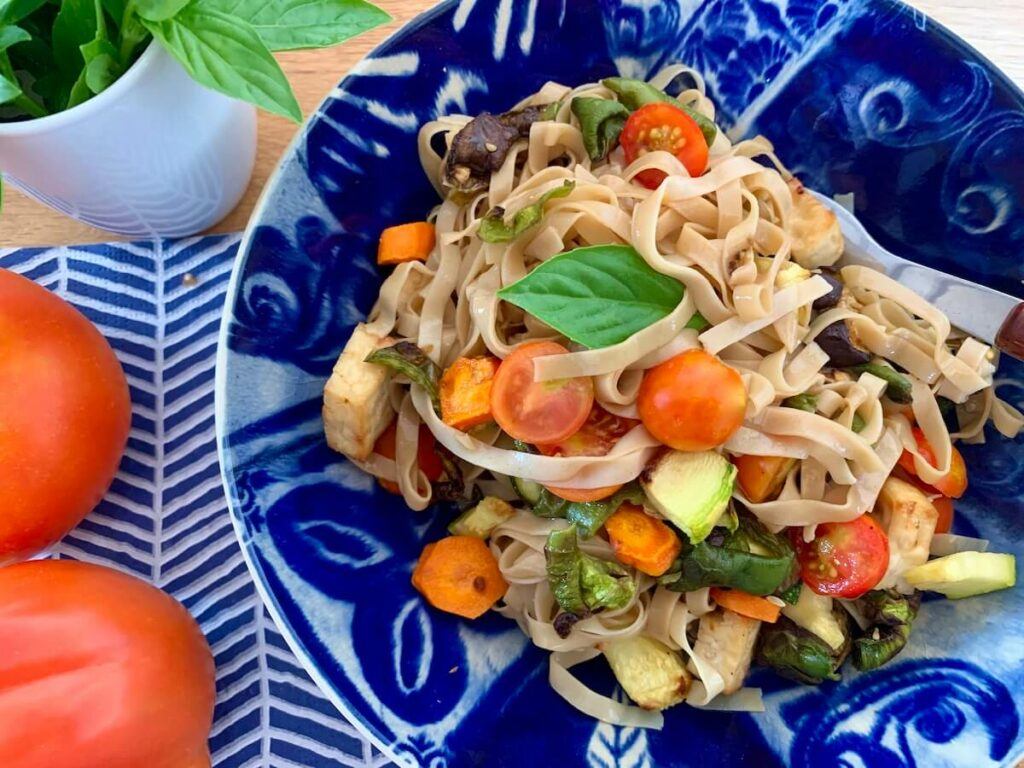 5. Vegetable Rice Dish (Very loosely inspired by Nasi Goreng)
This dish is basically a rice with kecap manis and vegetables (and I like to add beans & tofu) and any sauce of choice.
Nasi is normally a fried rice dish, but I don't fry my rice, so really I'm just borrowing the name and adapting it to my preferences!
To make a delicious, oil free Nasi, follow the steps given for the Bami but substitute the noodles for rice from the rice cooker.
So easy to make and such a great meal to serve to guests. It's always a favourite!
Cook the rice in a rice cooker.
chop the veggies into small pieces and cook in the air fryer for 15 minutes. Check and cook for another 5 minutes if necessary.
Place the rice into a wok and pour on some gluten free kecap manis.
Mix the vegetables into the rice.
Add beans if using.
Add some spicy chilli sauce.
Serve and enjoy.
Make a spicy peanut sauce to go with it.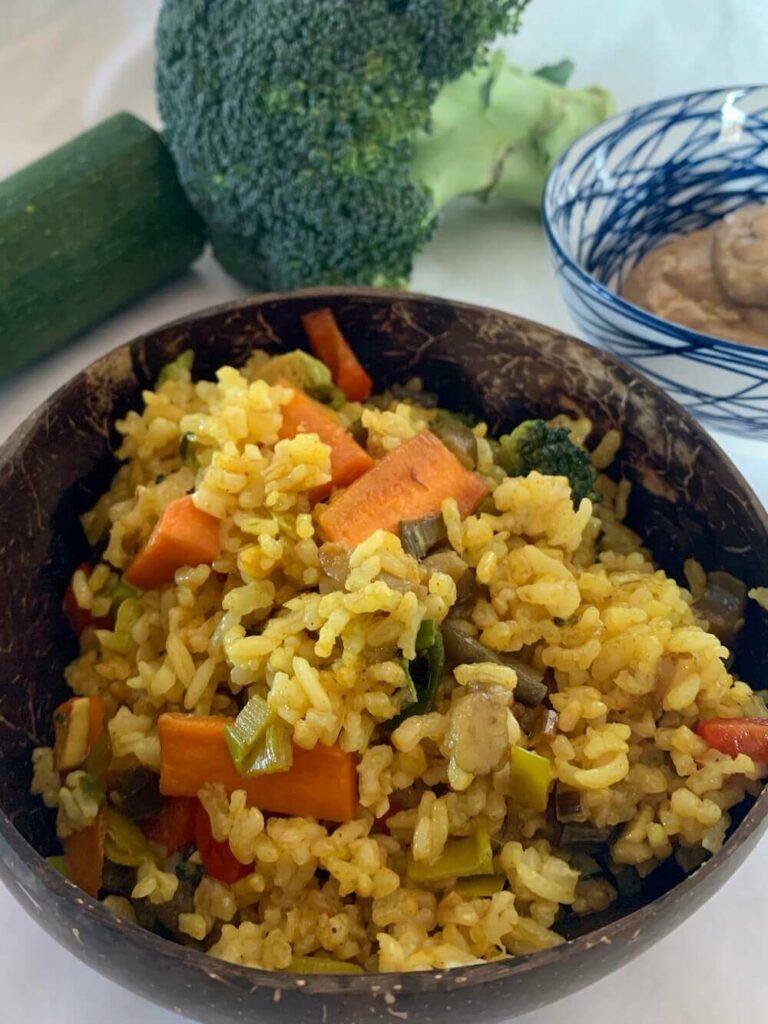 Should You Buy an Air Fryer or Not?
The simple answer (in my opinion) is Yes!!!
At the very least, you can use it for snacks and side dishes, and at the most successful end of the spectrum you may find yourself embracing a new way of cooking which involves less preparation, less work and no oil, which in turn leads to a healthier lifestyle.
Which Air Fryer to Buy?
When choosing your air fryer, here are three basic points to bear in mind.
type
brand
size
Type
Everything I've said in this post refers to a standard basket type air fryer.
There are also other types available such as the instant pot air fryer and the toaster oven air fryer. I have not used either of those as they are not necessary for me.
The choice of whether to go for a basket, oven or instant pot will depend on your personal choice and what you want to make with it. For the purposes of this post, we're talking about the standard basket type.
Brand
This should be fairly self explanatory. If you have a favourite brand, go for it. Otherwise, do your research and make sure that the brand offers a strong, long lasting model with good reviews.
Size
Personally, I would always go for a large air fryer even if you're only cooking for one or two people.
The reason I would go for a big one is that you can cook various things in the same basket at the same time (and also you have the option to make more quantity than you need).
So for example, you might cook some sweet potato fries, tofu chunks, spicy chickpeas and 'stir fried' veggies all in a section of the basket and even for one person you'll need the larger basket to be able to do that.
Conclusion to Oil Free Vegan Cooking in an Air Fryer
I hope you found this post helpful in giving you an idea about how to start getting into using your air fryer or helping you to decide to get one if you haven't yet bought one.
If you have any dishes you'd like me to comment on, leave a message below and I'll get back to you a.s.a.p.
Happy cooking!