These super easy snacks you make with tofu are delicious, nutritious and oil free.
If you want to add a little oil to the recipes, feel free to do so. But I've cut out added oil from my diet and I actually love my food this way.
It's inspired by the whole foods plant based no oil way of living.
It's funny how we change, because before, I was an olive oil fan. 100% lover of a lovely spicy olive oil on my food.
Well, don't get me wrong, I still like the idea of olive oil.
It's not like there's something wrong with it per sé. But since going oil-free, I find the natural flavour of the food more striking without the oil.
It's just another example of how our taste buds change, which is something I talk about in my post on how to learn to eat tofu if you don't like it.
And now after going oil free, when I eat something in a bar for example, which has been cooked in olive oil, it can sometimes taste greasy.
Go figure.
I'm happier now too, because it's only added fat and calories which I'm 'missing out' on, and I don't need either of those because I have enough already! lol.
Firstly, Can You Air-Fry Tofu Without Oil?
Absolutely yes. You can.
I don't ever put oil in my air fryer, actually, and everything comes out delicious.
I admit if you want to make (traditional) chips, they do come out rather dry without the oil, but as I prefer sweet potato to normal potatoes, it doesn't matter to me.
For any vegetables that you prefer to have a little oil, just brush the food with oil lightly. That's enough to do the job.
With tofu it's absolutely unnecessary to add oil (unless you particularly want to for some reason).
I use air fried tofu for the first tofu snack recipe.
What Should I Serve with These Tofu Snacks?
Because in most of these snacks the tofu is just plain without any added flavourings, an integral part of the recipe is to serve it with a sauce on the side.
My favourite sauce to serve is this cilantro pesto sauce. But I also love a homemade but slightly diluted basil pesto, a plain cashew sauce or a spicy peanut sauce.
And who doesn't love some spicy kimchi on the side of a snack?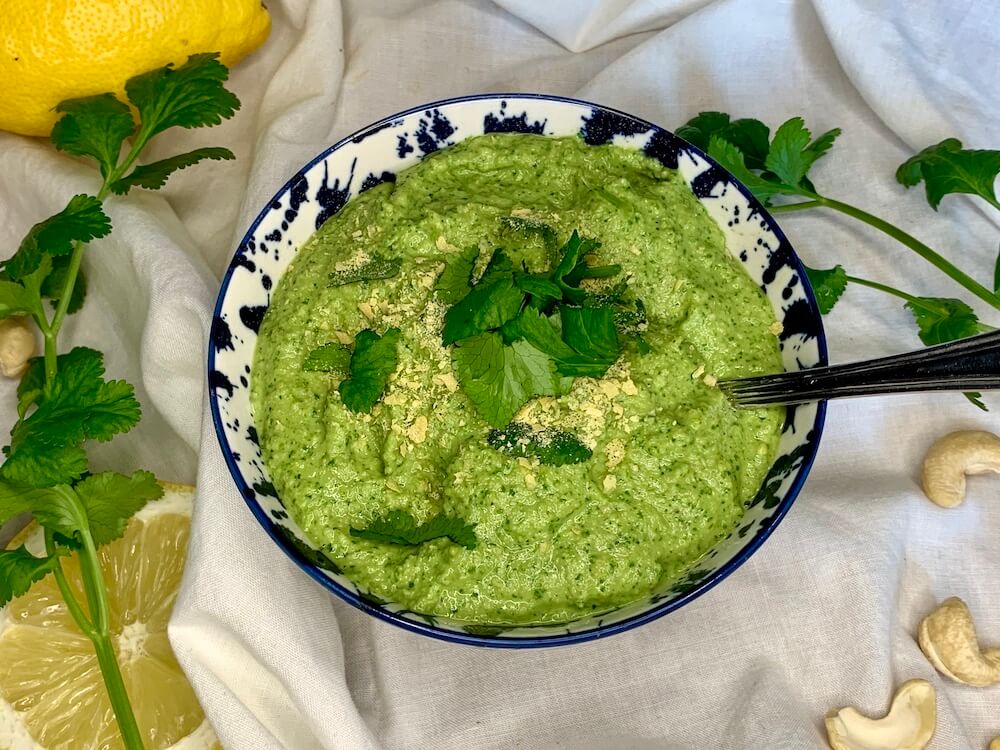 #1 Air Fried Tofu & Sweet Potato Snack
Take a medium large sized sweet potato and slice it into rounds, then cut the rounds into 4 or 6 depending how fat the sweet potato is, so that you have cubes of sweet potato.
Place them into the air fryer at 190ºc for 15 minutes.
Meanwhile, choose an organic firm tofu and gently squeeze it as you remove it from the packet, just to get rid of any liquid that's clinging to it. Chop the block into 6, then slices those in half and then cube it into cubes.
After about 5-6 minutes, shake the sweet potato to move it around a bit, and add the cubed tofu to the air fryer.
The timing depends how crunchy, dry or chewy you like your tofu. It can be cooked for the whole 15 minutes but I prefer it slightly softer. I like it cooked for about 8 minutes for this recipe.
When the 15 minutes is up, check the sweet potato. If it's almost done, you can leave it in the air fryer for a few minutes with the power off and it will continue to soften. Otherwise put it back on for another couple of minutes if necessary.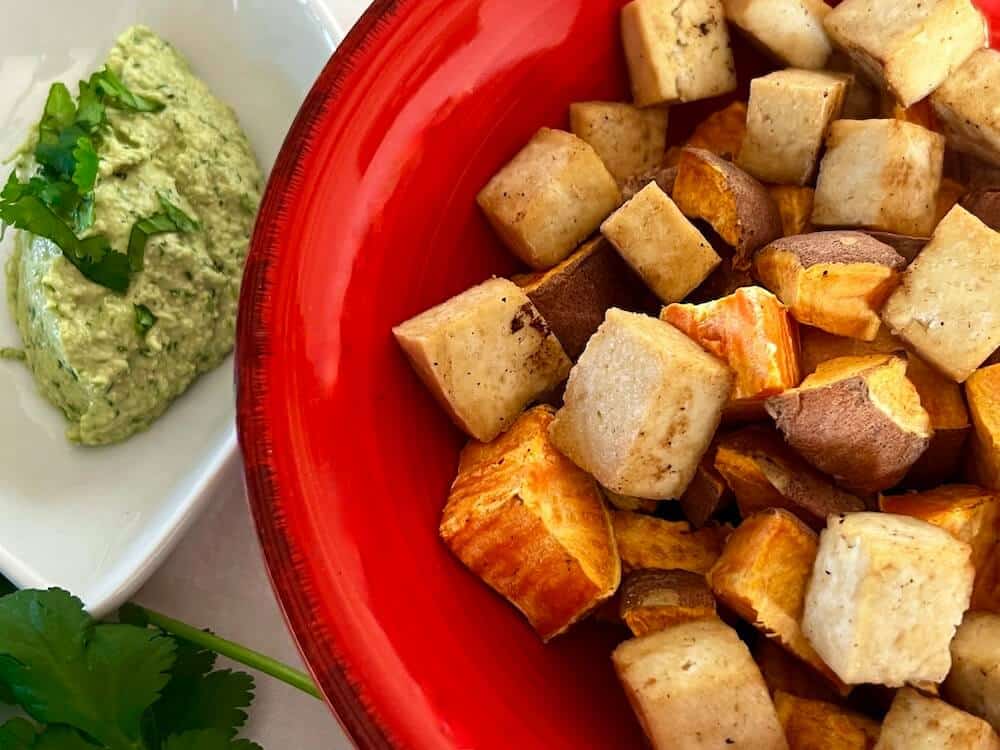 All that's left to do is to put the cubes into a bowl and serve with the sauce on the side.
If you're making this snack for guests, you can give them cocktail sticks for grabbing the cubes and dipping into the sauce.
#2 Baked Tofu Tapas
You can make a similar tofu snack using the oven instead of the air fryer, though I tend to think of them as completely different snacks. I mean you're either making baked tofu tapas or sweet potato and tofu snacks.
For the baked tofu tapas, place the cubed tofu onto baking paper in a baking tray and place it into the oven at 200ºc.
You can add veggies and chickpeas for a full plate and serve with a squeeze of lime and a sauce on the side.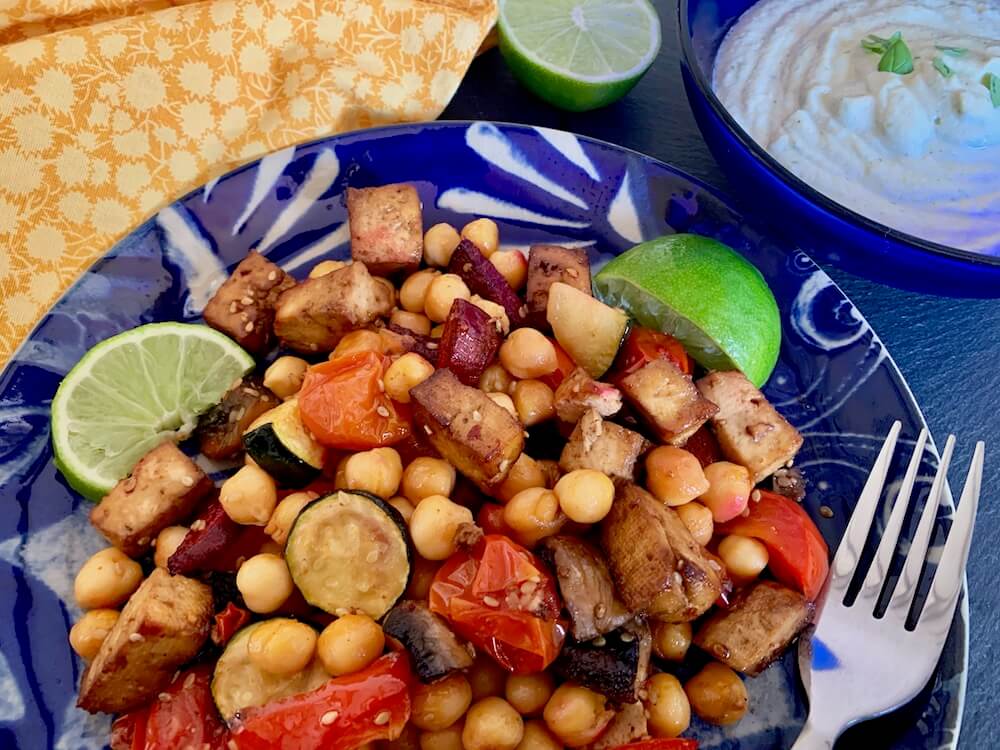 Before baking, you can marinate the tofu if you like it flavoured, and dip it into sesame seeds before baking. And if you're making a Dutch boerenkool stamppot without any vegan sausages, then you could use a plain version of this tofu tapas to serve on your potato and kale mash.
Serve with cashew sauce (or one of the other sauces mentioned above).
#3 Tofu Cheat Burger for the BBQ
You know the feeling. Everybody's looking forward to the BBQ and you don't know what to do: can't eat off the same BBQ as the meat, but don't want to make a big fuss.
Well, here's a solution.
Cut the block of tofu in half width-wise, so that it's half as thick as it was originally.
With this slab of tofu you can either cook it on an electric grill which you take with you to the BBQ, or you cook it on a vegan BBQ – or prepare it in your air fryer before you leave home.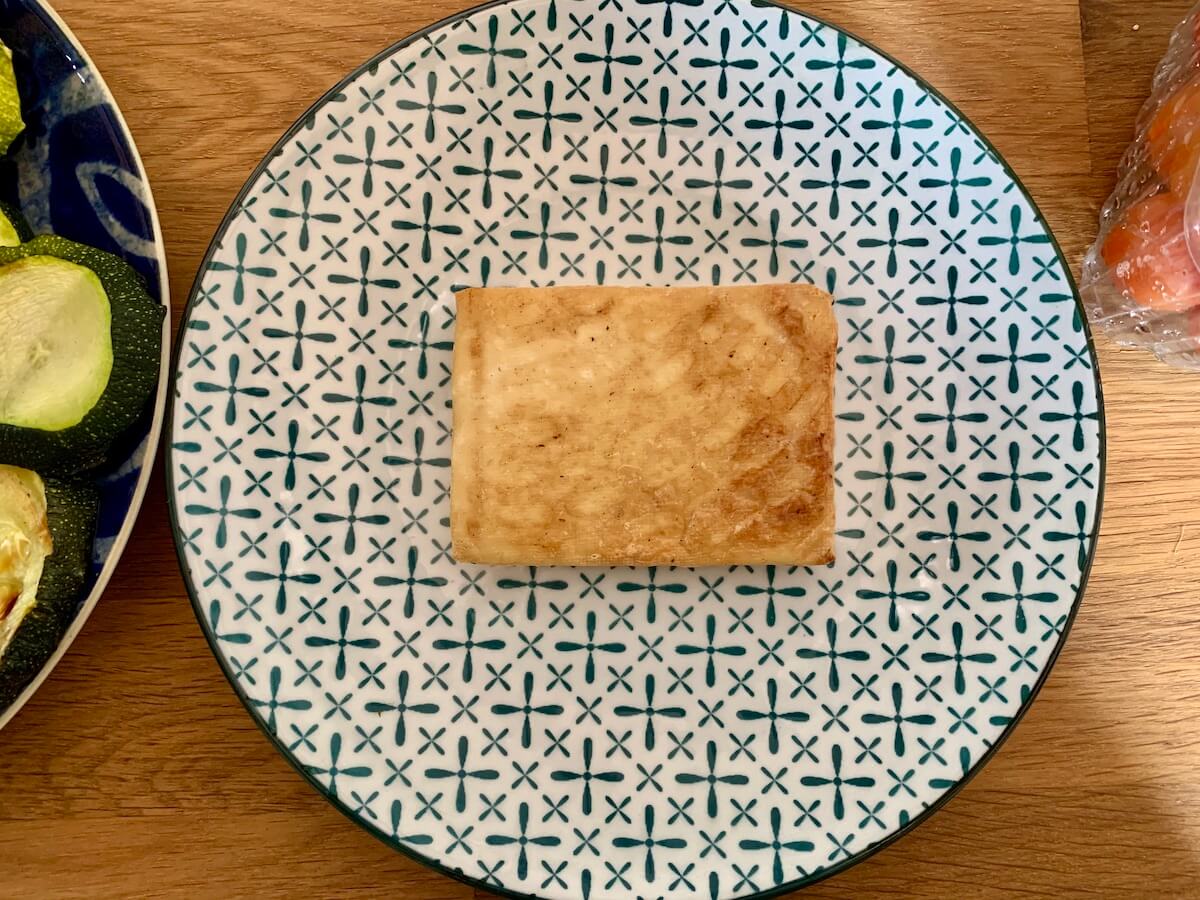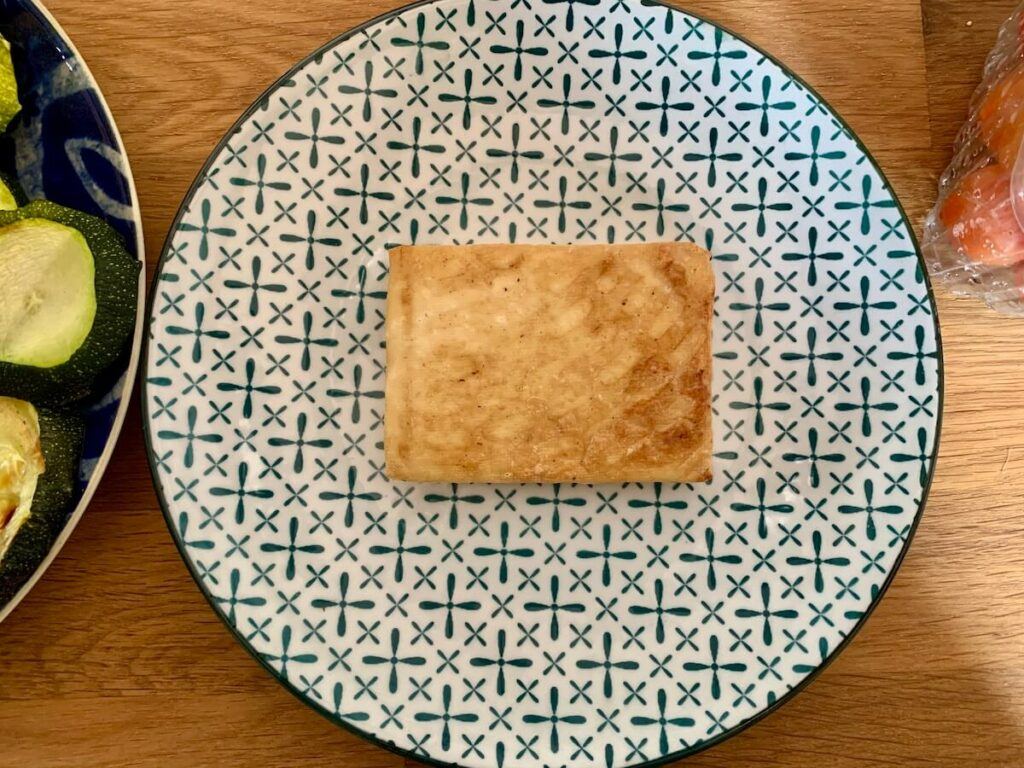 Place the tofu-slab-burger in a gluten free burger bun with some vegan mayonnaise or cashew nut sauce, some spicy Sriracha or other chilli sauce and some lettuce, avocado and sliced tomato and you're away with the rest of them, enjoying your BBQ.
#4 Scrambled Tofu Snack
Scrambling tofu is one of those easy things to make that are so simple they become a standard. I don't eat scrambled tofu very often because if I'm honest, this isn't my number one way to eat tofu.
But not because there's anything wrong with it. No. Just because I love tofu so much in all its other delicious forms.
And when I do eat it scrambled, I like to add all sorts of things – basically whatever I have in the fridge! 😂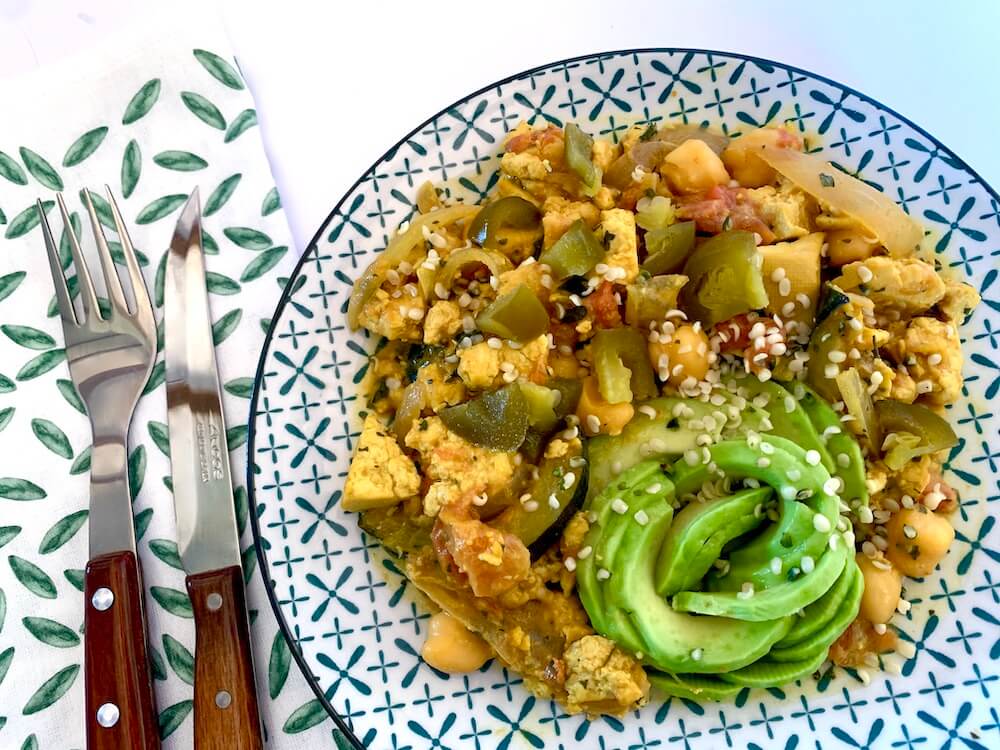 I also love to eat scrambled tofu with tomato and beans mixed in with it . . .
To scramble tofu, roughly break up your organic tofu into a hot pan. You can use a little plant milk in the bottom of the pan, like a couple of tablespoons full.
Add some turmeric to the pan to give the scrambled tofu a yellow colour and use a wooden spoon to stir it occasionally.
It only takes a few minutes to cook, so can be a handy snack to rustle up when you're short on time. But that's the nature of tofu in all its forms.
Traditionally, you would cook your scrambled tofu in a little olive oil, so feel free to add that if you like. I prefer to skip the oil.
You can add so many varieties to this scrambled tofu dish that it ends up becoming a meal instead of a snack. Try scrambling with mushrooms, or tomato or pre-cooked artichokes or anything that takes your fancy really.
And of course for those of you who used to eat scrambled eggs, well, scrambled tofu on toast with baked beans on the side can remind you of that meal.
And if you want it to be even more 'eggy' add some black salt to the recipe.
Personally, I can't stand the smell of black salt! But I never liked eggs, so it's hardly surprising.
I confess, I prefer scrambled tofu to scrambled eggs any day!
#5 Insalata Tricolore with Tofu
For this simple snack, simply cut up some tofu and arrange it on a plate with slices of tomato and avocado.
Sprinkle with salt and pepper and serve with the dressing of your choice.
And voila!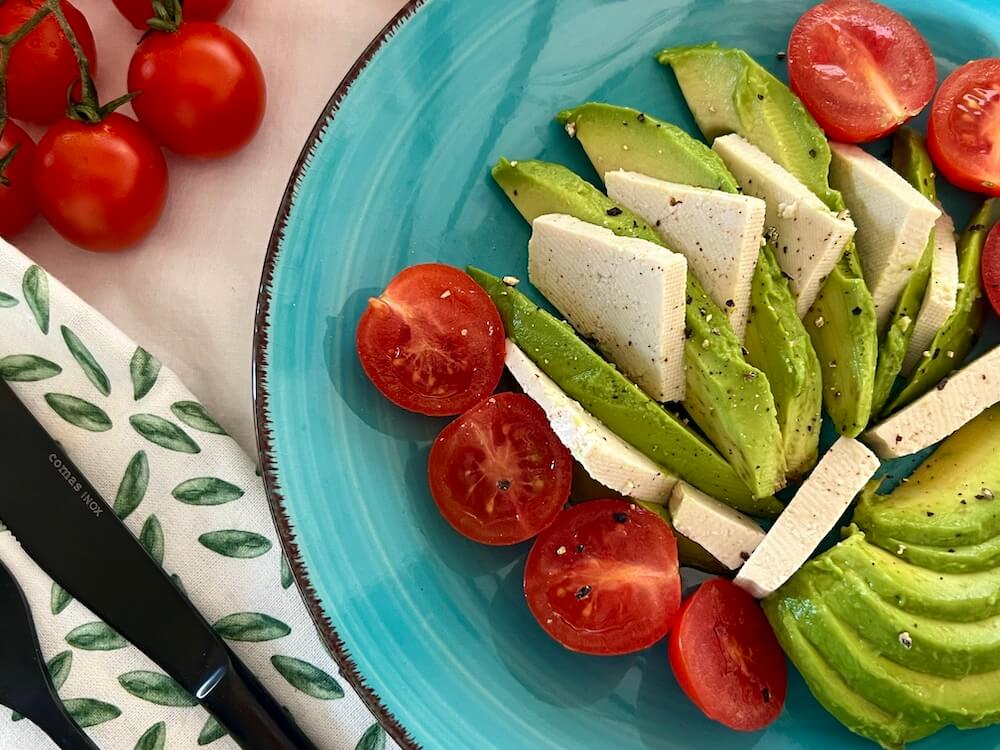 Conclusion on Making Snacks with Tofu
The best thing about tofu is that it's so adaptable.
You can serve it in so many different ways. If you don't like tofu but want to, try adding it to meals where it's just a small part of the meal before you attempt to eat it as a burger or on its own as a snack.
It plays a great part in cooking without recipes because it's one of those foods you can add to your plate and you know you're getting a healthy protein boost.
Tofu is one of those things that always comes up in vegan FAQ because most of us don't eat tofu until we take those first steps into a vegan (or vegetarian) lifestyle.
I hope you enjoy making these tofu tapas snacks!