So, what are your favourite items for a vegan bowl? For me it's an easy question – but with an infinite amount of variations!
First let's break down the components of a fully balanced vegan bowl, so you can invent your favourite items and switch them out as necessary.
If you've ever wondered what to add to your vegan bowl, this post is for you.
What's the Difference Between a Vegan Bowl and a Buddha Bowl?
There isn't any difference except for the name.
A vegan bowl is a complete vegan meal served in a bowl.
A buddha bowl also refers to a complete meal served in a bowl. The name buddha bowl gives it a nice ring but the concept is the same.
Is a Buddha Bowl Always Vegan?
A buddha bowl isn't necessarily vegan. It can be vegan or vegetarian, or it can also contain fish or meat.
So the actual name buddha bowl doesn't guarantee you a vegan experience.
They do tend to contain a lot of veggies even when not vegan though.
What are the Essential Components for a Vegan Bowl?
Let's break down the essential components of a vegan bowl before we go into detail, because it's the combination of those essential ingredient groups that will make sure your bowl is a balanced meal.
A type of green leaf
A bed of whole grain rice or quinoa or other whole grain
A source of plant protein
An assortment of vegetables
Some salad items
A topping of nuts or seeds
A sauce to go with it
Bonus topping – some fermented food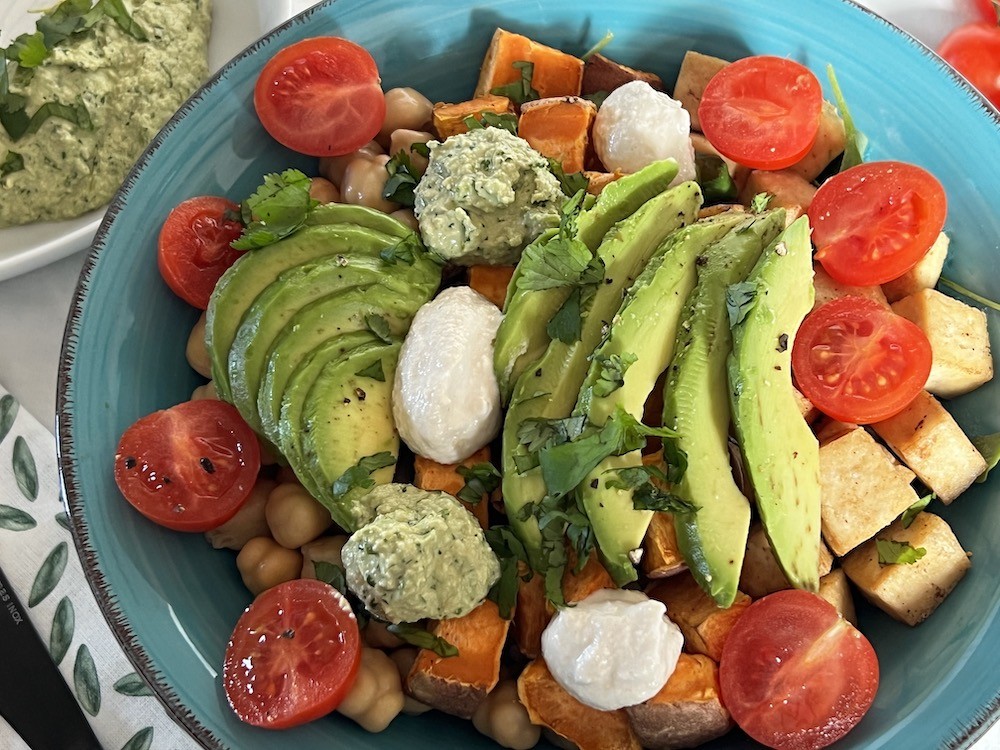 Now, that's kind of the skeleton of making a vegan bowl, so what are the options for each category?
What are the Ingredients of an Incredible Vegan Bowl?
I often use leftovers in my vegan bowls.
You don't have to make everything new. Feel free to always make too much quantity of a whatever you're eating and use the extra leftovers to create a delicious vegan bowl the next day.
Here are some of the component ingredient options for making a delicious and balanced vegan bowl.
#1 A Type of Green Leaf
The green leaf lining the bottom of the bowl gives the vegan bowl its delicious combination of texture, blending the crunch with the soft, and the hot with the cold. It's definitely one of my favourite parts of a vegan bowl and I wouldn't omit it unless I didn't have any green leaves in my kitchen at the time.
Raw spinach
Lettuce or baby salad leaves
Lambs leaves
Rocket
#2 A Type of Grain
My favourite grains for making a vegan bowl are black rice and whole grain rice but you can choose whatever you like. . .
Whole grain rice
Black rice
Red rice
Quinoa
#3 A Source of Plant Protein
Choose one or more ingredients to supply a healthy amount of plant protein to your vegan bowl. My favourites are chickpeas, black beans and tofu.
Borlotti beans
Butter / Fava beans
Kidney beans
Black beans
White beans
Black eyed beans
Tempeh
Lentils
Start with a green leaf, add a whole grain and then add a form of plant protein and a legume.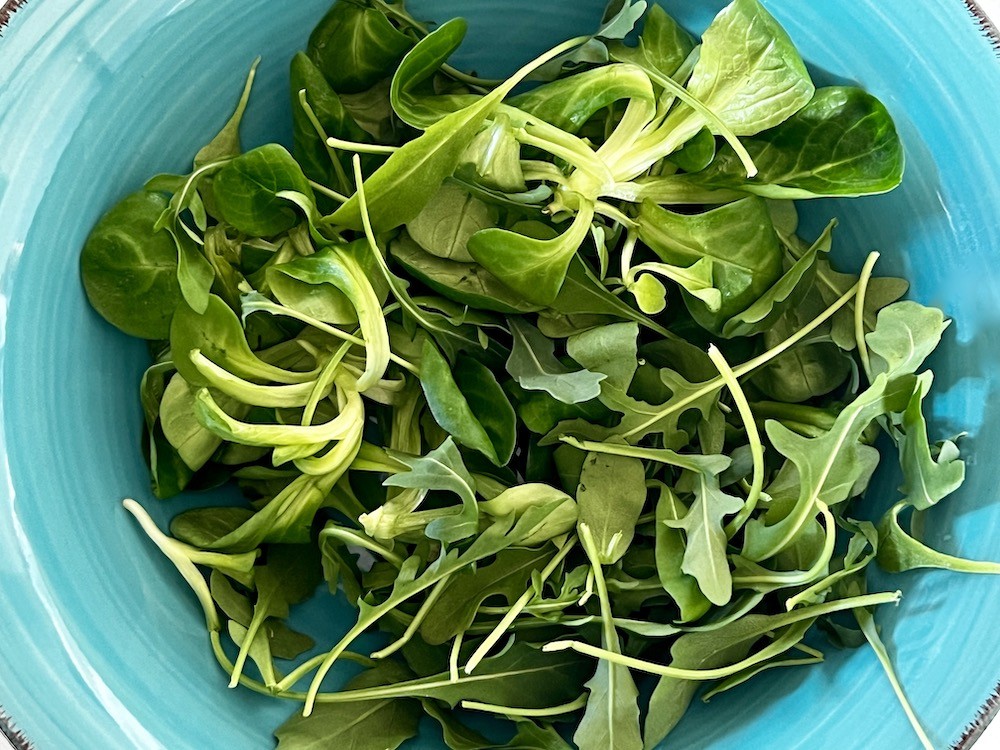 #4 Add an Assortment of Vegetables
Sweet potato has to be my number one favourite ingredient to add to my vegan bowl!
I also sometimes add some leftovers of veggies in tomato sauce or I roast some veggies (zero oil) especially for the occasion.
There's no limit really to which vegetables you can add.
Vegetables in tomato sauce
Stir fried veggies (stir fried in oil or in water)
Steamed broccoli
Zucchini
Cauliflower
pumpkin
#5 Salad Items
My favourite salad toppings are cherry tomatoes and finely cut cucumber.
Cucumber
Tomato
Cherry tomato
Red pepper
Green pepper
Raw cauliflower florets
Cauliflower rice salad
#6 Topping of Nuts or Seeds
It's really nice to sprinkle some seeds or nuts on top of the vegan bowl when it's done. My favourite is hemp seeds.
Chia seeds
Pumpkin seeds
Sunflower seeds
Walnuts
Pine kernels
Nutritional yeast
#7 A Sauce to Go with It
My favourite all time sauce is a cilantro pesto sauce and I'm a huge fan of tahini but I love them all.
Add the sweet potato, avocado, cherry tomatoes, cashew sauce, cilantro sauce, chopped coriander and sprinkle with chopped cucumber.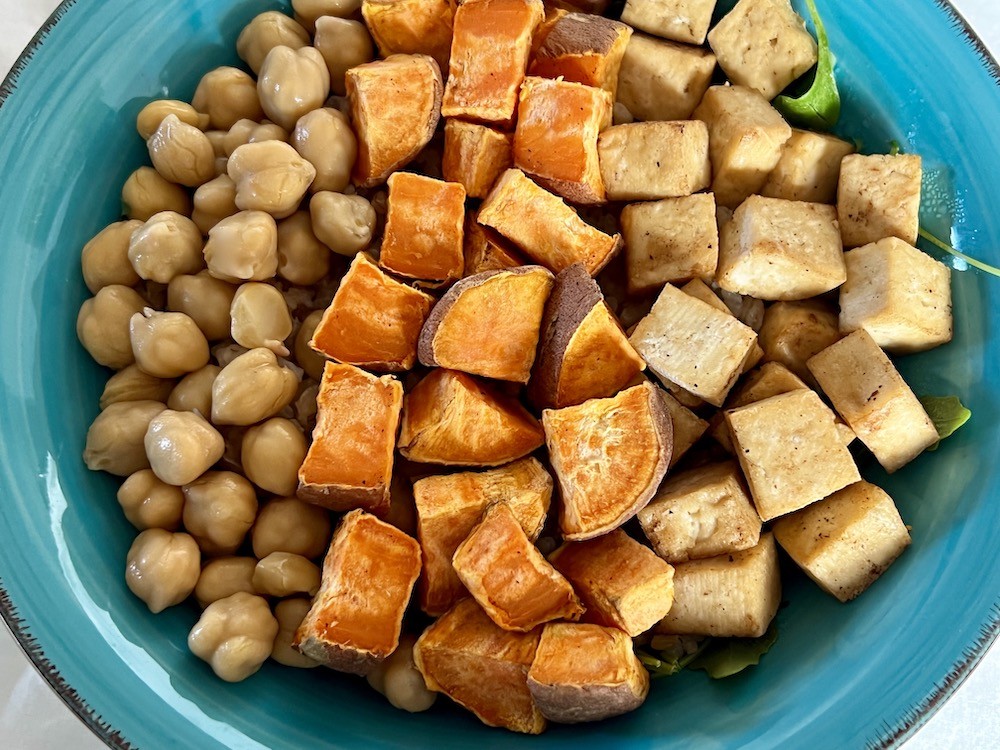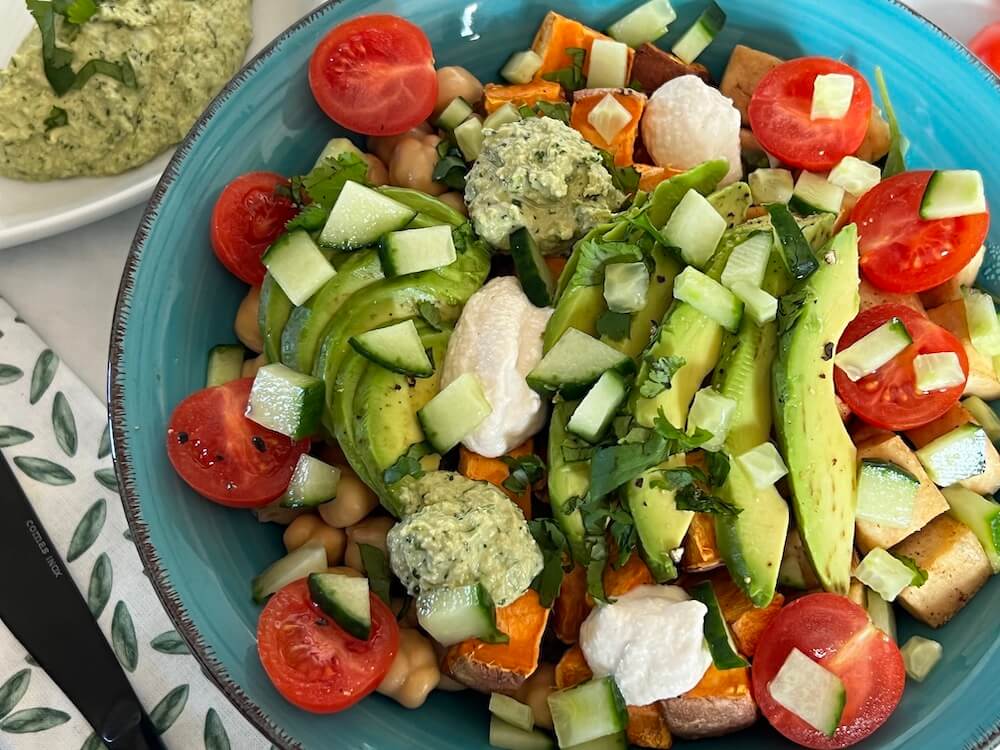 Are Vegan Bowls Healthy?
Vegan bowls are extremely healthy and come packed with phytonutrients, antioxidants, and a wide range of nutritional variety due to the wide range of fresh foods.
When made following the method laid out in this post, you'll get a balanced meal of whole grains, vitamin-rich vegetables, plant protein and super-food health-boosting seeds on top.
Add Some Fermented Foods to Your Vegan Bowl
For an added kick of flavour as well as a powerful health-boost, top off your vegan bowl with some delicious homemade spicy kimchi or some scrumptious sauerkraut.
Both are teeming with healthy probiotics to get you back to your healthiest self.
And if you're wondering which one to choose, you might like the article on which is healthier, kimchi or sauerkraut?
How to Prepare Several Days of Vegan Bowls in Advance
Ingredients to Stock/Buy
Rice / Quinoa
Fresh vegetables: e.g. zucchini, eggplant, red pepper
Fresh tomatoes / 2 tins chopped tomatoes
2 large sweet potatoes
2 packets tofu
Cherry tomatoes
Cucumber
Lettuce, lambs leaves, spinach or rocket
Beans of choice
Chickpeas
2 avocados
Tahini
Preparing the Ingredients
Cook enough rice or quinoa to last several days. I cook 3 measuring cups of the rice cooker.
Sauté, air-fry or roast a selection of fresh vegetables. Add herbs and spices if you like.
Cook sweet potato and a packet of tofu in the air fryer.
Prepare your choice of chickpeas or beans or both.
Make a cilantro pesto, cashew nut sauce or other sauce of your choice.
Prepare a delicious kimchi or sauerkraut.
Stock up on avocado, cherry tomatoes, green leaves and any other veggies.
Check you have some ground flax, chia seeds, tahini or other favourite toppings.
Putting together the Different Vegan Bowls
All the bowls will begin with green leaves and and a layer of rice or quinoa. On top of that, you can vary your ingredients each day. A little veggies in tomato sauce, some avocado, tahini or cilantro sauce etc.
One day add chickpeas and another add beans. One bowl can have sweet potato and tofu and another bowl just the veggies in tomato sauce, or pile it all on.
If you get used to making too much food, you'll always be able to rustle up a delicious vegan bowl.
And the beauty of this is it's so time-saving.
Once you have all these items in the fridge, you can get home and have yourself a full bowl of goodness in just a few minutes with zero cooking.
You can serve the bowls cold, or heat up the rice and the vegetables and serve them with a mix of hot and cold (definitely the best way!)
Conclusion on My Favourite Items for a Vegan Bowl
I hope this post helps you to enjoy your favourite vegan/buddha bowl!
Once you get into this easy way of making a meal, who knows, you might end up eating it almost every day!
With a slight variation of the ingredients I just can't get bored of vegan bowls. So, if you have any different variations, what are your favourite items for a vegan bowl?