What are your favourite ways to eat quinoa, or do you have one particular favourite? For me, there are definitely a few options and that's why quinoa is one of the grains I love eating.
Ok, so it isn't actually a grain, but well you know, it kind of looks like a grain and functions like a grain in our food, so it's tempting to call it a 'grain'.
Actually, quinoa is a seed (but that's besides the point).
16 Tasty Ways to Eat Quinoa
Quinoa with fruit for breakfast
Quinoa tabbouleh
Avocado, cherry tomato and quinoa salad
Edamame beans, peas and quinoa served with homemade cilantro pesto sauce
Buddha bowl or vegan bowl with quinoa as the main plant protein source
Spinach and quinoa bowl with mushrooms
Sweet potato topped with quinoa
Quinoa with vegetables and a spicy tomato sauce
Vegetable stew with added quinoa
Quinoa with black beans
Vegan, gluten free chocolate brownies
There are 3 Main Types of Quinoa
There are 3 types of quinoa, white, red and black with white being the most common and quickest to cook, red being slightly more nutty and black with the highest nutritional profile and a slightly longer cooking time.
White quinoa goes with everything and can always be used in any recipe. Black quinoa is a bit more special with a deep flavour and harder texture.
Black is the tastiest quinoa to have when sprinkled on a salad while white quinoa can make up the whole salad but will get lost if you only add a spoonfull.
What are the Benefits of Eating Quinoa?
Quinoa is a great source of plant protein and contains all the essential amino acids, making it a complete protein.
How Can I Include Quinoa in My Diet?
There are infinite ways of eating quinoa, from biscuits to breads, cakes and desserts, soups casseroles and stuffings. Here are just a few of my favourite ways of including it in my diet.
#1 Quinoa Fruit Salad Breakfast
Quinoa's absolutely fantastic for a fantastic vegan, gluten free breakfast.
Serve up a bowl of quinoa with chopped fruits and some vegan yogurt.
Alternatively use a drop of fruit juice in the quinoa fruit salad or serve with vegan cream.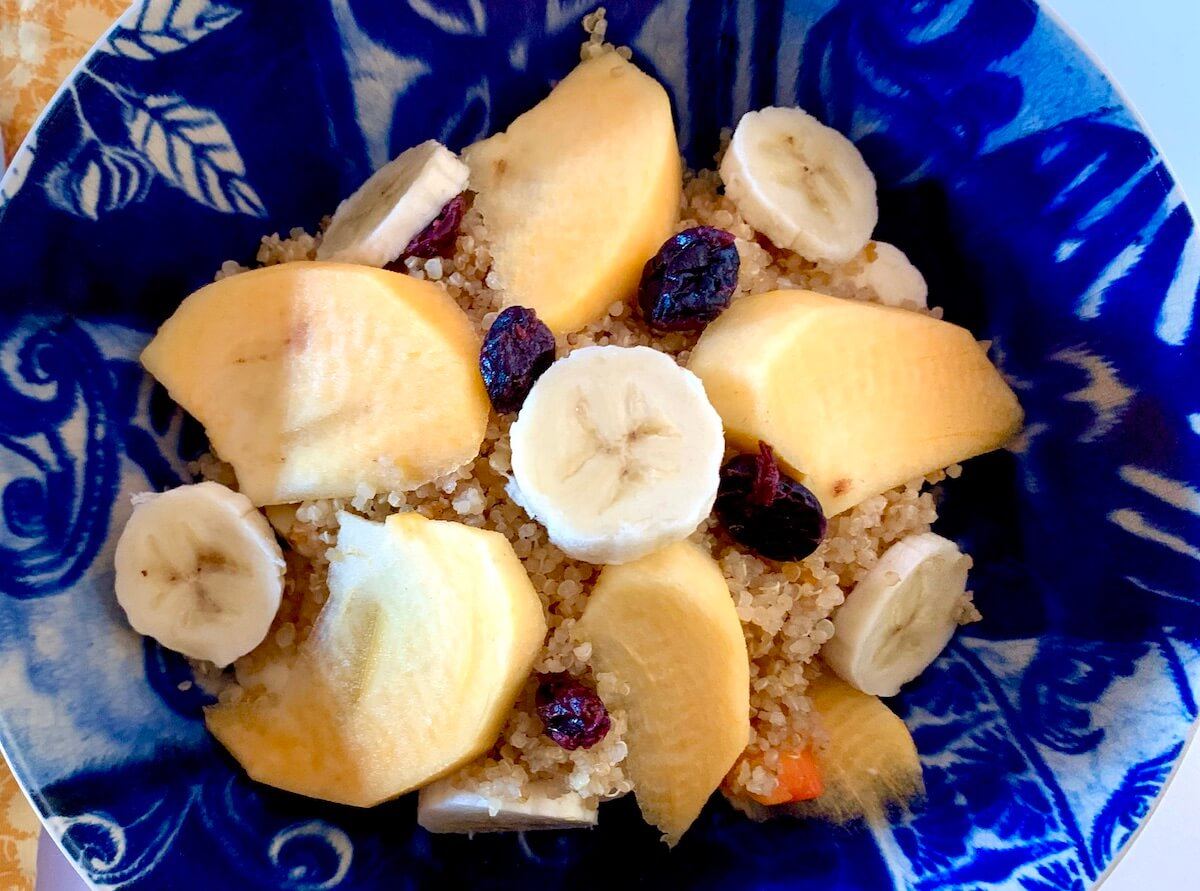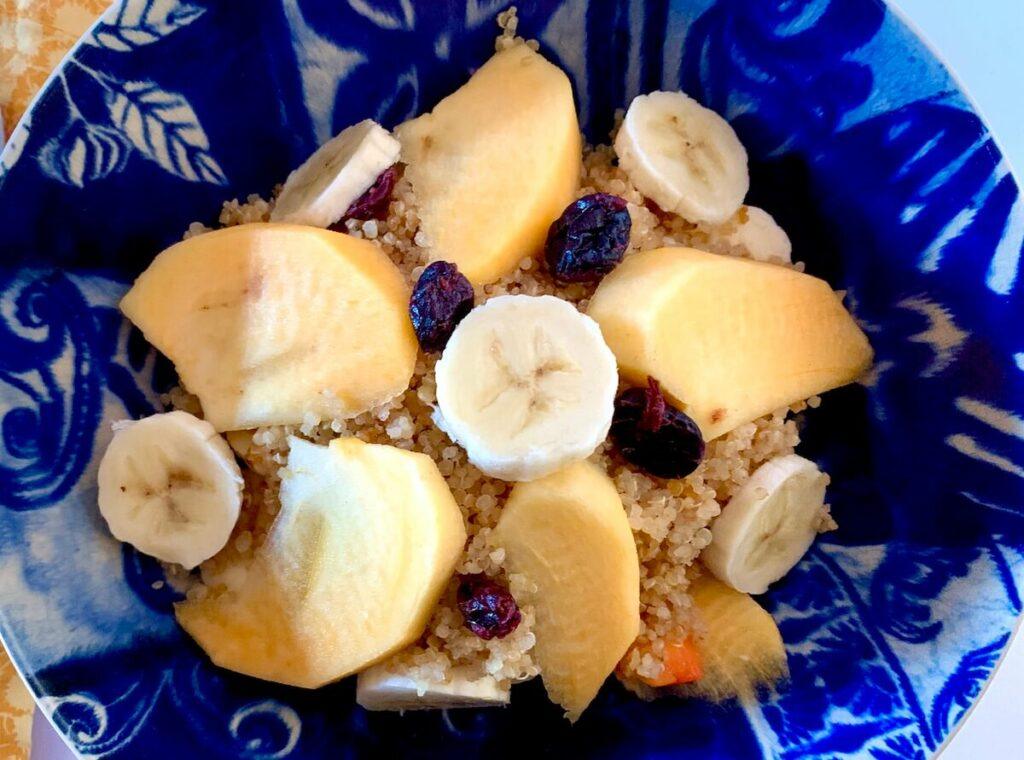 #2 Quinoa Tabbouleh Salad
Tabbouleh (also spelled tabouli) is traditionally made with loads of parsley, a bit of bulgar wheat and mint and tiny bits of onion, chopped cucumber and tomato. It's seasoned with lemon juice and olive oil and makes a lovely light salad as a starter or as part of a buffet.
Switching out the bulgar wheat for quinoa creates a delicious gluten free variation on the traditional tabbouleh recipe.
#3 Mixed Salad with Quinoa
Quinoa's a perfect ingredient to add to salads.
Make a complex king salad (mixed leaves, tomatoes, cucumber, plus grilled veggies etc.) and add some quinoa to it.
Alternatively make quinoa the main ingredient of the salad: fill a bowl with quinoa and add some finely chopped veggies of your choice.
Serve with a balsamic dressing on the side.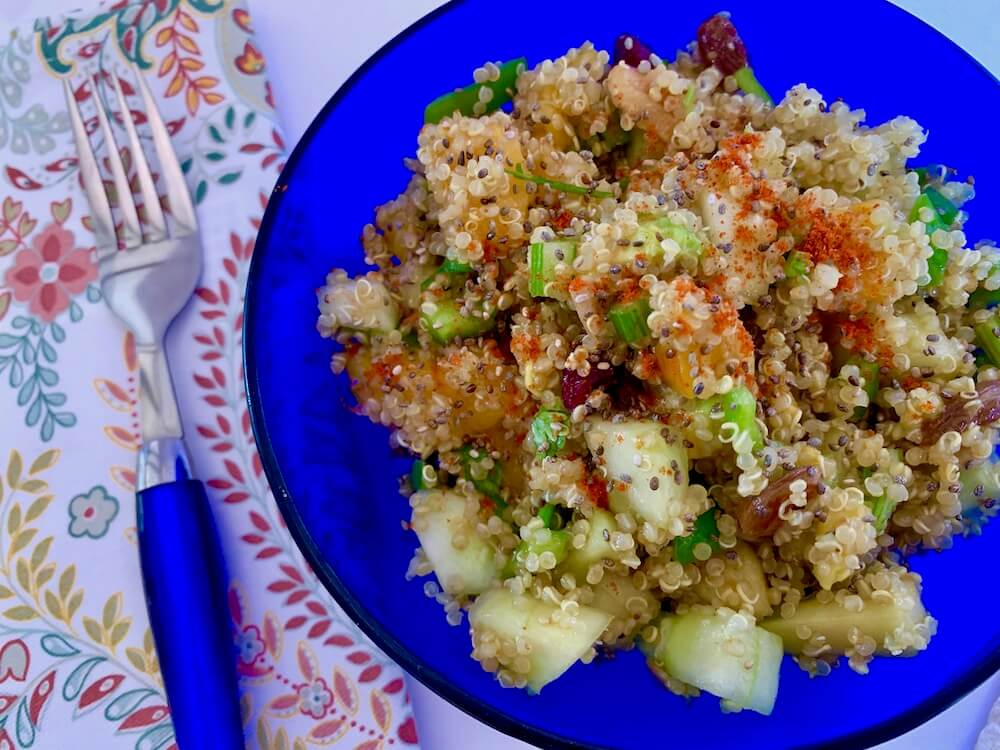 #4 Edamame Beans, Peas and Quinoa Bowl
Great for when you want to grab a quick meal with little effort and instant nutrition. Buy the edamame beans frozen and all you have to do is boil them in water for a couple of minutes then pop them out from their pods and into a bowl of quinoa.
Meanwhile, defrost a bowl of frozen peas with a sprinkle of salt in the microwave until soft through and add to the quinoa.
Serve with one of these easy vegan sauces on the side or use a touch of homemade vegan butter or coconut oil through the bowl (unless you're avoiding oil as part of your whole food plant based diet).
If there are any leftovers, you can eat them cold and serve with some homemade cilantro sauce.
#5 Avocado, Nectarine and Quinoa Salad
For this salad you'll need to reserve some of the ripe avocado for mashing up into the quinoa. Chop up one and a half ripe avocados into cubes and place in the salad bowl.
Remove the flesh of the final half avocado and mash it up with a sprinkle of salt and a dash of lemon juice. Place the cooked quinoa into a bowl and add the mashed avocado and finely chopped fresh parsley and mix it through.
Add the small pieces of nectarine, chopped cucumber and toasted pine kernels, and serve with some homemade cashew nut sauce on the side.
You can substitute the nectarine for mango if you prefer.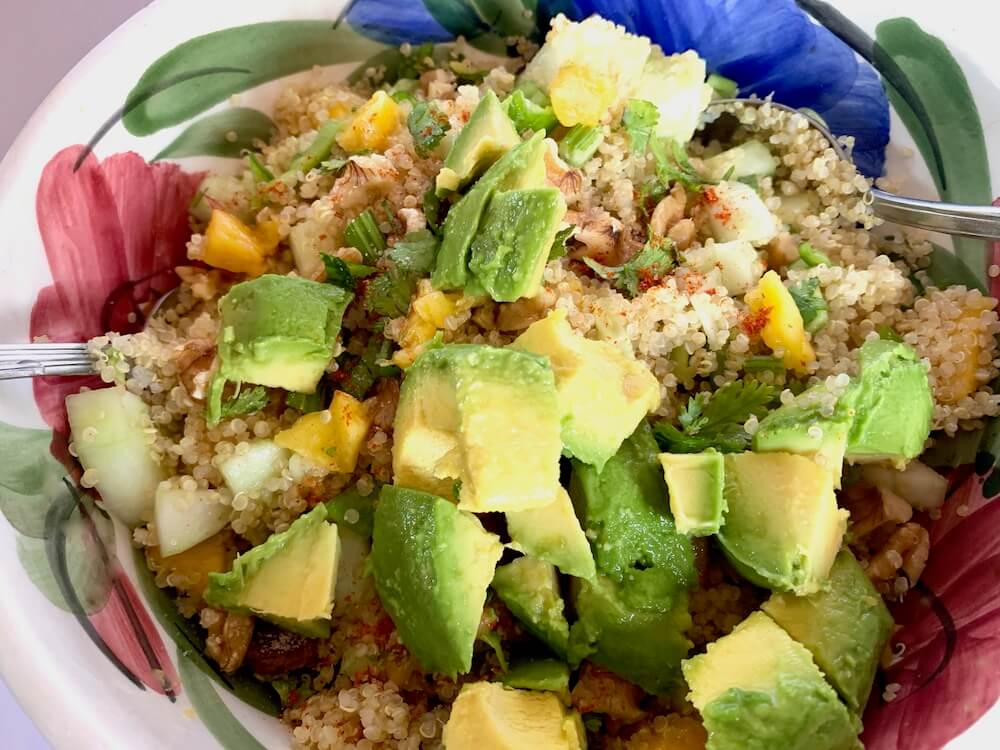 #6 Spinach and Quinoa Bowl with Mushrooms
Use a dry frying pan to fry the sliced mushrooms. When almost cooked, add a dash of gluten free ketcap manis (sweet Indonesian soy sauce) and cook for a couple more minutes before adding the fresh spinach.
Cover with a lid and let the spinach reduce and cook in the steam.
Add a cup of cooked quinoa and serve with vegan grated cheese on top or homemade vegan parmesan.
#7 Buddha Bowl or Vegan Bowl with Quinoa
Buddha bowls or vegan bowls are just superb as a way of life!
Rustle up a vegan bowl for every meal and I promise you, you won't get bored!
What defines a buddha bowl?
The actual ingredients can change but it should always be a complete meal within the bowl. So, a grain (quinoa, black rice, wholemeal rice, etc), some extra plant protein (tofu, tempeh, chickpeas, lentils etc), some green leaves, variety of vegetables, nuts, seeds (flax, chia) and a sauce or dressing to go with it.
The variations are endless but quinoa makes a great star of the vegan buddha bowl.
#8 Baked Sweet Potato Topped with Quinoa
Baked sweet potato is such an easy instant snack. But it has to be noticed that it isn't a complete meal! So to bring more nutrition to the plate, why not add some quinoa?
The great thing about quinoa is you can make a batch and have it on standby in the fridge, making it equally instant and convenient as anything else. To reheat it, use a dash of water to rehydrate it and warm it in the microwave or on top of the stove.
Bake the sweet potato in the oven or in the microwave. The oven will result in a much sweeter taste as it brings out the sweetness of the sweet potato. In fact, here in Spain, sweet potatoes from the oven are eaten as a dessert.
Bake your sweet potato in the way which you prefer.
Scoop the flesh and mash in the quinoa until it's mixed with the sweet potato flesh. Return to the sweet potato shells and serve with vegan mayonnaise and some green leaves like spinach or salad.
#9 Quinoa Stuffed Red Peppers
Quinoa makes a great ingredient for stuffing vegetables, and one vegetable that's especially popular for stuffing is the good ol' red pepper.
Choose your theme veggie, say mushrooms or eggplant (mixed veggies or whatever you fancy) and fry it in a tablespoon of water (or oil) in a frying pan along with some spices before adding the quinoa and stuffing into the red peppers.
If you aren't used to cooking without oil, you need to add a tiny amount of water so that the veggies 'fry' int he moisture without 'cooking' in the water.
Alternatively you can use the air fryer to prepare the vegetables for stuffing. Simply cook in the air fryer and turn once half way through cooking. Most things take about 15 minutes to cook but it's best to judge by the individual case depending on how big you've cut them and which vegetables you've chosen to use.
They can then be cooked in the oven or in the microwave with a cover on the dish.
Here is a full recipe for Quinoa stuffed red peppers.
#10 Eggplant Stuffed with Quinoa
Eggplant is my favourite vegetable for stuffing. Scoop out all the eggplant flesh and cook it up with some mushrooms and finely sliced red pepper and onion if you like, then mix in some tomato and the quinoa and refill the eggplant shells.
Find the full recipe for stuffed eggplant recipe with quinoa here.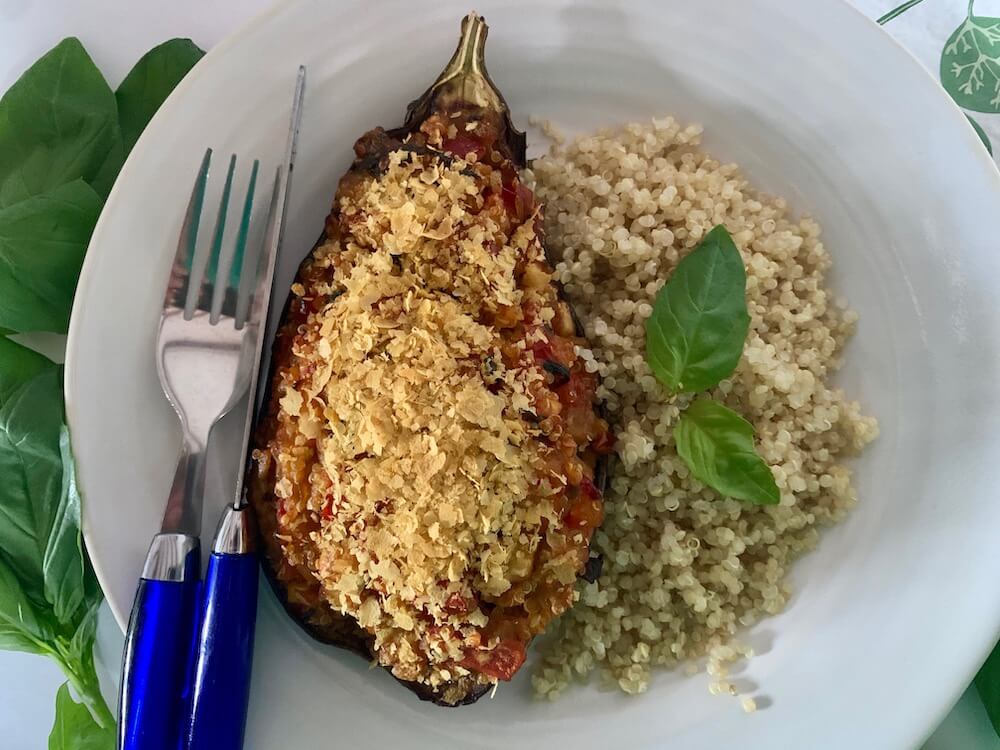 #11 Quinoa and Vegetables with a Spicy Tomato Sauce
Cook the quinoa separately and stir fry the vegetables in a wok with a little oil or water.
Add some cumin, chilli and coriander. When cooked, mix through with the quinoa and serve with homemade spicy tomato sauce (or this oil free tomato sauce with added chilli).
#12 Zucchini Boats Stuffed with Quinoa
Stuffed zucchini boats are a popular and nutritious meal that you can whip up pretty easily at any moment.
Scoop out some zucchini flesh and cook in a frying pan along with the other veggies and flavourings of your choice.
Add some chopped tomato and finally the quinoa before refilling the zucchini boats and placing in the oven for approx. 30 minutes.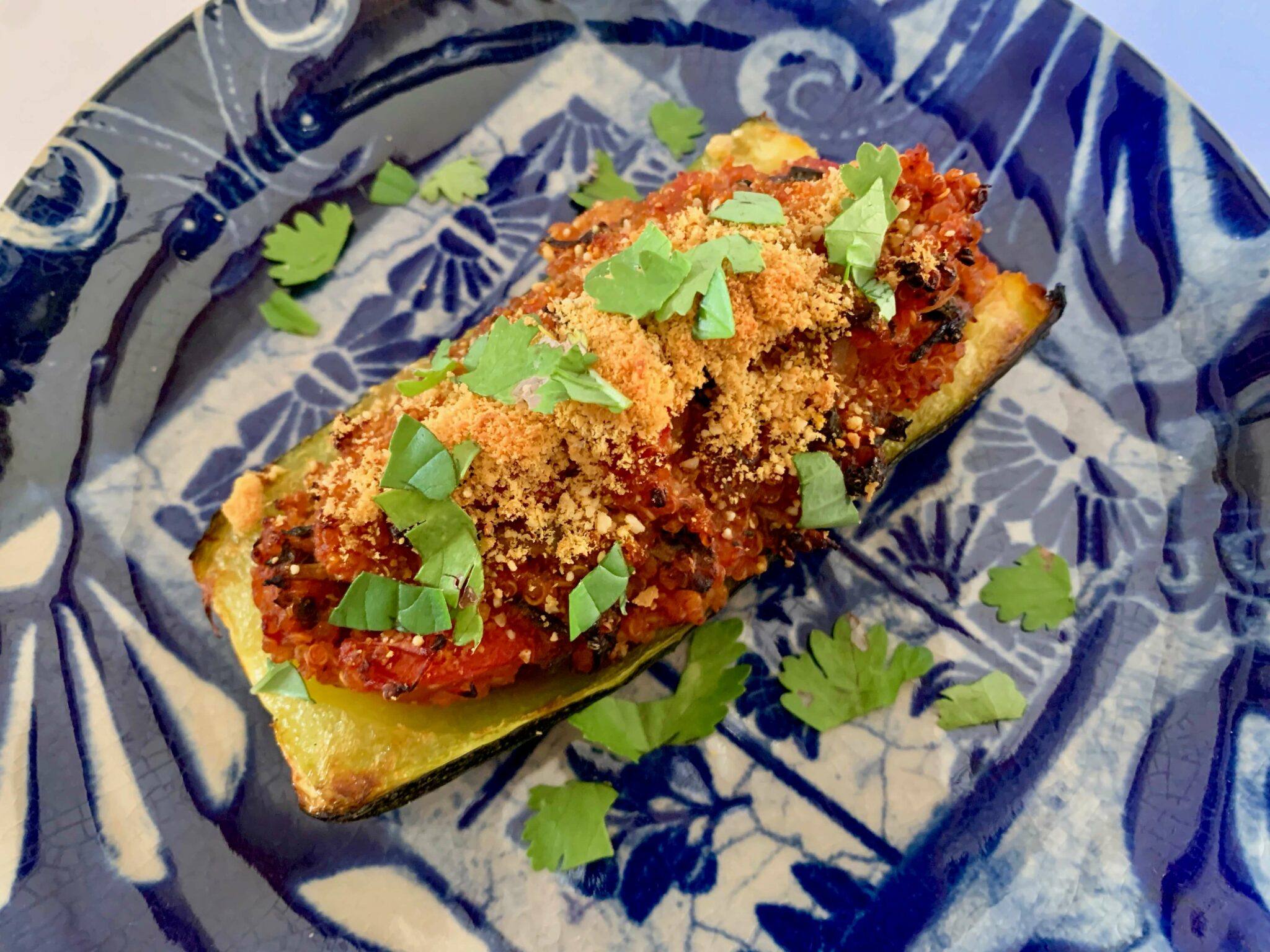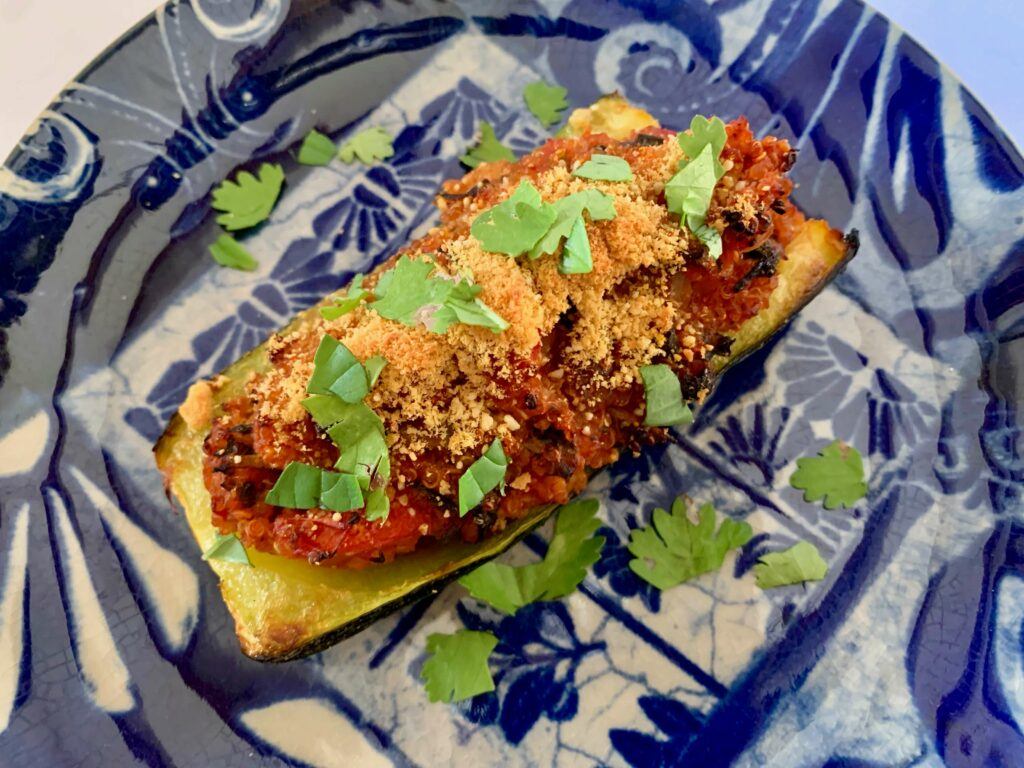 #13 Vegetable Stew with Added Quinoa
Quinoa's great for adding to stews when you fancy giving an extra bite or a boost in plant protein. Simply make your vegetable stew as normal and add the quinoa just before serving.
Alternatively, offer the quinoa separately in a bowl on the table and add it to the stew much as you would have added grated cheese in the past.
#14 Quinoa Burgers or Patties
Quinoa makes a perfect ingredient as the main bulk in vegan burgers. Combine the quinoa with some chickpeas, red beans or black beans, add some mushrooms and flavourings and form gluten free vegan patties to cook in the oven.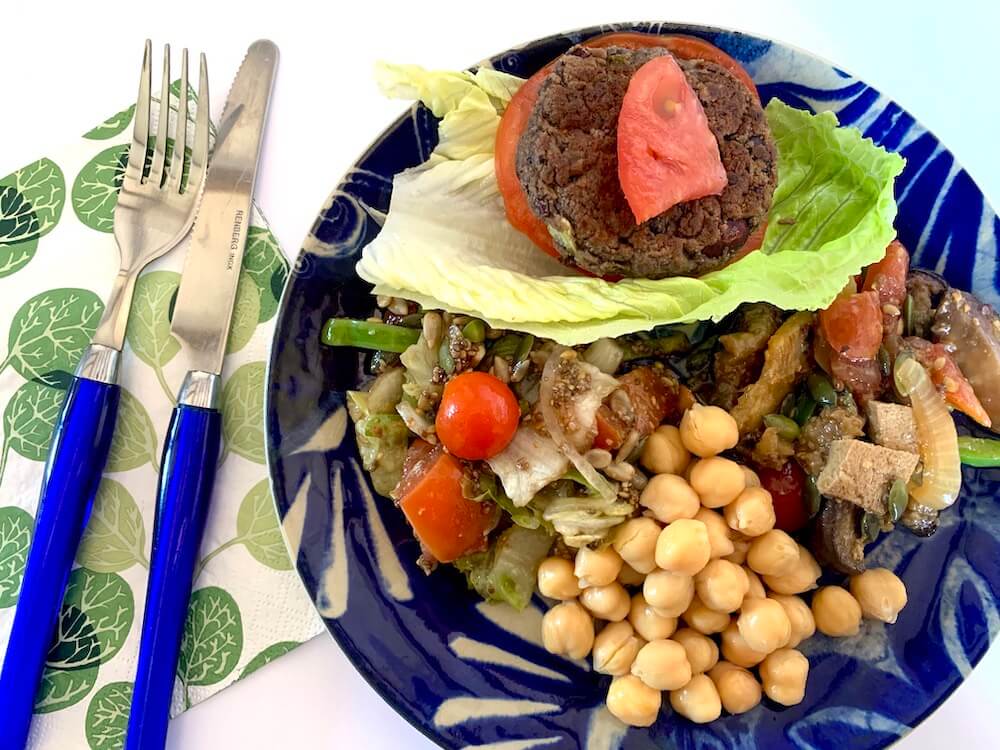 #15 Quinoa with Spicy Black Beans
Make a spicy black bean chilli by frying onion with garlic, chopped red peppers and chopped fresh chillis. Add the cooked black beans and chopped tomatoes and cook through.
Serve on top of the quinoa and sprinkle with nutritional yeast.
#16 Vegan Gluten Free Chocolate Brownies
Make chocolate brownies using black beans, quinoa, flax egg, Medjool dates, vegan cocoa powder and vegan chocolate chips.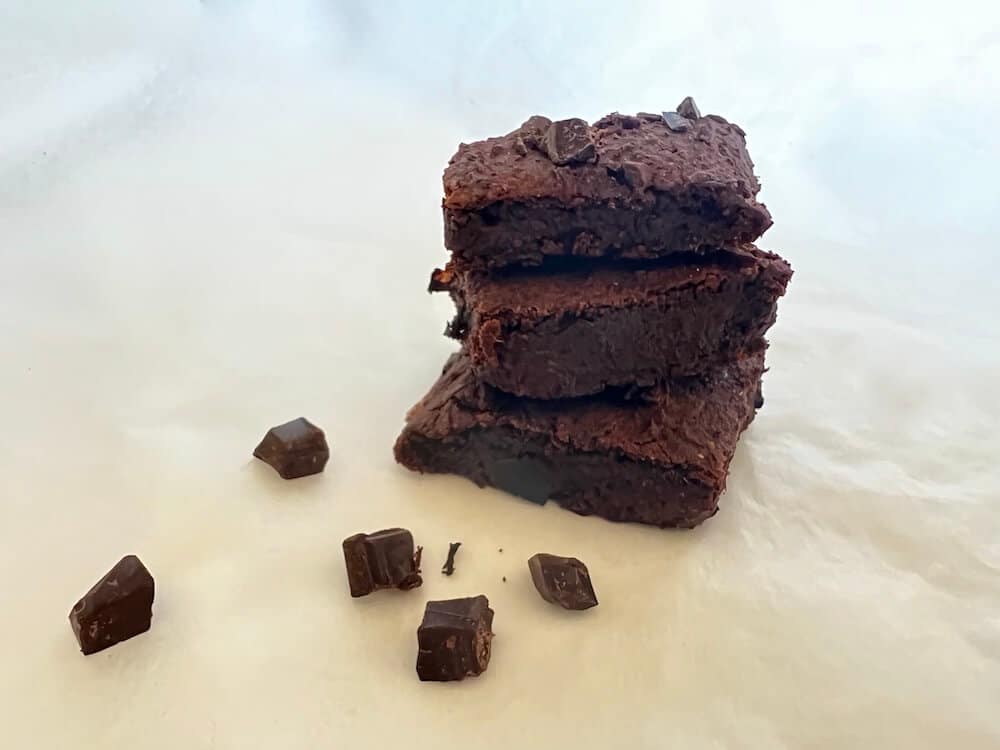 I hope you've enjoyed these ways of serving quinoa, one of the most nutritious grains (that's actually a seed) you can eat.