What's the best way to learn yoga online?
Have you been doing yoga for years but still feel like you're a beginner? Or maybe you want more flexibility? What about strength?
I know for me, I repeated and repeated (and repeated some more) and still I didn't seem to fly.
It wasn't until a specific catalyst came along one day that I began to really learn more about yoga.
And it isn't easy, right? I mean it's easy to love yoga, but it isn't easy to find somewhere you can flick on at the beginning of your day and get on your mat without wasting time searching the internet.
Over the years I've tried most of the yoga platforms and youtube videos I came across and of course I came up with some favourites.
So in this post, I thought I'd share so that you can skip the legwork and jump right in and progress in your yoga.
Three of the BEST Online Resources for Advancing Your Yoga (#3 is My Favourite!)
When you really want to progress in your home yoga practice, the last thing you want is to have to spend hours looking for your next video. So hopefully by sharing these three online yoga resources I'll save you some time and hassle.
Cos there's no time to spare when you REALLY want to progress!
Progress While Being in the Moment
Progress doesn't have to be about future goals. Progress in yoga is about really being in the moment.
Every moment brings its own joy, it's own peace, its own challenges. And to really be truly mindful throughout is enough, while still being aware of how much deeper into the pose we can get with practise and time.
So here they are, my top three choices for learning yoga online.
1. What's the Best Way to Learn Yoga Online? Yoga with Kassandra
Kassandra Reinhardt's channel is called Yoga with Kassandra and offers yin yoga, vinyasa flows and restorative yoga.
She knows how to speak just the right amount to help guide you through the flow without excessive chatting and she has a calm and easy-to-listen to voice.
Her vinyasa flows are smooth and peaceful but with enough variation of poses and options of different challenges to keep you engaged throughout.
There's a huge range of material on her channel, from quick 10 minute flows to full 1 hour yoga classes. She also does some minimum cues classes which can be nice when you feel like flowing without the voiceover.
It's sometimes quite hard to find longer classes or flows online. They seem to go for the 20 minutes flows, but I normally prefer the full hour.
Shorter ones are fine as quick addition, but not enough to really get into the zone (in my opinion). So yoga with Kassandra's a great place to go.
Here's one of her 1 hour vinyasa flow classes.
Kassandra also has plenty Yin flows available, for adding a more passive stretch to your daily yoga routine and for really getting deep into those poses.
Here's one of her 45 minute yin yoga videos.
I'm always on the lookout for longer yoga challenges, and my next favourite is somebody I've only recently found but I'm excited to have discovered . . .
2. What's the Best Way to Learn Yoga Online? Travis Eliot
His name is Travis Eliot and he's got tons of free material on his YouTube channel, plus his own platform called Inner Dimension TV.
You can join Inner Dimension TV for 17$ per month or 140$ per year (at the time of writing), which, if you do yoga every day and take advantage of the huge library of videos is pretty good value in my opinion.
You can also join for a free 10 day trial to see if it's the right match for you.
Inner Dimension TV offers Power yoga, Yin yoga, Meditation and Daily Wisdom, plus lots of yoga challenges and complete programs.
I'm doing the Level Up 108 and it's absolutely phenomenal!
Inner dimensions TV is my favourite yoga platform for yoga programs and variety.
Another great thing is that there are flows for all levels, so it's a safe bet that you can find something to suit your mood and experience.
The actual yoga is smooth-flowing while also challenging at the same time, which I personally love.
I think it would be difficult to find another platform with so many options for a deeper practice.
I find his style of speaking while he teaches quite different to others and to be honest it takes a little getting used to at first.
In the beginning his voice used to grate on me a bit, but the quality of the yoga flows persuaded me to persevere and I absolutely love it now.
Thoroughly recommend joining this platform if you want to do yoga every day!
3. What's the Best Way to Learn Yoga Online? Yogi Flight School!
Keeping the best for last, if you really want to learn yoga, as in get some funky asanas under your belt, as opposed to following a flow, then without a doubt this is my favourite place to go.
I've recently joined Yogi Flight School and I'm already blown away, seeing the difference in how I practise. Although Yogi Flight School is focussed on arm balances and inversions, the benefits sweep across to the rest of your practise too.
Because in YFS you get stronger and more flexible and both those two things help your yoga flow.
I wrote about it in more detail in my Yogi Flight School Review, but here I'll share a brief overview.
As well as the arm balances and inversions, there's a bonus masterclass for chaturanga dandasana. I've been struggling with chaturanga dandasana for years, and when I discovered Nathania's chaturanga masterclass (it's included in the course) I was so excited.
And it goes without saying, it's helped me to begin to nail my chaturanga.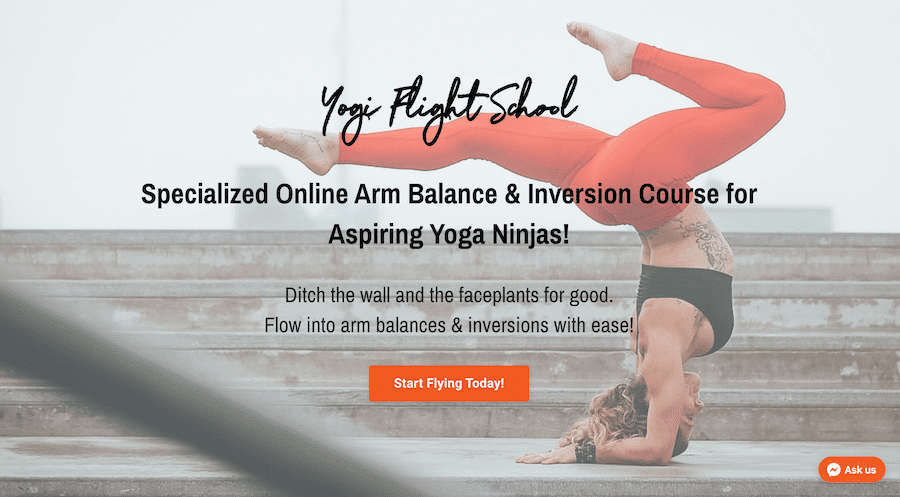 YFS is for all levels but especially welcoming for beginners because in YFS there's no such thing as 'I can't because I'm too old / too weak etc.' in YFS.
You're invited to do as much as you can and be happy with where you are. As time progresses you improve in the poses – as long as you keep practising and doing the homework.
There's a free course so you can get an idea of how Nathania Stambouli teaches (super cool, fun and encouraging methodology).
The self-study course costs 397$ currently reduced (for a limited time) by 40% to 247$.
That gives you lifetime access with updates plus membership to a supportive facebook group where you can post videos, questions etc. and where one of the YFS coaches will always help you out.
Don't join expecting to do the workshop once and suddenly master the pose. That can happen of course, but much more likely is that you do the workshop, practise through the week, move on the the next workshop etc.
And then circle back when you've done the entire 8 modules, to start again, this time practising to a slightly higher degree. And so it continues.
There's also a live version of the course (which is what I'm doing right now). It's actually the same course except for the 2 hour live online lesson every Saturday. These lessons are also available on the self-study course, but pre-recorded.
The live course only opens for enrolment at specific times in the year and isn't open all year round. It's set to open up again toward the end of 2023.
I'd recommend YFS 100% without reservations as long as you're prepared to put in the work and not be put off by things which may initially look too difficult.
You just have to start and have fun, and eventually you'll get to where you want to go. And in the meantime, enjoy the journey.
Oh, and be part of a super-positive community!
In the interest of full transparency – I'm enjoying the course so much that I've become an affiliate of it because I want everybody to be able to reach out of their limitations and break what they thought were their limits!!
So, I hope my three favourite resources will help you out on the yoga mat. Do you have any other yogis you love to follow?