Have you ever wondered how to make vegan burgers, or even better, how to make vegan burgers when you only have 15 minutes to make them in?
In this post I'll show you how to do just that. And it isn't difficult.
How to Make Vegan Bean Burgers (other ways exist too)
I've spent my entire cooking life thinking that burgers are somewhat of a 'hassle' meal. I mean you have to be in the mood to go to all that preparation right?
There's all the faff of pre-preparing the ingredients and then you have to blend, roll into burger shape and fry. That sounds a bit more troublesome than making a salad.
Wrong!
This recipe is for you if you like to make things simple! No faffing!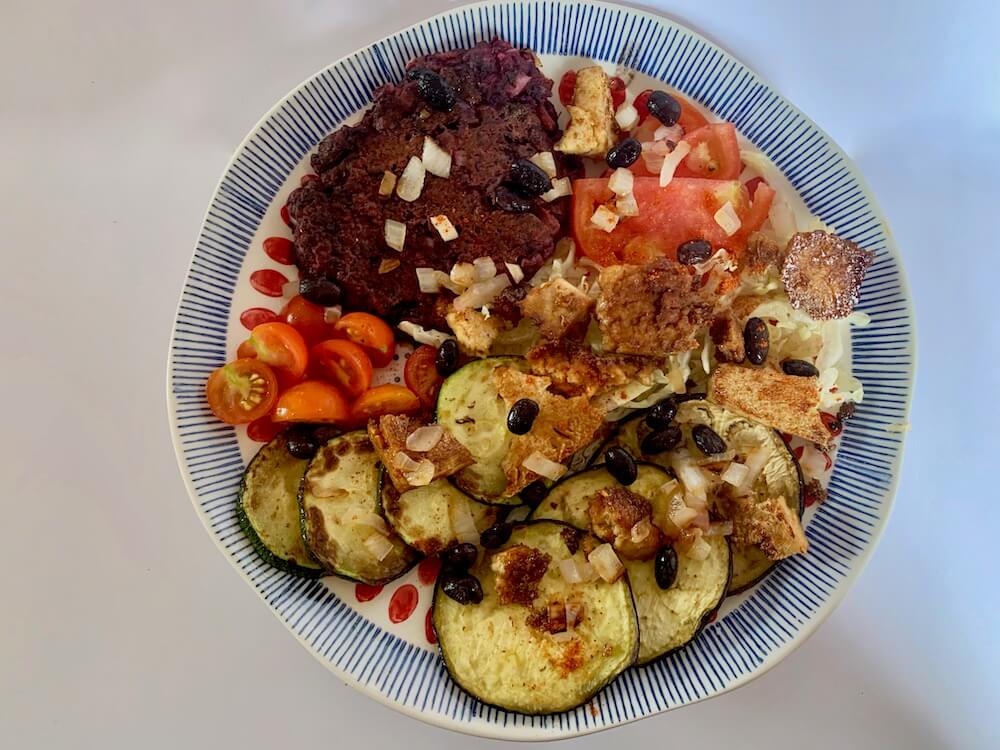 Here we go! Easy Bean Burgers in 15 minutes
Choose the base for the burger: beans, chickpeas, lentils, or all three. These three give the tasty and healthy, high protein characteristics to a vegan burger.
Secondary to these three, you can add quinoa or rice as a filling. Quinoa will further enhance the protein content of the burger as opposed to rice.
Mushrooms are also really useful as a burger ingredient. They add a meaty chew, but should be pre-cooked before you add them into the mix.
Once you've got your main ingredients, add some onion and another complementary vegetable, like beetroot or pepper.
Next comes the spice flavouring: paprika, cumin, coriander, black pepper.
Followed by some herbs: fresh basil, parsley or coriander.
Optional additions: soy sauce, nutritional yeast, vegan parmesan.
Gluten free flour for binding: tapioca, quinoa, chickpea. Add the flour to make a stiff mixture.
Retain some of your whole ingredients (beans, chopped onion . . .) to add back to the blended mix.
Remember to play with the ingredients – there are loads of ways to make an incredible burger!
Vegan Black Bean & Beetroot Burger
For this burger you'll need a tin of black beans or some pre-cooked black beans. The rest of the ingredients go in raw.
The premise behind a burger recipe is that it should be easy to reproduce, but with what you have handy and to suit your taste buds. So when you're making these burgers, add whatever you like to the mix (cumin, coriander, more chilli, chickpeas, veggies etc) and just use this as a starting point.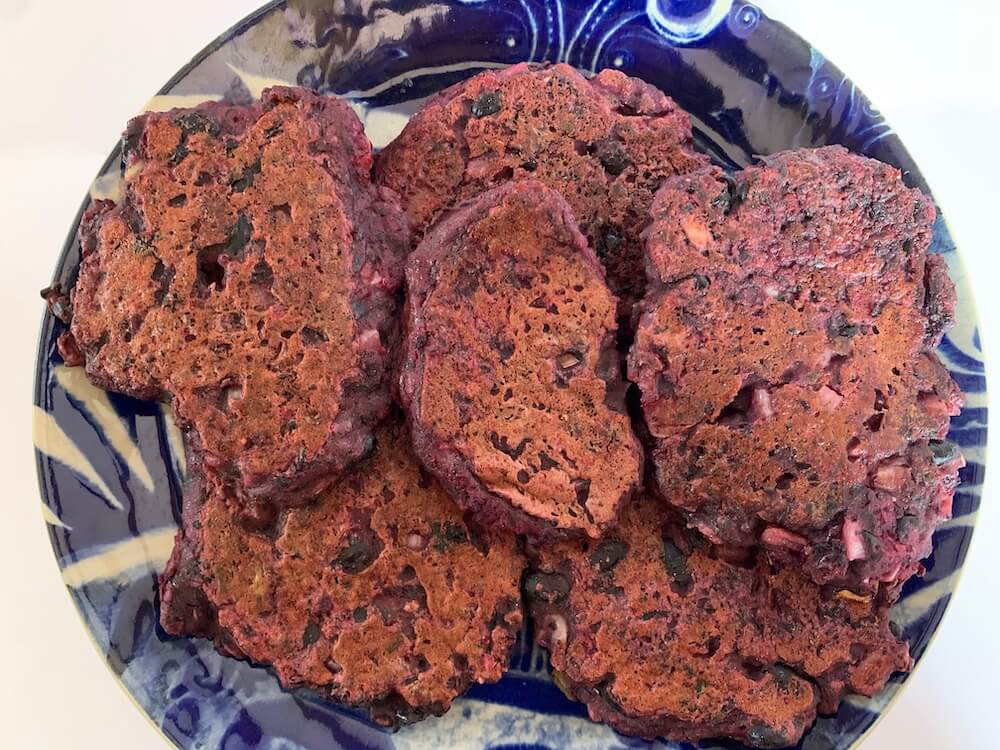 This particular burger uses black beans and beetroot as the main substance but actually you can make a burger with almost any ingredients. You need to be familiar with what makes a burger stick together.
Beyond flavour, you also need to consider what its final texture will be, its ease of making and ease of cooking.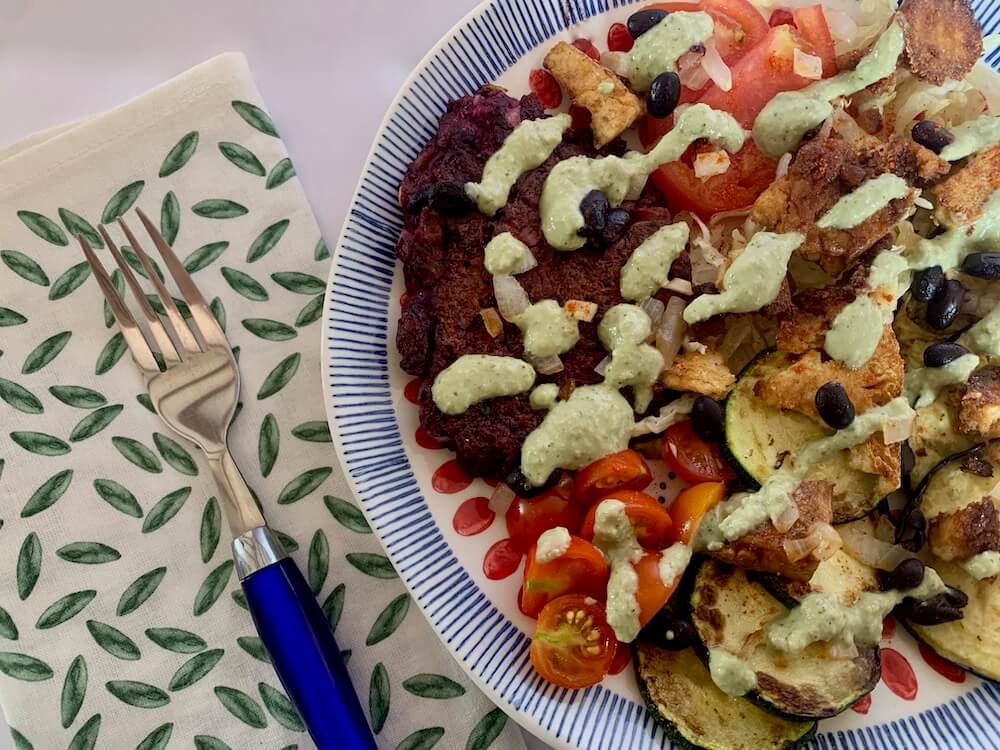 In addition to the beans/lentils/chickpeas plus quinoa or rice, add some chopped onion and plenty of flavourings: cumin, coriander, paprika, chilli, salt, pepper.
Next you will need something to bind the lot together. I used chickpea flour, quinoa flour and tapioca flour. I think the tapioca flour is an important bonus to the texture of the recipe but the other two can be switched for a gluten free flour of your choice.
If you use actual chickpeas & quinoa instead of the flour, you won't need to add so much flour.
Blending the Burger Mix
When you blend your burger, just pulse the blender until the main things like the beetroot are chopped. You want a rough blend, not a smooth paste.
The burger-mix should also have something in it to bite on, so always retain some beans or chickpeas, chopped onion or pepper to add back to the mix after the blending.
I re-introduced some whole black beans and finely chopped onion after blending this burger.
When you have your burger mix ready to go, it should be thick enough to sit in a blob (i.e. not liquid) on the griddle. This will ensure that it holds its shape once cooked.
Making the Patties
Ok so here's the thing. It takes ages to scoop out the mix put it between your hands and form a patti shape for the burger. It is the traditional way to make burgers.
But it is totally unnecessary unless you want to make your burgers look perfect in shape.
I don't.
So instead of making patties, I take a scoop of the mix and dollop it straight onto the griddle. Then, using a spatular, flatten the top of the pile of mix downwards and squash the sides inwards so that you end with a burger shape.
It saves you lots of time and hassle!
How to Make Black Bean Vegan Burgers in 15 minutes
Course: All Vegan Posts
Cuisine: Vegan, Gluten free
Difficulty: Easy
Easy and quick to make, black bean and beetroot burgers.
Ingredients
1 tin black beans or equivalent of pre-cooked black beans

1/2 large onion (or 1 small onion) finely chopped

1 small raw beetroot (or substitute with cooked)

1 tbs chickpea flour

1 tbs quinoa flour

2 tsp tapioca flour

Chopped fresh parsley (or you can freeze fresh parsley and use it from frozen)

1 clove garlic

1 tsp paprika (smoked if you like it)

1/2 tsp chilli or to taste

Dash gluten free ketjap manis or other sweet soy sauce

Salt & pepper
Directions
Save a cup of black beans and set aside.
Save half the chopped onion and set aside.
Put the rest of the black beans and onion into the blender along with the beetroot, garlic, parsley and the rest of the ingredients.
Pulse the blender to create a rough mix. You don't want it to be overly smooth, just blended enough so that everything is small.
Taste the mix and add more soy sauce, salt, pepper or chilli according to taste.
Add the remaining black beans and onions to the mix and stir.
Use a spoon to scoop up a blob of the mix and place it onto the hot griddle. Flatten the top down a bit to make it into a burger shape.
After a few minutes, flip the burgers over.
Serve with salad & grilled veggies & grilled onion. Or use it in the traditional way in a bun! I like these with tahini drizzled on top.
Notes
You can vary the ingredients. Just make sure that the mix is thick enough to maintain its shape on the griddle. It shouldn't be liquid.
Healthy Reasons to Eat Black Beans
Black beans are a wonderful source of protein, fibre & folate.
Contains phytonutrients which are rich in antioxidant properties.
The vitamin B6 as well as the other nutritional makeup of the black bean means that it protects and promotes heart health.
Eating black beans regularly can reduce the risk of cancer.
Black beans do not cause a blood sugar spike (as they are low G1) so are great for preventing, and/or managing diabetes.
Great for weight loss, the high fibre makes them a satisfying meal and the low GI will help curb food cravings.
Can lower blood pressure (be sure not to buy the low sodium tinned variety)
Believed to support strong, healthy bones
Vegan Bean Burger Variation
Instead of the beetroot and black beans, you can use red beans and pepper or mushroom or a mix of all three.
In this recipe variation, mix some red beans with black beans, add some chopped onion, green pepper, nutritional yeast and all the spices and flavourings you want, like cumin, salt, basil or parsley.
For the flour I used 2 tbs tapioca, 2 tbs chickpea & 2 tbs quinoa and that made 8 burgers.
I hope you enjoyed these easy vegan burgers. Don't forget to like, share or comment!