This easy-to-make black bean and sweet potato burger hit the bullseye not just because of its tantalising taste but also because of its simplicity.
I'm not into making complicated burger recipes.
My idea of perfection is for it to be quick-n-easy to create, just like these ones are.
The secret for making burgers is to master the basic concept, then play around with the texture and flavours and personalise it each time until you come up with your favourite combo.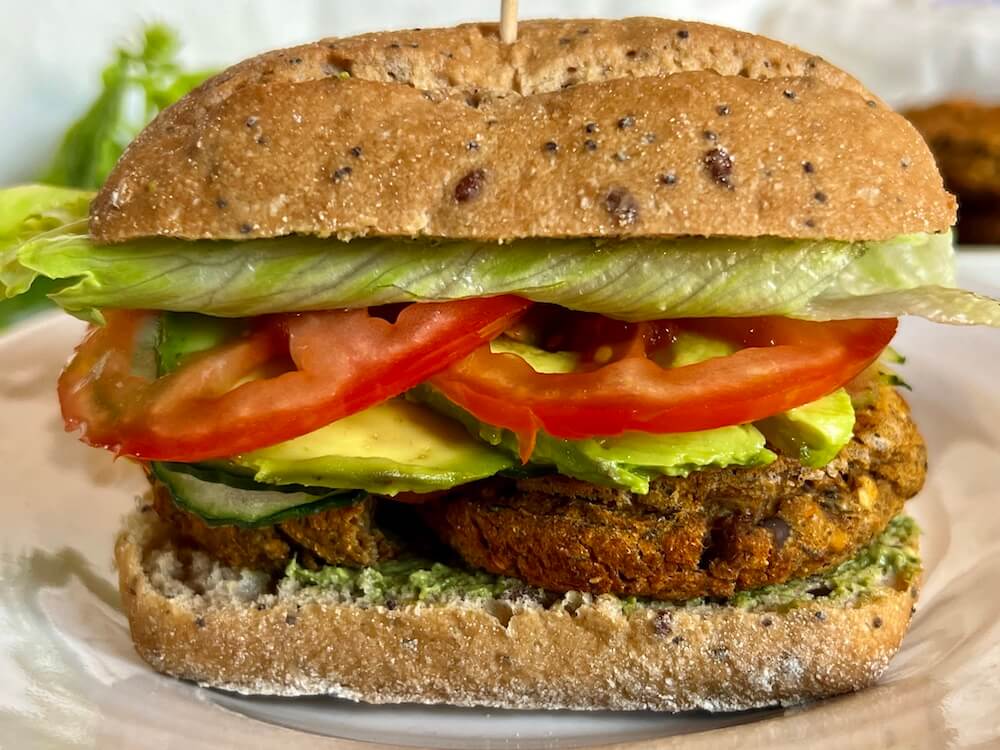 The Basic Ingredients for these Oil Free Black Bean and Sweet Potato Vegan Burgers
Black beans or a mix of black beans and chickpeas
Sweet potato flesh
Tapioca starch
Maize flour / Chickpea flour
Ground flax seeds
Oyster mushrooms or sub with standard mushrooms
Tamari or gluten-free soy sauce
Nutritional yeast
Fresh herbs of choice e.g. fresh cilantro or fresh basil
Chilli powder to taste
(Optional cumin powder or a spice blend)
The basis for these burgers is the black beans and/or chickpeas, the sweet potato and some binder to hold them together.
On top of that, I like to add some mushrooms for texture, and the rest of the ingredients are for flavouring.
I used tapioca flour, maize flour and chickpea flour in this version.
And a teaspoon of flax which acts as an egg replacement. You can swap the chickpea and maize flour out for another gluten-free flour of your choice.
How to Cook the Black Beans (and Chickpeas) for the Burgers
The best thing about making homemade black bean burgers is that I've recently discovered how to cook dried pulses from scratch without all the hassle that normally goes with them if you don't have a slow cooker.
In the past, I used to buy chickpeas in a jar and black beans in a tin for convenience. But they're far cheaper and much tastier if you cook them yourself.
Simply leave them to sit in salty water for 5 hours or overnight, then drain the beans and place them into the rice cooker. Cover with fresh water so that there is plenty of water covering the beans/chickpeas and switch on the rice cooker.
Read: how to cook chickpeas in a rice cooker
Cook the beans just as you would cook rice, but instead of leaving it to switch itself off, come back and check your beans in about 30 minutes. Keep checking them until they are soft, then switch off the rice cooker and leave to cool.
This way you can always have delicious and cheap beans in the fridge for use in recipes or for making tasty instant vegan snacks.
Preparing the Other Ingredients for the Black Bean and Sweet Potato Vegan Burgers
Put the sweet potato into the microwave and cook on high heat until it is soft through. Peel off the skin and add the flesh to the bean mix.
Fry the oyster mushrooms in a little water in a frying pan with a sprinkle of salt and any spices you choose for flavouring the vegan burger. My standard choice is chilli powder and cumin powder and plenty of black pepper – but any others you fancy will also do fine.
When the mushrooms are looking cooked, add a small dash of Tamari or gluten-free soy sauce to the pan and stir fry for a moment.
Add half the oyster mushrooms to the bean mix. Chop the other half finely and set aside to add back into the mixture after the blending is finished.
Finally, pour in 2 tbs tapioca flour, 1 tbs maize flour, 1 tsp chickpea flour, 1 heaped tsp ground flaxseed,
Pulse the blend in your food processor but be careful not to turn it into a smooth paste. You want it to be mixed and broken up but not smooth through.
There should be some bits of beans still in it to bite on. You can also reserve some whole beans for adding back into the mix if you like it with more texture still.
Once you've pulsed the mixture re-introduce the other half of the mushrooms and some of the whole beans, which you can roughly mash first.
Making the Oil-Free Black Bean and Sweet Potato Burgers
To make the patties, wash your hands and half-dry them, leaving them a tiny bit damp. This makes the mixture easier to handle. If it starts sticking to your skin, rinse your hands again and the burger mix will behave again.
Put a spoon full of burger mix into the palm of one hand and roll it between your palms to make a ball.
Repeat this until all the mixture has been used up.
Take a spatula and press each ball to flatten it out into a pattie.
Preheat the oven to 200ºc and cook the patties for 30 minutes, turning after 15 minutes.
Serving Oil-Free Black Bean and Sweet Potato Burgers
These burgers aren't dry so they go perfectly in a gluten-free burger bun but you can also eat them as a snack straight from the fridge or reheat them in the microwave.
They go divinely with a helping of hot 'n spicy kimchi on the side and a serving of air-fried smashed potatoes.
I'm not such a fan of burger-bun type bread and I very rarely eat bread at all, so I prefer to place a burger on a piece of iceberg lettuce and top it with avocado and cherry tomato.
Next, add a blob of cilantro sauce on top and fold the lettuce leaf over on top.
Enjoy a tasty and nutritious snack which is great as part of a whole foods plant-based diet.
Oil-Free Black Bean and Sweet Potato Burgers
Course: Main course, Snack
Cuisine: Gluten free, Vegan, Oil free, WFPB
Difficulty: Easy
These oil-free black bean burgers are so easy to make.
Ingredients
250g cooked black beans and chickpeas mix

1 medium-large sweet potato

2 tbsp tapioca starch

1 tbsp maize flour

1 tsp gram flour

1 tsp flax

120g oyster mushrooms

Dash of Tamari or gluten-free soy sauce

2 tbsp nutritional yeast

Chilli powder to taste and other spices of choice
Directions for making black bean and sweet potato vegan burgers
Wash the sweet potato, put a slice through it and place it into the microwave to cook.
Wash the oyster mushrooms and squeeze out the excess water. Chop them up and add them to a heated frying pan. Sprinkle with a little salt and add 2 tbsp of water. Add more while cooking if necessary.
Sprinkle any spices of your choice onto the mushrooms during cooking.
Place a mix of drained black beans and chickpeas into the food processor, saving a few black beans to add back into the mix later on. Add the flour and flax, nutritional yeast, half the mushroom mix and the flesh from the sweet potato.
Pulse to roughly chop the burger mix without making it too smooth.
Finely chop the remainder half of the oyster mushrooms and stir them into the mix, along with some mashed black beans.
Roll the mix into balls in the palms of your hand and place the balls into an oven dish with a baking paper lining.
Cook at 200ºc for 30 minutes, turning after 15 mins.
Serve immediately or store in the fridge for eating later on.
Health benefits of black beans
Notes
These can be made plain or spicy and served in a bun or eaten as a snack in a lettuce leaf.
How to make a really easy oil-free vegan burger is one of the common FAQs that I get asked. If you've ever wondered about that question I hope this post offers you the solution.
Enjoy your burgers!