Do you think it's tricky to make a vegan oil-free mushroom gravy that tastes glorious?
Or that it's a complicated process?
Think again.
This gluten free, vegan oil-free mushroom gravy is oh-so-easy to make. And you don't need to have a stock.
Yes you read it right, you can make this with plain water.
So many so-called 'easy' gravy recipes actually list stock as an ingredient. Well I don't know about you, but I don't buy stock, I make it. So anything that has stock in it also has one extra step in the preparation.
But this one? It kicks a full punch even when made with water.
And most of those recipes rely on the stock for their flavour.
Don't get me wrong, you can use stock to make this gravy, but it isn't necessary and it won't suffer if you don't.
Easy.
What Gives the Vegan Oil-Free Mushroom Gravy its Flavour?
The onion, garlic and mushrooms.
The secret is to dry-fry the garlic and onion before adding the mushrooms so that they become rich in flavour first (in 1 tbsp water).
They're cooked with a fresh herb (or dried if you don't have fresh) and then the mushrooms are added.
A teaspoon of Miso paste brings out some umami flavour, and a good dash of Tamari (gluten free soy sauce) or gluten free kecap manis (sweet Indonesian soy sauce) gives it the final panache.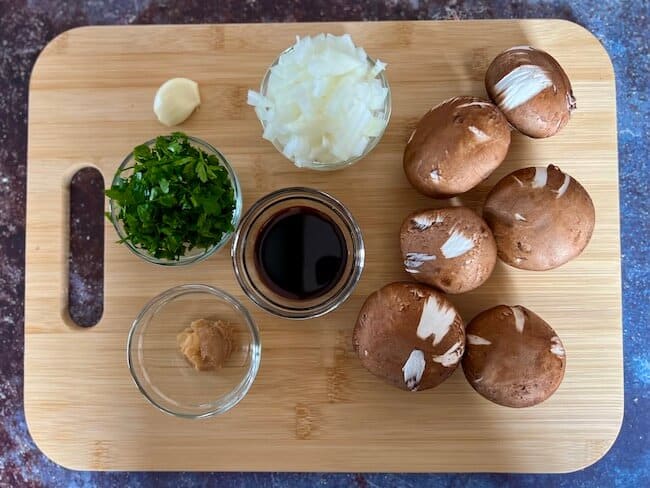 I like to add a dash of unsweetened soya milk (or other plant milk) to finish it off.
How Can I Thicken an Oil-Free Gluten-Free Gravy?
For this recipe we're going to make a roux sauce, just like you would with oil and gluten, only without the . . . erm. . . oil and gluten.
Did you know that you can do the same thing using water?
So, dry-fry the onion and when it's partially cooked through, add the mushrooms with finely chopped fresh parsley and a pinch of salt. Cook until the mushrooms are ready.
You could also use dried herbs if you don't have fresh (think parsley, thyme or oregano).
When the mushrooms are cooked and sizzling, add 7-8 tablespoons of gluten free flour, 1 by one, stirring them in to absorb the liquid.
You can use garbanzo flour or rice flour or both for this part. I like to use a mix of both, 4 garbanzo and 3 rice for example. You can add 1 more tablespoon of flour if there's still liquid to absorb it, making it 4 of each.
Stir the flour on the heat for a moment to cook before adding any more liquid.
Meanwhile, bring the kettle to the boil and use the hot water to gradually add to the onion, mushroom and flour mix.
Add it bit by bit, stirring all the time to avoid lumps from forming.
And there you have it.
Easy peasy mushroom gravy to pour over your Dutch boerenkool stamppot or serve on the side of your oil-free roasted vegetables.
How to Serve Vegan Oil-free Mushroom Gravy
Who doesn't love a gravy drizzled over their mashed potato? But what else can you serve a gravy with?
Serve your gravy alongside some simple oil-free roasted vegetables or air-fried veggies.
Or maybe on top of my favourite cabbage snack, roasted cabbage steaks?
Make too much gravy and use it to top jacket potatoes, roasted sweet potatoes or air-fried sweet potato chips or homemade burgers.
Let's face it, a good gravy can be matched with most things.
Vegan Oil-free Mushroom Gravy
Course: Sauce
Cuisine: Vegan, Gluten free
Difficulty: Easy
A quick and easy recipe for a mushroom gravy that's gluten free and oil free yet full of flavour.
Ingredients
6 mushrooms (250g)

1/2 onion

1 or 2 cloves garlic, crushed and finely chopped

7-8 tbs gluten free flour of choice (i.e. rice flour &/or garbanzo flour)

1 tbsp Kecap manis or Tamari soy sauce

1 tsp Miso paste

Fresh parsley (or dried herbs if not available)

Salt and black pepper

Water (or vegetable stock)

Optional dash of unsweetened plant milk
Directions
Heat a pan with a tbsp water. Add the crushed and chopped garlic followed by the finely chopped onion and a sprinkle of salt.
Cook the onion until translucent and semi-fried looking, then add the fresh parsley. It's ok if there's a little brown layer sticking to the bottom of the pan, as long as it isn't burning as this will come off and give the gravy extra flavour when you add the liquid.
Add the finely sliced mushrooms and cook with the onion and fresh herbs and a little salt, stirring now and then until they begin to release their own liquid.
When the mushrooms are cooked, add the gluten free flour. The exact quantity of flour depends on all the specific quantities of the moment so be prepared to add more or less according to your situation. But roughly speaking, 8 tablespoons will make a large jug of good thick gravy.
Stir the flour/mushroom mix to cook the flour for a moment.
Meanwhile, boil the kettle and use the hot water for adding to the flour. Gradually add a little to the flour/mushroom mix bit by bit, stirring all the time to avoid lumps forming.
Taste to check and add extra herbs, salt or more black pepper as necessary.
Add a dash of unsweetened plant milk (optional)
VEGAN OIL FREE MUSHROOM GRAVY RECIPE VIDEO
Notes
The gravy is naturally creamy on its own but I like to add some plant milk for extra creaminess.