Are you looking to explore oil-free cooking? Discover how to roast vegetables without oil while maintaining all the flavour you expect from delicious roasted veggies.
These oil-free roasties are just as tasty, yet with a fraction of the calories of oil-roasted vegetables.
They are:
You may find they taste a bit different to the ones you're used to, but I've actually come to prefer these oil-free roasties over the traditional ones, and I believe that you will too as you discover the unique flavour of the individual vegetables shining through.
In fact, after switching over to oil-free cooking, you'll discover a whole new level of taste-bud pleasure from eating vegetables that have been roasted without oil.
Like anything new, you might need to give yourself a period of time to adapt to the new way of cooking and eating but I'm confident that you'll grow to love these even more than the old traditional way of roasting vegetables.
So without further ado, let's delve into the expert tips that can get the best results before you dive into roasting without oil.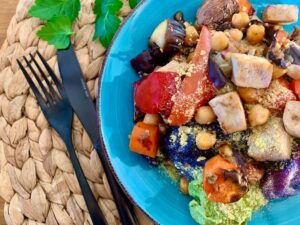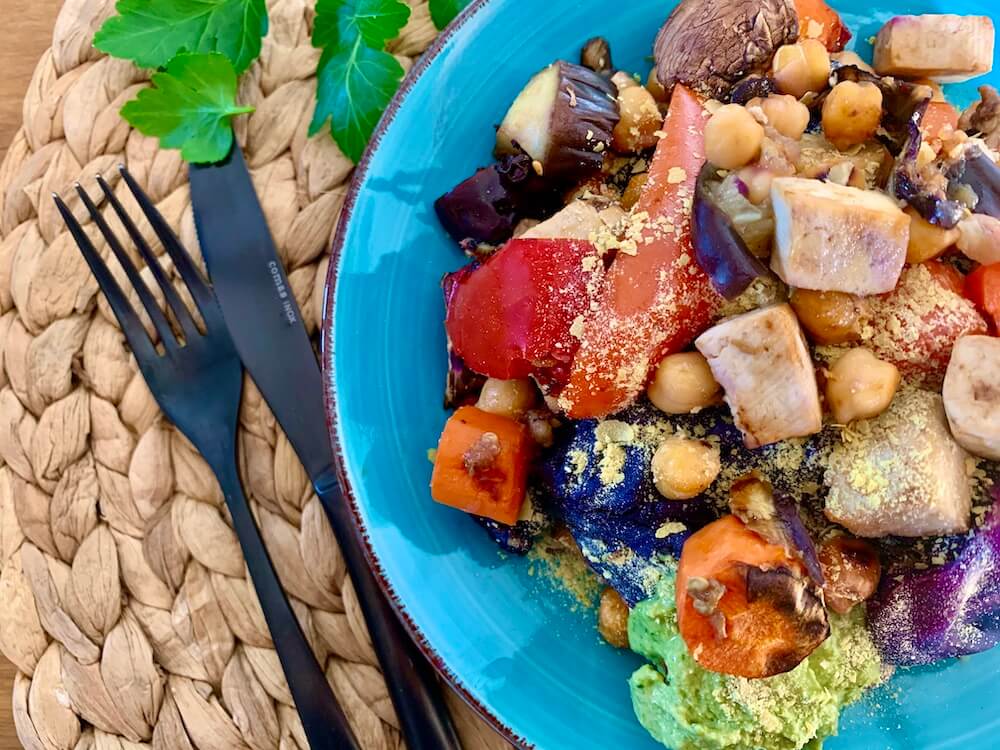 Whole Foods Plant-Based Diet – Why Cut Out the Oil?
A whole-food plant-based diet removes all processed foods, including oil from the diet. At first, you may think that's totally unnecessary, but when you think about it, we are conditioned to use oil for cooking.
We think it's the only way to achieve the result we want. But it isn't.
And when you add 1 tablespoon of oil to your food, you're adding around about 120 calories and almost zero nutrients.
While olive oil is considered to be a healthy oil when eaten raw, there's nobody who will tell you that frying any type of oil is healthy. Not only is the oil unhealthy, but the cooked foods also have lower nutritional value and a higher calorie count after cooking in oil.
The lifestyle which is known as a whole foods plant-based diet was founded by Dr. Colin Campbell, a physician who reversed many cases of diabetes and heart disease by changing his patients' diet.
A whole food plant-based diet revolves around eating only health-promoting foods and removing processed foods, including oil, from the diet.
At the very least, eating oil-free roasted vegetables is a low-calorie, healthier choice than eating oil-roasted veggies, but the question is, can they be as appetising?
Intro to How to Roast Vegetables Without Oil
Of course, when you completely change your way of cooking by giving up oil, you'll need a little time to adapt. But that's it. A little time.
After that, it becomes second nature to fry, roast or sautée without using oil. And believe me, you won't feel you're missing out because you won't WANT the oil any more.
And for all you virgin olive oil lovers who can't bear to be without it, then keep it for eating raw and later reduce that when you're ready if you want.
Zero-oil roasted vegetables will taste slightly different to oil roasted vegetables, and that's just something you'll need to accept as a given.
But the secret is, there's nothing better about traditional roast vegetables.
It's all a matter of habit.
And the biggest change will be if you're a fan of roast potatoes. Those are possibly the only vegetable which I don't find very tasty when roasted without oil. But then again, I don't really eat a lot of potatoes now, so maybe that's why.
Once you adapt to the new flavours, you'll be looking forward to oil-free roasted vegetables just as much, or more, than you used to before.
When you start to get into a whole food plant-based way of eating, you quickly realise that oil is the most calorie-dense food we eat – and it doesn't contribute significantly to nutrition or health.
In fact, as we all know, fried food is the least healthy way to eat.
You may like to read a simple guide to a wfpb diet to understand the far-reaching health benefits of adopting a plant-based, oil-free way of life.
Which Vegetables Roast Best without Oil?
All vegetables can be roasted without oil but some will dry out more than others.
Potatoes are probably the least rewarding of all vegetables to roast without oil in the oven, but if you shift your expectations, you can still roast potatoes without oil
Otherwise, cut your potatoes very thin or switch to sweet potatoes – they're absolutely delicious dry-roasted in the oven.
In the past, I admit I used to love to occasionally eat a pile of roasted potatoes in olive oil and salt and potato is the one vegetable that seems dry when roasted without the oil. Perhaps the best solution is to keep potatoes for very special occasions and sub for sweet potatoes when cooking without the oil.
Vegetables that Roast Well Without Oil
sweet potato
zucchini
carrots
purple cabbage
green cabbage
eggplant
bell peppers
mushrooms
onion
cauliflower
parsnips
Non-Vegetable Ingredients to Roast with the Vegetables without Oil
How to Roast Vegetables Without Oil But with All the Flavour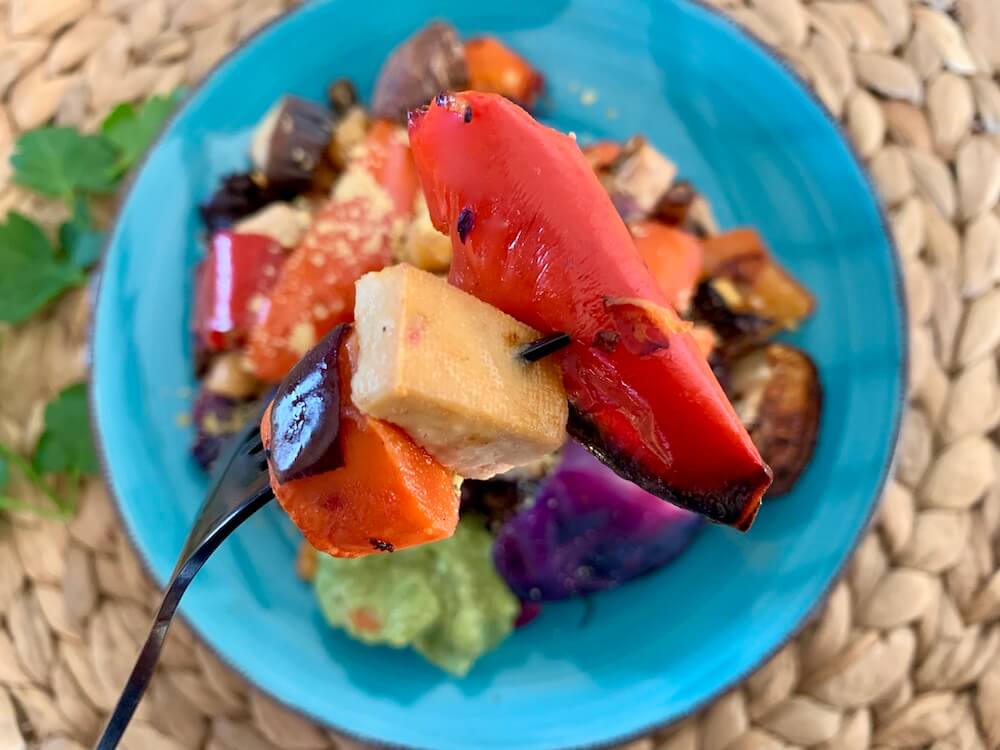 When you first come across the wfpb diet, or whole foods plant-based diet, and you wonder how to roast vegetables without oil and without losing the flavour, you might assume it's going to be difficult.
But it isn't.
I think psychologically it's more challenging than in actual fact. We're so used to thinking that everything gets cooked in oil.
And I know, because I used to love my olive oil for cooking.
Oil Substitutes for Roasting Vegetables without Oil
There are lots of variations on how to roast vegetables without oil. The most common liquids which people use for roasting oil-free vegetables are:
nothing – since writing this post I've adopted the habit of dry-roasting vegetables without any added liquid and I love it
water – the most obvious and easy liquid, but too much can spoil the roast
lemon juice – the star of this post and my favourite choice before I switched to nothing
orange juice – not my favourite, I don't like this one
lime juice – I prefer lemon juice
apple compote – neutral results, so not really worth the effort
balsamic vinegar – can be a good option
vegetable stock – same as water IMO
Different people use various liquids to roast vegetables without oil, but in my opinion, lemon juice with lemon zest or simply dry-roasting are the best ways, because they create the most delicious results.
How to Roast Vegetables without Oil in Lemon Juice & Lemon Zest
My favourite method of roasting vegetables without oil is to squeeze some lemon juice over the vegetables and stir to mix. Sprinkle with a little salt and grate some zest (skin) of the lemon onto the vegetables.
You can omit the salt if you're salt-free.
Preparing the Vegetables for Roasting
Some things are a matter of practice and one of those is the ability to chop the vegetables so that they cook in roughly the same time as each other.
You'll want to wash and trim off any bad bits, then chop the vegetable to the size you want. With cabbage, it's important to leave it in larger, solid chunks so that it retains its yummy juiciness and doesn't dry out.
For roasting zucchini, I like to slice it down the middle lengthwise, then in half again and roast it in half boats.
For the rest of the veggies, chop them into large bite-sized pieces and place in a baking tray.
Place the baking tray into the oven and roast for approx 30 minutes, checking halfway through and stirring to stop the veggies from burning on the top.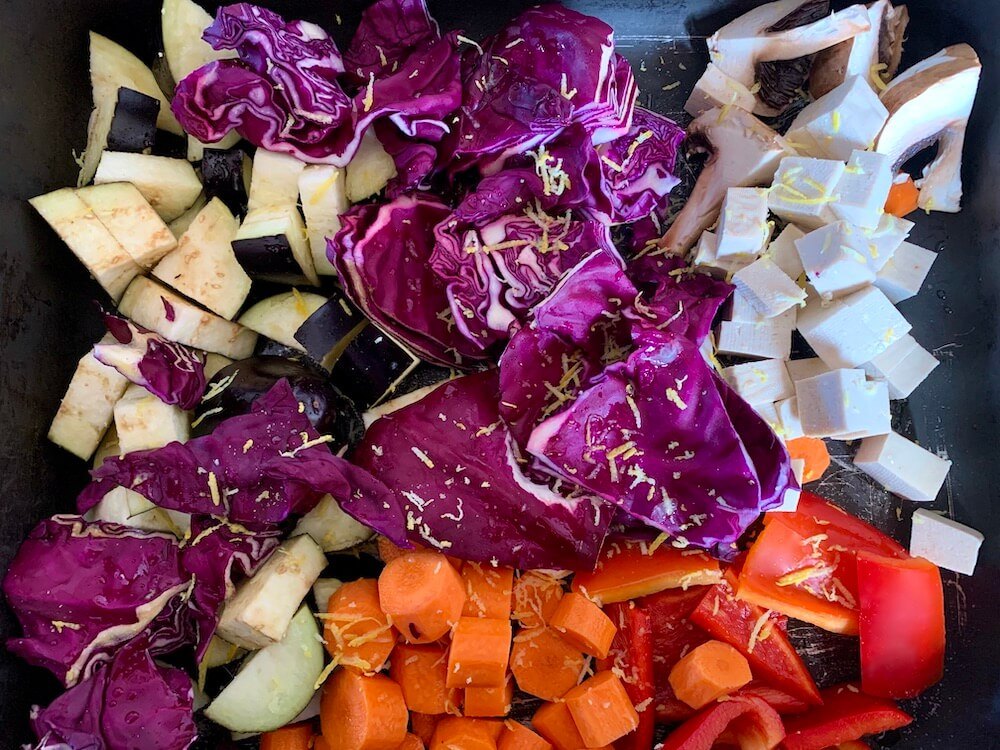 How Much Lemon Juice & Zest to Use
It will depend on how many vegetables you're roasting and how big the lemon is! But the great thing about using lemon juice for roasting is that you can add just a little squeeze and then add more as necessary during the cooking process.
The lemon zest really takes this dish to the next level. On average I would use the zest from about half a lemon, but when you've done it a few times you'll discover how you like it best.
I also like to add chickpeas and tofu to the pan of roasted vegetables.
How to Dry-Roast Vegetables without Oil
The most frequent way I roast vegetables is simply dry roasting without any added liquid.
It's so easy and simple to do, and the veggies come out delicious as long as you take a few things into consideration.
Dry-roasting vegetables works well for juicy vegetables, so the trick is to mix them during the cooking so that the dry veggies benefit from the juicy veggies.
How to Roast Vegetables in Water
You can use water instead of lemon juice by sprinkling a little water over the veggies before baking in the oven but personally, I prefer to dry roast them or to use lemon juice.
If you do choose to use water, you need to keep an eye on the vegetables to make sure that they don't try out and stick to the pan as the water evaporates. Add another sprinkle when necessary, rather than adding too much in one go.
If you put a lot of water in the pan at the start, the vegetables will cook in the water and steam, so they will be more like steamed vegetables rather than roast, and they won't caramelise.
Veggies roasted in water don't have the same panache as lemon-roasted vegetables in my opinion.
And I don't really like the results of roasting in water.
Troubleshooting Roasting Vegetables without Oil
Of course, as with any switch-over, it may take practice before roasting without oil becomes second nature to you. And you may have a few times when the vegetables don't come out how you want them to.
Don't give up!
Once you cross the line into oil-free roasting with success, it no longer holds any hazards or risks. It just becomes plain old easy. Like any roasting.
Some of the things that may happen when you first start roasting without oil.
The vegetables might . . .
. . . stick to the bottom of the pan
. . . be too dry
. . . lack flavour
. . . be soft and not caramelised
. . . not be cooked through
. . . be cooked unevenly (some are cooked, others still half raw)
Solutions to Troubleshooting Oil-Free Roasted Vegetables
Vegetables sticking to the bottom of the pan: some sticking will occur and isn't a problem, but to avoid overly sticking, using lemon juice seems more effective than water or other liquids. You can also use baking paper to line the baking tray.
Dry vegetables: some types of veggies will become naturally too dry if you don't squeeze on enough lemon juice, but don't worry, you can use a little in the beginning and then squeeze on more halfway through cooking if you see that the veggies are drying out.
Lacking flavour: a lack of flavour can be true if you roast the vegetables in water, but when you use lemon juice and the zest, the flavour really pops. You can, if you want some variation, add some spices to the vegetables, but they are completely flavoursome without.
Soft Vegetables Instead of Crunchy Roasted Veggies: too much water can make the veggies soggy instead of caramelised.
Hard vegetables: If the veggies aren't cooked through, you may not have enough moisture in the pan. You can always add a chopped tomato to the roasting pan too.
Unevenly cooked: when you find some veggies are fully cooked and others are still half raw, it's a problem with the chopping or with not flipping the veggies during the roasting time. Adapt the size of the chunks you roast, so that they all roast together. In the meantime, you may have to let some veggies over-cook to get the other ones cooked through.
How to Serve Oil-Free Roasted Vegetables
Serve roasted veggies on the side or as a complete meal by adding a few bits.
Or cook up a pan of roasted veggies to serve alongside a dish of vegan oil-free scalloped potatoes or smashed potatoes from the air fryer.
Roasted veggies also make an important part of a buddha bowl or served as the main meal with a gram flour flatbread alongside.
Roasted vegetables are the basis for this simple oil-free vegan lasagne. You just roast the veggies along with some herbs, then add chopped tomatoes towards the end of cooking and return to the heat until the tomatoes lose their shape. This is then perfect for using as your lasagne filling.
You can even keep the leftover roasted veggies in the fridge and eat them the next day, cold or reheated, as you prefer.
I love eating cold dry roasted vegetables the next day as a snack when I get hungry.
And it goes without saying that spicy homemade kimchi goes well alongside this, but that's probably because kimchi goes superbly with everything!
Complete Meal of Vegetables Roasted Without Oil
Add some chickpeas and tofu to the pan and you'll be adding a protein source to complete the meal.
Chop the veggies into large bite-sized chunks and place them in a baking tray along with the chickpeas. Squeeze over with lemon juice and lemon zest and put in the oven at 200º for 30 minutes.
After 15 minutes, use a spatula to turn the veggies and test how cooked they are. It should take approx 30-40 minutes for them to be soft and ready to eat.
Deliciously roasted.
Add extra cumin at the start of cooking for variation and serve with some nutritional yeast and fresh cilantro sauce.
How to Roast Vegetables Without Oil
Course: Main course, Lunch
Cuisine: WFP, Oil Free, Vegan, Gluten Free
Wonderful simple recipe for a delicious meal
Ingredients
For The Vegetables (All optional)

4 carrots, cut into rounds

1 eggplant cut into rounds, then quartered

2 zucchinis, cut in half

1 large red pepper, chopped into large pieces

4 large mushrooms, quartered

1/4 red cabbage, chopped into chunky chunks

For the Protein

1 packet of hard tofu

1 jar chickpeas
Directions
Wash the vegetables and chop them into large bite sized pieces, except the zucchini which you can cut in half.
Grate 1/2 the skin of 1 lemon over the vegetables.
Cut the lemon in half and squeeze on the juice from half a lemon.
Sprinkle with salt if using.
Place in a preheated oven at 200ºc.
After 15 minutes, turn the vegetables over.
At 30 minutes check to see if the veggies are cooked.
Dr klaper on oil-free cooking
Notes
Once you've discovered how to roast vegetables without oil, you won't want to go back to roasting with oil!
General Vegan Tips for Cooking Without Oil
Vegan cooking without oil is simpler than cooking with oil. You just cook the vegetables straight into the pan or with a little water or lemon juice.
Oil-free cooking in an air fryer is an example of how easy this way of eating can be.
There's no oily mess to clean up and you know that the food you're eating is as healthy as can be. After eating this way for a little while, you may well find yourself wondering why you would ever want to add oil to a pan again.
It's all about re-educating the mind and managing expectations. When we expect something specific, then any variation on that expectation can be construed as a disappointment, when really it's just misplaced expectations.
How to Fry Without Oil
When people hear that I cook without oil, one of the most common questions is, can you use water instead of oil to fry? The answer is yes.
To fry without oil you can use one of the liquids from this post on how to roast vegetables without oil but the two most common methods are to fry in a little water or to fry 'dry'.
Frying in Water
Put a couple of tablespoons of water into a pan and heat. When it's hot, add the vegetable/s and stir. Allow them to cook for a few minutes and you'll find the water evaporates. You'll need to keep watch of the pan, stirring occasionally.
The trick is to allow the pan to dry out enough to brown and caramelise the veggies but not enough to burn the bottom of the pan. Basically, when you see the base of the pan getting brown, add a dash more water and stir again.
In this way, you can fry your onions for French onion soup or for the base of a homemade tomato sauce and still get the rich flavour of the onions.
For a stir fry, follow the same plan, adding vegetables to the pan in order of softness.
Cons of Frying in Water
If you add too much water, you'll end up with soft vegetables that aren't 'fried' but boiled/steamed
It takes a little time to get used to frying in water, so if at first, you don't get great results, don't give up.
Dry-Frying Without Oil
When frying without water or anything, use a hot, dry pan to begin with.
Add the vegetables and sprinkle with salt. As they heat on the bottom of the pan, they will release a little moisture, just enough to stop the pan from burning.
But this depends on the vegetable you're frying. For example, this works with onions but not with carrots so as long as you have some juicy veggies in the pan they will help the other veggies to cook.
Try not to stir the vegetables too much if you're using the dry-fry technique.
Cons of dry-frying
You can end up with a very burnt pan if you don't pay attention
The vegetables can stay hard if there isn't enough moisture
The vegetables can be dry
When you fry without oil, you may get a build-up of caramelisation on the base of the pan. You can use a wooden spoon to scrape it off and incorporate it into the food.
This process is called 'de-glazing' which sounds much more sophisticated than scraping the bottom of a pan with a wooden spoon!
You can also use lemon juice for frying, but it isn't necessary and can be used as an optional alternative as water works just fine.
Oil Free Soups
To make oil-free soups you can either roast the vegetables without oil first or fry them in a little water. For roasting the vegetables for a soup, they can be roasted dry and covered with silver foil to keep in the moisture.
This won't produce the 'roasted' flavour but can work well for soups.
Once you have your base ingredient/s roasted, add a delicious homemade vegan stock to the base of the soup and mix, or blend, depending on the desired result.
Some great oil-free soup recipes are:
To make this recipe in under 30 minutes, simply chop the vegetables smaller so that they cook quicker.
I hope you enjoy your oil-free roasting!