Do you love making easy recipes? And do you fancy a bowl of creamy Spanish zucchini soup?
If so, this recipe's for you because it's simple yet tasty every time.
This Spanish zucchini soup recipe comes straight from the hills of Andalusia, known as Crema de calabacín in Spanish.
This soup makes a perfect addition to a collection of zucchini recipes for springtime, when there's a glut of zucchini coming your way.
Trivia: zucchini is called courgette in the UK but it's the same vegetable, just with two names.
This delicious soup can be eaten immediately or served up the next day.
Zucchini isn't the only famous Spanish soup of course, and if you're a fan of Spanish cuisine, you'll probably already be in love with enjoying a chilled bowl of traditional gazpacho soup in the summertime.
Or how about a more adventurous version, like this cucumber and avocado gazpacho or even a melon gazpacho?
Table of Contents
Homegrown vs Shop-Bought Zucchinis for Zucchini Soup
I'm an absolute fan of homegrown zucchinis but of course, not everyone has the space, time or inclination to grow these 5-foot monster plants in their garden.
So here are a few tips if you're going out shopping for the perfect zucchini.
Size of zucchini
If left on the plant, a zucchini grows up to be what, in the UK, is called marrow.
A marrow is basically a big fat round zucchini with tougher skin and dryer flesh.
The taste isn't really comparable, and although they still have a (delicious) place in the kitchen, they need to be cooked differently. So for the purpose of this recipe, we're talking about young, fresh zucchini.
Within that category, there are lots of different types and they have various colours and different sizes.
An English 'courgette' as it's called, is tiny compared to one you'll get here in Spain. And very, very small compared to the ones that come from my garden.
So beware when following recipes, and just use the amount you want and think is right for whatever you're making.
When I use one zucchini that could be 5 of your courgettes.
Apart from size, the creaminess of homegrown zucchini is different to the ones from the shops, and if you've ever tried a bitter zucchini you might even be forgiven for thinking you don't like zucchini (gasp).
Don't worry, good zucchini isn't bitter or dry, they are creamy and sweet, so if you've never tried them like that, you just need to get your hands on some tasty ones.
And then you'll be converted.
How to Choose Good Zucchini in the Shop
When you go shopping for zucchini, it's important to pick ones that still have a shine on their skin.
When they get old (both on the plant and off), they lose their shine and the skin becomes dull.
They're still edible at this stage, but they can be tough-skinned (too mature on the plant) or dry (too old on the shelves), or both.
The other essential thing to check is that they're hard.
When a zucchini goes soft it becomes dry and (often) bitter. And that definitely won't lull you into loving it. And if they're really soft, they can just be downright horrible
Of course, if you can't get perfect zucchini, you can make do with dull ones that are slightly soft but remember that you're not getting the creme-de-la-creme!
And if it's bitter, don't eat it (see below).
Some Interesting Zucchini Facts
Zucchini are low in calories, high in fibre and nutrient-dense. They're helpful in promoting eye health, heart health & weight loss while helping to maintain blood sugar levels and manage diabetes.
Zucchini are classified as summer squash and harvested when immature before their skins toughen.
They're a member of the Cucurbitaceae family, the same family as pumpkin, gourd, melon and cucumber.
Wild zucchini contain high levels of cucurbitacins, a toxin to protect the zucchini from predators (herbivores!), while cultivated, zucchini have very low levels of this bitter, toxic substance. However, as the cucurbitacins increase, the zucchini becomes more bitter, so if you have a bitter zucchini, it's best to throw it away. Curcurbitacins can cause severe gastric symptoms (see next point).
Toxic squash syndrome (the name for cucurbitacins poisoning) is rare but it is potentially very harmful and even fatal so it's best not to eat wild, ornamental or bitter squash. And just throw away your zucchini if it's very bitter.
How to Make Spanish Zucchini Soup Recipe
With this recipe, the best case scenario is that it tastes out-of-this-world and worst case scenario it's just tasty. It can vary a lot in its final flavour.
The best way to eat it is on the second day, and I love to eat it chilled, straight from the fridge, in place of gazpacho.
But you can also re-heat it if you prefer, or eat it hot, immediately. Or make far too much quantity and have it hot one day and cold the next.
So here goes . . . it's this simple. You'll need 5 ingredients (plus salt & spices if using) for the traditional crema de calabacín.
The ingredients are slightly different if you're making this soup oil free. (For the oil-free recipe, see the bottom of this post.)
Fry some onion & garlic in olive oil until the onions turn translucent and then add some chopped potato.
Next comes the zucchini and finally, water or homemade vegetable stock to cover and add a handful of cashews. Make sure to use enough seasoning as the salt really brings out the flavour.
Taste to check the balance and add more of whatever you think is lacking (salt, stock, pepper, dash of GF soy sauce).
Tips for the Best Result from this Spanish Zucchini Soup Recipe
The important parts of this recipe are the cooking of the onions and garlic, and using enough salt to bring out the flavour.
For the best flavour, be sure to really fry the onion on a slow heat until thoroughly cooked. The zucchini should also be well fried, but the potato isn't so important as it can cook in the water of the soup without spoiling the flavour.
Cook everything, submerged in water until soft through, then leave to stand and cool (important stage for developing the flavour).
Blend into a creamy soup and taste to check the seasoning and overall flavour.
If you think you may have added too much water, reserve some of the liquid before blending, so that you get a lovely thick creamy soup.
Save the removed stock for adding to the soup for the following day as it will most probably thicken up, and the stock has lots of nutrients and dense flavour in it.
Serve for lunch with gluten-free bread, on its own or as a side dish. Or as chilled soup the following day.
Other Spanish Recipes You May Like
Spanish Zucchini Soup Recipe – Crema de Calabacín
Course: Soup, Lunch, Starter
Cuisine: Vegan, Gluten free, oil free
Difficulty: Easy
So simple and reliably tasty, serve this crema de calabacín as a starter, lunch or side dish.
Ingredients
2 large zucchini (6-8 standard size)

1 large white onion (or substitute for 1 leek)

2 cloves garlic

1 large potato

Handful of cashew nuts

Olive oil for frying (optional)

Pinch of cumin and turmeric

Plenty of salt (add to taste)

Fresh coriander for topping (optional)

Water or vegetable stock
Directions
Finely chop the onion and garlic
Add the garlic to a pan with a little hot olive oil and fry for 1 minutes before adding the chopped onion.
Add a pinch of cumin and turmeric and a sprinkling of salt. Fry on a high heat for 4 minutes.
Add the chopped potato and fry for another 4 mins.
Next, add the chopped zucchini and more salt, stir and cook for a moment to heat up in the mix.
Add water or vegetable stock to almost cover the zucchini. Taste to check the salt level and add more as necessary. Cover with a lid and bring to the boil. Reduce the heat to a simmer and leave to cook for 20 minutes or until cooked through and thoroughly soft.
Turn off the heat and leave to cool.
If you like a thick purée, you may like to remove some of the liquid before blending, and just add the amount you need for the consistency you want.
Save the removed liquid and add it back to the soup for the next day.
I love to pile on some fresh coriander on top.
Notes
Ready in 30 minutes, easy to make and always tasty.
Oil-Free Spanish Zucchini Soup Recipe
Without an Airfryer
To make a delicious zucchini soup without any oil, finely chop 1 clove of garlic and add it to a hot pan. Next, add a finely chopped onion or leek and stir fry, dry in the pan for a couple of minutes. When it begins to stick to the pan, add a tablespoon of water or vegetable stock and continue to stir fry.
You will probably need to add the water or stock twice, and it takes about 5 minutes for the onions to be a little bit brown.
Add two large, chopped zucchinis, stir, and cover with water. Taste the water and add salt until you reach the right level of saltiness (to bring out the flavour of the zucchini). I think salt is essential for the rich flavour in this recipe.
Bring to a boil, reduce the heat and simmer, covered with a lid, until the veggies are soft. Chop up plenty of fresh basil leaves and add them to the pan.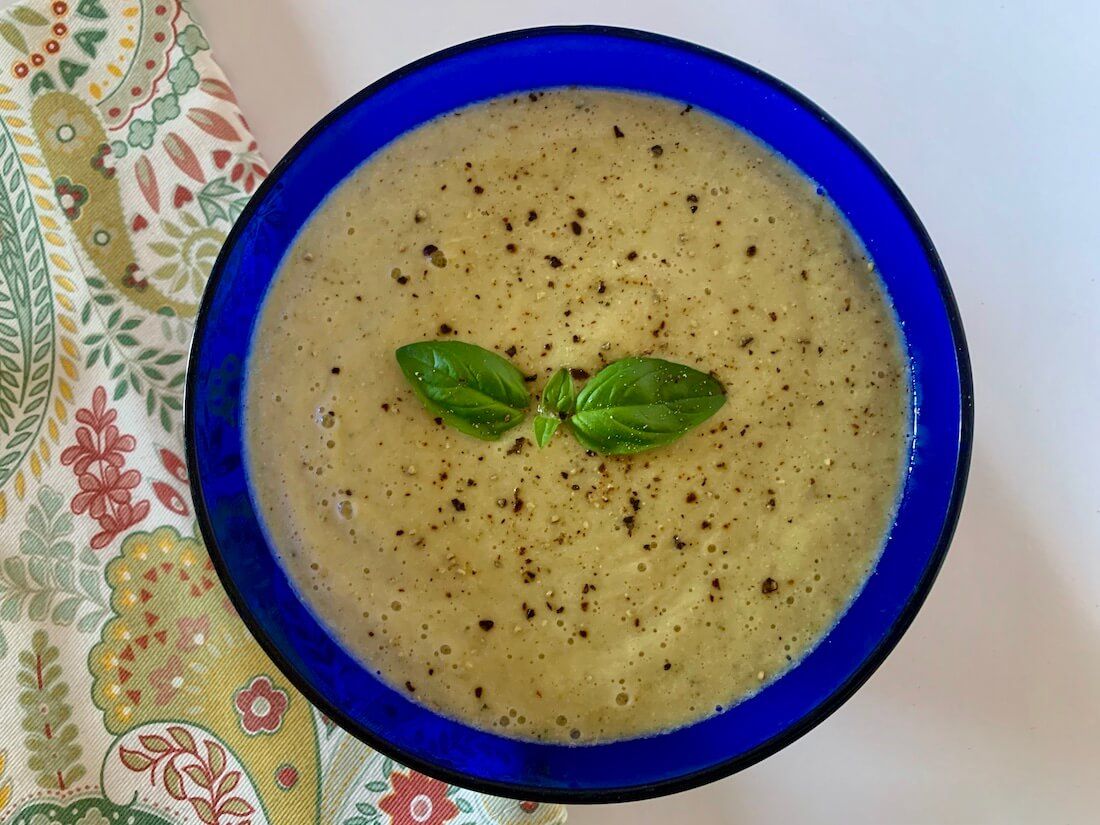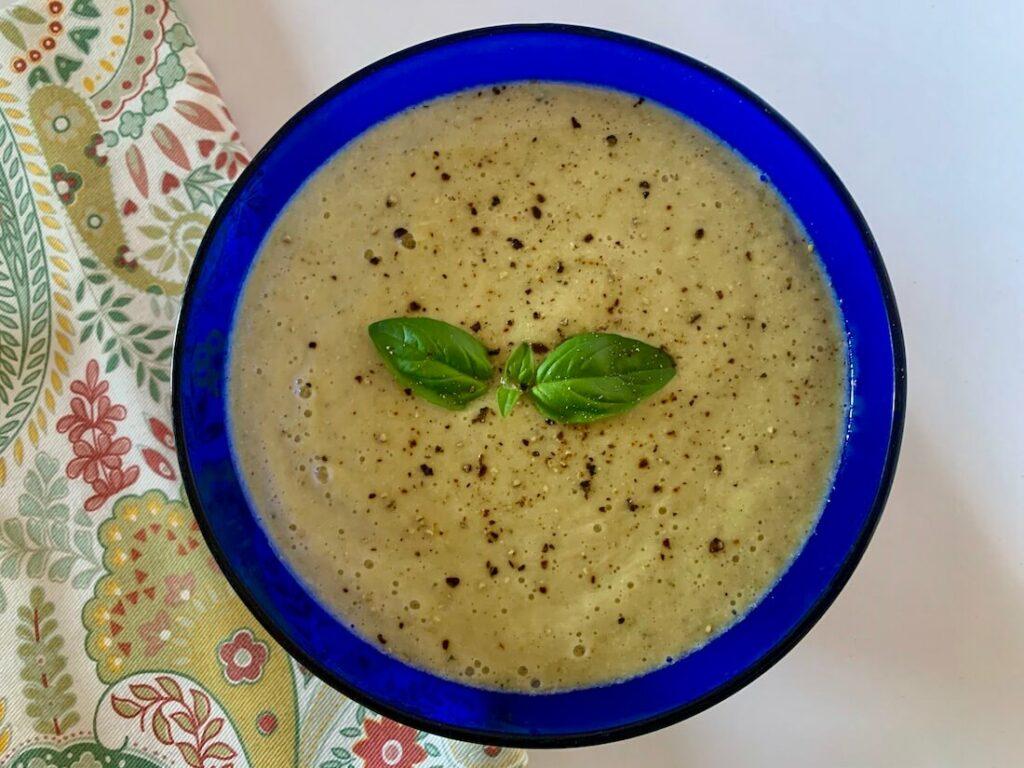 Meanwhile, soak a cup of cashews in boiling water for 15 minutes. Drain and rinse the cashews and blend with water until you have a smooth paste. Add a pinch of salt and a good squeeze of lemon juice and mix again.
Pour the cashew sauce into the pan, add several tbs of nutritional yeast and blend the whole lot together. Taste the soup. At this point, you may like to add an extra squeeze of lemon juice.
Serve with coarsely ground black pepper and a basil leaf for decoration.
Oil-Free Zucchini Soup Using an Air fryer
By far the easiest way to cook oil-free these days is by using an air fryer. Owning an air fryer has changed the way I cook and I would recommend anyone who's considering buying one to go ahead. It makes life so simple and cooking becomes easier than ever.
For this soup, cut the onions slightly larger than you would for frying, either in half rings or in larger squares, and slice the zucchini into rounds. Cook in the air fryer at 190ºc for 15 minutes (or until cooked), turning halfway through and making sure nothing is burning on top.
Meanwhile, place the chopped potato into a pan with enough salted water to cover it and cook until soft. Just as with the other versions of this recipe, you can add some cashews to give a creaminess to the soup (though it's not essential).
If using, pre-soak the cashews and add them to the potato water halfway through cooking. After this stage, it's just a matter of putting the ingredients together. Mix the cooked zucchini & onion with the potato, water and cashews and blend in the blender, tasting to adjust the salt levels and adding vegetable stock for consistency.
Grind on some black pepper and top with some fresh green herbs like basil, parsley or coriander.
A quick, nutritious recipe for a tasty, oil-free zucchini soup. Check out this guide to whole foods plant-based diet for more information on cooking oil free.
Different Ways to Cook & Enjoy Zucchini
If you always have too many zucchinis at this time of year, here are a few ideas on how to use up the surplus.
I love homegrown zucchini so much that I even added it to my fruit bowl for breakfast the other day (yes, weird, I know but they were very tender and sweet!).
And don't worry, if you don't have a veggie garden full of zucchini, you can still make these easy zucchini recipes. Just be sure to buy sweet zucchini.
Using zucchinis, so far this year I've made a delicious zucchini layers casserole which really surpassed all my expectations.
And then there's the potato, zucchini & beetroot casserole, where the beetroot took star role, and also a zucchini carpaccio salad, which I think looks gorgeous on the table.
My stand-by zucchini dish would have to be my favourite grilled summer vegetable salad which I created after visiting Bordeaux and eating something similar there.
I've also made nasi goreng and bami goreng, with zucchini as the star player, and of course, we've dined on grilled & roast zucchini loads of times. I love just putting zucchini, sliced in half lengthwise, into an oven dish and roast in the oven with a sprinkle of salt. No oil is needed.
And don't forget to include zucchini if you're doing oil-free cooking in an air fryer.
I think by the time the glut of peppers arrives, my husband might be glad not to see another zucchini!