This simple beetroot soup recipe is a winter special that's so delicious as a starter or a lunch and so quick and easy to make.
This is one of the easiest soups to make. Ever.
And probably the most colourful.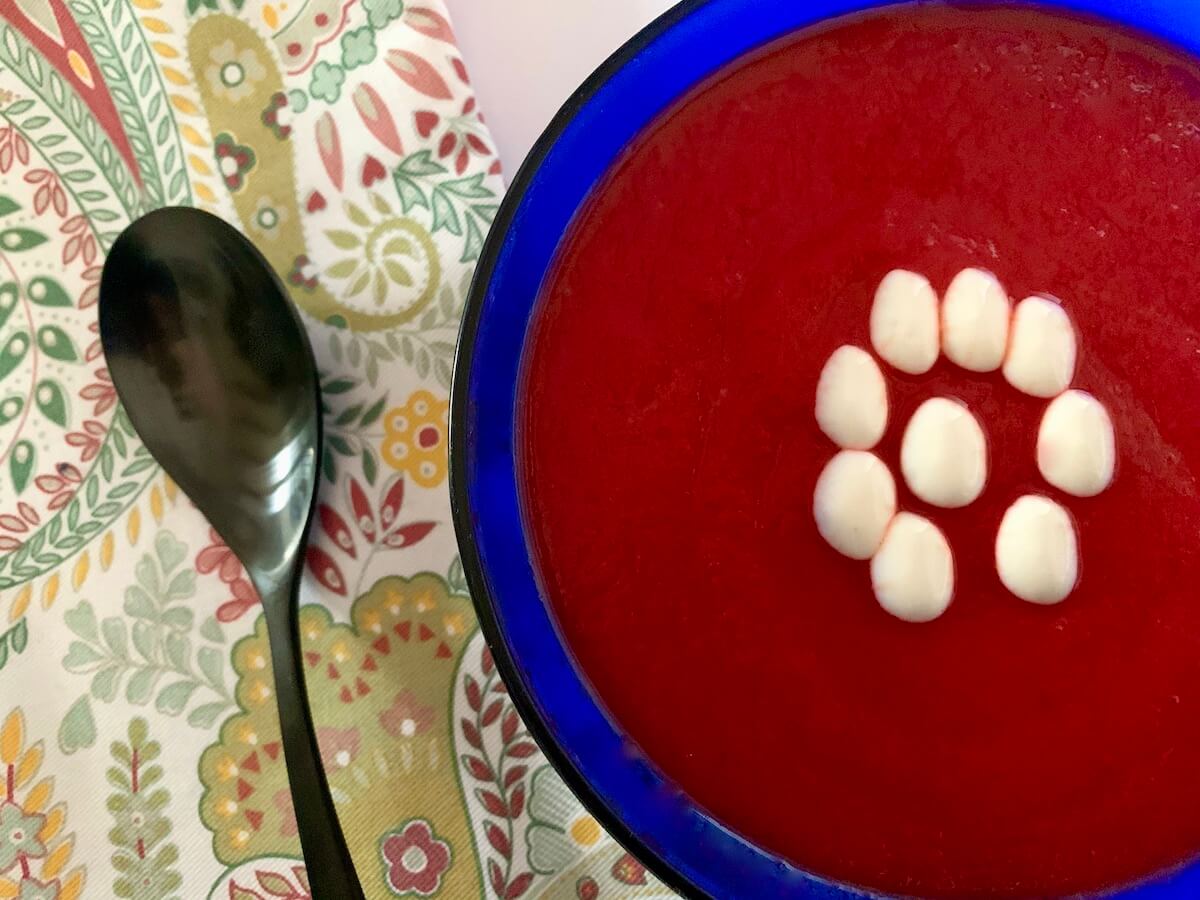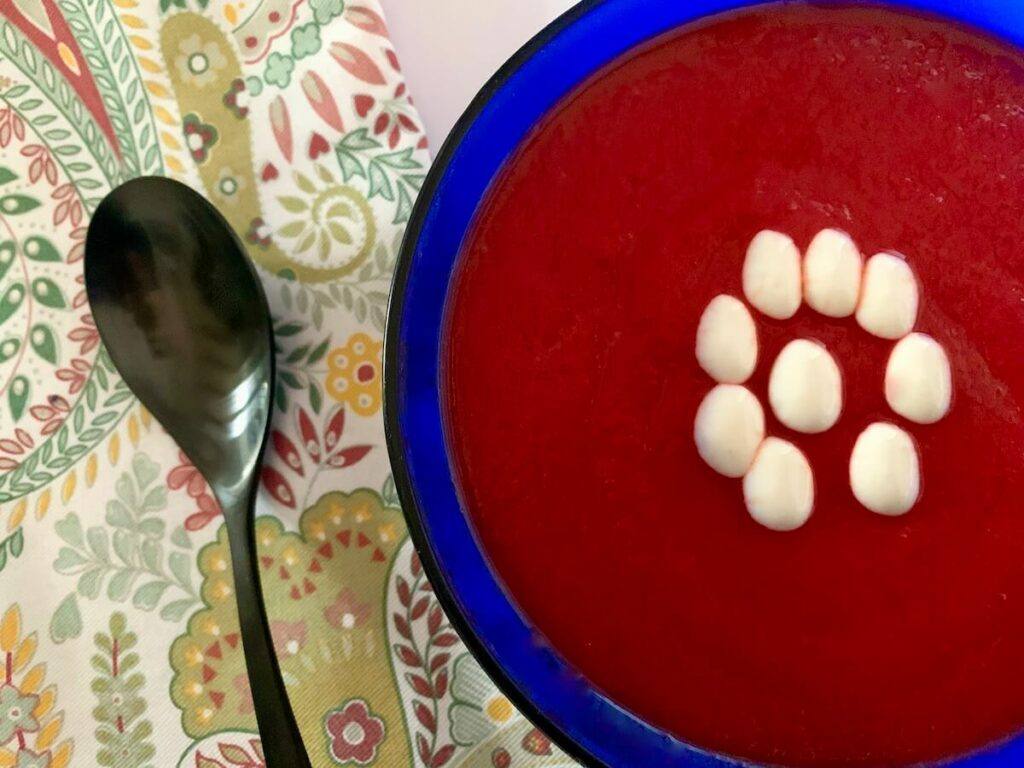 As with most recipes, fresh beetroot will make a tastier soup, but the great thing about this oh so simple beetroot soup recipe is that you can make it with vacuum packed beetroot.
And it's still be absolutely delicious.
I recently blogged about an easy Spanish zucchini soup recipe being so simple to make but this is even easier, if that's even possible!
Ready in 20 minutes from start to finish, and with only 4 simple ingredients yet the taste of a deliciously complex luxury soup.
Serve as a starter, or accompanied by these yummy lentil flatbreads for a complete lunch.
Best Beetroot to Use for Beetroot Soup
First of all, this soup can absolutely be made with pre-cooked packaged soup but for those of you who have the choice between fresh or packaged, you may like to consider the following:
Choosing the Beetroot for Beetroot soup
If you have a surplus of homegrown beetroot, of course you're going to use that, and in my experience homegrown beetroot is almost a totally different vegetable to any other form of beetroot, one which can't be compared to shop-bought beetroot, fresh or otherwise, as it's so much sweeter. Because of its sweetness, homegrown beetroot has many more uses, like raw beet carpaccio, or sliced beet salad or in casseroles such as this potato zucchini casserole with beetroot. If you choose to use any of the fresh beetroot options, pre-cook it the day before.
If you can't grow your own beetroot, maybe you can get fresh organic beetroot from the market or local farmer's shop. Failing that, if you're lucky enough to have fresh beetroot in your supermarket, preferably organic, they will also do the trick.
Finally, and probably the most popular choice for convenience, you can use pre-cooked, packet beetroot, and that's what makes this soup so handy and easy to make.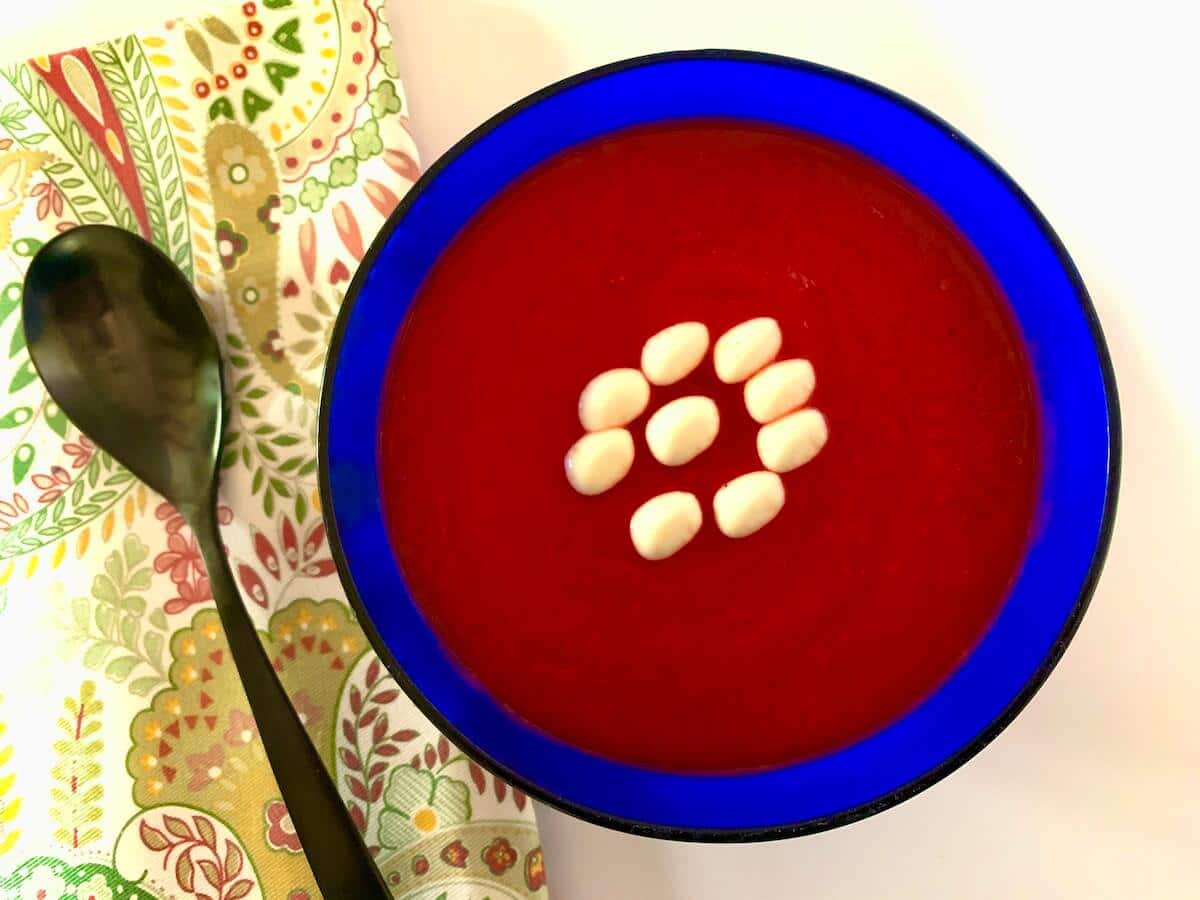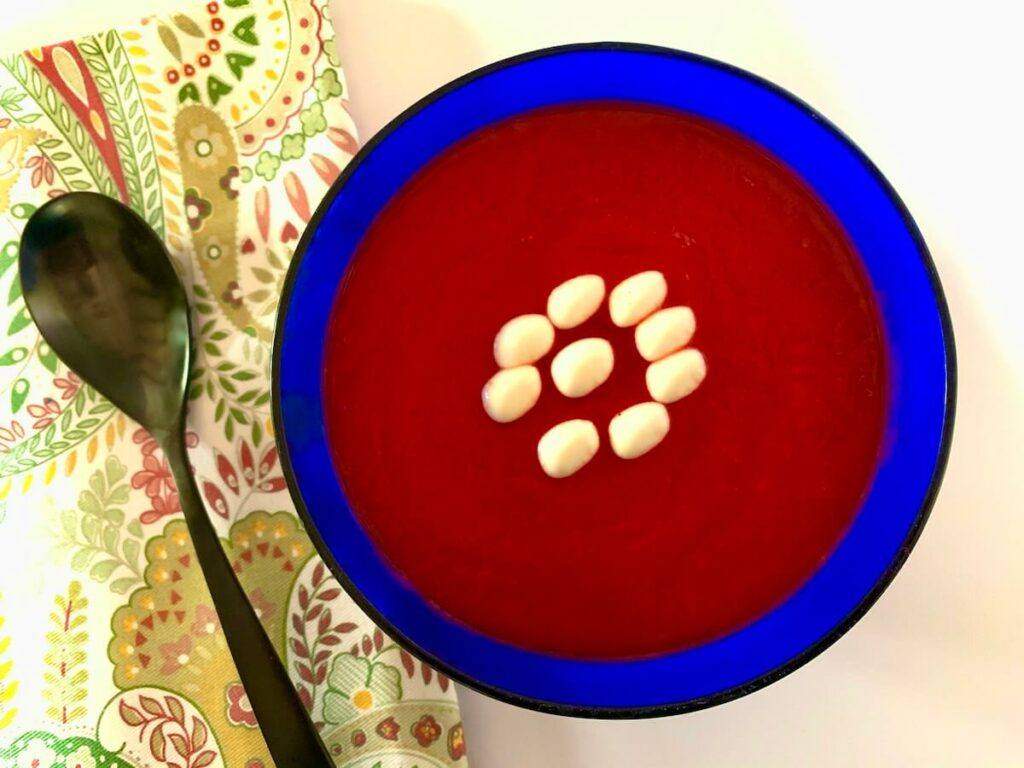 Using Fresh Beetroot for Beetroot Soup
Fresh beetroot has a sweeter flavour and will give a lovely deep purple and pungent beetroot flavour to the soup. I would definitely choose fresh beetroot if you have plenty, but then of course this is no longer an instant soup as you would have to pre-cook the beetroot (see below).
Also, it could be argued that fresh beetroot is so tasty, it should be saved and not used up in a recipe that can equally be made using packet beetroot, as is the case with this soup. With that said, it's purely a matter of preference.
How to Cook Fresh Beetroot
Chop off the leaves about a cemtimtre above the bulb of the beetroot (save the leaves for cooking separately). Run the beet under running water to rinse off any excess mud but taking care not to damage the outer skin.
Put the whole beets into a pan of lightly salted boiling water and bring to the boil.
When the beetroots are semi-cooked, drain them and discard the water. Save the beetroots in a container with a lid until ready to start the soup.
Next, peel the beetroots, chop into small cubes and cook in enough water to just cover them.
The water you cook the cubed beetroot in will be saved as part of the soup. By keeping the water which you cook the beetroot in, you're getting more phytonutrients and a richer flavour in the soup.
Using Packaged Beetroot for Beetroot Soup
Let's face it, the simplicity of this recipe calls for simple beetroot too, so unless you've got a veggie garden full of beetroots, just go out and buy a couple of packets of beetroot.
The recipe tastes better with 2 packets but you can also make it with one. The photos are made with just one packet and as you can see, it's a slightly less purple colour than normal.
Use 1 packet for 2 people and 2 packets for 4.
Open the packet and remove the skins from the beetroot. The juice from the packet can be used in the soup pan. Chop the beetroots into small cubes and add to the pan once the onion has been browned. Then all that's left to do is to add some water, blend the soup and check the seasoning.
I like to grind in some coarse black pepper into the soup and serve it with vegan cream or cashew cream on top. And if I'm eating it as a complete meal, I'll add some big fat white beans to the bowl and eat them in the soup.
Other Soups You Might Like
Best Simple Beetroot Soup Recipe
Course: Soup
Cuisine: Vegan, Gluten free
Difficulty: Simple
Simply the best easy soup which can be made with just 4 ingredients plus seasoning
Ingredients
2 packets of pre-cooked beetroot (or see above for using fresh beetroot).




1 small tin of chopped tomatoes.

1 large onion.

Olive oil for frying onion

salt & pepper
Directions
Chop the onion and fry it in a little olive oil with salt until the onion is lightly browned, about 10 minutes.

Add the chopped beetroot and cook for a couple of minutes.

Pour in the juice from the beetroot, the tinned tomato and a glass of water.
Sprinkle in a little salt and bring to a simmer.
Blend the soup and taste the seasoning. Add more water if you like it thinner.

Serve with a swirl of vegan cream on top, or some cashew sauce.
Notes
This soup is really quick to make as long as you use pre-cooked beetroot. Try adding some white beans to the soup if you're looking to make it into a complete meal.