Like any good recipe, the aim of this potato zucchini casserole is to give you an idea, a spark of inspiration to fly with. Not to be created exactly the same, but rather using whatever you have to hand.
You don't need to use the same veggie ingredients; you can make this casserole with anything. Add chickpeas or beans instead of the tofu, change the beetroot for red pepper . . . whatever.
That's what's so great about making casseroles, they just work. Today I had a bunch of zucchinis, loads of beetroot from the garden and lovely green leaves for using as spinach.
And I wanted to create something using those three ingredients.
So here it is!
And it turned out pretty yummy too.
How to Make a Potato Zucchini Casserole With (or Without!) Beetroot
If you're using fresh beetroot like I did, then cut off the green leaves, wash carefully and chop, discarding the stalks. Put the chopped green part into a saucepan with a tiny bit of water and a sprinkle of salt and cover with a lid.
Steam the beetroot leaves for 5-6 minutes or until soft and tender. Then turn off the heat and leave with the lid on.
If you don't have any fresh beetroot, use spinach instead.
Finely chop up 1 packet of tofu and leave it to sit in some tamari soy sauce and ketjap manis while you prepare the vegetables (or for a few minutes).
Preparing the Vegetables
Slice the zucchini lengthwise int thin strips. You can use a cheese slice to get the slices really thin. Next, thinly slice the raw beetroot with a knife.
Think of the casserole as layers of veggies and create the layers using whatever vegetables you've chosen to use.
Putting it all Together
Place two layers of zucchini in the base of the casserole dish. Then sprinkle over with salt, pour on a little olive oil & brush it over the zucchini slices. Chop 2 cloves of garlic and sprinkle that on top.
Put a layer of sliced beetroot (or other vegetable) over the zucchini. Cover the first layer of beetroot with a layer of thinly sliced tomato. Brush with olive oil and sprinkle with salt. Repeat with two more layers of zucchini and a final layer of beetroot.
Over the top of the second layer of beetroot, add the spinach (squeeze out all the liquid first), a handful of cashews and the marinated tofu, pouring the little bit of excess soy sauce mix over the top of the tofu & casserole.
Finish with 2 layers of thinly sliced potatoes, brushing each layer with olive oil and a sprinkle with salt.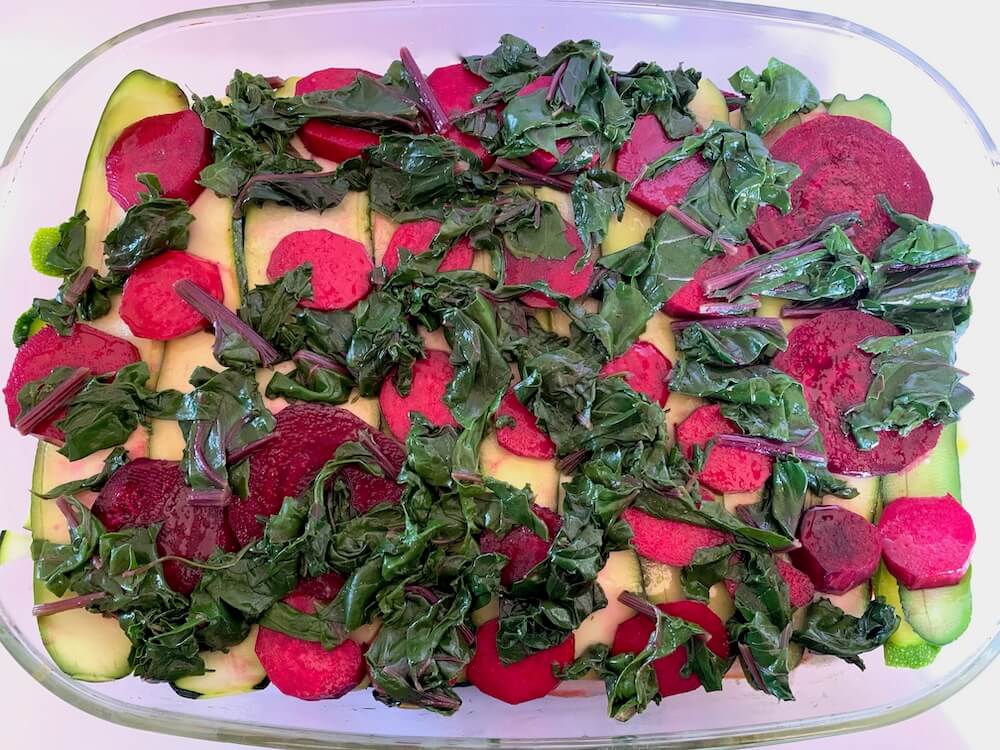 Cook for 1 hour or until the potatoes are crunchy on top and serve with cashew nut sauce. The sauce is important so don't skip it!
Potato Zucchini Casserole with Beetroot
Course: Main course
Cuisine: Vegan
Difficulty: Easy
This casserole recipe is so easy to make and can be prepared using whatever vegetables you have to hand. Just switch any of the vegetables for others.
Ingredients
5 large potatoes

2 giant beetroots

2 giant zucchini

2 cloves garlic

I large tomato or 3 standard size

Spinach or beetroot leaves

1 packet tofu

1 small cup of cashew nuts

Olive oil

Salt
Directions
Chop some firm tofu into small cubes and leave to soak in tamari soy sauce and ketjap manis for a few minutes while you prepare and assemble the vegetables in the casserole.
Meanwhile, layer the base of the casserole dish with 2 layers of thin strips of zucchini. Lightly sprinkle with salt and pour on a little olive oil. Use a brush to spread the olive oil evenly over the zucchini slices.
Top the zucchini with finely chopped garlic and a layer of beetroot. Brush with olive oil again.
On top of the first layer of zucchini, place one layer of thinly sliced tomato.
Repeat with another (double) layer of zucchini and another layer of beetroot, brushing with olive oil each time, and salting the zucchini each time.
Squeeze the spinach to remove any excess liquid, and place it along with the marinated, cubed tofu and the cup full of cashews, over the top of the beetroot.
Top off with at least two layers of thinly sliced potato, brushing each layer with olive oil and sprinkling with salt.
Place in the oven at 200ºc for about 1 hour or until the potatoes are golden brown.
Notes
The cooking time will vary, so keep an eye on your casserole and remove when golden brown and crunchy.
Serve with cashew nut sauce.