Ok so you've got a glut of zucchini coming from the garden and you just don't know what to do with them anymore. I mean how can you use 3 huge zucchinis in one recipe? Well, this easy zucchini casserole recipe is one scrumptious solution.
And if you love zucchini as much as I do, you'll love this grilled summer vegetable salad and also these 9 easy zucchini recipes.
Making the Zucchini Casserole
Step One – The Cashew Nut Sauce
Grind one cup of cashews with salt, lemon juice and apple cider and half a litre of plant milk.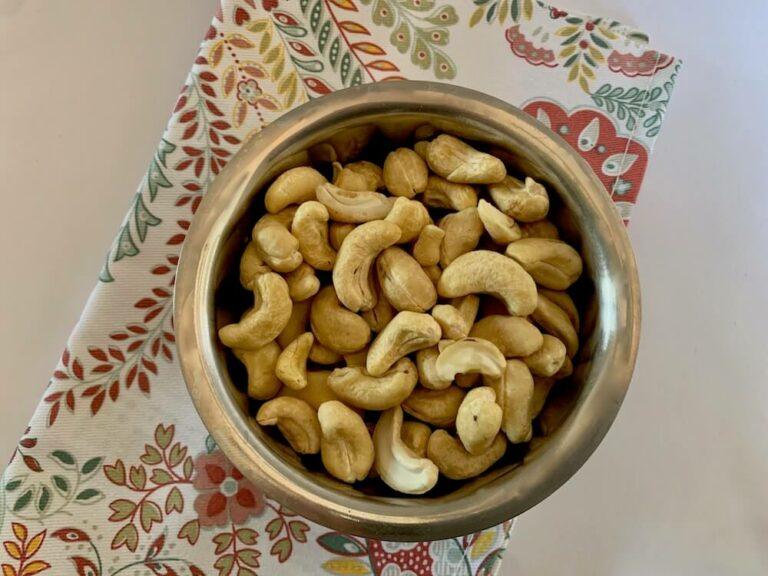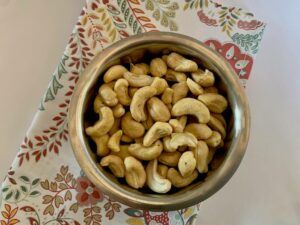 I use unsweetened soy milk because it's the one I have available in the shops here, but any will do, as long as it isn't sweet.
Start by blending the cashews with a little plant milk, then add more milk until you have a smooth, sauce consistency.
Finally the lemon juice, apple cider vinegar and salt. Taste the sauce and adjust the lemon, vinegar and salt to taste.
See the complete recipe along with its variations over on this cashew nut sauce recipe.
Step Two – The Tofu for Zucchini Casserole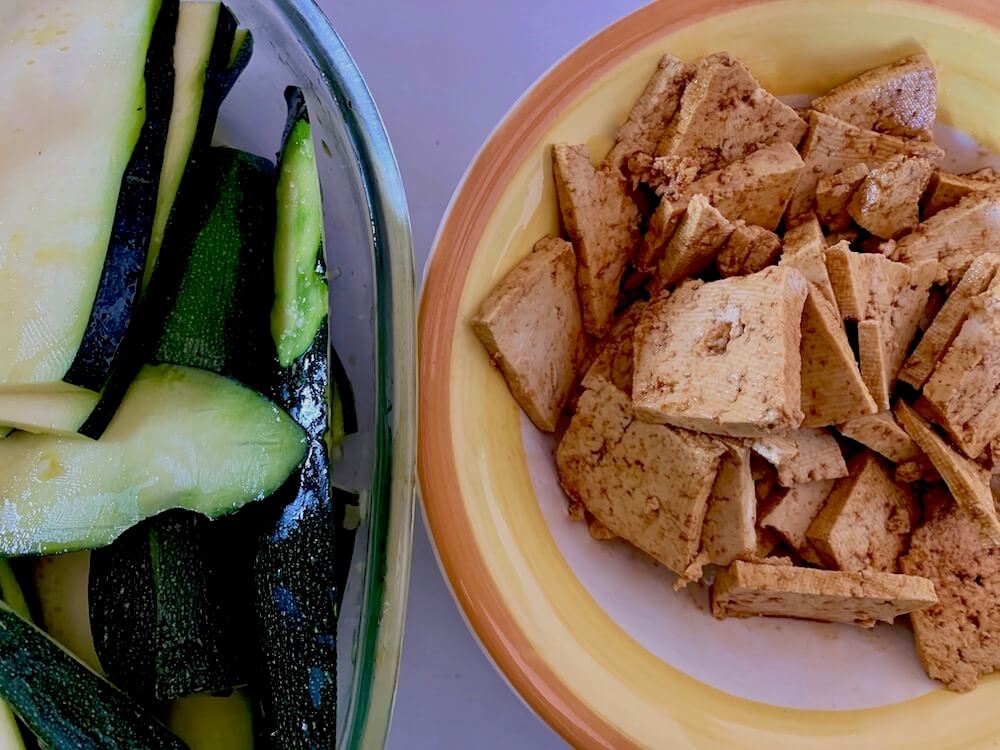 Take a packet of firm tofu and pat and squeeze with kitchen paper to remove the excess liquid. Finely slice, and then cut into squares and place in a bowl.
Pour over some tamari soy sauce and some ketjap manis, enough so that when stirred, all the tofu has turned a dark brown colour but isn't swimming in soy sauce.
A little at the bottom of the bowl in inevitable and won't be wasted as you can pour it on top when you add the tofu to the casserole.
Set aside while you prepare the zucchini.
Step Three – Preparing the Zucchini
Slice the zucchini lengthwise and keep the slices thin, but not slithers. Each slice is around 50mm wide. They don't have to be exact. but roughly the same size as each other.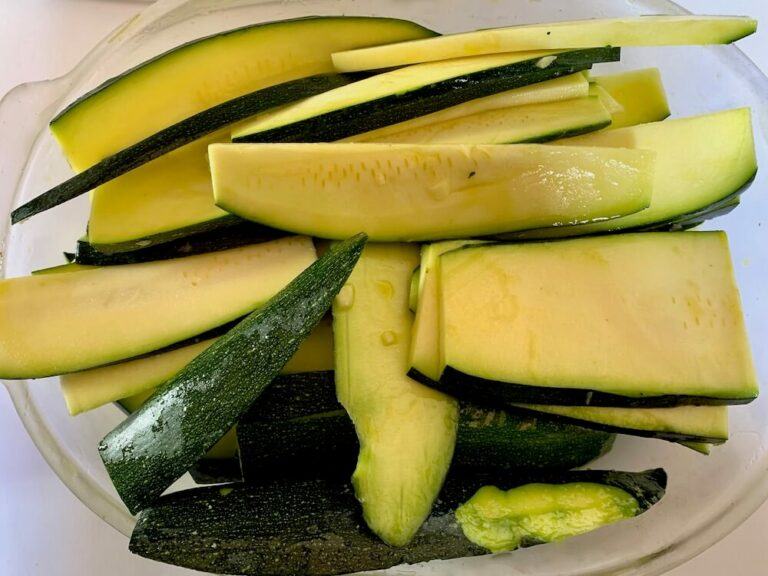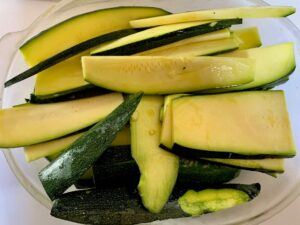 Place some of the zucchini slices into a dish and pour over a little olive oil.
Finely chop 3 cloves of garlic and spread some of the chopped garlic on top.
Sprinkle with salt and stir well. Repeat until all the zucchini is in the garlic oil mix and lightly coated with salt.
Step Four – Assembling the Zucchini Casserole
Take a large casserole dish and place two layers of zucchini slices in garlic and olive oil across the bottom of the dish, roughly up to almost half way of the dish.
Chop 1 onion into half rings and place on top of the zucchini. Sprinkle a few cashews on top.
Next, take the sauce and pour it over, leaving about 1/3 for the final topping. Spread the sauce with a spoon and then place the tofu pieces across the top of the casserole.
Use a spatula to flatten the whole lot down. Continue by placing the remaining zucchini in layers on top of the tofu until you've used up all the zucchini. At this point I also scoop out the remaining garlic bits and distribute over the top.
Cover with the remaining sauce and sprinkle plenty of nutritional yeast on top. You can prepare this in advance or cook it immediately, whichever suits best.
Bake in the oven at 200ºc for 45 minutes or until brown and crunchy on top.
Fun Facts About Zucchini . . .
Zucchini and courgette are the same thing. The name zucchini comes from the Italian word and the name courgette is from French.
Zucchini is a type of summer squash which is picked before it matures. Botanically, it's a fruit!
The size of zucchinis varies enormously. The largest zucchini on record (Guinness book of records) was 2.52 metres long! So be very wary of following a specific number of zucchinis in a recipe! This easy zucchini casserole, for example, used just 3 homegrown zucchini – but their size can't be compared to the shop zucchini, which tend to be picked very small.
Zucchinis are low in calories and rich in potassium and vitamin C (and more), and contains health-promoting antioxidants, especially in the skin.
Zucchinis are high in water & soluble fibre, which can be helpful in combating constipation and easing IBS symptoms and may also help to stabilise blood sugar and insulin levels.
The flowers of the zucchini are edible and are often served stuffed or deep fried!
Easy Zucchini Casserole
Course: Main or Side dish
Cuisine: Vegan, Gluten free
Difficulty: Easy
Easy to make, delicious to eat and a great way to use up lots of zucchinis.
Ingredients
3 giant zucchinis

1 large onion

1 packet firm tofu

Tamari soy sauce & ketjap manis (or use regular soy sauce)

Handful of cashew nuts for sprinkle into the casserole (optional)

3 cloves garlic

Salt

Olive oil

Nutritional yeast

For the Cashew Nut Sauce

1 small cup raw unsalted cashews

Approx. 1/2 litre unsweetened plant milk

Juice from half a lemon (to taste)

3 tbsp apple cider vinegar (to taste)

Salt
Directions
Squeeze and pat dry 1 firm tofu and chop into thin slices, then squares. Place in a bowl and pour on a 50% mix of Tamari soy sauce and ketjap manis (or just use regular soy sauce). Set aside
Finely chop 3 cloves of garlic and add to a cup of olive oil with 1/2 tsp salt.
Cut the zucchinis into strips and coat in finely the chopped garlic and olive oil mix. Make sure that each slice of zucchini is coated. Leave to stand.
Slice 1 onion into half rings.

Place 2 layers of zucchini in the bottom of a casserole dish followed by the onion slices.
Sprinkle on some additional cashews between the onion slices, then pour on two thirds of the cashew nut sauce.
Place a layer of marinated tofu and pour the remaining soy sauce mixture over the top (it should only be a little bit)
Place another 2 layers of zucchini (or to fill the casserole) and cover with the remaining cashew nut sauce and a generous sprinkling of nutritional yeast.
Bake in the oven at 200ºc for 45 minutes or until the top is golden brown.
Leave to stand for 10 minutes before serving.
Notes
This easy zucchini casserole can be served hot or cold, as a side dish or main dish.