If you're interested in delicious food, in cutting down on pasta, in using more raw ingredients or experimenting without oil, this vegan zucchini lasagna recipe's for you.
It's a great way to switch regular lasagna for a much healthier alternative: this all-veggie zucchini lasagna which is oil-free, gluten-free and pasta-free. In other words, it's vegan gluten free and WFPB.
Having said that, if it's a more traditional lasagne you're looking for, you can also make a delicious healthy oil free vegan lasagne with pasta.
Vegan 100% Vegetable Lasagna: Raw or Cooked?
To be honest, the idea for this lasagna came from three major sources. Firstly and rather obviously – I'm gluten free – and since that change in my way of eating, I no longer crave pasta. It just isn't the same as it used to be. So that would be point number one.
Secondly, I've just recently decided to experiment with oil free vegan cooking as part of my 5 steps to beat menopause naturally, and so far I'm loving the adventure! And the cooking results too. I'm surprised by how tasty everything is, even though there's no oil in the cooking.
So far I've made an oil free salad dressing and an oil free avocado dip. I even made this stir fried (oil-based) Bami Goreng noodle dish without oil and it was incredibly delicious.
And the final inspiration came from the raw-vegan camp. I haven't particularly looked into raw vegan beyond an initial interest, but I've quite often heard of raw lasagna.
Oh, and of course there's another factor – my zucchinis from the garden are long since gone but my neighbour just gave me four beauties from his garden and I wanted to do something special with one or two of them. If you also have loads of zucchini to use up, you can take a look at these 9 easy vegan zucchini recipes.
I'm sure I'll be updating this post as I make more and more variations on this theme, because this first attempt at a raw-style lasagna has really impressed me with its full flavour!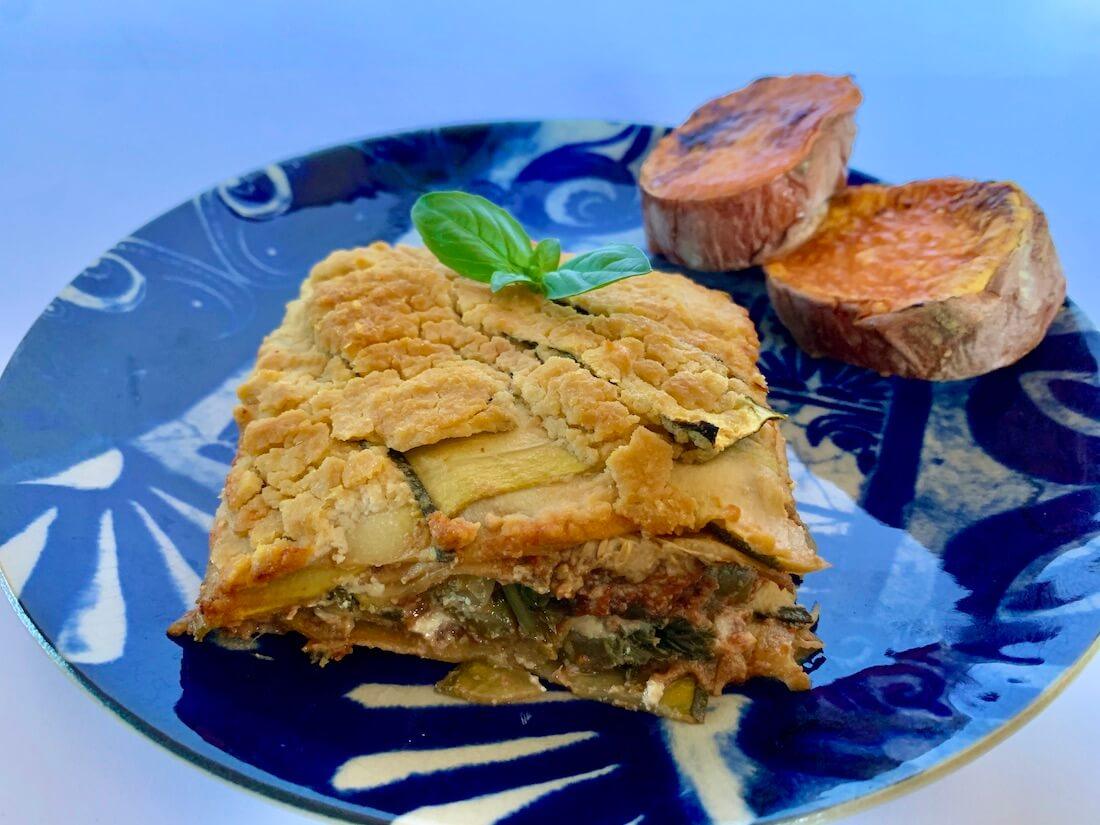 Making a Raw Tomato Sauce for Vegan Zucchini Lasagna
Instead of using a traditional tomato sauce, for the tomato sauce in this vegan zucchini lasagna, instead I used a raw version. I chopped up two tomatoes straight from the garden, peeling them first and removing the hard bit at the top.
I added a half clove of garlic, a slosh of tamari, a slosh of ketjap manis, pinch of salt, pinch of chilli, 2 tbs of tomato purée and 1 Medjool date.
I also soaked some sun dried cherry tomatoes and added them to the blender, and I washed a handful of fresh basil leaves and chucked them into the mix.
Blend the lot together and taste the sauce. The most crucial part of any type of creative cooking is to taste the food as you go along and adjust it accordingly.
You might want to add more salt, chilli, ketjap manis, another date – or you might try adding something completely different which I haven't listed here!
Making the Cheese Sauce for Vegan Zucchini Lasagna
Soak some cashews in boiling hot water for at least 15 minute or until softened. I use the rice measure from the rice cooker to scoop out my cashews and I used 2 of those cup fulls but you can vary the amount of cashews you use and it won't kill the results.
Drain and rinse the soaked cashews and put them into the blender. Add half a clove of garlic, a good pinch of salt, the juice from half a lemon and a good squirt of apple cider vinegar.
Blend the nuts and add a little water as necessary until all the nuts are ground up.
Taste the sauce and add enough apple cider vinegar and lemon juice to give it a zingy flavour.
Grind in some black pepper and add lots of nutritional yeast. Dilute the sauce until it's thick but pourable. Set aside for 10 minutes before using. See the recipe for cashew nut sauce if you want to know more details about other uses for a cashew nut sauce.
Marinating the Zucchini for Vegan Zucchini Lasagna Recipe
I have various peelers for peeling vegetables and one of them peels too thick as it removes all the nutrients that lay just below the surface of the vegetable, but it's perfect for slicing zucchini ribbons for making zucchini 'pasta' layers.
You can also use a cheese slice, and bend it to get a slightly thicker cut. And if you don't have either a peeler or a cheese slice, then you can just use a knife but it makes the slices much fatter than the peeler/slicer do, and I rather like them thin, I must say.
Slice up all your zucchini and use the oven dish which you'll be using for the lasagna. In this way, you'll be able to gauge whether you've cut enough zucchini ribbons.
Lay a layer of zucchini along the bottom of the dish, in double layers if you've cut very thin ribbons with a peeler, for example. Sprinkle over with salt and a good squeeze of lemon juice. Repeat with more layers of zucchini, taking notice of how many layers you've cut for.
The one in the picture has 3 layers of zucchini, each layer with 2 layers within it.
You can optionally add a swirl of soy sauce or ketjap manis to the marinade.
put the zucchini in the fridge and leave it alone for 30 minutes. When you come back, taste a tiny piece of zucchini and if necessary add more salt.
When you're happy with the flavour, you're ready to begin construction of your vegan zucchini lasagna.
Extra Ingredients for this Vegan Zucchini Lasagna
You can use whatever you like for the extra ingredients. I used some cooked Swiss chard, just like a spinach lasagna. If you prefer, could do a layer of lentils or cooked carrots or sweet potato mash . . . just experiment and see what you like best.
Choose something plain, as the flavour is coming from the tomato sauce and the cashew nut cheesy sauce.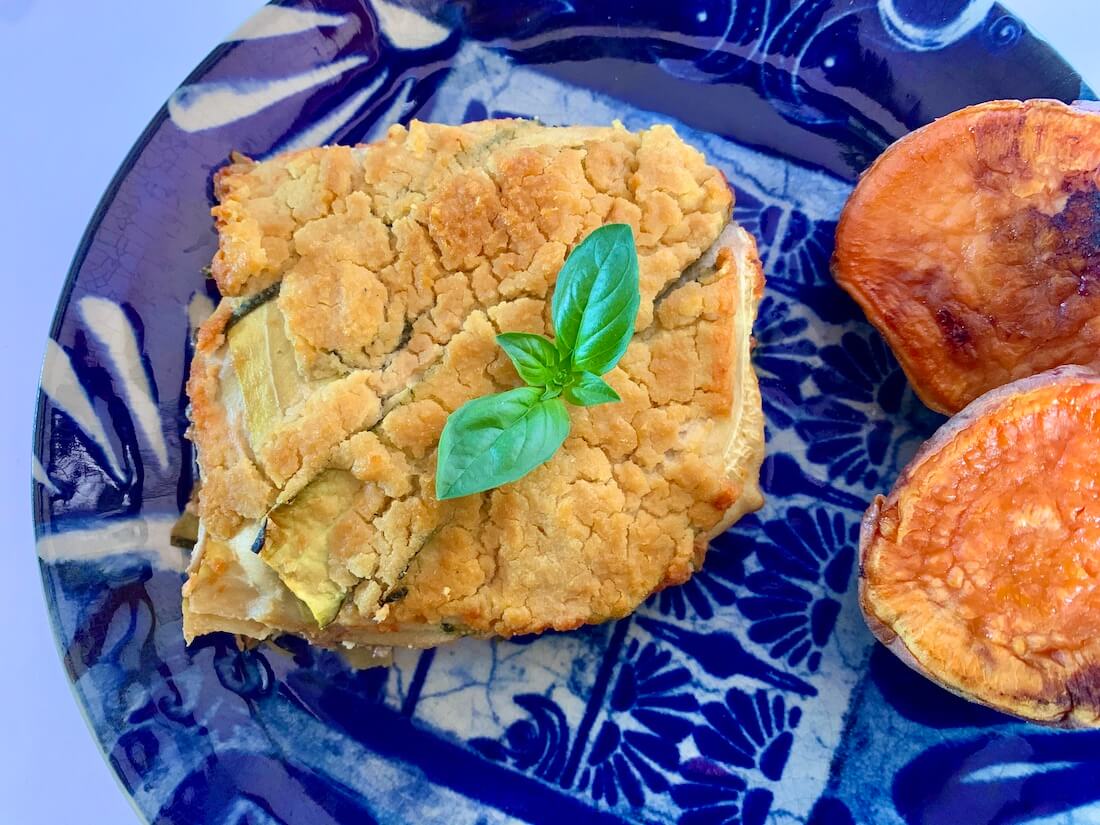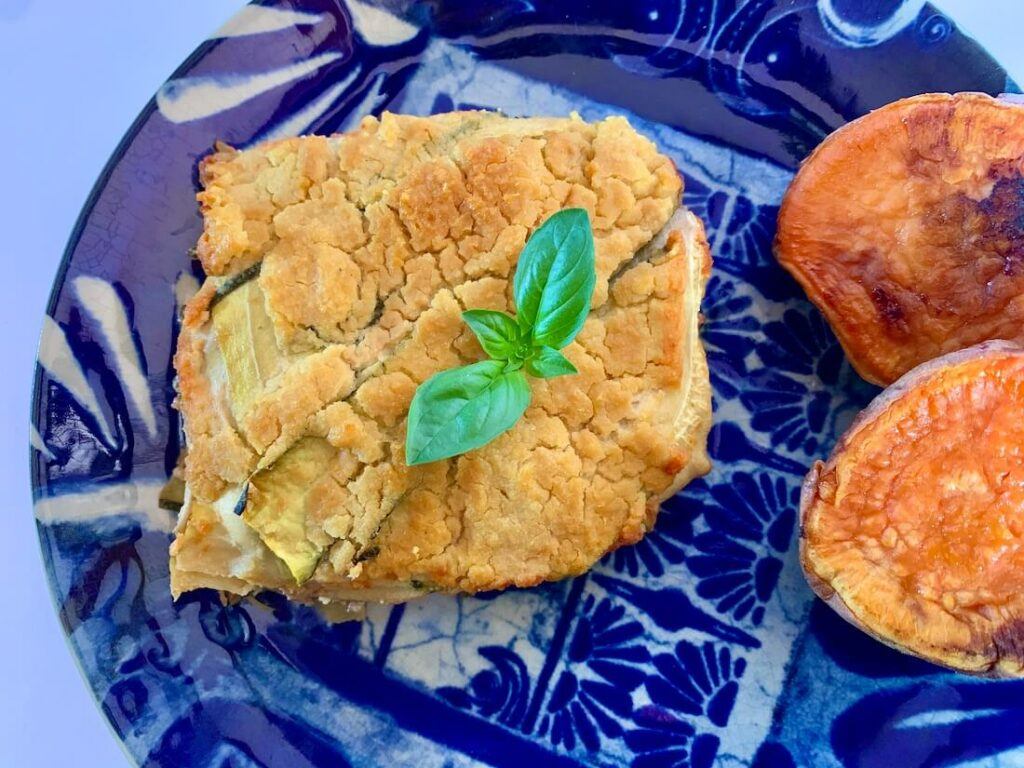 Constructing a Vegan Zucchini Lasagna
Drain off the excess liquid from the zucchini. You can either save it for marinating tofu in, or discard it, whichever you prefer and depending on whether you like the taste of the marinade on its own.
Layer the bottom of your casserole dish with ribbons of zucchini lasagna. Use a spoon to cover the first layer with a thick coating of tomato sauce.
Next comes a layer of whatever vegetable you've chosen to use as the 'extra ingredient', in my case it was Swiss chard.
On top of that, a third of the cashew nut sauce, shared around in blobs, making sure to save enough for the top coating.
Repeat the above, then cover the top with your pretties slices of zucchini and cover completely in cashew nut cheese sauce. Sprinkle over with nutritional yeast and you're ready to go!
Serving Vegan Zucchini Lasagna
This lasagna can be served cold and raw, or warmed up with a quick zap in the microwave, or cooked in the oven for 20-30 minutes at 180ºc.
If you set this aside to serve later, it will continue to release more liquid, which you'll need to pour off before serving or cooking.
I chose to heat this in the oven for 25 minutes and it was lovely!
No Pasta Vegan Zucchini Lasagna Recipe
Course: Main course
Cuisine: Vegan, Gluten free, WFPB, Oil free
Ingredients
2 large zucchini

1 lemon

Salt

Dash of soy sauce (optional)

For the Tomato Sauce

2 large tomatoes, peeled

Sun dried tomatoes, soaked and drained (optional)

Soy sauce, Tamari or Ketjap manis

1-2 Medjool dates

2 tbs tomato purée

Chilli powder to taste

Half a clove of garlic

Handful of fresh basil (or sub for other herb)

Salt & pepper

For the Cashew Nut Cheese Sauce

2 cups of cashews, soaked and drained

Half a clove of garlic

Juice from half a lemon

Apple cider vinegar to taste

Salt & pepper

Nutritional yeast

For the Extra Ingredient

Spinach or Swiss chard, steamed with a little salt, or choose another vegetable and steam it for putting between the layers.
Directions
Use a cheese slice or a 'fat' peeler to slice the zucchini into ribbons.
Sprinkle the zucchini slices with salt and cover with lemon juice and set aside in the fridge for 30 minutes.
Blend together all the ingredients for the tomato sauce. Taste to check and adjust as necessary.
Blend together the ingredients for the cashew nut sauce and taste to check the flavour.
Layer in a casserole: zucchini, 1/2 the tomato sauce, 1/2 the spinach, 1/3 of the cashew nut sauce (making sure you leave enough to completely cover the top later). Repeat the layers, then finish with a layer of zucchini and cover with the remaining cashew nut sauce.
Sprinkle on some nutritional yeast and serve raw or put in the oven for 20 – 30 mins at 180ºc.
I love vegan whole food so much, it's one of life's greatest blessings. If you're new to being vegan, check out my simple guide to starting an awesome vegan lifestyle.
Thanks for visiting! 🙂