Have you ever wondered how to make an easy oil free vegan lasagne without gluten or (obviously) dairy? Well I'm here to tell you, it isn't all that difficult.
If you're wondering why you would omit oil from your cooking, you can read more about it in this guide to oil free cooking and this guide to a vegan wfpb diet.
We're also going to make the lasagne without using any fake cheese or other processed ingredients, apart from the actual pasta sheets.
And on top of all that, this is an incredibly EASY recipe!
Don't worry it still tastes scrumptious. And it's healthy too.
But why is vegan cheese so bad you may wonder? Well, because it doesn't usually contain healthful ingredients; it's made primarily to imitate the look and texture of dairy cheese rather than to be a highly nutritious food.
For that reason, if you like vegan cheese, it's best to keep it as a treat rather than a staple ingredient in your cooking.
But don't worry, once you've made the switch you'll be surprised how easy it is to cook oil free in the air fryer, or roast vegetables without oil, for example.
You can even 'fry' vegetables in water.
Yes I know. Crazy! But also perfect.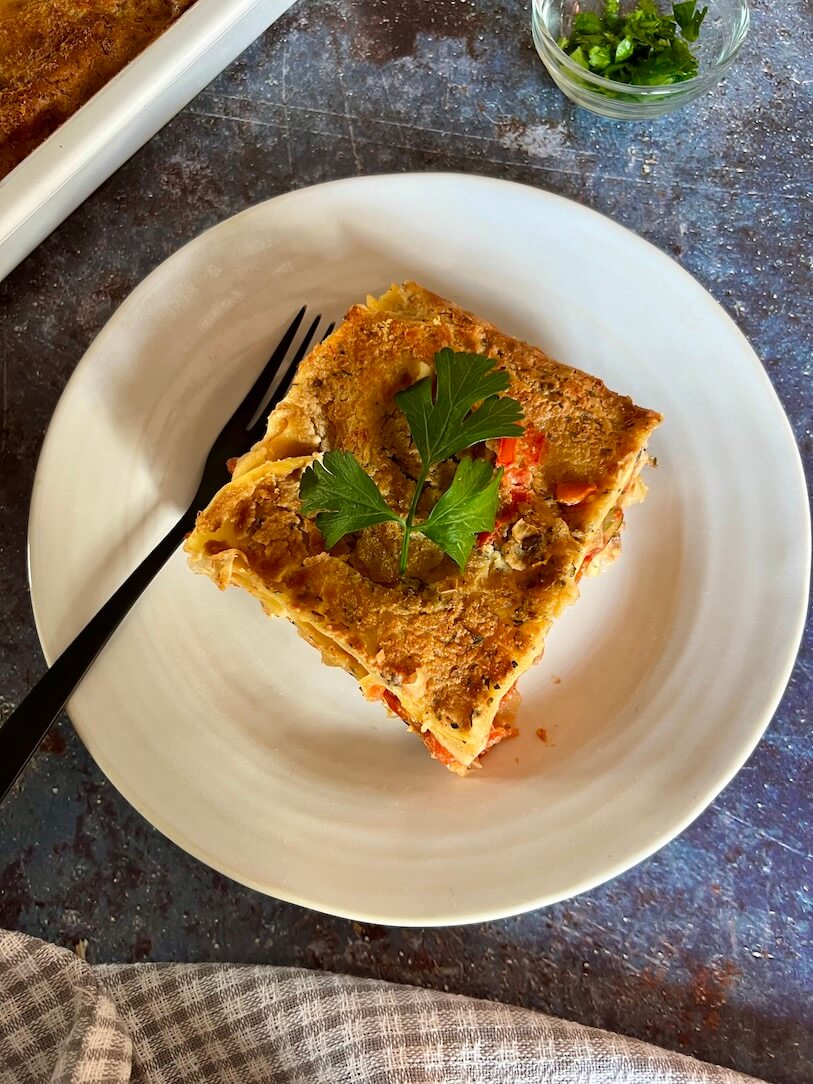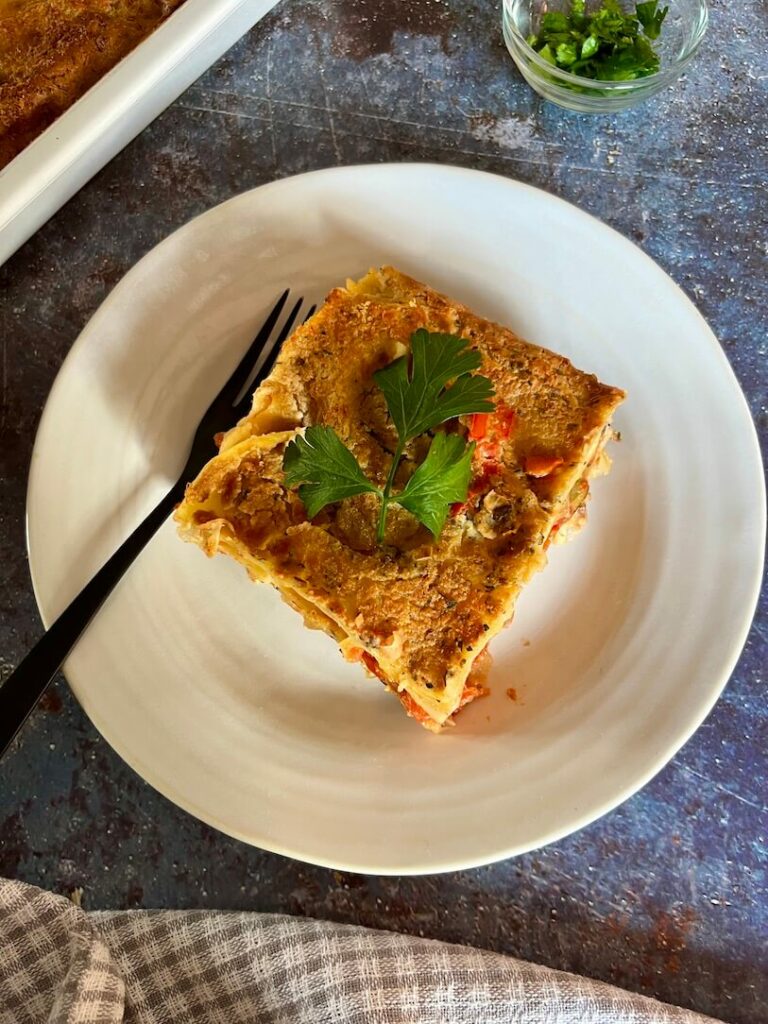 Is it Correct to Spell it Lasagne or Lasagna?
In Italy both words come from the pasta strips, which are called lasagna in singular and lasagne in plural.
The two spellings have become normal in English speaking countries and both are considered correct, although in North America, lasagna is the chosen norm, while in Europe we use lasagne more.
If you're a fan of Italian food, you'll probably be hooked on this vegan risotto too.
Summary of How to Make Easy Oil Free Vegan Lasagne
To make an easy oil free vegan lasagne you'll replace the mince part of the lasagne with a vegetable tomato sauce using the veggies of your choice. You can also use tofu or lentils for the 'meat' layer of the lasagne. Whichever ingredient you choose should be made into a juicy tomato sauce. This is done either by roasting the vegetables in the oven along with the herbs and garlic or by water-frying them in a pan. Roasting is the most hands-off and easy way to make the main sauce for the lasagne. Once they are almost ready, add the chopped tomatoes and return to the heat until the tomatoes lose their shape enough to create the sauce.
Next, make a white sauce using plant milk and gluten free flour, but no oil or butter. Make the sauce just the way you would a normal white (roux) sauce, but start off with a base of water-fried onions and add the gluten free flour. Stir, then slowly pour in the plant milk, stirring all the time to avoid lumps. Add some cashew nut sauce and nutritional yeast to the white sauce.
Finally, layer the lasagne: 1 layer tomato sauce, 1 layer white sauce, 1 layer pasta. Tomato, white sauce, pasta. Repeat at least three, possibly 4 times and then pour the rest of the white sauce over the top and sprinkle with some additional nutritional yeast. Bake in the oven at 200 ºc for 20 minutes, then check and add more plant milk if it looks dry. Bake for another 20 minutes or until fully cooked.
What do You Use in Vegan Lasagne Instead of Mince?
Choose the filling of your choice and either add tomatoes to the pan to create a tomato sauce base, or use a homemade oil free tomato sauce to mix with the tofu or lentils for example.
A mixture of vegetables or a selection – courgette, aubergine, carrots, onion, spinach and mushrooms all go really well.
Tofu – mash up tofu or chop it finely and mix with some veggies and tomato sauce to replace the mince.
Lentils – lentil lasagne instead of mince works well too.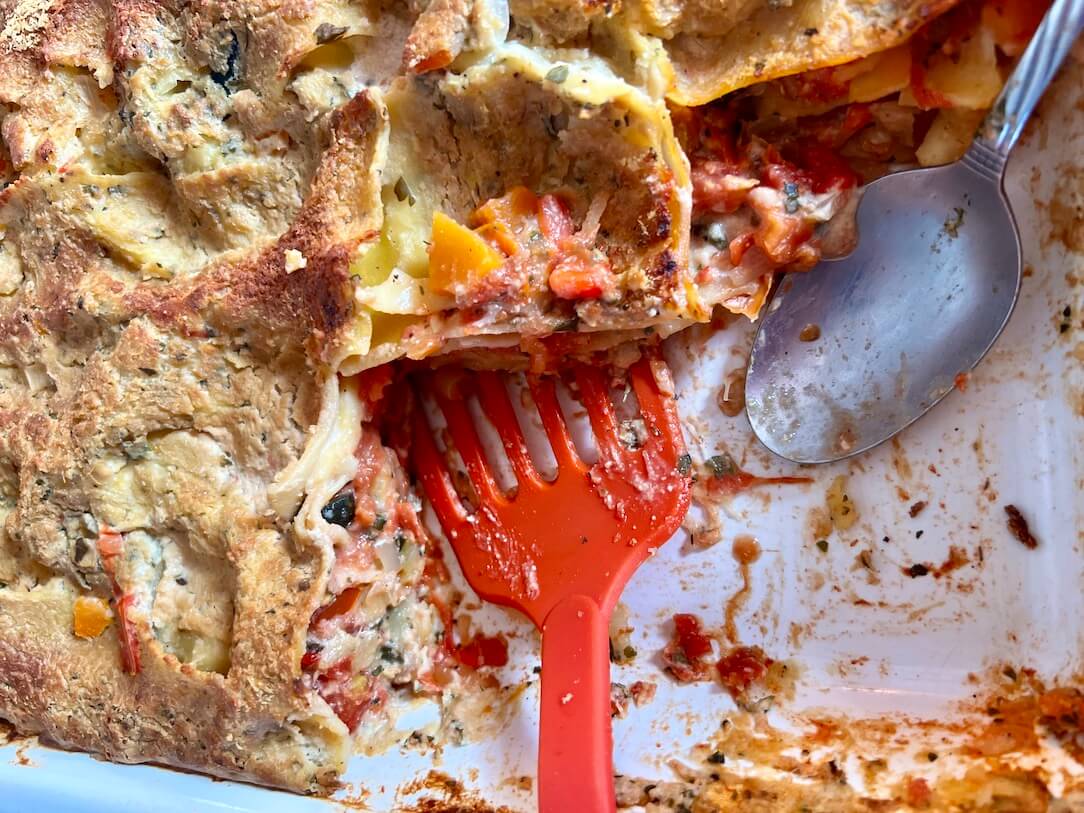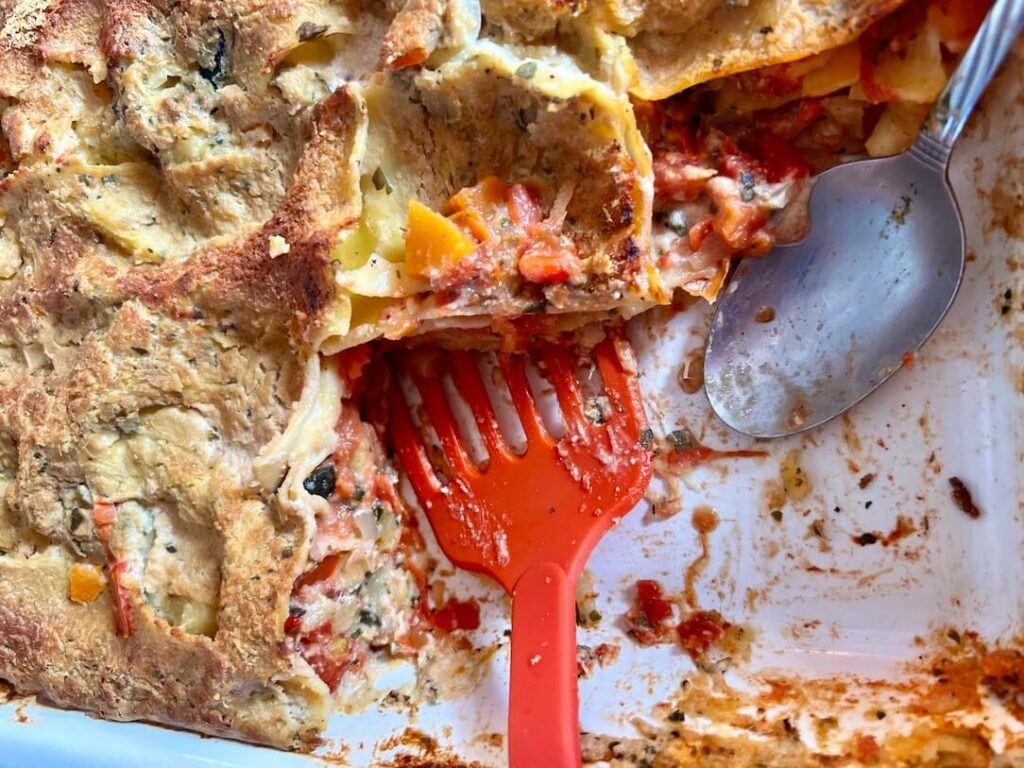 How many Layers Should Lasagne Have?
Choose 3 or 4 layers of pasta depending on the size of your dish and the amount of sauce you have available.
What's the Order for Layering Lasagne?
Place a scoop full of tomato veggie sauce on the bottom of the lasagne dish followed by a scoop of white sauce and a layer of pasta.
Repeat another 3 times and then finish the top layer of pasta with a generous layer of white sauce and a sprinkling of nutritional yeast.
Can You Make Oil Free Vegan Lasagne the Day Before?
You can prepare the lasagne the day before and then bake it the next day when you're ready to eat it. It will soak up the liquid overnight and may need a bit of additional liquid adding to it before it goes into the oven.
You can also cook the lasagne the day before and reheat it the next day, but reheating it will dry it out so be sure to pour on some extra plant milk before re-heating.
Should You Cook Vegan Lasagne Covered or Uncovered?
Some people cover the lasagne for the first part of the cooking to stop it from drying out. It's up to you whether you choose to adopt this method or not.
I cook mine uncovered, but mainly because it seems like unnecessary extra hassle to cover it and a slightly unnecessary use of silver foil.
Go with whichever you feel you prefer.
How Long Will Vegan Oil Free Lasagne Keep in the Fridge?
Vegan lasagne won't go bad as fast as its meat counterpart but I like to eat all foods up within 3 days of cooking, while they're still at their best.
You should be ok to leave it another day longer than that if you wish.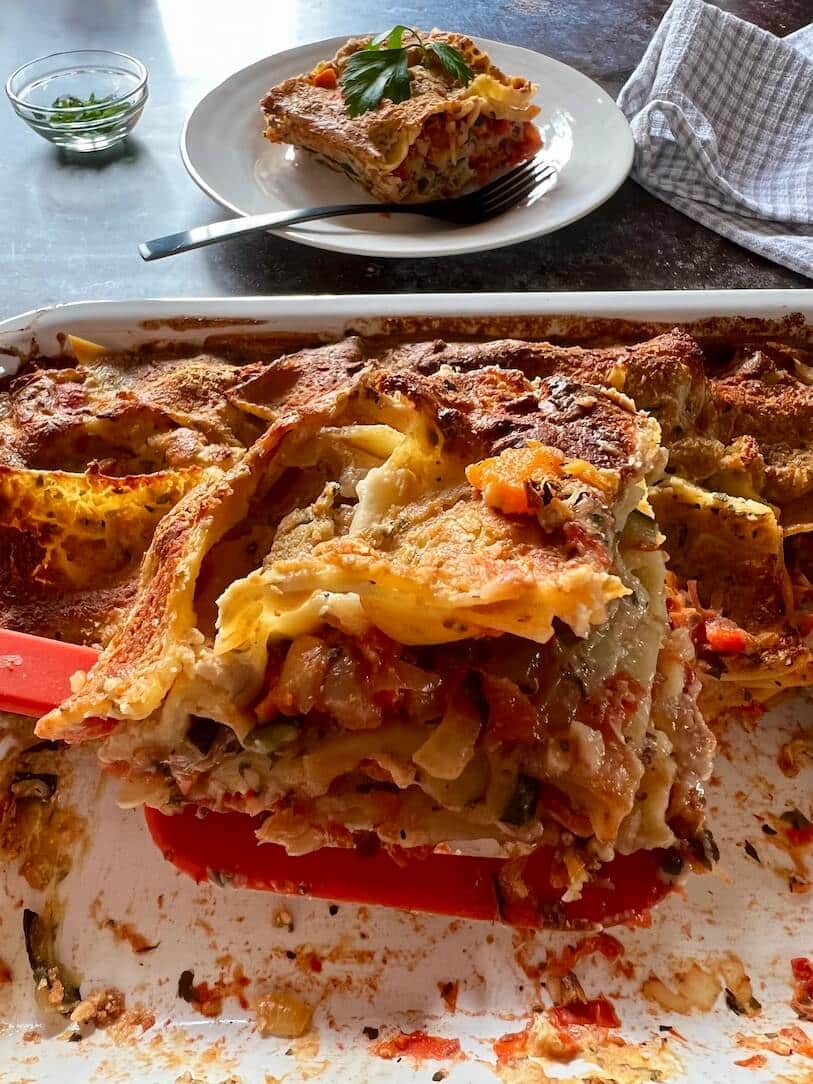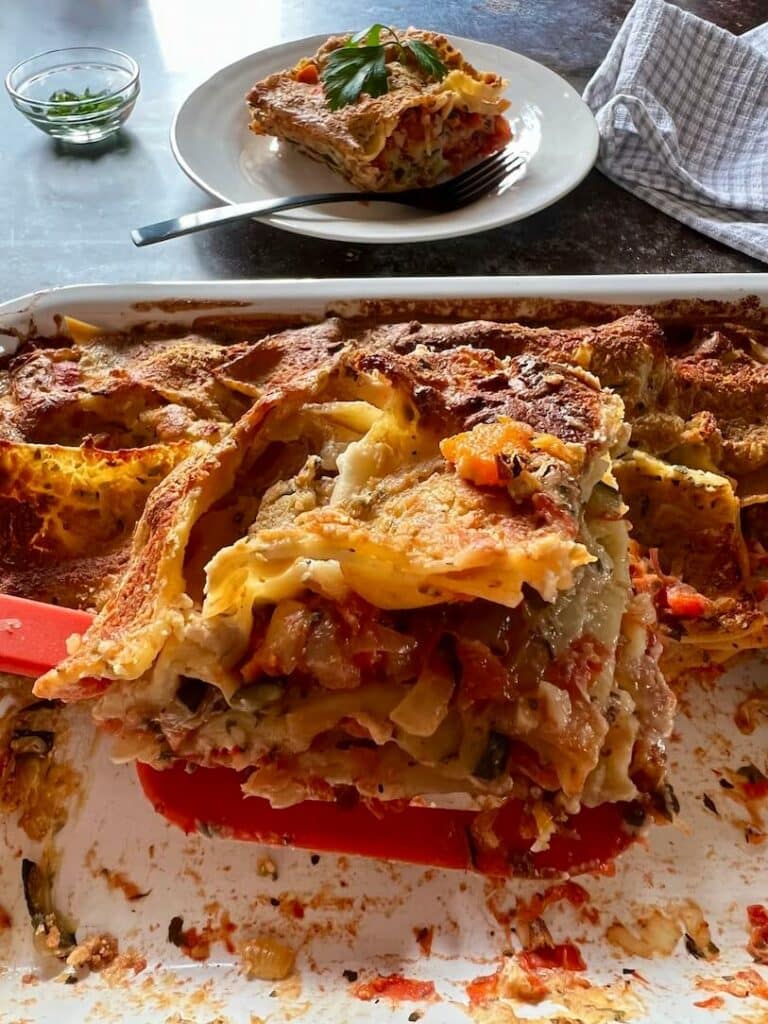 Can I Freeze Vegan Lasagne?
Yes absolutely!
Tip: cut the lasagne into portions before it goes into the freezer so that you can remove individual portions for defrosting and reheating.
What Are Your Other Favourite Vegan Lasagne?
Eggplant & mushroom lasagne
zucchini & red pepper lasagne
black lentil lasagne
spinach & tofu lasagne
How to Make Easy Oil Free Vegan Lasagne (Gluten Free & WFPB)
Course: All Vegan Posts
Cuisine: Vegan, GF, WFPB
Difficulty: Easy
Easy, oil free, gluten free lasagne
Ingredients
Gluten free lasagne pasta

Vegetables:
eggplant
mushrooms
spinach
optional tofu or lentils

For the Vegetable Tomato Sauce

2 onions chopped

3 cloves garlic crushed and chopped

5 plum tomatoes (or other tomatoes)

1 zucchini

1 carrot

1 red pepper

4 mushrooms

Fresh parsley or basil

1 tin chopped tomatoes (400g) (or use 12 fresh tomatoes)

Dash balsamic vinegar

1 tsp maple syrup

Optional: pinch of thyme

For the White Sauce

1 ladle of cooked onion with vegetables from the tomato sauce

3 tbs gram flour (garbanzo flour)

3 tbs maize starch

600 ml unsweetened plant milk

100 g cashew nuts (soaked)

salt and ground black pepper

dash apple cider vinegar

water
Directions
Chop all the vegetables, garlic, fresh parsley, and place into a baking tray with a generous sprinkle of salt.
Pour on a dash of balsamic vinegar and a tsp of maple syrup.
Place into a preheated oven at 200ºc for 20 minutes
Meanwhile, drain the cashew nuts, rinse well and blend with water to obtain a smooth creamy liquid. Add a dash of cider vinegar and a pinch of salt. Taste the cashew sauce and adjust as necessary. It should taste delicious as is.
After 20 minutes, take a ladle of oven roasted onion mixture and place it into the bottom of a heated saucepan and return the pan to the oven.
Add the gluten free flour and stir well, followed by a tiny amount of unsweetened plant milk. Stir to mix well before adding a little more milk. Continue in this way until the flour is completely dissolved in the milk.
Add the cashew nut sauce and 4 tablespoons of nutritional yeast.
Taste the sauce and add salt or nutritional yeast if necessary. A pinch of cumin is also an option.
Meanwhile, remove the pan of onion/veg mix and check that they are cooked. Add the 5 chopped tomatoes to the pan and return to the heat for another 15 minutes.
Finally add the tin of chopped tomatoes and mix well. Taste to check the flavour and adjust if necessary.
Return to the heat while you prepare the pan for the lasagne, or use immediately.
Layer the bottom of the lasagne dish with a thin layer of tomato vegetable sauce, followed by a layer of white sauce and a layer of pasta sheets.
Repeat the steps 3 times or until the dish is almost full.
Place the top layer of pasta and cover with a generous amount of white sauce.
Pour over some extra plant milk until you can see it filling the space at the side of the dish (normally about 1 cup full but it will depend on how juicy you've made the sauce).
Sprinkle the top with nutritional yeast and bake in the oven at 200ºc for 30-40 minutes, checking half way through and adding more liquid if necessary.
Easy, GLUTEN FREE, OIL FREE, VEGAN LASAGNE
Notes
This lasagne can be made so easily and the ingredients switched out for whatever vegetables you have to hand.
Troubleshooting Easy Oil Free Vegan Lasagne
If something goes amis while you're cooking your vegan lasagne, it isn't too difficult to set it back on path again. The main problem when first starting out is knowing how moist to make the lasagne.
It can be a matter of personal choice, but it can also vary enormously depending on the make of pasta sheets. So if you're using a new pasta, you'll have to wing it a bit and check it during the cooking process.
But don't worry, it can be adjusted simply enough.
The Lasagne's Too Dry
Check the lasagne half way through cooking and if you suspect it's getting a bit dry, simply pour some unsweetened plant milk over the top of the lasagne, just enough to cover the top of the whole pan without drowning the whole dish.
The Pasta isn't Cooking
This is actually the same problem as above. If there isn't enough liquid, the pasta won't cook. It needs liquid to be able to soften. Simply add more plant milk and return to the oven to cook for another 20 minutes or so.
The Lasagne is Too Liquid
It would be difficult for this to happen if you've followed this recipe, as it errs on the side of dry but if you do find your lasagne is too liquid, there are a few options.
Leave the lasagne overnight as it will naturally dry out and be firmer when you reheat it the next day.
Prepare some mashed potato to serve with the extra juicy lasagne.
Remove some of the liquid if you catch it early enough in the first stages of cooking.
Final Thoughts on Easy Oil Free Vegan Lasagne
To some people this sounds like an extreme type of food. There are even comedy jokes made about the times we live in – gluten free – vegan – oil free etc. But the truth is, there's nothing better than simplistic cooking, using primary ingredients with none of the extra stuff like cooked oil, processed foods or animal products.
And once you make the switch over to whole a foods plant based vegan lifestyle, it's only logical that you'll want to make your lasagne in the same way – with whole foods.
For me, lasagne is a once-in-a-while kind of food. But every so often it's nice to be able to rustle one up and have it as a change. And for those moments, this simple recipe ticks the boxes.
If you're new to veganism, you may like to take a look at these common vegan FAQ or check out our simple guide to starting a vegan lifestyle.