This easy vegan cheese sauce recipe is a handy way to rustle up a simple sauce when you want a bechamel type sauce that's vegan and gluten free.
Cheese is something many people miss when they first go vegan, even getting cheese cravings in the beginning. But there are ways to stop those cheese cravings, and one of them is to make vegan replacements for some of those previous cheese recipes.
Sometimes I fancy a vegan cheese sauce so I make this and serve it with a delicious black rice, or on the side of potatoes or served with quinoa.
It's also perfect for creating vegan cauliflower cheese or a cheesy pasta (but I'm more of a fan of pasta with tomato sauce than with creamy sauce).
Tip for Making a Vegan Cheese Sauce
When you make a sauce like this here's a little tip: you can make it all in one go, or you can start off the onions and/or vegetables if using, then cover the pan and leave it alone.
When you come back, the flavour from the veggies will have grown exponentially.
However, it isn't always feasible, so don't worry if you don't have extra time to leave it to stand; it's entirely optional.
Variation one: Easy Vegan Cheese Sauce Recipe with Vegetables
The basis of the sauce is a fried onion, finely chopped and fried with a large clove of garlic and some salt. Once it's cooked a little, add a bit of chopped courgette and broccoli, or whatever vegetables you want to include, to the pan, and then later, add some mushrooms, cut into quarters.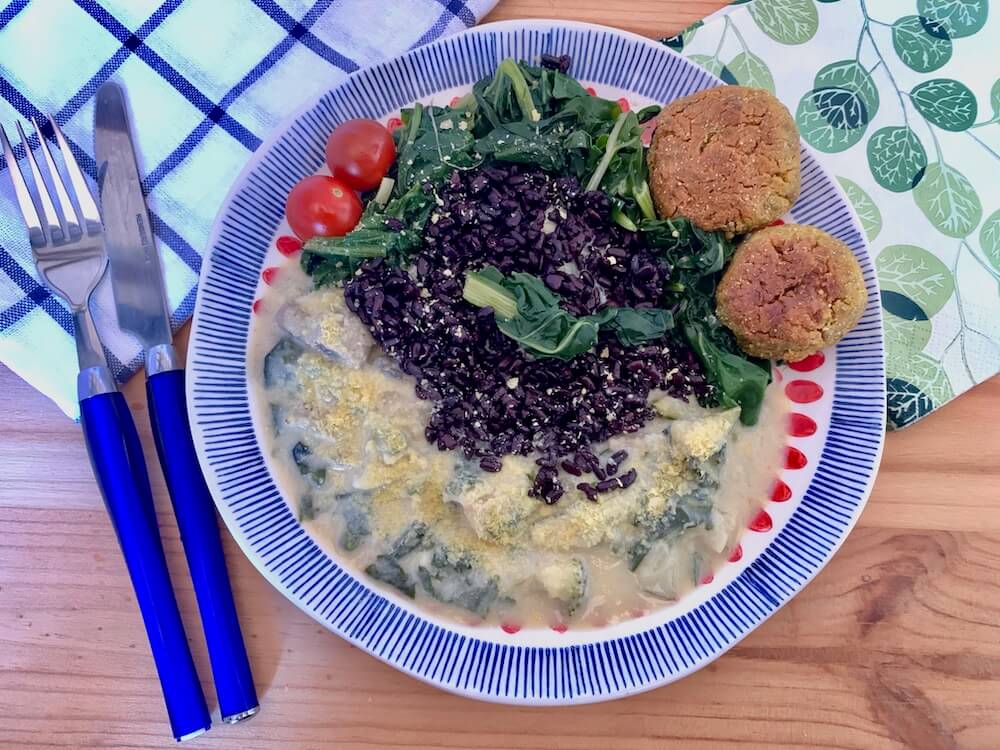 It's at this point, when the mushrooms have had a couple of minutes cooking, that you would turn off the heat and leave it alone to infuse the flavours. Otherwise, just keep cooking until the veggies are all ready.
If you've left it to stand, when you come back, heat it up and add 1 tbs of rice flour and 2 tbs of gram flour, stirring well as it gets absorbed by the oil, and avoiding the formation of lumps.
Gradually add a little boiling water to the lump of flour and stir well to make a thick ball of paste.
Next, add plant milk of your choice. I use pure soya milk but if you have another one you prefer, that's fine. Gradually add the milk and keep stirring to keep away the lumps.
Keep going until you have the consistency you want. Taste the sauce and add nutritional yeast, salt and pepper and a dash of soy sauce.
Heat, check the flavours, then serve with your favourite meal.
Variation Two: Easy Vegan Cheese Sauce Recipe for Making Cauliflower Cheese, Lasagne etc.
For this second variation, you need 1 onion finely chopped, 2 chopped cloves garlic, 2 tsp cumin, 1 tsp turmeric, some fresh or dried parsley salt & pepper.
The basis of the sauce making is the same only this time you leave the onions and garlic to really infuse into the oil. Cook them that much longer until they're really cooked through.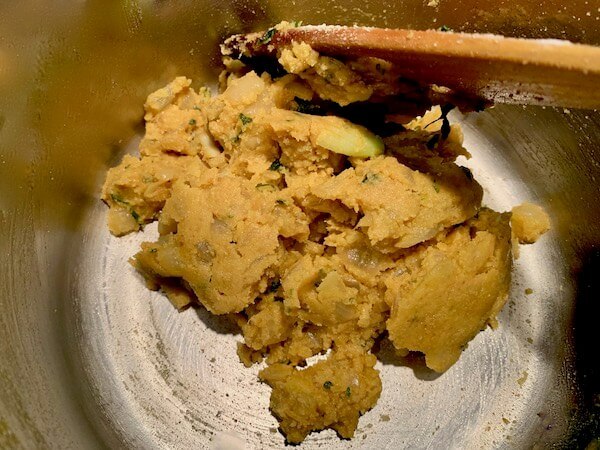 Fry the chopped onion and garlic in a little olive oil and add the cumin, salt and pepper. After about 5 minutes, add some chopped fresh parsley to the pan.
After about 10 -15 minutes cooking, add the turmeric and cook for a few more minutes. At this point you need to have some surplus oil in the pan, so you can either fry the onions in a generous amount or you can add some more oil now.
In total, you need roughly a small cup full of oil.
Add 3 tbs gluten free flour to the pan and stir continuously to avoid lumps. When all the oil's been absorbed, add a little plant milk and stir. Then again, a little milk and stir.
Continue in this fashion until you have a sauce of the consistency you want.
Taste it to check the seasoning and add more salt if necessary and soy sauce as an option. Next add plenty of nutritional yeast and voila! You have a tasty creamy vegan cheese sauce to go in your lasagne or cauliflower cheese.
You can also use a cashew sauce or a coriander sauce to cook dishes like lasagne or cauliflower cheese.
Creamy Vegan Cheese Sauce
Course: Sauce
Cuisine: Vegan
Difficulty: Easy
Easy vegan cheese sauce to accompany your vegan meal
Ingredients
1 onion

1 large clove garlic

1 piece courgette (if making a vegetable cheesy sauce)

1 piece broccoli (if making variation one)

mushrooms, washed and cut into quarters (optional)

spinach (optional)

1/3 litre plant milk

olive oil for cooking

salt & pepper

gluten free soy sauce

2 tbs gram flour & 1 tbs rice flour (or other gluten free flour)
Directions
Fry the finely chopped onion with the finely chopped garlic in a little olive oil.
Add some chopped courgette and finely chopped broccoli to the pan.
Sprinkle with salt and cook until the courgette is beginning to look cooked (about 10 minutes total)
Add the chopped mushrooms and continue to cook until all the veggies are done.
Add 3 tbs gluten free flour and stir into the oil until it forms a ball.

Use a little plant milk to dilute the flour mixture into a paste, stirring to avoid lumps.
Use more plant milk to keep adding liquid to the pan, stirring all the time as it absorbs the flour.
Add salt & pepper and a dash of soy sauce and taste the sauce to check the seasonings.
Finally, add 1 cup of nutritional yeast.