This cauliflower snack recipe came about because I've been seeing a lot of images recently of people eating a snack called cauliflower wings.
So I decided to try and make a baked version of a cauliflower snack recipe, using a gluten free batter and some spices.
I can't actually call these cauliflower wings because I've no idea what cauliflower wings are supposed to taste like, (and no, I have eaten buffalo wings either).
Plus, they're cooked in the oven, not fried.
So this recipe needed another name, so cauliflower snack it is!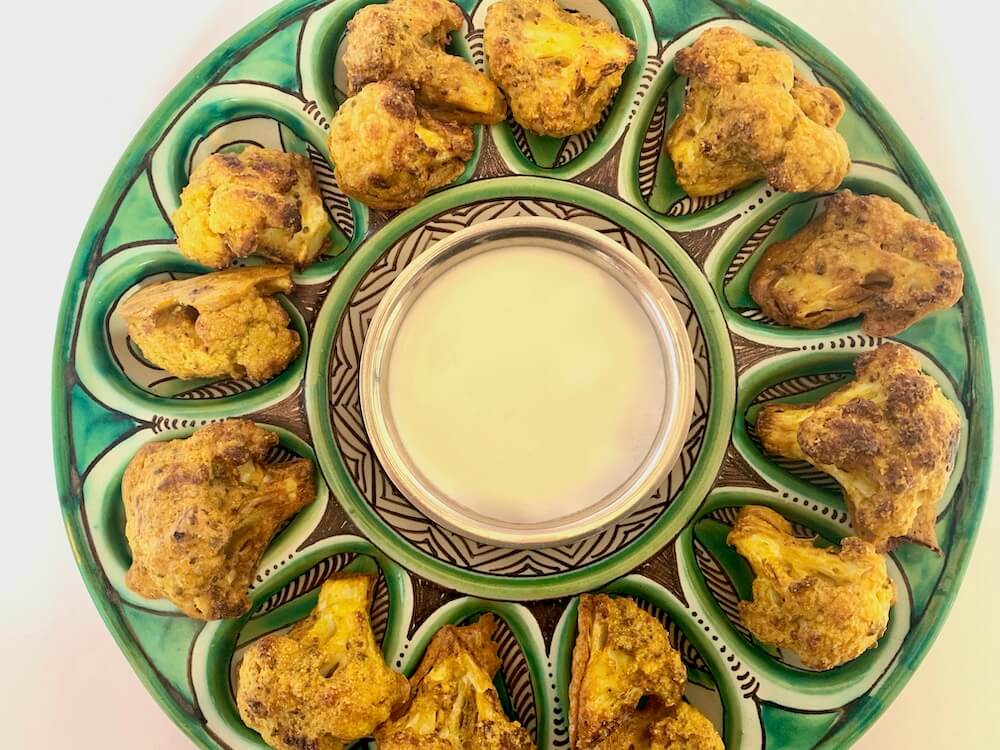 Experimenting with this Cauliflower Snack Recipe
There are so many ways of cooking cauliflower, from the traditional cauliflower cheese recipe, to roasted cauliflower, cauliflower mash or cauliflower rice to mention just a few.
And they all have their place in my cooking.
But cauliflower wings?
Now that's something I'd never made . . . so I decided it was time to give it a try.
The first time I made this cauliflower snack, I used a blend of rice flour and gram flour, and I added ground flax seed and spices. (See image above).
They tasted ok but they weren't crunchy and were a bit bland and lacking in salt.
So I tried experimenting a few times, using tapioca flour, gram flour, rice flour or a blend of all three.
And I tried adding extra salt. But I must say, the first few times I made these, while they were edible, there was nothing special about them.
Then I tried just using plain old gram flour and to that I just added some cumin and chilli. I made the batter thicker, and once the cauliflower heads were covered in batter, I sprinkled on some sesame seeds.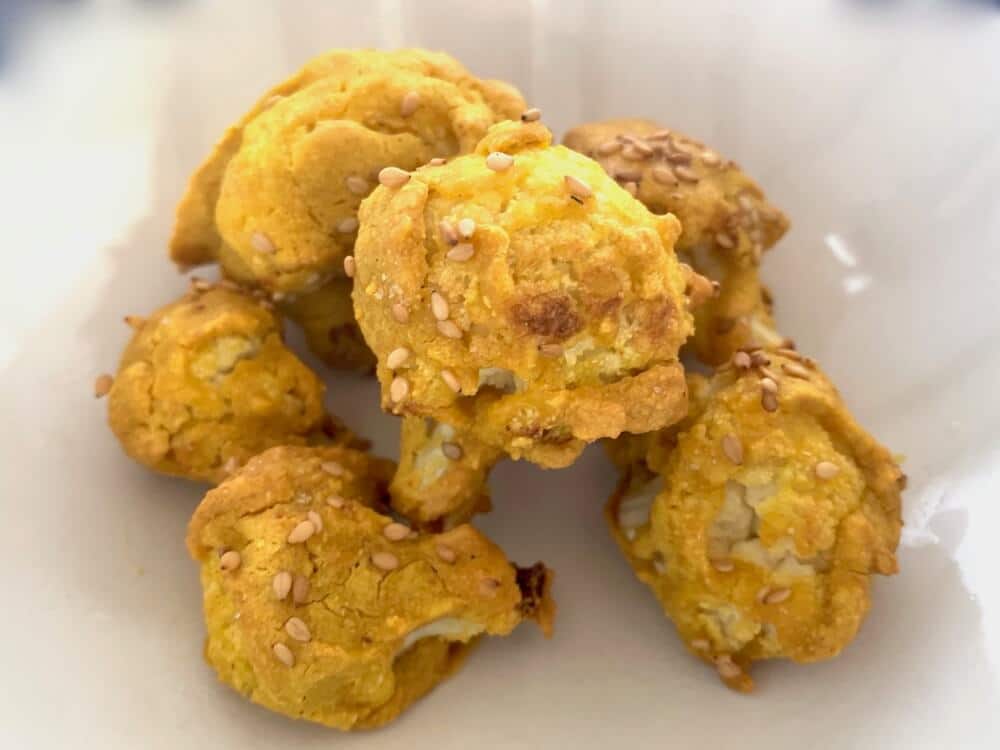 Now they were better! A nice crunch to the outside, soft in the middle, a hint of sesame and a hint of spice!
So if you ever try to make something and it turns out just 'ok', don't give up on it! Do it again!
If you're newer to being vegan or not used to eating a whole foods plant based diet, it may seem difficult to just throw different ingredients together. But when you persevere, you'll find that whole foods need the least fuss for preparing.
They just taste so delicious in their simple form. And this is especially true when you've cut out processed sugar and your taste buds have evolved.
(If you have any questions, you might like to take a look at some of the most common vegan faq people ask when first turning vegan.)
How to Make Easy Cauliflower Snacks
Make the batter by putting some gram flour into a bowl and adding salt, cumin and chilli and then slowly pouring in unsweetened plant milk, stirring all the time to avoid lumps, until you have a thick liquid/paste.
Leave it to stand for 30 minutes in the fridge. Break the cauliflower up into small florets and cover each floret in the thick batter. Sprinkle with sesame seeds.
Put the cauliflower florets, coated in the thick batter and sesame seeds into a baking tray on a layer of baking paper and place into the oven at 190º for about 15 minutes, then turn each one over, brush with a little olive oil and return to the oven until they turn light golden brown.
Serving Suggestions for Cauliflower Snacks
Got some friends coming over and wondering what finger foods you can serve? Look no further!
Serve these cauliflower snacks with a hot, spicy, tomato sauce or a vegan sour-cream sauce (or both!) to dip them into. For sauce recipes, take a look at this post on essential vegan sauce recipes.
Accompany them with a plate of crudités and a delicious homemade hummus.
Make some tasty vegan balls to go alongside and you have a wonderful spread of delicious vegan finger foods.
For finger food dessert serve these amazing no bake high protein energy balls.
My other favourite recipe with cauliflower is cauliflower baked in lemon and tahini, which is delicious even if you're not normally a cauliflower fan.
Easy Cauliflower Snack Recipe
Ingredients
Cauliflower (broken into small florets)
Chickpea flour
Unsweetened soy milk or other plant milk
Salt
Pinch of cumin & chilli powder
Sesame seeds
Drizzle of olive oil
Directions
Place some flour in a bowl and sprinkle in some salt, cumin and chilli powder.
Pour in a little plant milk and stir. Keep stirring and adding milk until you get a thick batter paste.
Set the batter aside for 30 minutes (not essential but better).
Coat each cauliflower floret with batter.
Sprinkle on the sesame seeds.
Cook in the oven at 190ºc for about 15 minutes.
Turn the cauliflower snacks over, brush with a little olive oil and return to the oven to finish baking (about another 10-15 minutes).
Serve with a spicy tomato sauce and a vegan sour-cream sauce.