I absolutely love these little no bake protein energy balls – so much more than I could have possibly imagined when I first started out on the road of experimenting with this recipe.
The first time I saw something similar online it was an oats and it didn't particularly attract me. But the image was so tempting and mouth watering, I decided to try and create a different version based on seeds and nuts.
So I did, and in the beginning it was okay but I knew I could make it even yummier.
And they are exquisite.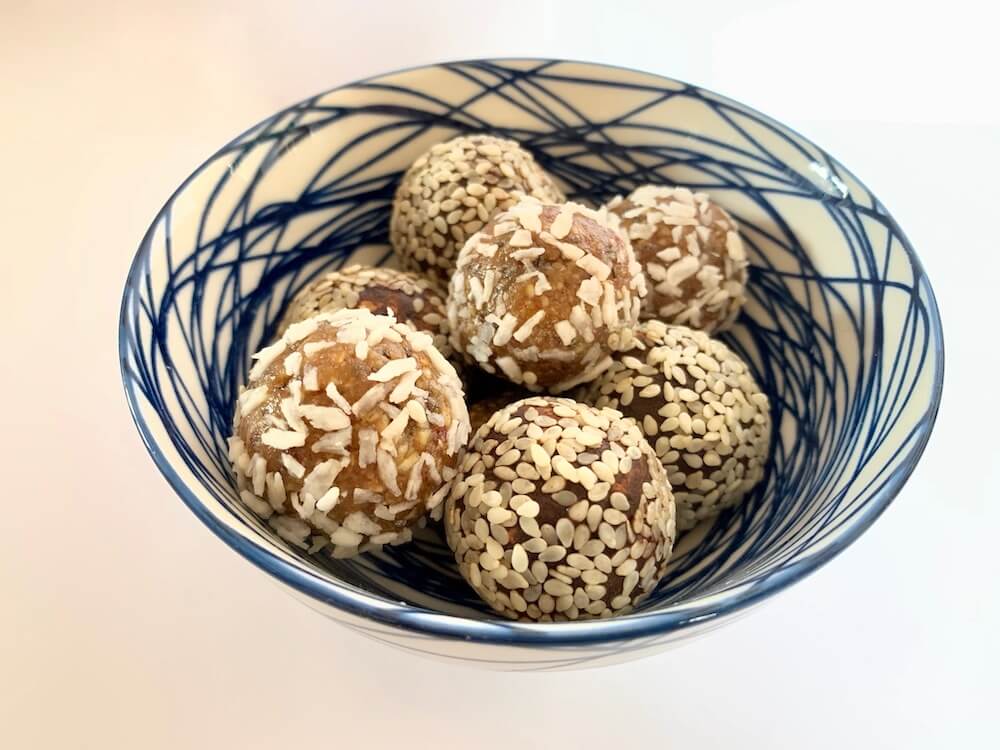 You can adjust the ingredients however much you like. If you prefer one ingredient to another, switch it out. The only secret here is getting the balance right, so go ahead and give them a go and tweak them to suit your taste buds.
They are super easy to make.
How to Make No Bake Protein Energy Balls
All you have to do is combine the ingredients in a blender and blend till smooth. Then add a squeeze of lemon juice and blend again. The mix will instantly turn into a paste.
Use a 1/4 measure spoon to scoop out little blobs onto your chopping board. Next, take each blob between the palms of your hands and roll lightly to form perfect little balls.
Once you have all the balls rolled you're on the home run.
Simply put the balls into a bowl of natural cocoa powder and roll around until completely coated. You can do them one by one but I prefer to do it the lazy way and put several in at a time.
You can choose to roll them in other coatings: coconut or black sesame for example. In the image below we have the plain ball ready for dipping, the coconut ball and my favourite, the cocoa & sesame ball.
After the cocoa powder bath comes the same process only with sesame seeds.
For the sesame seed stage I like to dip them twice. Firstly they get rolled in sesame and rolled in your palms again, then secondly, just roll them lightly and let the sesame seeds stick to them, staying nice and white, and put the balls straight onto a plate.
They are my favourite (and only) sweeties to have in the fridge.
No Bake Protein Energy Balls Recipe
Course: Sweet snack
Cuisine: Vegan & Gluten free
Difficulty: Simple
Delicious as a healthy protein snack or sweet treat after your meal
Ingredients
10 cashews

10 walnut halves

3 tsp tahini

2 Medjool dates

2 heaped tsp ground flax seed

2 tsp chia seed

2 tsp sunflower seeds

1 tsp pumpkin seeds

1 tsp sesame seeds

1 tsp peanut butter

1 tsp dried coconut

Squeeze of lemon juice
Directions
Add all the ingredients except the lemon juice to a blender and blend until you have a crumble.
Taste the mix and adjust to your preference (more/less peanut flavour, more dates to make it sweeter etc.)
Add a squeeze of lemon juice and blend again. You will see an immediate change in consistency.
Use a little 1/4 tsp measuring spoon to scoop out little balls. Roll each ball in the palm of your hands to perfect the shape.
Roll in pure natural organic cocoa powder.
Roll in sesame seeds and roll in the palm of your hands again (optional).
Roll in sesame seeds again and place in a container for storing in the fridge.
Notes
Roll in cocoa & sesame or in coconut flakes
Health Benefits of These Protein Energy Balls
Walnuts & Cashews
Nuts are a great source of protein and are full of unsaturated fatty acids and antioxidants to promote health and fight off disease. They help to lower bad cholesterol and are a heart healthy food.
Walnuts have been named the healthiest nut, according to scientists, and have higher levels of antioxidants than any other nut.
Tahini & Sesame
Tahini is made from ground sesame seeds and has a rich nutty flavour. It contains various vitamins and minerals, is a rich source of anti-inflammatory monounsaturated fats and is high in fibre and protein.
It is also high in lignans, including sesamin, which has been shown to possibly have anti-cancerous properties. Sesame seeds can also help to reduce the risk of type 2 diabetes as well as promote heart health.
The powerful antioxidants in tahini and sesame seeds may help prevent dementia and Alzheimer's disease, as well as protect the liver. In short, tahini is a healthy ingredient to include in your diet.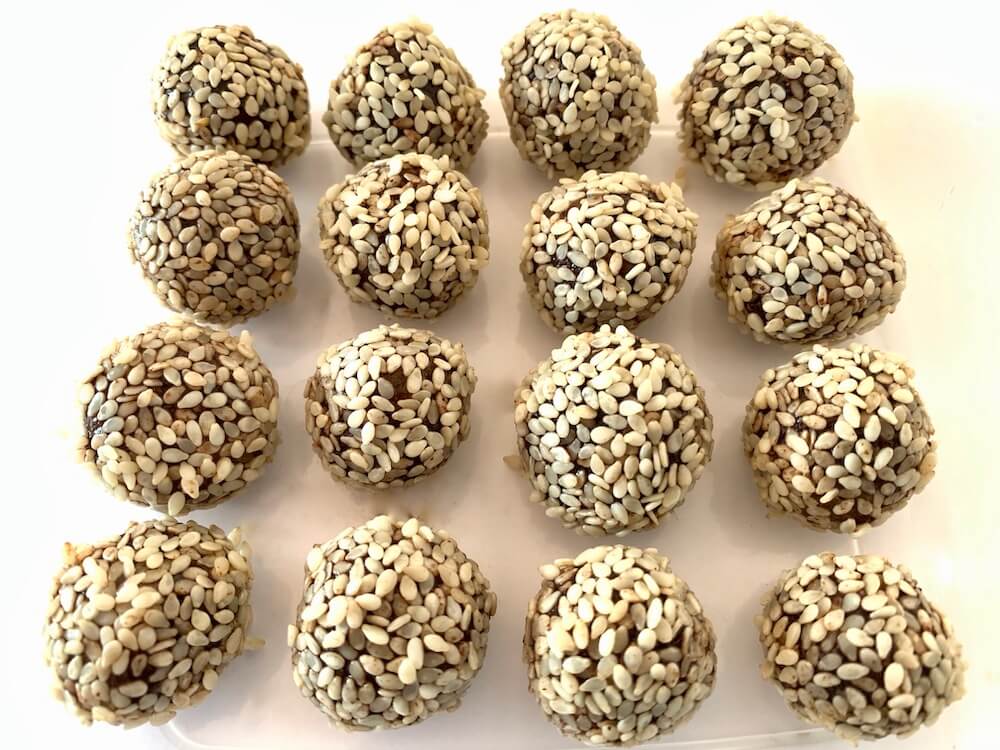 Medjool Dates
Medjool dates are smoother and juicier than normal dates. They're high in fructose which is a natural sugar and are a perfect natural sweetener.
Although they're relatively high in calories, they're a low on the glycemic index so they won't cause a blood sugar spike, making them a healthy sweet alternative.
Medjool dates are high fibre and high carb meaning they provide a great source of energy and are nutrient rich, providing a source of calcium, manganese, potassium and copper, all of which contribute to healthy bones. They also contain vitamin B6 and magnesium.
It's believed that the antioxidants in Medjool dates may contribute to brain health and help to protect against Alzheimer's disease, as well as being a natural anti-inflammatory and anti-cancer food.
The antioxidants in dates also protect against heart disease and lower cholesterol levels.
In conclusion these dates are amazing as natural sweetener and they have many health benefits. High fibre, high carb for energy and nutrient dense for heart health, bone health and brain health.
Flax Seeds
I love adding flax seeds to everything. They are high in protein, omega 3, and some vitamins B1 & B6, folate, calcium, iron, magnesium, phosphorus and phosphorus.
They're most appreciated for their omega 3 (ALA) value and for providing a source of lignans and fibre, being excellent for encouraging and stabilising a healthy digestive system.
The ALA in flax seeds can help lower cholesterol and promote heart health as well as protecting against strokes.
Lignans are groups of nutrients which contain antioxidants and oestrogen properties and have been shown to reduce the risk of breast cancer and prostrate cancer as well as possibly skin cancer and colon cancer.
Flax seeds are one of the most health promoting seeds out there, often prescribed to improve gut health, heart health and for preventative reasons. The standard daily quantity is usually 1-2 tbs per day with a maximum of 5 tbs daily.
They provide a great source of fibre and omega 3 ALA, as well as being rich in lignans and certain vitamins and minerals. Read more about the benefits of flax seeds.
Chia Seeds
Chia seeds, like flax, are considered a superfood because of their powerful nutritional value. Chia has very similar properties to flax although the actual specific quantities vary slightly. I love eating chia in this chia and mango pudding, which I also make with medjool dates, though I made it very un-sweet.
Rich in Omega 3 (ALA), high in protein and in fibre, it is thought that chia would have similar health promoting qualities as flax as it is only slightly lower in ALA than flax.
Chia therefore is thought to promote healthy bones, reduce the risk of heart disease, lower bad cholesterol levels and reduce and/stabilise high blood pressure.
Chia and flax both have anti-cancer properties but flax is slightly higher in cancer fighting antioxidants.
Like flax, chia contains soluble fibre which is great at making you feel full, so helping in a weight loss program by reducing appetite as well as being great for the digestive system and helping to regulate the bowels.
Sunflower Seeds
High in protein, selenium, magnesium, linoeic fatty acids and vitamin E, sunflower seeds can help reduce inflammation by reducing C-reactive protein levels.
The magnesium and other compounds in sunflower seeds work to lower blood pressure and are believed to be helpful in managing blood sugar levels in type 2 diabetes (further testing needed).
Watch out for the salt level in sunflower seeds, especially if you're on a low sodium diet. It's best to buy natural, unsalted seeds. It isn't recommendable to eat too many sunflower seeds at once.
Pumpkin Seeds
Pumpkin seeds contain healthy fats, magnesium, iron, zinc, vitamin B2 and folate. They are packed with antioxidants which are very effective in reducing inflammation. The lignans in pumpkin seeds can be used in treating and preventing various cancers.
Like flax and chia, pumpkin seeds promote heart health and reduce cholesterol and high blood pressure. They are also beneficial for helping you to get to sleep if eating before bedtime.
If you follow this no bake protein energy balls recipe, you should get some delicious, health packed snacks to eat as a treat or energy boost.
If you like this recipe don't forget to share and like! I don't have a sweet tooth, but these have me addicted!