Are brownies vegan? Is there a tremor of fear in your voice as you contemplate the possibility of saying adios, cheerio, goodbye to something so decadently delicious as a brownie?
Well sorry, but the answer is 'NO'.
Standard brownies definitely aren't vegan.
But that doesn't mean you can't veganize them and make the most delicious homemade vegan brownies ever.
And even make them into something healthy?
Yes, absolutely!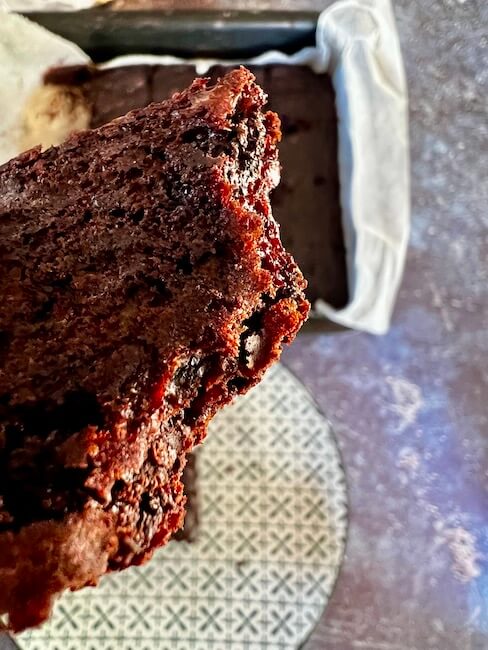 Why Standard Brownies Aren't Vegan (or Healthy)
Traditional brownies are made from . . .
eggs
butter (dairy)
refined sugar (may not be vegan)
chocolate (may contain milk)
They're also full of gluten as ther're usually made with wheat flour.
How to Change a Normal Brownie Recipe to a Healthy, Vegan, Oil Free & Gluten Free Brownie!
Actually, there are loads of ingredients you can choose from to switch out the non-vegan or unhealthy ingredients and create your very own brownie recipe.
I like simple, so you'll find this recipe easy for me, because it uses ingredients I almost always have in my kitchen.
You can make so many different types of delicious gooey vegan brownies that aren't only healthy but also gluten free, refined sugar free, oil free and full of flavour.
Just take your pick and start experimenting. I mean, let's face it, there's zero risk when playing around with brownies. Because, well have you ever tasted a bad one??
So without further ado, here are some of the options you have for creating your gluten free, oil free, sugar free, vegan brownies.
Vegan Gluten Free Ingredients for Delicious Healthy brownies
Here are some of my favourite ingredients to choose from when making vegan brownies.
Black beans
Sweet potato
Banana
Maize starch
Gram flour (garbanzo flour)
Almond flour or other GF flour
Medjool dates
Maple syrup
Flax seed
Vegan dark chocolate
(coconut oil if using oil)
Obviously, you won't use all of the above ingredients, just some of them. They're your colour-palette and you're the artist who has to choose which colours you want.
These are the two that I like most because they're full of such real foods!
black beans with sweet potato
sweet potato with banana
There are other options too, like gluten free oats as a main body or coconut sugar as a sweetener, but I they aren't my personal preference to use, so I just mention them FYI.
And do with them what you will!
How Can I Make Brownies a Healthier Option?
Traditional brownies aren't healthy because they're loaded with sugar, eggs and flour, which makes them a completely indulgent, and in no way healthy, food.
But it doesn't need to be that way. If you live or strive to live on a whole foolds plant based diet, then you'll definitely want to switch out most of the ingredients from brownies.
The recipe I share below has only whole foods ingredients, so you can eat it even if you follow a whole foods plant based diet for an occasional treat.
And, well what more could you want from such an indulgent food than for it to be made without oil, without refined sugar, without gluten, without dairy and with healthy whole foods?
And if you want to up the protein content, then simply add the black beans to your mix!
Healthier Sweetener for Vegan Brownies
We all know that refined sugar is unhealthy. I don't even want to see refined sugar, let alone put it in my mouth (okay so I'm exaggerating, sorry, can't help doing that!)
Personally, I don't even have sugar on my shopping list, ever.
I prefer to use dates or maple syrup for sweetening food and the bonus is, not only are these natural sweeteners tastier, but they're also healthier choices too.
If you like them really sweet you might want to increase the quantity of maple syrup I've used in this recipe.
All About Pure Maple Syrup, A Natural Sweetener
Healthy, Oil Free, Sugar Free, Gluten Free, Vegan Brownies Recipe
These brownies are so simple to make, they don't even need blending. You just mix the ingredients together, pour the mix into a baking tray and cook in the oven for 10-12 minutes.
So easy.
So simple
So fast.
So healthy!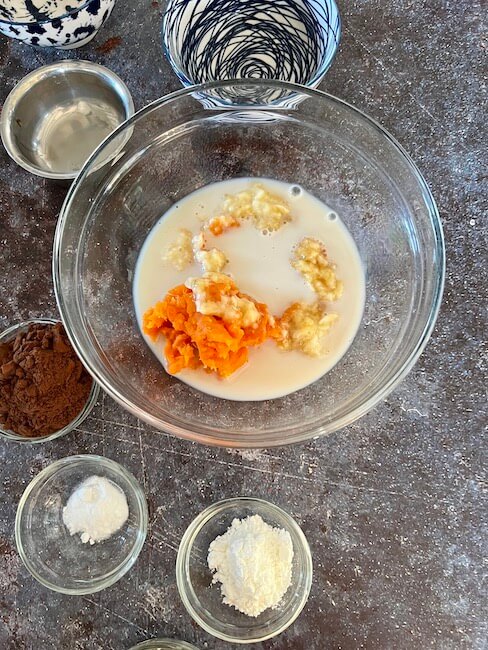 To check the doneness of the brownies, insert a cocktail stick into the mixture and check. Remember that the brownies should come out of the oven slightly gooey in the middle, so you'll still get some brownie on the toothpick when they're ready to come out.
Brownies continue cooking after they come out of the oven as they cool down, so don't be afraid to take them out a little underdone.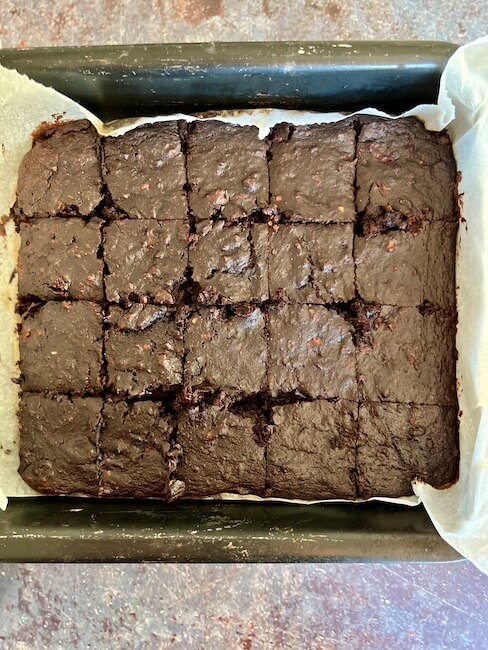 GF, Oil Free, Sugar Free, Vegan Brownies
Ingredients
1 ripe banana
Flesh from half a baked sweet potato (100g)
4 pieces / 50g dark vegan chocolate (85%)
1/4 cup / 3 tbs / 30g cocoa powder
2 tbs / 20g gram flour (garbanzo flour)
1 tbs / 10g maize starch (*not maize flour)
1/2 tsp soda bicarbonate / baking soda (not baking powder)
1/4 cup maple syrup
1/4 cup unsweetened plant milk
1/4 cup cocoa powder
Directions
Bake the sweet potato in the oven or microwave and remove the flesh from half of it (depending on size).
Mash the banana with a fork.
Cut the chocolate into small squares.
Combine the wet ingredients (banana, sweet potato, maple syrup, plant milk) in a bowl and mix well, mashing any lumps with a fork. A few are ok, but get rid of the bigger ones.
Add the rest of the dry ingredients, except the chocolate pieces, and mix well.
Stir in the chocolate pieces.
Preheat the oven to 200ºc and cook for 10-12 minutes depending on how soft you like the brownies to be.
Remove the brownies from the oven and let them cool for 15 minutes before attempting to cut them.
Slice the brownies and store in an airtight container in the fridge.
Other Vegan Sweet Things You Might Like
Tips for Making Vegan Gluten Free Fudgy Brownies
Here are some general tips to help you get success from your vegan gluten free chocolate brownies.
Cooking Time
Brownies are a bit special because they need to come out of the oven before they're cooked through. They will carry on cooking as they cool down, and you want them still gooey in the middle.
So keep an eye on them, take out the pan and see whether the top surface looks 'dried' out and cooked. Dip a cocktail stick into the middle to judge just how raw/cooked they still are.
Don't worry so much about the middle because that needs to cool down (it will keep cooking as it cools).
For me, the 12 minutes was just about right, but I could also have taken them out a touch earlier for a softer, melt in the mouth centre.
Cutting the Brownies
Don't cut the brownies until they've cooled down! If you cut them as soon as they come out of the oven you'll end up with a sticky mess!
Eating the Brownies
Of course you'll want to try a brownie once you've cut them into squares, I mean who wouldn't?
So by all means try one, but remember that they'll taste best after they've been in the fridge for a while. Ideally you can make them the day before you want to eat them and they'll taste that much better for the waiting!
Sweetening the Brownies
The brownies in this recipe aren't overly sweet because I prefer things to be not too sweet. If you have a sweet tooth and want to up the game a bit, add more maple syrup.
You can also switch the maple syrup for Medjool dates. About 6-8 Medjool dates should do the trick of sweetening these brownies just fine.
Switching Out the Flour Ingredients
No gram (garbanzo) flour? No problem. You can switch the gram flour for another gluten free flour.
About the Chocolate Chips
If you don't have any vegan chocolate chips at home, you can use a regular bar of vegan chocolate. Take a knife and cut the chocolate into small chunks and mix that into the mixture.
You can use the % of chocolate you prefer. I make them with 85% chocolate.
FAQ on How to Make Vegan, Gluten Free Brownies
If you aren't used to making brownies you might have a few questions when you're in the creation process. Here I've gathered together some of the most common FAQ when it comes to making brownies.
Can I Taste the Raw Mixture?
You may have heard that you shouldn't eat the raw brownie mixture, but that comes from traditional brownies that contain raw egg.
This vegan gluten free brownie mix is absolutely fine to taste in its raw state as there's no eggs or dairy in it.
What Type of Baking Tray Should I Use to Bake These Vegan Brownies?
The cooking time specified in this recipe (10-12 minutes) is based on using a metal baking tray.
You can also use a glass one but you may need to increase the cooking time as the glass takes longer to heat up. It shouldn't be a problem but bear it in mind!
What Happens if My Vegan Gluten Free Brownies Stay Raw?
If your brownies don't cook, it's probably because you haven't used enough flour in the recipe. You can make brownies without any flour, but you'll need to substitute the flour with oats or something else similar.
Alternatively, the depth of the pan is thicker than the recipe recommendations and/or your oven isn't powerful.
In that case, if you find that the brownies haven't cooked through, simple remove them from the oven and let them sit to cool. Once they've cooled down you can check them, and if necessary repeat the cooking process. No harm will come to the brownies by doing this double cooking method.
Can I Freeze My Brownies?
You can freeze brownies, I just haven't ever done it myself because I prefer to keep them in the fridge and eat them when I feel like it. I see no benefit in freezing them unless I was going away or something like that.
But according to all the major food experts, brownies can be frozen without problem.
How Long Will My Vegan Brownies Keep?
Vegan brownies will keep for a week when stored in an airtight container in the fridge.
There aren't any ingredients in these brownies which are risky when they are old (like eggs or milk for example), so you should be fine to keep them safely for longer than you'll need (because you'll eat them all before they get old hahah).
If they begin to look off-coloured or any mould starts to grow, or if the brownies smell, then you should discard them of course.
They will keep out of the fridge for 3-4 days as long as you're not in a very hot climate like where I am. I keep everything in the fridge because the heat will ruin them.
For best results eat them on the second day.
Shoutout to Shane & Simple's vegan brownies (not gluten free) which is one of the most simple brownie recipe I've ever seen and is in line with my own beliefs that food should be accessible and simple and delicious!