If you're like me and not a fan of spending hours in the kitchen creating dessert, then this strawberry chia seed pudding is for you.
This chia seed pudding looks spectacular, tastes amazing and is just the easiest thing in the world to make. You'll see that this isn't quite the same as most strawberry chia seed puddings and it doesn't even need a blender.
I think this one is the best in terms of flavour and panache and I even like it better than this (what I had thought was my favourite) – mango chia seed pudding.
Just 10 minutes to put it together and a few hours to leave it to stand in the fridge.
Until I discovered chia seed pudding, I used to think I didn't like desserts. They were too sweet, I thought.
But since experimenting I've found that's not quite true any more!
Like this indulgent raw vegan cheesecake which is really sweet but totally delicious too, or this raw vegan caramel chocolate cake.
So I have to concede, raw vegan desserts can be pretty cool too.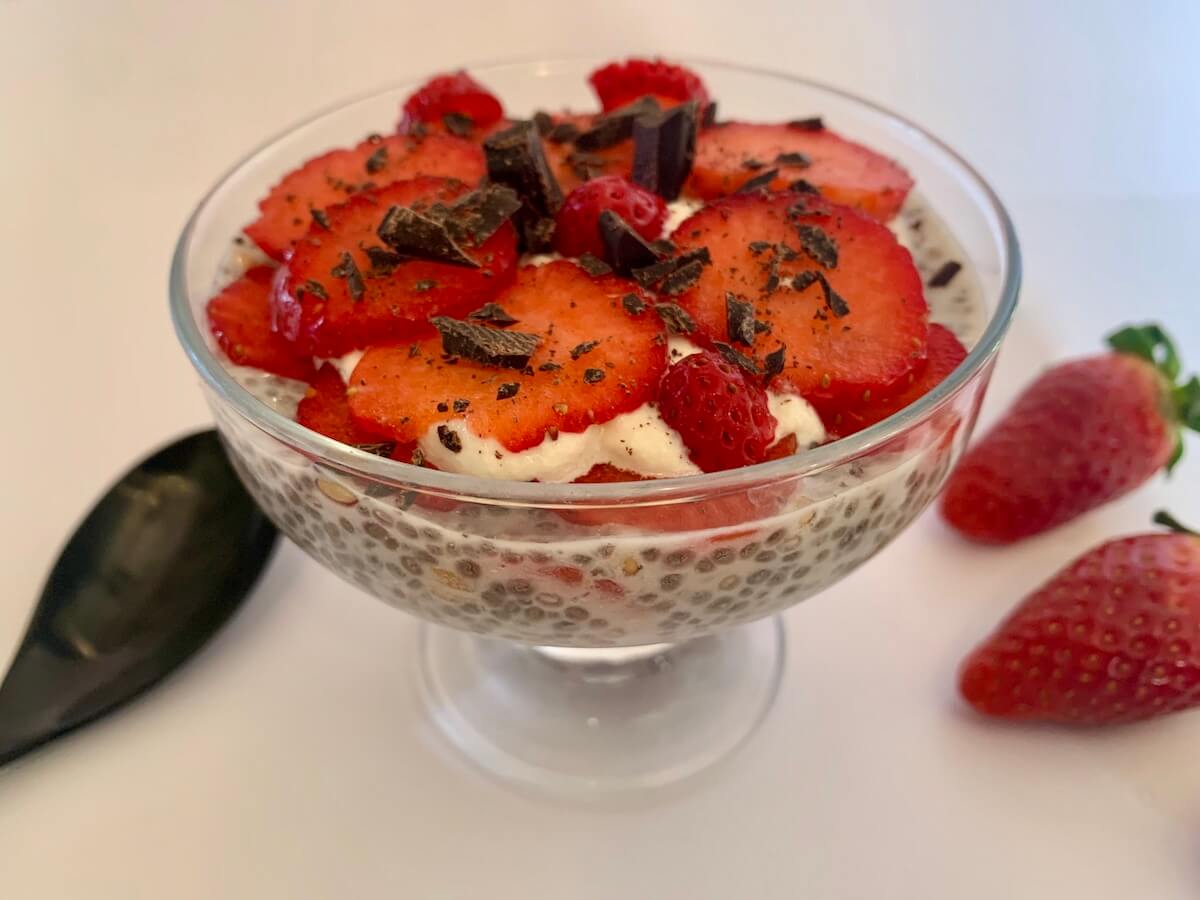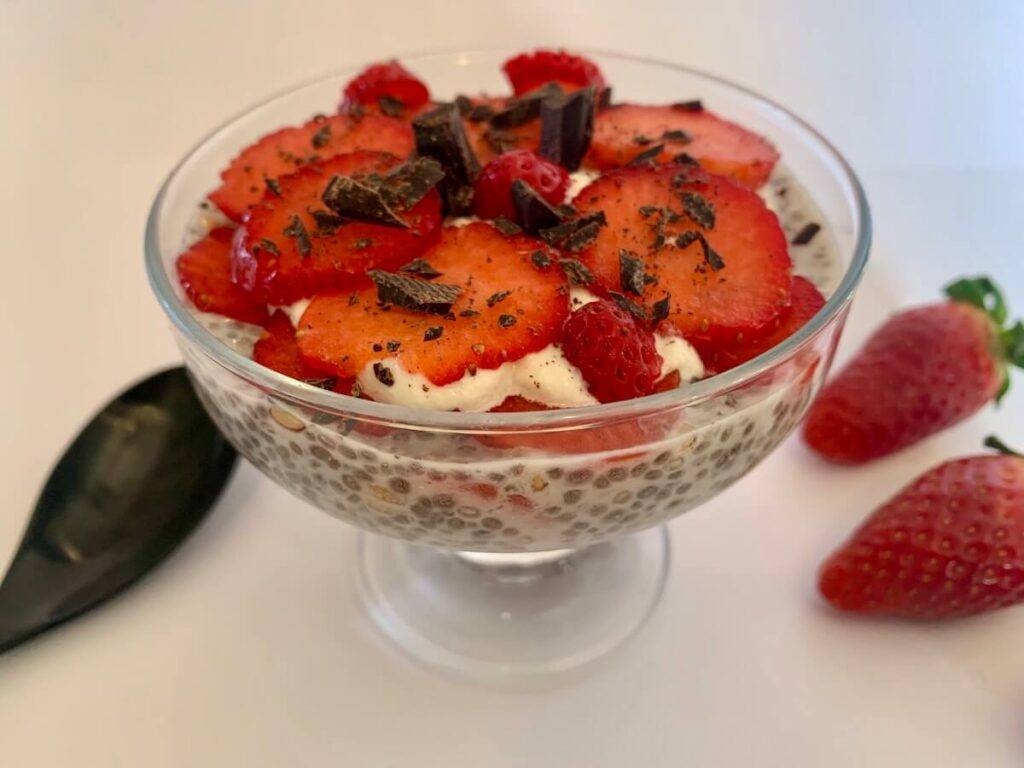 Benefits of this Strawberry Chia Seed Pudding
Oh my goodness this is a dessert made in heaven. No need to worry about over indulging with this one, as it's probably one of the most healthy foods on the planet!
This little beauty comes so packed full of nutrients that you could actually eat this every day to boost your dietary intake and benefit from numerous health benefits.
Make Individual Puddings in a Jiffy (or in Bulk)
You can make this strawberry chia seed pudding in almost no time at all, and there's no denying that it looks spectacular to serve your guests after dinner!
You can prepare these in individual little dishes for the prettiest effect, or make one big bowlful and dish it up in a more unceremonious way if you prefer!
Nutritional Value of Chia Seeds in Brief
Chia seeds are considered a super food and not without good reason: they're packed with antioxidants to fight free radicals which in turn can contribute to ageing and diseases such as cancer.
Chia seeds are high in protein and fibre, making them an excellent choice as part of a weight management diet, or just as part of your daily, healthy vegan lifestyle.
They're also high in calcium, phosphorus and magnesium, all excellent for bone health.
In fact, chia seeds have been suggested as being beneficial in a whole host of conditions such as high blood pressure, insulin resistance & diabetes, chronic inflammation, heart disease and cancer.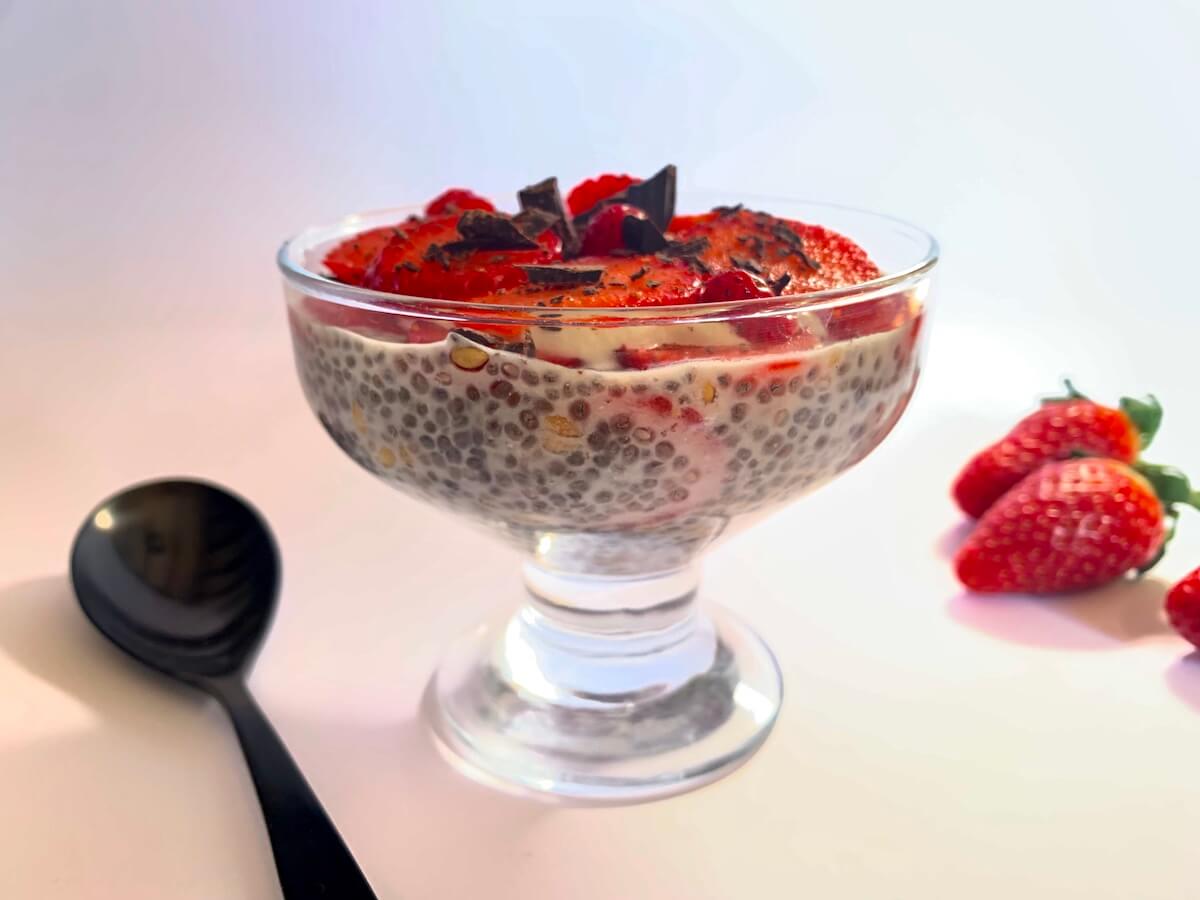 Nutritional Value of Flax Seeds
Flax seeds are another great seed to include in your vegan diet. They're high in omega 3 fatty acid ALA, which prevents bad cholesterol, reduces the risk of stroke, improves heart health and reduces inflammation.
They are also rich in antioxidants in the form of Lignans and are believed to be beneficial for lowering the risk of cancer. Flax seeds are high in fibre and great for regulating the gut. If you're at all prone to constipation, including soaked flax seeds into your diet on a daily basis can work miracles.
Like chia, flax is also high in protein and considered one of the healthy options to eat on a daily basis, being linked to many health benefits. You can read our post on the health benefits of eating flax seeds for more on these little power houses.
How to Make this Strawberry Chia Seed Pudding with a Twist in Individual Dishes
Line your dishes up and place 1 large sliced strawberry into the dish followed by 2 heaped dessert spoons chia seed and 1 heaped teaspoon whole flax seeds.
Next, chop up a Medjool date into small pieces and put 1/2 a date into each pudding.
Sprinkle a tiny pinch of salt over the top and pour on some unsweetened plant milk to the top of the dish. I used almond milk, but feel free to switch for whatever you have at home.
Stir the mix and put the dishes into the fridge.
Leave to stand for a couple of hours, then come back and gently stir the contents again, disbanding any clumps of seeds until you have a smooth pudding throughout.
Return to the fridge and leave to set for another hour.
Remove the puddings from the fridge and finely slice up 2 more strawberries per dish, or more if you like.
Place a layer of strawberries on top of the chia pudding, followed by a layer of cashew nut cream and finished off with a layer of strawberries.
Sprinkle on some finely chopped vegan dark chocolate (I like 95%) and return to the fridge.
Tips for This Strawberry Chia Seed Pudding
The combination of flavours, the smooth chia part with the bite of the slices of strawberry, the bittersweet crunch of chocolate & sweet tang of Medjool date with the contrast of cashew nut cream give this pudding a delicious unique flavour. So try to include all the components.
The added flax seeds not only make this set more firmly but also add an extra health boost to this already healthy dish.
Why not make this for your vegan breakfast? Just mix together the chia, flax, Mejool date and plant milk the night before and then top it with fresh fruit in the morning. For more breakfast suggestions, take a look at these vegan gluten free breakfast suggestions.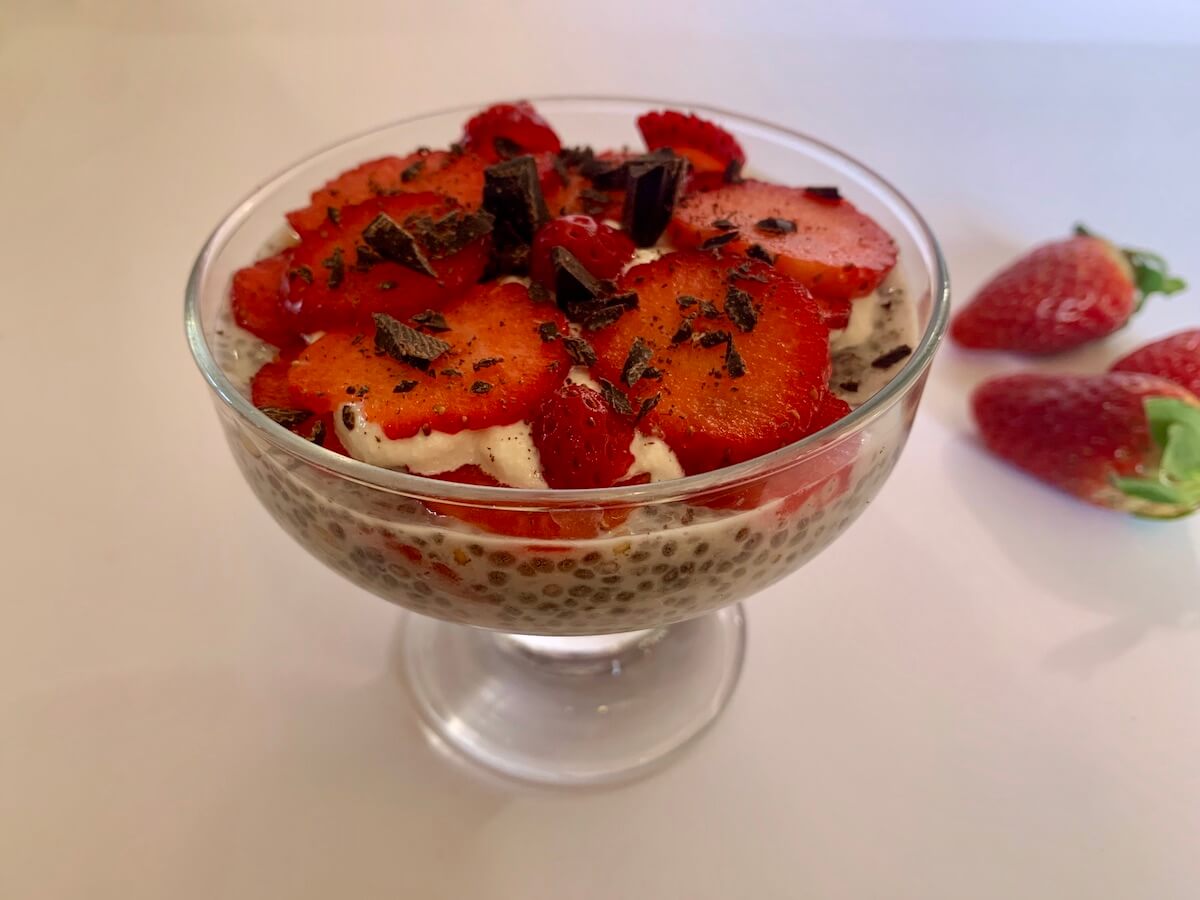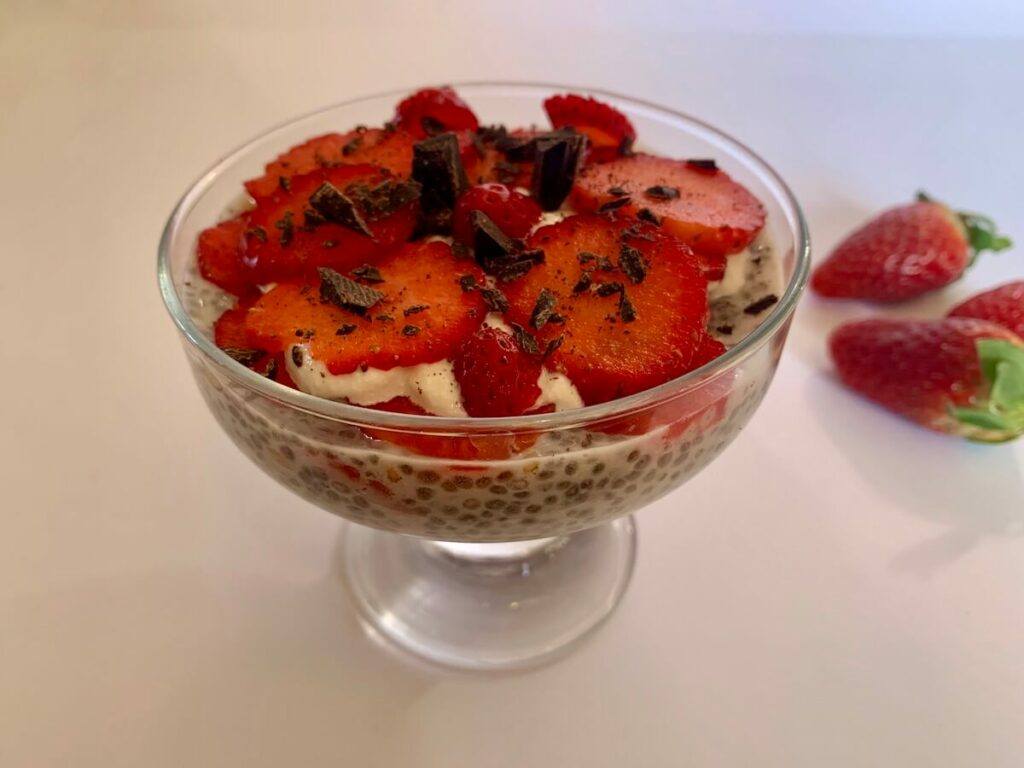 How to Make the Cashew Nut Cream
I tend to have this available in the fridge so I don't consider it as part of this recipe, but if you aren't in the custom of making this yummy stuff, it's so simple you should definitely give it a go.
Simply soak the cashew nuts in boiling water for about 30 minutes. Discard the water and rinse the nuts before blending with water, a pinch of salt, dash of apple vinegar and a dash of lemons juice.
Leave to stand in the fridge for an hour or so before using. This stuff keeps for a few days no problem so be sure to make more than you need.
Cashew nut cream is very similar to cashew nut sauce, which is indispensable in the vegan kitchen. For more ideas on sauces, you may like to take a look at these essential plant based sauce recipes.
Strawberry Chia Seed Pudding with a Twist
Course: Dessert
Cuisine: Vegan, Gluten free
Difficulty: Simple
Ingredients
6-8 strawberries

4 dessert spoons chia seed

2 tsp flax seed

4 tbs cashew nut cream

2 squares vegan dark chocolate

1/2 litre unsweetened almond milk (or other plant milk)

1 Medjool date

Pinch of salt
Directions
Place 1-2 sliced strawberries into the base of the dish followed by 2 tbs chia seed & 1 tsp flax seed.
Chop the Medjool date into tiny pieces and add half a date to each pudding.
Add a tiny pinch of salt and top up to the top of the dish with unsweetened almond milk.
Stir and leave to start to set in the fridge for a couple of hours.
Stir the pudding again, making sure to break up any clumps of seed or dates so that everything's well separated.
Return to the fridge for another hour to finish setting.
Slice up 2 strawberries (or more) and place a layer on top of the chia pudding, followed by 2 tbs cashew nut cream and finish off with another layer of strawberries.
Use a knife to crumble the dark chocolate into small pieces and sprinkle over the top of the pudding, leaving a few pieces slightly chunky to give a slight bite to the tooth.
Return to the fridge until ready to eat. Enjoy!
Notes
You can use this recipe with other fruits instead of strawberry: kaki fruit, kiwi fruit, mango, banana.
I like the chia seed pudding to be well set – so for a small dish I use 2 heaped dessert spoons of chia seed. You can vary the consistency of your pudding by adding more seeds or more plant milk to get the consistency you prefer.
I hope you enjoyed this recipe! Visit this article on vegan faq for more answers to vegan questions, or let me know in the comments what challenges you most as a vegan.