This list of essential plant based sauce recipes will give you instant access to simple sauces that will complement any meal. In no particular order, these are the sauces which I find indispensable in a vegan kitchen and that will save you time.
One thing that's gives the final delicious quality to so many meals is the special sauce to go with it, or in some cases, in the cooking of it. And it's great if you can whip it together in a few minutes. So you'll find most of these plant based sauces are quick to make.
#1 Cashew Nut Sauce Yumminess
Cashew nut sauce changed my life when I first discovered it! Literally. I don't know how I lived without it!! If I could only have one sauce in life, it would be this one.
You can use the same basic recipe to make various sauces, from a vegan sour cream or mayo replacement, to a cheesy sauce in lasagne or zucchini casserole.
In fact, you can add it to any casseroles or sauces to give a cheesy/creamy effect. And with only 5 ingredients, it's as simple as it gets.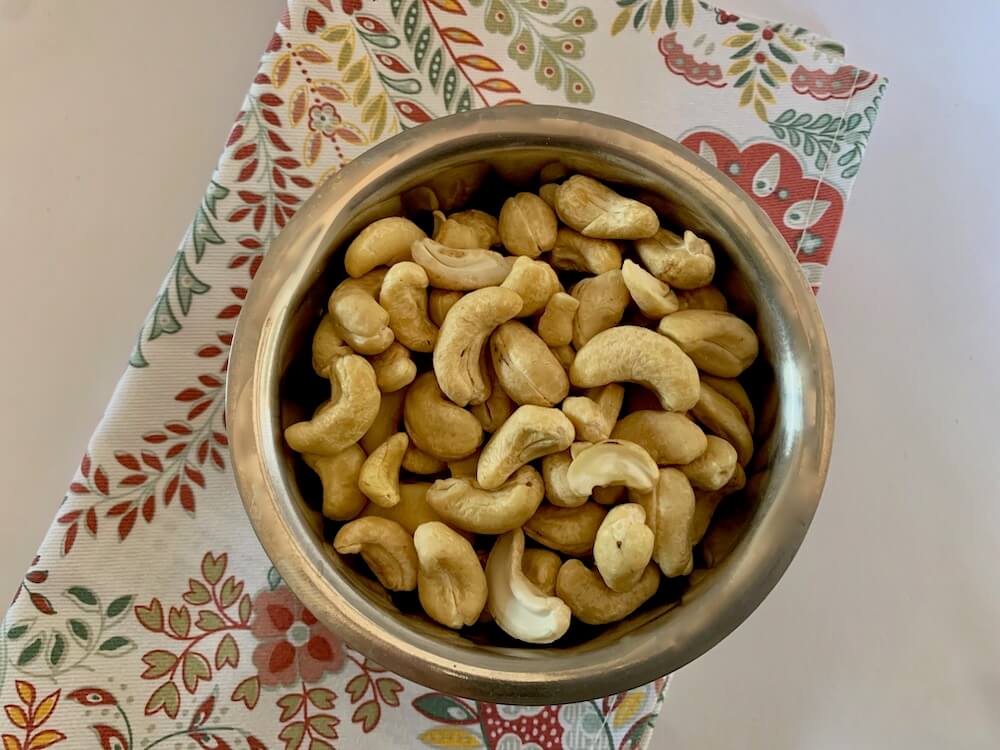 Variations on Cashew Sauce
I love cashew sauce so much I usually have some in the fridge with no particular plan – just so that I have it there to have with whatever I'm going to eat. And sometimes I add a variation to the base sauce.
Add chives to cashew sauce
Make with plant milk instead of water
Add herbs – fresh basil works wonders
For a garlic sauce add garlic to the blender and maybe some parsley
Nutritional yeast will give it a cheesy flavour
What to Eat Cashew with Sauce
Oh so many things, far too many to list! But to mention just a few, it goes perfectly with a salad, whether it be a high protein king salad, a grilled summer vegetable salad, a zucchini carpaccio salad or a mixed salad.
An essential to any yummy buddha bowl or on the side with your oven baked chipped potatoes, cashew sauce also creates the basic flavouring for vegan lasagne, zucchini casserole, vegan cauliflower cheese or potato & zucchini casserole.
In fact I don't think there's anything that doesn't go with one or other form of this sauce.
It's such a wonderful sauce, I wrote this post, vegan cashew sauce about it in more detail.
#2 Delicious Tomato Sauce for Pasta
Who doesn't love a really good home cooked tomato sauce on their pasta?
It goes without saying, you never need to buy a tomato sauce. Instead, just whip up a quick version or make a more traditional tomato sauce as in this recipe.
The quickest way to make a homemade tomato sauce is to fry the onions with garlic and if you're under time pressure, after frying for a couple of minutes, add a little dash of water to speed up the cooking. Otherwise, let the onions fry until well cooked.
Add the chopped tomatoes and herbs, salt and a dash of soy sauce and heat until the liquid reduces and the tomato slices lose their shape. For speed, use tinned tomatoes instead of fresh, for flavour, use fresh!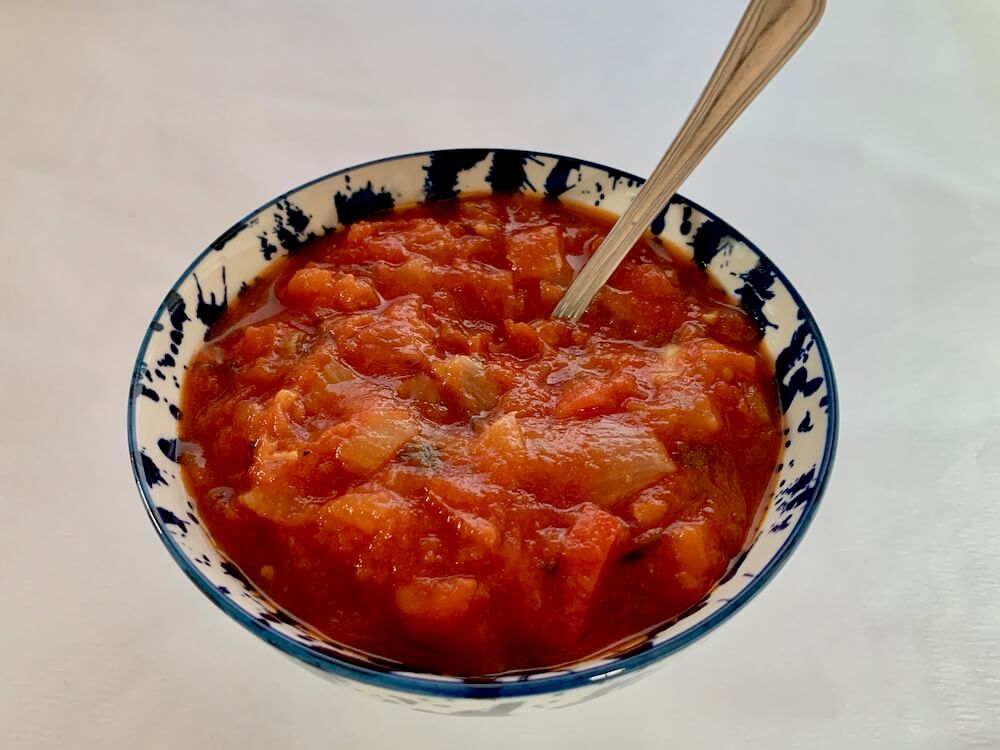 What to Eat Tomato Sauce With
It's a pretty famous pasta sauce but tomato sauce can also be used for making lasagne, vegan pizza, a sauce for homemade vegan gnocchi, in the stuffing for stuffed eggplant or the sauce for vegan eggplant parmesan.
You can also use leftover tomato sauce as a topper for your toast, along with some sliced avocado or mix it together with a grain or pasta and make some tasty vegan balls or falafel replacements.
Whenever I'm cooking a tomato sauce to go on pasta, I make double quantity and use the other half the following day in a new recipe. It's the perfect way to use minimal effort for maximum result.
#3 Cool Vegan Raita
I used to love eating a cold raita yogurt sauce with a hot spicy curry. The combination is just heavenly!
So when I was making a vegan Thali meal for some friends, I decided to try and make a vegan raita. And it turned out divine.
Pictured in the middle of the tali dish, this one is a bit thinner than normal but the taste was still delicious.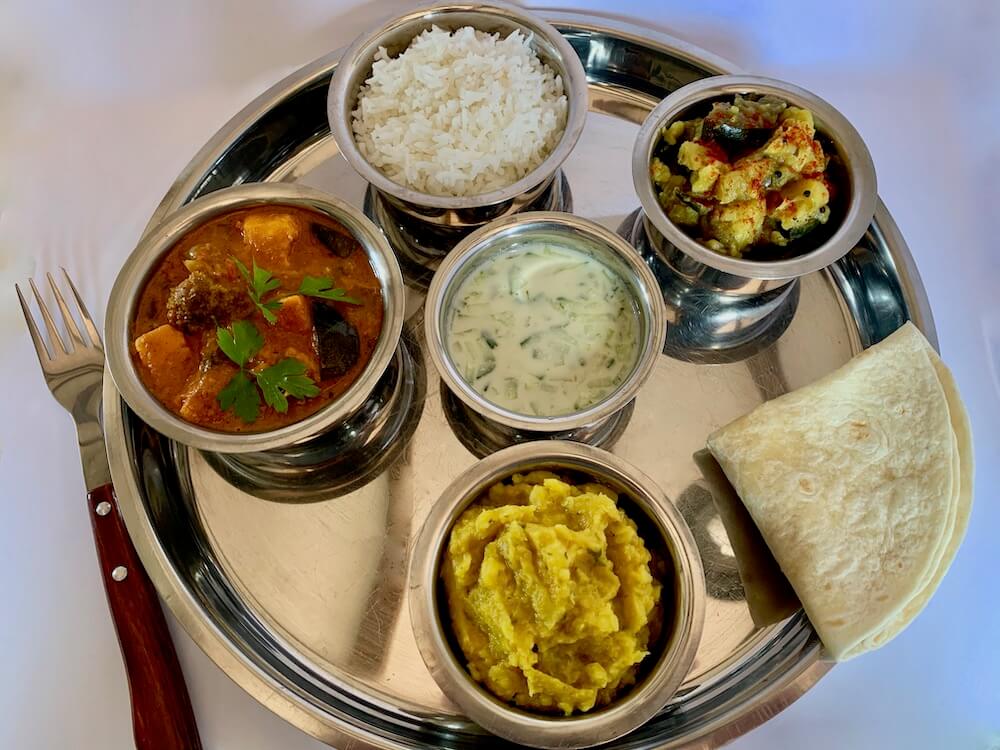 How to Make Vegan Raita Sauce
In advance, soak the cashews in water for a good hour or until they're soft enough for your blender to grind smoothly.
Pour a cup of plant milk (I used almond milk for this recipe but soy works fine too) and add a tsp of apple cider vinegar to the milk and stir well. Add some salt and taste. It tastes nice don't worry! Get the balance right between milk, salt and vinegar so that you like the flavour as this is the base flavour for your sauce.
Next, blend the cashews, adding the milk mixture slowly until you have a thick liquid. Add some chives and blend.
Remove the sauce from the blender. Finely chop some cucumber and add to the sauce. I like to add lots of cucumber. The bits get lost in the sauce but it gives a great flavour. Finally grind on some coarse black pepper and chill in the fridge. You can also add some fresh mint, but I like it without.
As always, you should taste the sauce to check the salt and general flavour balance before you chill it, and adjust as necessary. You can add a dash of soy sauce to the raita and/or some very finely chopped onion.
It will thicken slightly in the fridge. Yummy, I love this stuff.
What to Eat With a Vegan Raita Sauce
This tasty cucumber version of raita goes well with loads of meals.
Swirl over the top of your grilled veggie platter or your plate of quino with veggies or any other dry type meal.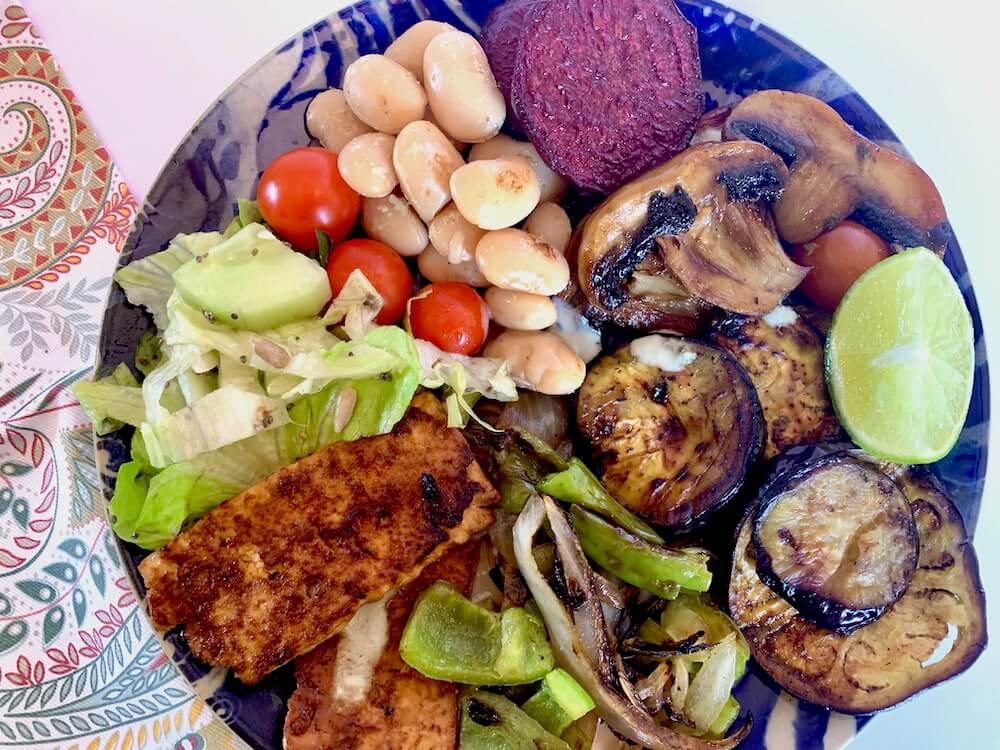 Goes perfectly with stuffed zucchini on the side of an eggplant curry or with homemade vegan burgers.
#4 Rich Vegan Pesto
Pesto is one of those sauces that I love occasionally. I don't eat it that often to be honest but when I do, I enjoy it.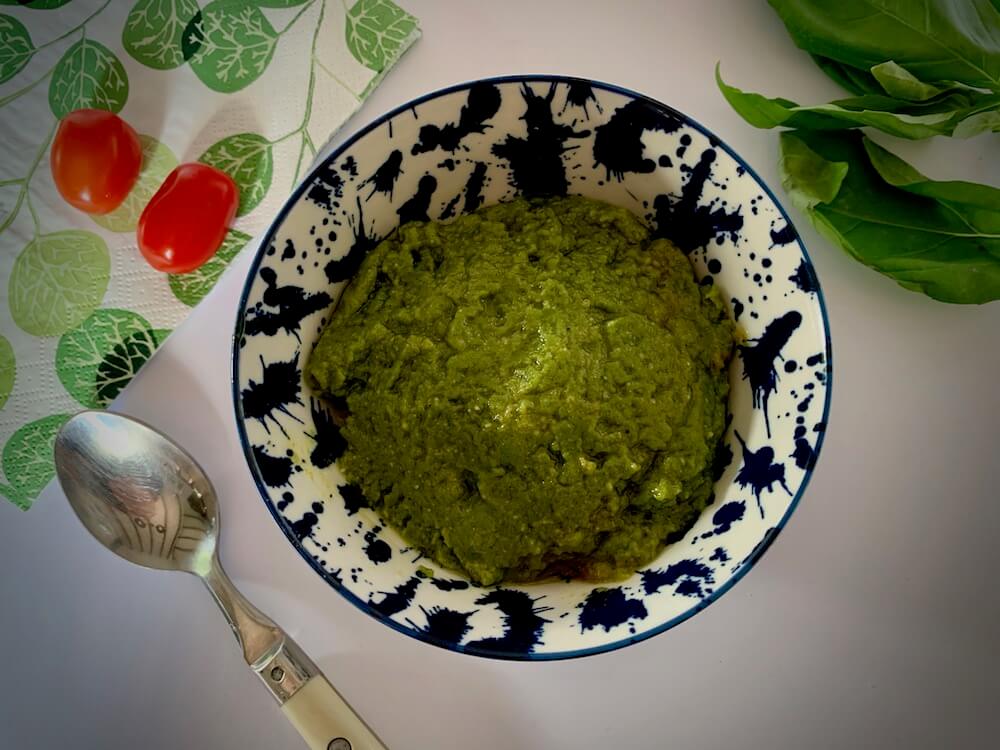 You need to have a lot of basil available for making it tasty and also plenty of pine kernels.
You can vary the ingredients of your pesto but the basic standard is to use pine kernels, olive oil, garlic & plenty of basil.
Add a few cashews or even substitute the pine kernels for cashews for a slightly cheaper variety.
For the whole recipe click here.
What to Eat With Vegan Pesto
This vegan pesto goes well on pasta, potatoes, rice or quinoa. It isn't juicy, so it's more about the flavouring than the sauciness of it.
Also perfect for topping on toast or gluten free crackers and forms a perfect component of a delicious buddha bowl or zucchini carpaccio salad.
#5 Easy Vegan Mayonnaise
Vegan mayonnaise is actually extremely easy to make. It doesn't taste exactly the same as dairy mayonnaise as it's thinner and not so heavy, but it does make a good replacement.
It looks like mayonnaise and acts like mayonnaise and is basically made the same as dairy mayonnaise, only without the egg, and using plant milk instead of cow milk.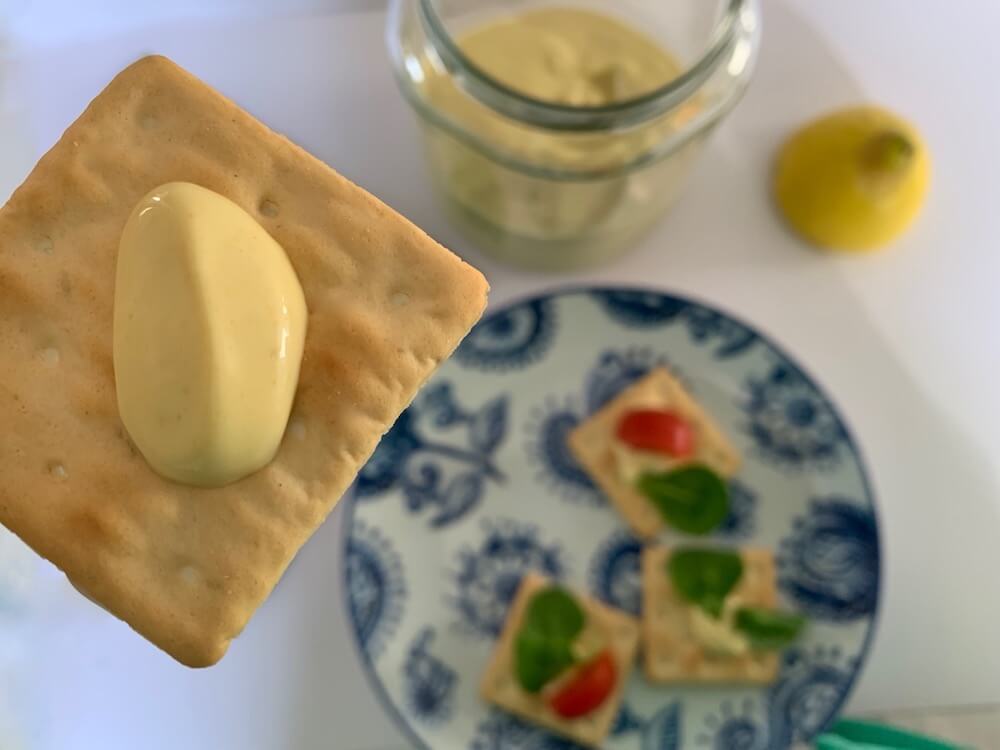 The recipe is very simple: 2 parts oil to 1 part plant milk. Add a pinch of salt and blend together and it will emulsify. To see the complete recipe, click here.
I was really excited by this vegan mayonnaise when I first started making it, but to be honest I've replaced it with cashew sauce now. I just love cashew sauce more than I love mayonnaise!
And cashew nut sauce has a healthy nutritious benefit to our diet while mayonnaise is mainly oil. However, I totally get it that maybe sometimes you just need a blob of mayonnaise!
What to Eat with Vegan Mayonnaise
Anything you would eat normal mayonnaise with. In sandwiches, with chips, in jacket potatoes or on a salad.
# 6 Instant Carrot Sauce
Just such an easy sauce to accompany a meal, and so colourful! All it takes is a few carrots, and a couple of other veggies, sliced up and in a pan. The rest takes care of itself until it's time to blend. And then you've got your sauce, ready to serve! See the recipe here.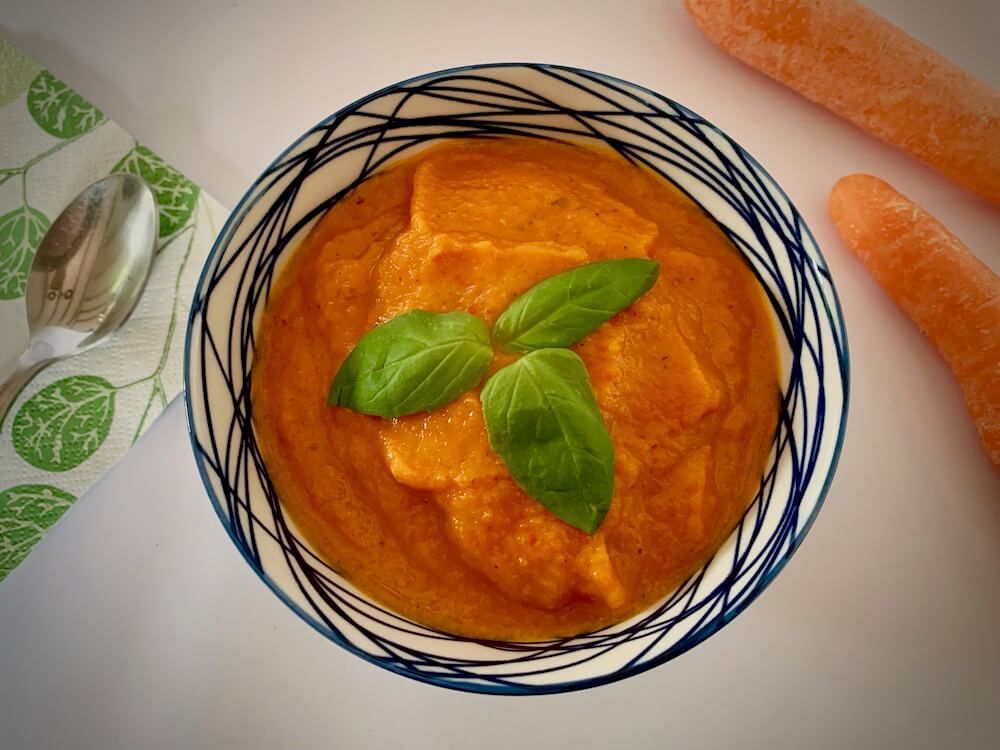 What to Eat with Instant Carrot Sauce
Serve this sauce as part of a meal. So, if you make some steamed broccoli and some vegan burgers for example, make this sauce to go alongside and lift up the whole meal a notch.
Goes really well with stuffed eggplant, stuffed zucchini, roasted broccoli, potato dishes, plain rice dishes and quinoa.
#7 Instant Vegan Cheese Sauce
For this recipe all you need is some tapioca flour, some form of plant milk, some nutritional yeast and some turmeric. Plus some salt and some Tamari, soy sauce or ketjap manis.
The quantities below will depend on how stringy you want the cheese sauce and how much quantity you want to make, so it's really a matter of playing with it, using the first time ever as an experiment (ok, a yummy experiment!).
Put 2 tbs of tapioca flour into a small saucepan and add 3 coffee cups of plant milk (about 1/2 ltr), 3 tbs nutritional yeast, 1 small tsp turmeric, 1/4 tsp salt and a dash of Tamari or soy sauce. Stir well.
Heat the sauce and keep stirring. And then it does something really strange; from one minute to the next, it suddenly goes all thick and stringy.
Serve on top of nachos or broccoli. You can also pour it over the broccoli in a casserole dish and then heat the whole thing when you're ready to eat.
What to Eat Instant Cheese Sauce With
This sauce is what I call an emergency sauce. It isn't so strong in flavour but it's soooo easy and instant to make that it's definitely got a place in my kitchen.
Whip up a quick panful and serve over steamed broccoli, cauliflower or other veggies. Or use it for making a cheesy dip or on top of nachos. It can also be used on top of gluten free vegan pizza.
# 8 Vegan ButterMilk
Okay so I had to add this one to the list! It isn't really a sauce but it's absolutely delicious and you can make it into a sauce by adding tahini for a tahini sauce, basil for a basil sauce, cashews to thicken it up etc.
This is probably the best trick I've ever come across since going vegan! Take a glass of plant milk ( or however much you want to make) and add some apple cider vinegar to it.
When I say 'some', it isn't necessary to measure the vinegar. Go ahead and give it a good squirt, stir the glass and watch the milk thicken. Add a tiny amount of salt and a squirt of lemon juice and stir again.
Next, taste the liquid and add either more vinegar, more lemon juice or more salt, until the balance creates a pleasant taste.
Although you can use this immediately, the magic actually happens if you make it the day before. Put the glass into the fridge and when you come back in the morning, the liquid will have separated.
Pour off the transparent water-like liquid off the top and your left with a superb, creamy, delicious glass of creamy yumminess! It's slightly sour and perfect for making vegan raita or tahini sauce. I even like it straight as it is.
P.S. I've never tried real buttermilk so I can't compare this to that!
More Quick Essential Plant Based Sauces?
If I've left out an essential plant based sauce, please drop me a line and let me know!
I hope you enjoyed these easy to make, quick and essential plant based sauces to go with your meal. Don't forget to like, share or leave a comment!